How To Use the Remaining Balance on a Gift Card—All You Should Know
When you find a used gift card in your junk drawer, many questions may arise. How to use the remaining balance on a gift card? Is there any money left on it at all? Can you turn these funds into cash or use them in any other way instead of spending them on purchases? These are only some of the dilemmas you may have.
If you believe that your balance is "trapped" on the card or too small, think again because we have a cure for your problem. Our article will focus on the best ways to put the remaining money to use. We'll also show you how to request cash back instantly using DoNotPay's amazing Gift Card Cash Back feature!
How To Check How Much Money Is Left on My Gift Card
Most companies let you inquire about the current balance on your gift card by using an online checker available on their website. Here's what the procedure usually looks like:
Search for the section dedicated to gift cards on the homepage
Locate the gift card balance check option
Type in your gift card number and the security code
At times, these services don't work. It usually happens due to technical issues or if your gift card comes without the PIN code. In such cases, you can contact the retailer's customer support office by:
Calling and asking them to find the info you need
Sending them an email with a specific inquiry
Using the live chat if available on their website
Visiting a nearby store and asking the staff to swipe the card and check the exact balance
What Can I Do With an Unused Balance on My Gift Card?
Upon realizing that there's a small balance left on your gift card, you may want to find a convenient way to use that last little bit of the funds. Here are some options you can consider:
Redeem the amount left during your next visit to the retailer's shop—Even though it can be a really small sum, your gift card still makes the purchase price go down
Reload the gift card and keep using it—Many merchants allow customers to add value to used cards
Use the remaining gift card money in one of the partner stores—If the retailer who provided the gift card has some partner shops, you may be able to spend your gift card there
Donate the card—Your friends and family or some local non-profit organizations may be thrilled to receive a gift card as a present, even if it's used
Sell the card online or near you—This can be done via various websites or in a designated store. Note that you may not be entitled to receive the total value of the card after selling it
Trade the card for a different one—You can exchange the card you don't want to use anymore online or through an exchange kiosk
Do All States Allow Cash Back for Used Gift Cards?
In most retailers' policies, it's stated that you can return or exchange gift cards for cash only if the local gift card statute approves it. The term gift card statute refers to a law that allows or prohibits the gift card cash back option in a specific state.
Some U.S. states and Puerto Rico require retailers to provide gift card reimbursement to customers if the remaining funds are below the threshold specified by the law. You can check out the applicable cash back limitations in the table below:
| | |
| --- | --- |
| State | Maximum Cash Back Amount |
| California | $10 |
| Washington | $5 |
| Massachusetts | $5 |
| Colorado | $5 |
| Maine | $5 |
| New Jersey | $5 |
| Oregon | $5 |
| Missouri | $5 |
| Connecticut | $3 |
| Vermont | $1 |
| Rhode Island | $1 |
File a Quick and Efficient Gift Card Cash Back Request With DoNotPay
Did you know that unused gift card credit is taken over by the government as unclaimed funds or returned to retailers after some time? Regardless of the amount left on your card, you don't have to say goodbye to the money or use it for the goods you don't need.
DoNotPay is a perfect solution for tackling this issue and turning the remaining gift card balance into cash with ease. With our app, you will:
Find out whether the cash back option is allowed in your state
Reclaim your unused gift card money even if you live in one of the states that don't have a cash back policy
Collect all crucial details for filing a cash back request in one place
Avoid stressful debates with support agents because we do the entire procedure in your stead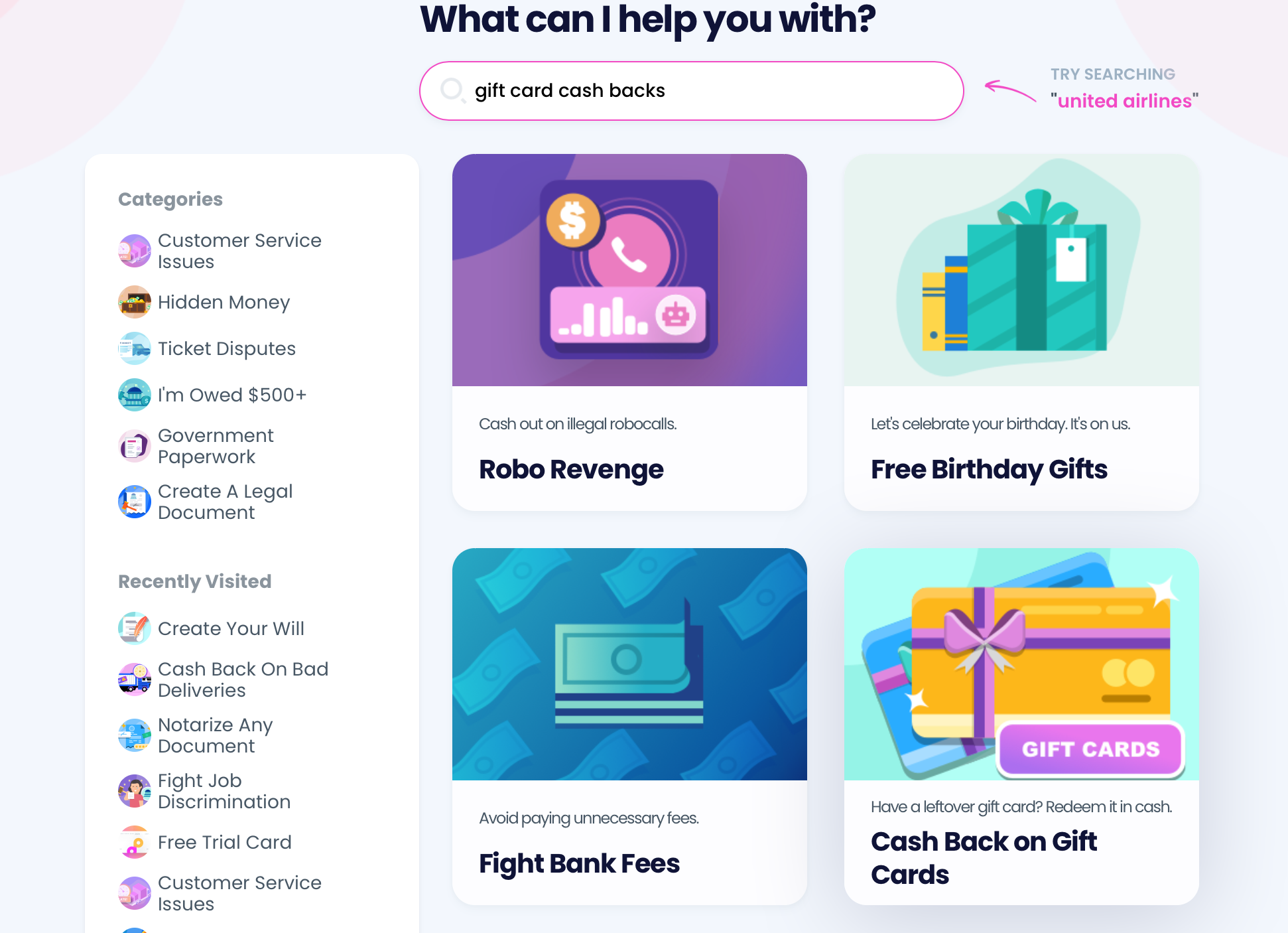 Here's what you need to do:
Access your DoNotPay account from any web browser
Open the Gift Card Cash Back feature
Enter the name of the company, your gift card number, and other requested details
Once we confirm that your state approves getting cash back, we will send the request to the company. Even if it doesn't, we will find a retailer's branch in a state that does and forward your claim there!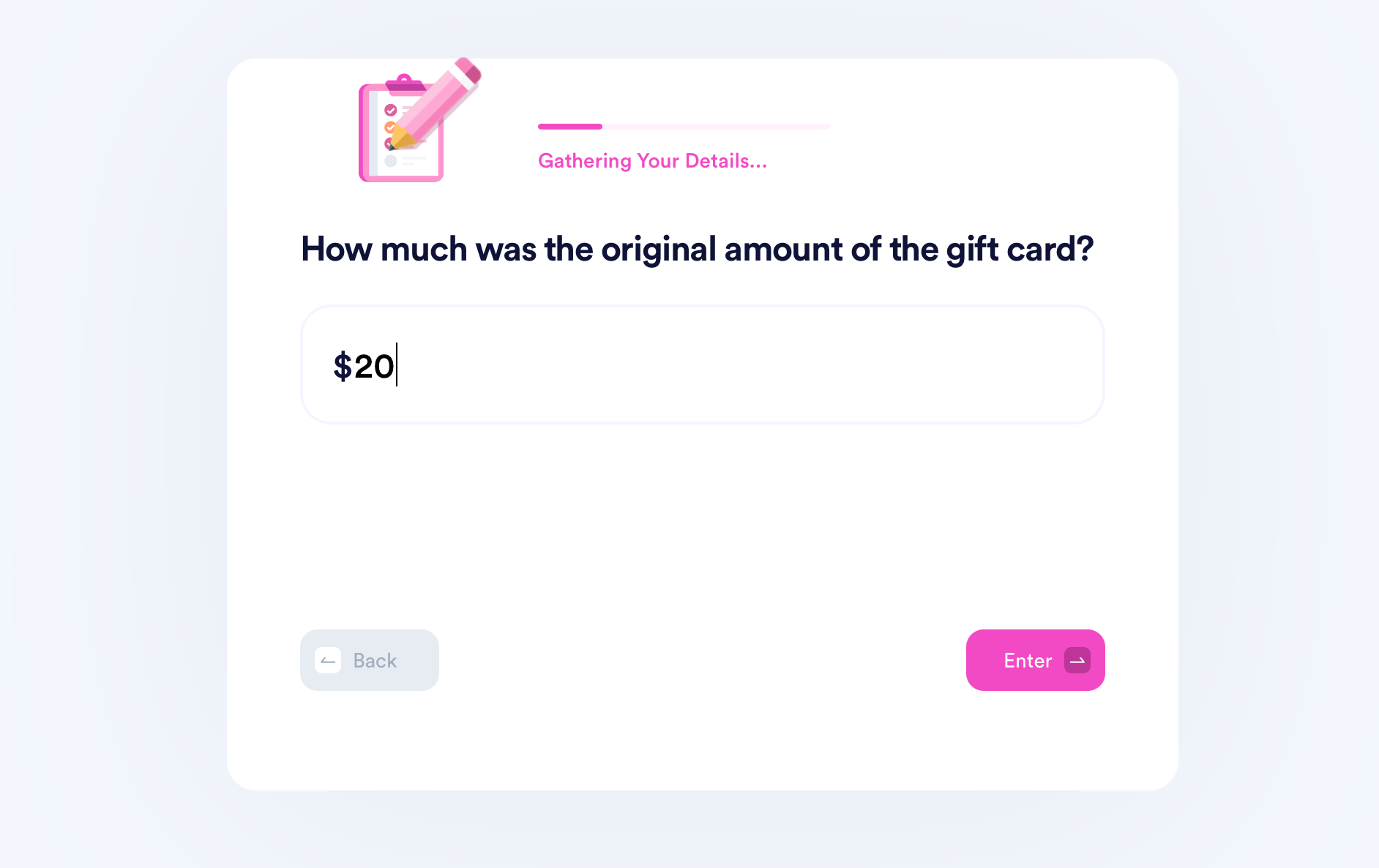 DoNotPay Can Make Numerous Merchants Cash Out Unused Gift Cards
Do you still have free or standard gift cards from other companies? Wait no more—subscribe to DoNotPay and get cash off various gift cards, such as the ones by:
Rely on DoNotPay To Solve Your Administrative Issues
Getting your documents notarized, drawing up legal paperwork, appealing parking tickets, and similar activities usually require a lot of effort. DoNotPay offers various useful products that can help you deal with administrative problems quickly and save a lot of time. We can assist you with:
Protect Your Consumer Rights With DoNotPay
Companies complicate cancellation and refund processes intentionally, hoping that consumers wouldn't want to spend hours trying to solve the issue they're having. DoNotPay knows how important consumer rights are, and that's why we created numerous products that can help you:
Many people forget to cancel their free trials on time and end up paying for the services they don't even use. To prevent that, DoNotPay has developed a nifty virtual credit card that will allow you to enjoy free trials risk-free. Our virtual credit card will also help you avoid spam email notifications by generating a random email address that you can use when signing up for a free trial.