The Home Depot Gift Card Balance Check Explained
Have you found a used gift card from Home Depot at the bottom of your drawer, but you aren't sure if there's any money remaining on it? You may have forgotten that there are a few extra dollars left—the good news is that you don't need to kiss them goodbye.
If you don't want to use that money for another purchase, you can cash it out and keep it! This guide will teach you how to do a Home Depot gift card balance check and claim the remaining card funds with ease by subscribing to DoNotPay.
Home Depot Gift Cards in a Nutshell
Home Depot developed a solid gift card program as a perfect present idea for home decor and DIY project lovers. Regardless of the card you have—physical or electronic—and the amount on it, you can use your card for online or in-store purchases. This payment method is approved in Home Depot stores in the USA and Canada.
Home Depot gift cards aren't personalized. This means you can let another person use them since they won't need to confirm their identity or show any documents when purchasing.
How To Check a Home Depot Gift Card Balance
There are two ways to check the balance on the Home Depot gift card, as explained in the table below:
Method
Instructions
In-store
Visit the nearest The Home Depot store and bring the gift card with you. The shop assistant can tell you the exact remaining amount by searching the card details within the retailer's database
Online
Here's how to check the balance on a Home Depot gift card online:

Visit the retailer's official website
Select the Gift Cards tab
Click on Check Gift Card Balance
Enter the card number and the four-digit PIN

Phone
If there are no nearby Home Depot stores or you are unable to check the balance online, call Home Depot customer support at (800) 466-3337. Provide the agent with your gift card number, and they will be able to tell you how much money is left on your card
What To Do With a Used Home Depot Gift Card
You discovered that your Home Depot gift card is still loaded with a few funds—but what should you do with them? Here are some ideas on how to use the remaining balance without throwing the card away or spending it on the products you don't need:
Exchange the card for another one—Some websites offer gift cards of similar values from other retailers in exchange for your partially used card
Sell the card for cash near you or auction it—You can do this online or visit the nearest gift card vending machine, insert the used card, and get money for it immediately
Reload the card with more money—Home Depot offers the possibility of adding extra cash to a used gift card in store or online
Is It Possible To Get Cash Back for Your Home Depot Gift Card?
The retailer's policy states that you can't return Home Depot gift cards for cash unless your state has a positive cash back policy. In 11 U.S. states and Puerto Rico, companies are obliged to exchange used gift cards for cash if the remaining balance doesn't exceed the approved amounts. Below is the table showing the limitations that apply to the states whose laws adopted cash back policies:
States
Maximum Remaining Balance
California
$10.00

Oregon
Missouri
Maine
Massachusetts
New Jersey
Colorado
Washington
Puerto Rico

$5.00
Connecticut
$3.00
$1.00
DoNotPay Lets You Cash Out the Remaining Dollars From Gift Cards in a Jiffy
You don't need to go through difficult procedures and visit Home Depot stores to claim the money from a used gift card. DoNotPay will help you do it in a super easy way from the comfort of your home!
We can contact the retailer in your stead and help you cash out the remaining gift card money. Here's what you need to do:
Make an account with DoNotPay and log in to it
Navigate to the Gift Card Cash Back feature
Input the gift card number, the state you live in, the name of the retailer, and a few more details
Once you enter the card details in the required field, our system will automatically check if your state approves the cash back option. Even if you live at a location to which cash back policies don't apply, we will check if the retailer has a branch in one of the states where they do and send the request to a store there! You should receive the funds within 14 business days.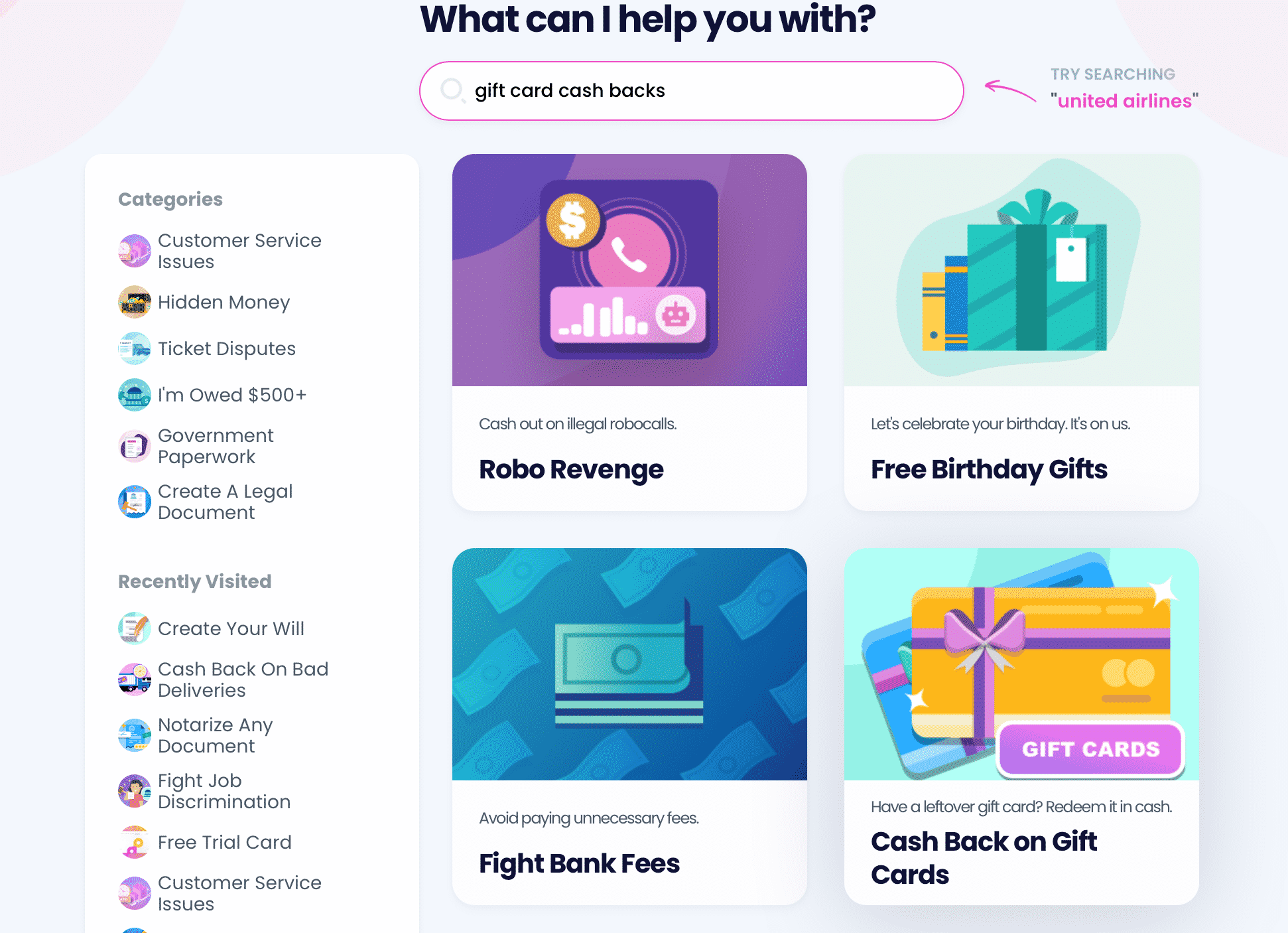 DoNotPay can also help you cash out the funds from regular and free gift cards offered by numerous companies, such as: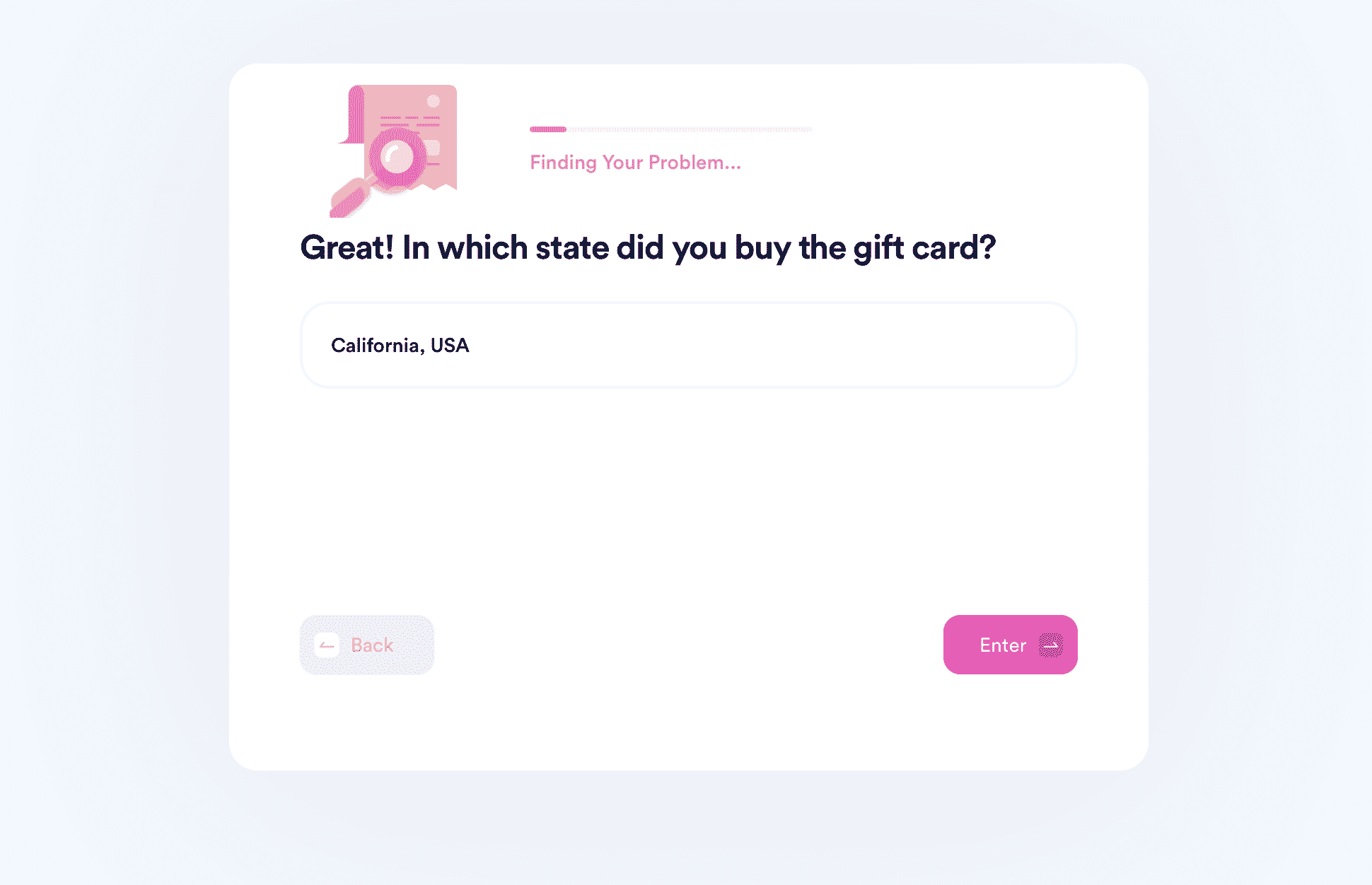 Rely on DoNotPay To Solve Your Administrative Issues
Getting your documents notarized, drawing up legal paperwork, appealing parking tickets, and similar activities usually require a lot of effort. DoNotPay offers various useful products that can help you deal with administrative problems quickly and save a lot of time. We can assist you with:
Protect Your Consumer Rights With DoNotPay
Companies complicate cancellation and refund processes intentionally, hoping that consumers wouldn't want to spend hours trying to solve the issue they're having. DoNotPay knows how important consumer rights are, and that's why we created numerous products that can help you:
Many people forget to cancel their free trials on time and end up paying for the services they don't even use. To prevent that, DoNotPay has developed a nifty virtual credit card that will allow you to enjoy free trials risk-free. Our virtual credit card will also help you avoid spam email notifications by generating a random email address that you can use when signing up for a free trial.