The Ins and Outs of the Best Buy Gift Card Exchange
Did you use your Best Buy gift card for one purchase, and now you don't know how to spend the remaining funds? One of the options is to exchange your gift card for cash.
In this article, we will explain how the Best Buy gift card exchange works. to redeem the leftover money in a flash.
How Does a Best Buy Gift Card Work?
Best Buy offers three types of gift cards:
Physical gift cards
Digital (eGift) gift cards
Corporate gift cards
For selected customers, the company provides promotional gift cards for free.
Best Buy gift cards come in amounts between $5 and $500. There is no purchase fee or expiration date. You can use your gift card for shopping online on the official Best Buy website or for in-store purchases in any U.S. and Puerto Rico retail location.
What Is the Best Buy Gift Card Exchange Policy?
Whether you have a Best Buy gift card or one of the third-party gift cards they sell, the company does not allow:
How To Convert Your Best Buy Gift Card to Cash
Did a Best Buy gift card balance check uncover some funds? If you don't know how to use the remaining balance on your card, there are some unofficial ways to exchange it for money:
Buy items at Best Buy and return them for cash
Purchase items at Best Buy and sell them
List your gift card on an eMarketplace
Use Reddit
Ask a friend or family member to buy it from you
Use a reseller website to sell the card
Locate a Coinstar exchange kiosk
Buy Items at Best Buy and Return Them for Cash
You can use your gift card to buy products online or in-store and return them later for the cash value. Try not to overdo it, though! Buying and returning too many products may cause suspicion.
Purchase Items at Best Buy and Sell Them
While it can be risky, reselling items can bring you more money than expected. Use your gift card to buy items at Best Buy and sell them online or to your friends and acquaintances.
List Your Gift Card on an eMarketplace
By listing your Best Buy gift card on an eMarketplace, you can get more money than it's worth. Craigslist and eBay are the best online options, but you can also list your card on the Facebook marketplace.
Use Reddit
There is a gift card exchange subreddit where you can list your Best Buy card and exchange it for money or another gift card. While on the website, you can also check other people's experiences and recommendations regarding the gift cards from Best Buy and other places.
Ask a Friend or Family Member To Buy It From You
You may not need anything from Best Buy, but there must be someone who does. Ask your friends or family members if they want to buy the gift card from you or use it and repay you in cash.
Use a Reseller Website To Sell the Card
Many websites specialize in gift card resale. Even though Best Buy does not allow it officially, you can sell your gift card on one of those websites. Keep in mind that there are certain risks, and do thorough research to avoid getting scammed.
Locate a Coinstar Exchange Kiosk
One of the safest ways to exchange your gift card for cash is to use an exchange kiosk, and Coinstar has a lot of them throughout the states. Note that this method works only if you have a physical gift card.
Use DoNotPay To Get Leftover Cash From Your Best Buy Gift Card in a Flash
If all of the above-mentioned options seem too confusing, you should rely on DoNotPay! Our fantastic product will help you convert the remaining balance from your used gift card into cash in a few clicks.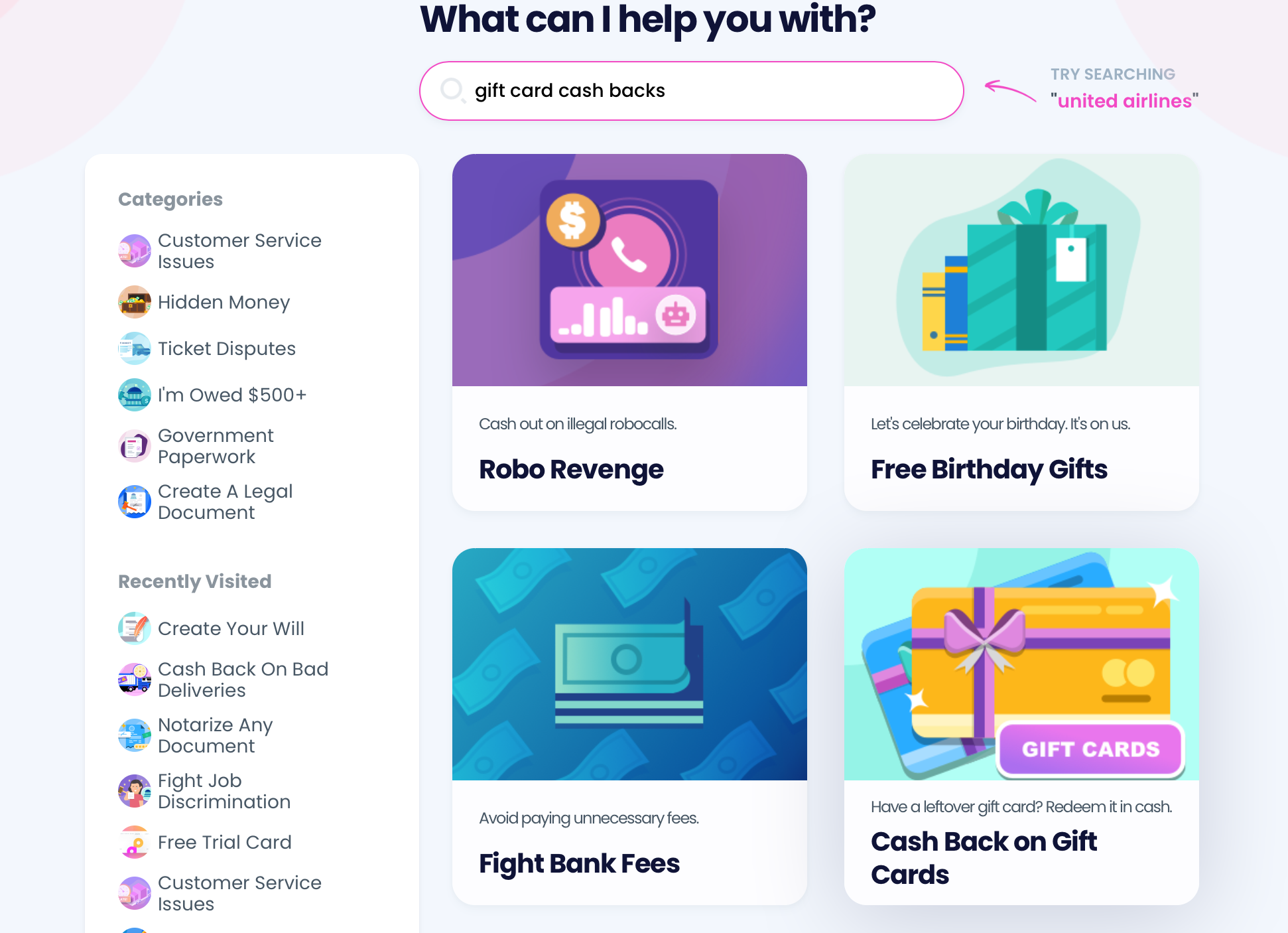 Follow these steps to get your cash back:
Locate the Gift Card Cash Back feature
Enter the required gift card information, such as the number of the gift card, your remaining balance, and the name of the company
We'll check the company's cash back policy and whether they have a branch in one of the states where returning the leftover money from gift cards is required by law. You can expect your cash within 14 business days after we've sent the request to the company.
DoNotPay Can Show You How To Check the Remaining Balance on Your Gift Cards and Redeem It
If you have other used gift cards you want to redeem for cash, we'll help you find out how much money you have left on them and file a cash back request in no time. Here are some of the companies DoNotPay can help you with:
Free Yourself From Boring Tasks With DoNotPay's Help
Our AI-driven app comes in handy for numerous bureaucratic or administrative chores that usually take up a lot of time. With DoNotPay's speedy service, even the most tiresome task will be complete in a flash!
You can forget all about waiting in line at the DMV and being on hold with customer service—we will get you to the finish line in a few clicks. Tired of the old snail mail? Use DoNotPay to mail letters fast. Better yet—fax your documents using our app. If your document requires a notary's signature, we can assist you in scheduling a virtual appointment.
No Lawyer—No Problem! Rely on the World's First Robot Lawyer
When you're in a bind but you can't afford a lawyer, there is still something you can do—sign up for DoNotPay and let our award-winning app give you a hand. With our expertise, the following tasks will be a piece of cake: