Check the Hannaford Gift Card Balance in a Minute With DoNotPay!
Are you having trouble remembering your gift card balance after using it? Don't worry—DoNotPay can help you check the Hannaford gift card balance! Our specialized Check Gift Card Balance product is fast and AI-powered.
Sign up for DoNotPay and learn the balance on any gift card within a minute. If you want to retrieve the remaining balance from your gift card, we can do this with ease, too!
The Ins and Outs of the Hannaford Gift Card Policy
Hannaford gift cards serve as store credit in any Hannaford shop, allowing you to buy any available product. They come in $25 to $500 denominations, and they are reloadable, meaning you can add more balance to them at any time.
There are two types of Hannaford gift cards:
eGift or electronic gift cards which can be bought online
Physical or plastic gift cards, which you can buy in stores or online
Hannaford doesn't specify if their used gift cards expire or not, but most companies don't add a time limit to their cards.
Available Ways To Check the Hannaford Gift Card Balance
You can check the Hannaford gift card balance in one of the following ways:
Seek assistance from a cashier at any Hannaford location
Ask a Hannaford customer support rep about your balance
Use the Hannaford website to check your balance
Let DoNotPay check your gift card balance
Visit a Hannaford Market
If you don't mind going the distance, you can check your gift card balance at one of the 167 Hannaford supermarkets in the U.S. Use the Locations page to find the nearest supermarket and bring your card over. A shop assistant will help you out when you get there.
Call Hannaford Customer Service
Walking or driving to a store seems like a hassle when you can call Hannaford customer service and ask about your balance. The number you should dial is 1-800-213-9040. The service is available Monday through Friday, from 8 a.m. to 7 p.m.
Check the Balance Online via the Hannaford Website
Hannaford also has an online balance checking option for introverts or people who don't want to deal with the company staff. Use the Hannaford website in the following way:
Open the Balance page
Enter your card number and PIN
Confirm you're not a robot
Click on the Check Balance button
Check Your Hannaford Gift Card Balance The Easy Way With DoNotPay
All the other options for checking the gift card balance work, but they take longer than DoNotPay! Our method is as fast as one, two, three—all you have to do is:
Upload the images of your gift card from both sides
Enter your email address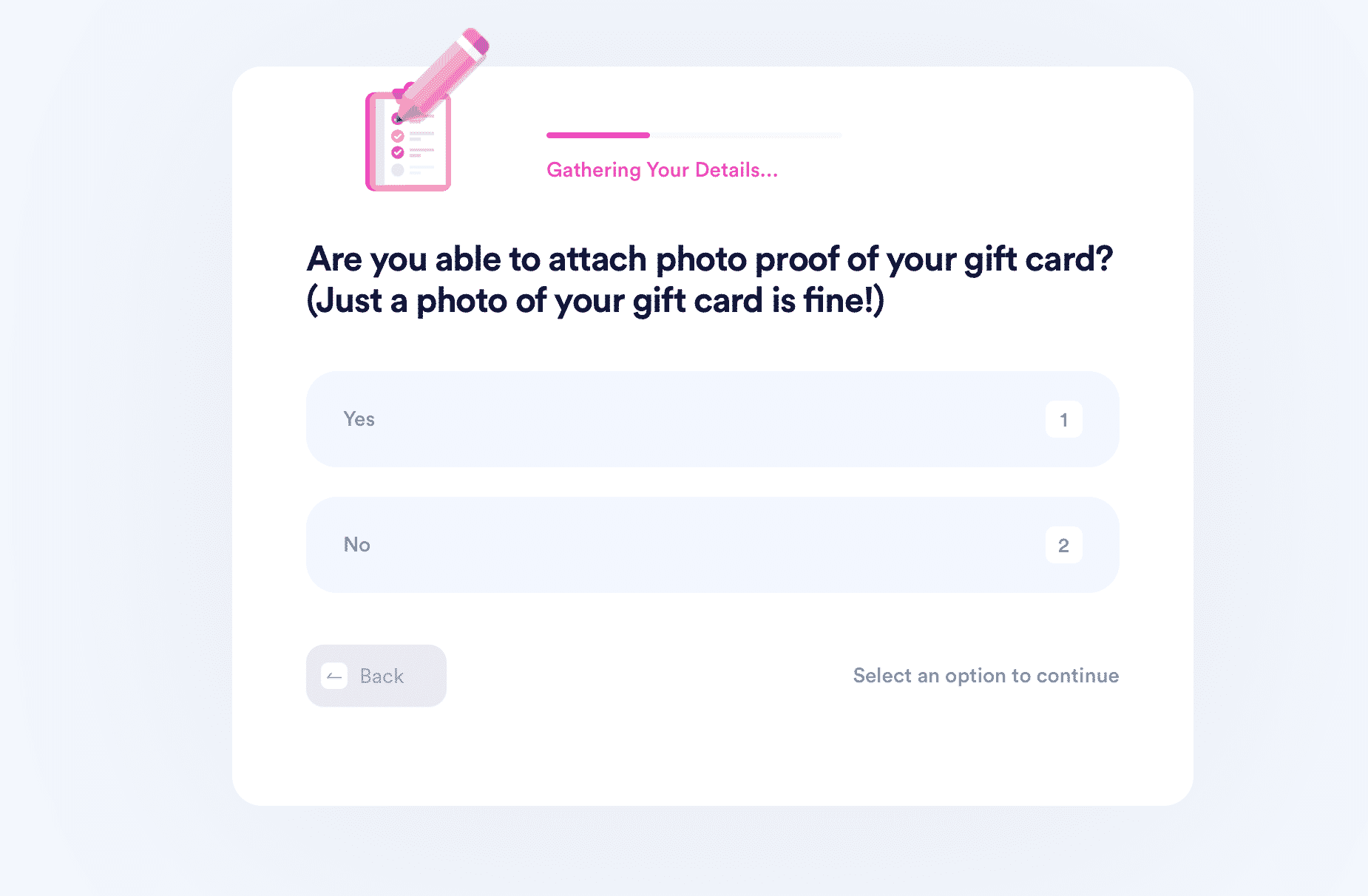 That's it! We'll send you an email to the address you provided, and you'll know your balance within minutes. If you found this feature useful, feel free to check the balance on your gift cards from other companies, too! Here's a table with some of them:
What To Do With Your Hannaford Gift Card Balance
You found some leftover money on your gift card and don't know how to use it? You can use it for the next purchase at Hannaford, or you could:
None of these options pay off in full because:
Companies usually don't give cash back unless required by law
Websites that trade gift cards aren't too generous
Gift card kiosks also won't pay up the entire remaining amount of your card
It's hard to exchange your card for a specific card of the same value
On top of these restrictions, gift card cash back laws are different in every state. Only Puerto Rico and 11 U.S. states allow you to get your money back:
California
Vermont
Rhode Island
Colorado
Connecticut
Maine
Massachusetts
Washington
New Jersey
Montana
Oregon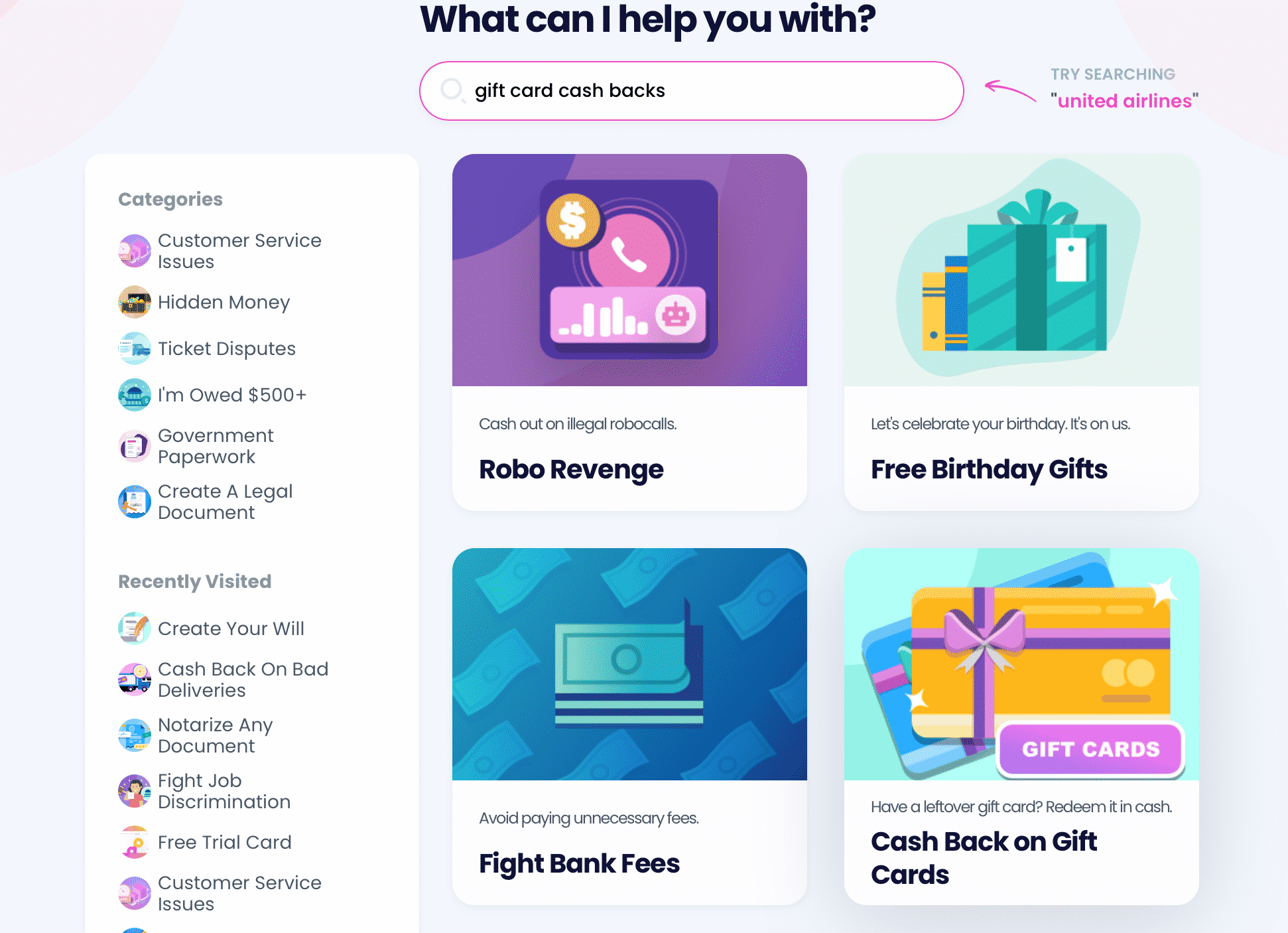 The Best Option Is To Let DoNotPay Ask Hannaford for Cash Back in Your Stead!
We'll request your remaining balance from Hannaford back, and the company will return it within 14 business days. All you need to do is:
Select our Gift Card Cash Back feature
Tell us everything you know about the gift card
Provide us with your personal and contact info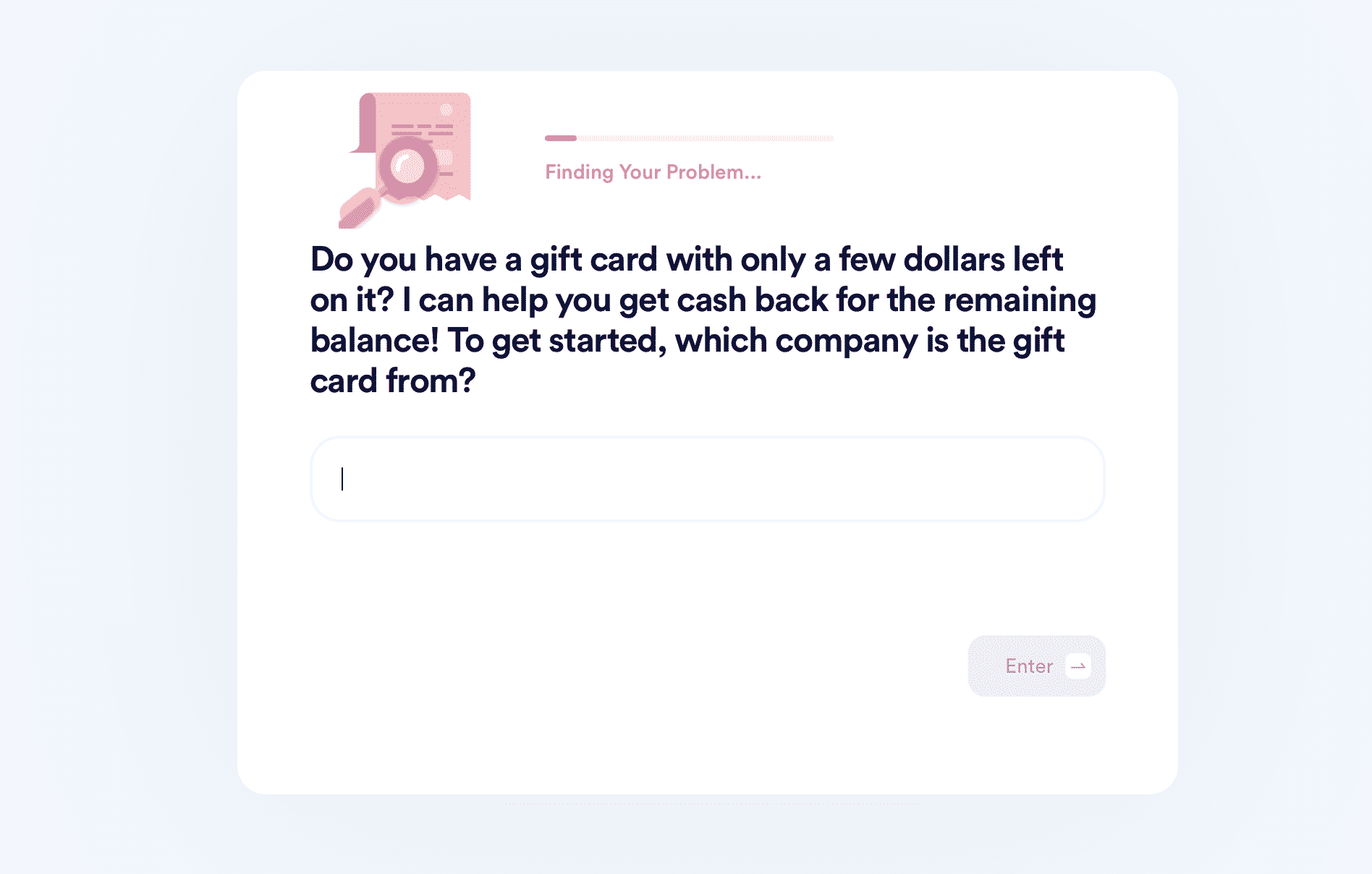 Turning gift cards into cash is cool, but don't expect any crazy amounts, though. California has the most generous cash back laws, and the limit for cash backs there is $10 per gift card.
If the amount you receive is too low for your expectations, read our guide about getting free gift cards and earn more cash!
DoNotPay Is the Robot Lawyer You Need!
Dealing with the law and understanding legal protocols is difficult if you're not used to doing it on a daily basis. That's why DoNotPay comes to the rescue!
Assisting you in drafting legal documents, creating a neighbor complaint letter, and suing companies in small claims court is what we do best.
That's not all! With us, you can tackle any legal task head-on, no matter how big or small, including:
Deal With Companies Hassle-Free
If you love to shop and you want to make the experience as easy and enjoyable as possible, you're in the right place! DoNotPay provides you with various features that allow you to accomplish just that.
You don't have to struggle trying to reach customer support or figuring out how to claim a warranty or file an insurance claim by yourself. You can cancel any subscription, sign up for free trials, and discover how to use every last penny from your gift cards in minutes!
In case you made a purchase, but your package is missing, don't fret! Finding your missing parcel is only a few clicks away.