Check the Gymboree Gift Card Balance in a Matter of Minutes!
Once you've used your Gymboree gift card, it's easy to lose track of the remaining money. You should learn how to check the Gymboree gift card balance so that you can decide what to do with the rest of the cash.
We'll assist you in performing a Gymboree gift card balance check quickly, and we can help you get your cash back in a snap! You only need to sign up for our service and leave everything else to us.
The Essential Gymboree Gift Card Information
Gymboree offers:
Plastic gift cards in denominations of $25, $50, $75, and $100
Electronic gift cards valued between $5 and $299
All Gymboree gift cards can be used to purchase products from Gymboree or The Children's Place, either in stores or online. These gift cards don't expire, and the company doesn't charge dormancy fees.
Note that you can find your gift card number and PIN on the back of the card if you have a physical card. The electronic gift card info will be sent to you via email once you receive the card as a gift or you purchase it for yourself, so save that email!
Check the Gymboree Gift Card Balance Through Official Methods
You can check the balance of your Gymboree gift card in one of the following ways:
Visit a store and check it in person
Call the Gymboree customer service and ask for assistance
Check the balance online on the official website
Checking the Gymboree Gift Card Balance in Person
If you wish to check your Gymboree gift card balance in one of the stores, you can do so by following the instructions below:
Find the nearest store using the Store Locator page. Enter your location, and you'll see a list of nearby stores
Visit the store and bring the card with you
Ask a cashier to help you check the balance
Checking the Gymboree Gift Card Balance by Phone
You may call the Gymboree gift card line at 1-800-501-3232 and ask about your gift card balance. The phone service is toll-free, and the team is available Monday through Friday, from 9 a.m. to 5 p.m. EST.
Checking the Gymboree Gift Card Balance Online
You can use the Gymboree website to check the gift card balance online, and here's how:
Open the Gift Card Shop page
Click on Gift Card Balance at the bottom of the page
Enter your PIN and gift card number
Confirm that you're not a robot
Press the Check Balance button
DoNotPay Offers a Quicker Way To Check the Gymboree Gift Card Balance!
Are the official methods for checking the Gymboree gift card balance taking too long? We have a solution for you! With DoNotPay, you can check your remaining balance in a more convenient way. You only need to:
Click on our Check Gift Card Balance feature
Upload the photos of the gift card and give us your email address
We will contact Gymboree and ask them about your gift card balance. As soon as we get a response, we'll let you know.
What Can You Do With That Extra Cash on Your Gift Card?
Spending the remaining money at Gymboree is not a bad option, but you can do a lot more than that with your gift card. Here are some of the options at your disposal:
Most of these methods are flawed, and they won't get you all of the remaining money back, regardless of whether you exchange or sell your gift card. When returning gift cards to companies, you should have gift card state laws in mind. Only these locations have gift card legislation in place:
Maine
Massachusetts
Montana
New Jersey
Connecticut
Colorado
California
Washington
Oregon
Puerto Rico
Rhode Island
Vermont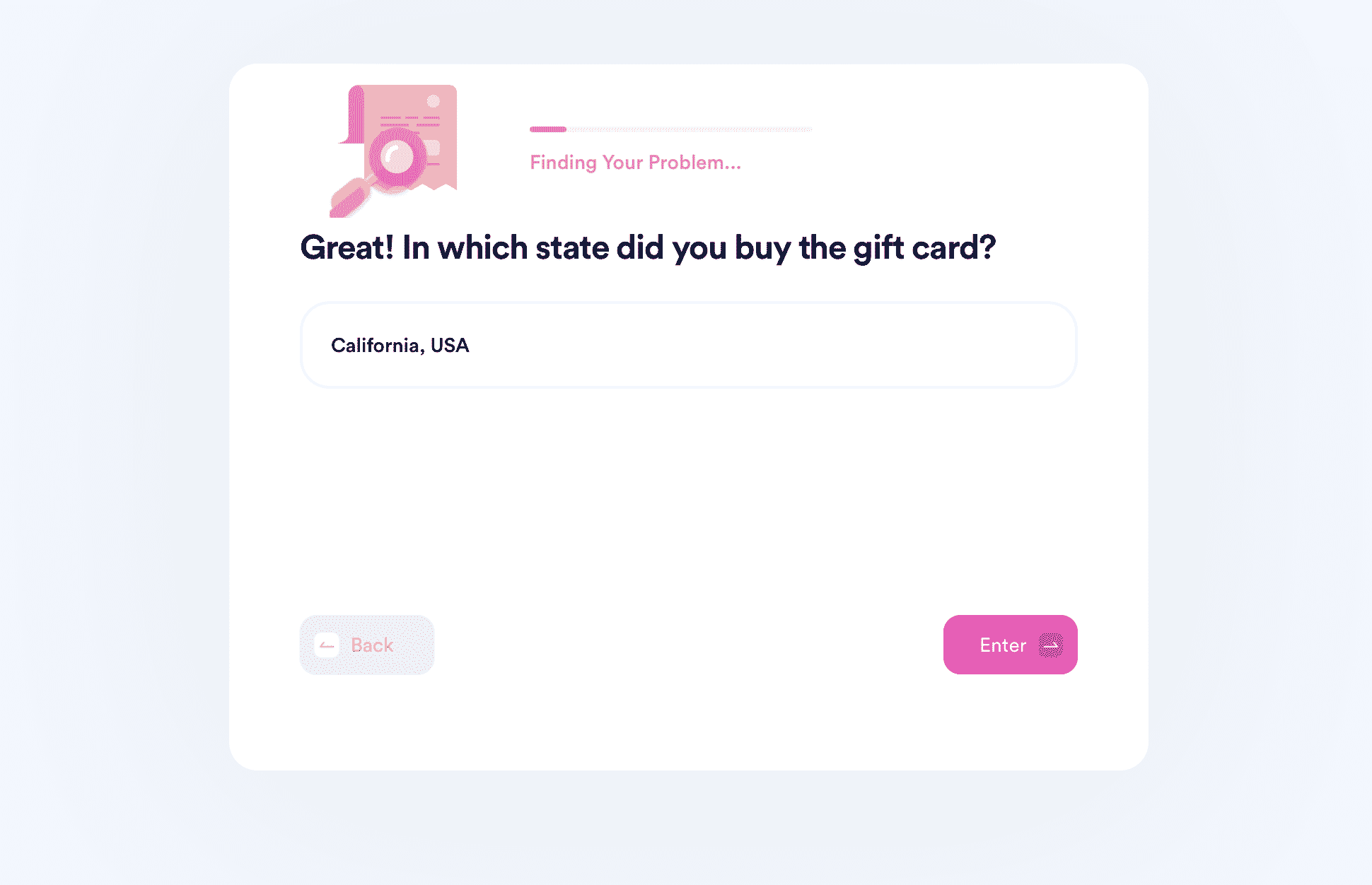 Get Your Leftover Gymboree Gift Card Cash Back With DoNotPay!
Cash is much more versatile than any gift card. Get yours back within three weeks with DoNotPay (regardless of where you live) instead of wasting your time browsing through third-party websites! DoNotPay will send your cash back request to a Gymboree office in a state with a cash back policy.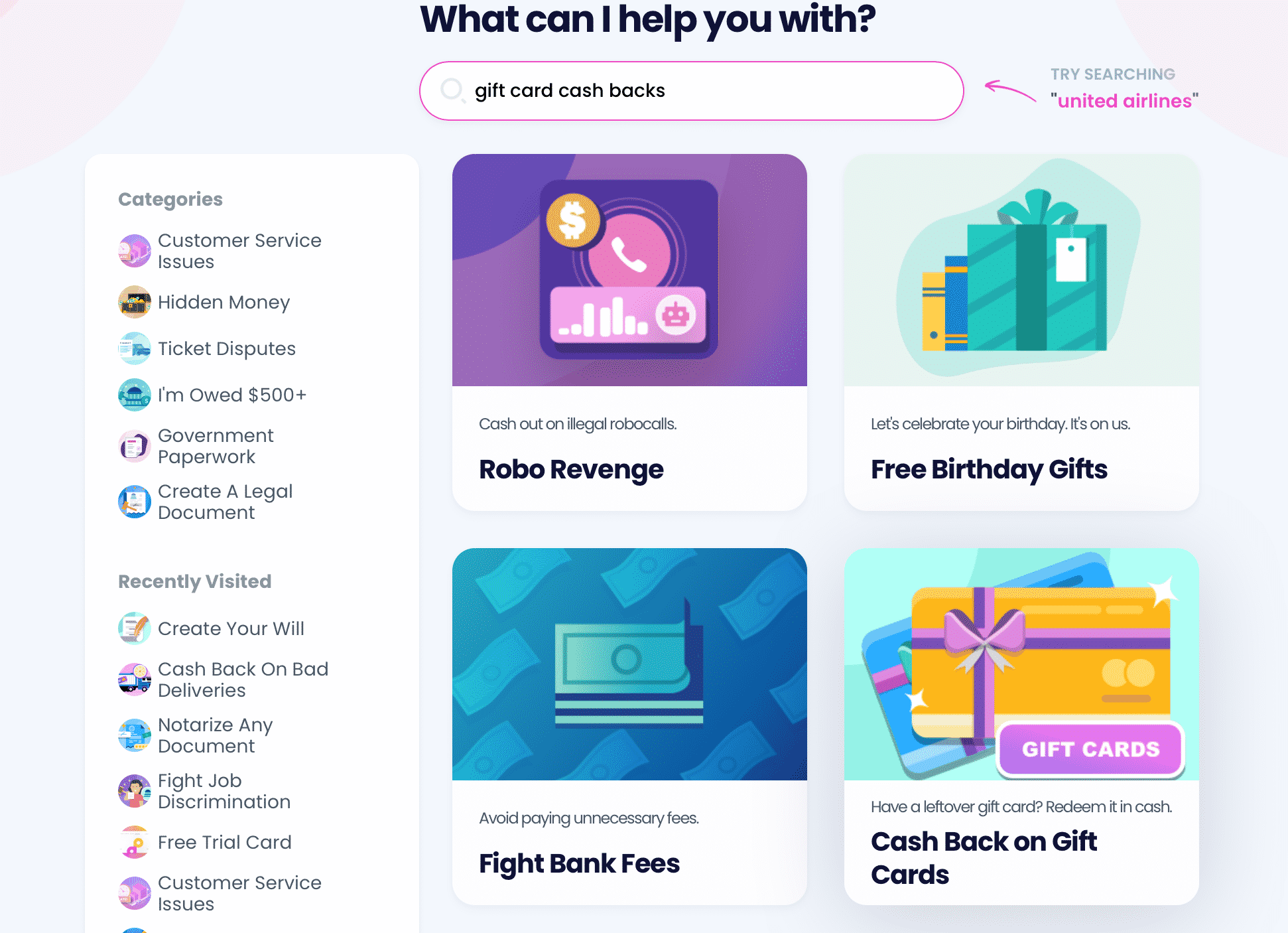 Complete the following steps to use our Gift Card Cash Back feature to your advantage:
Click on the Gift Card Cash Back product
Type in your gift card info and your details
Sign and submit the request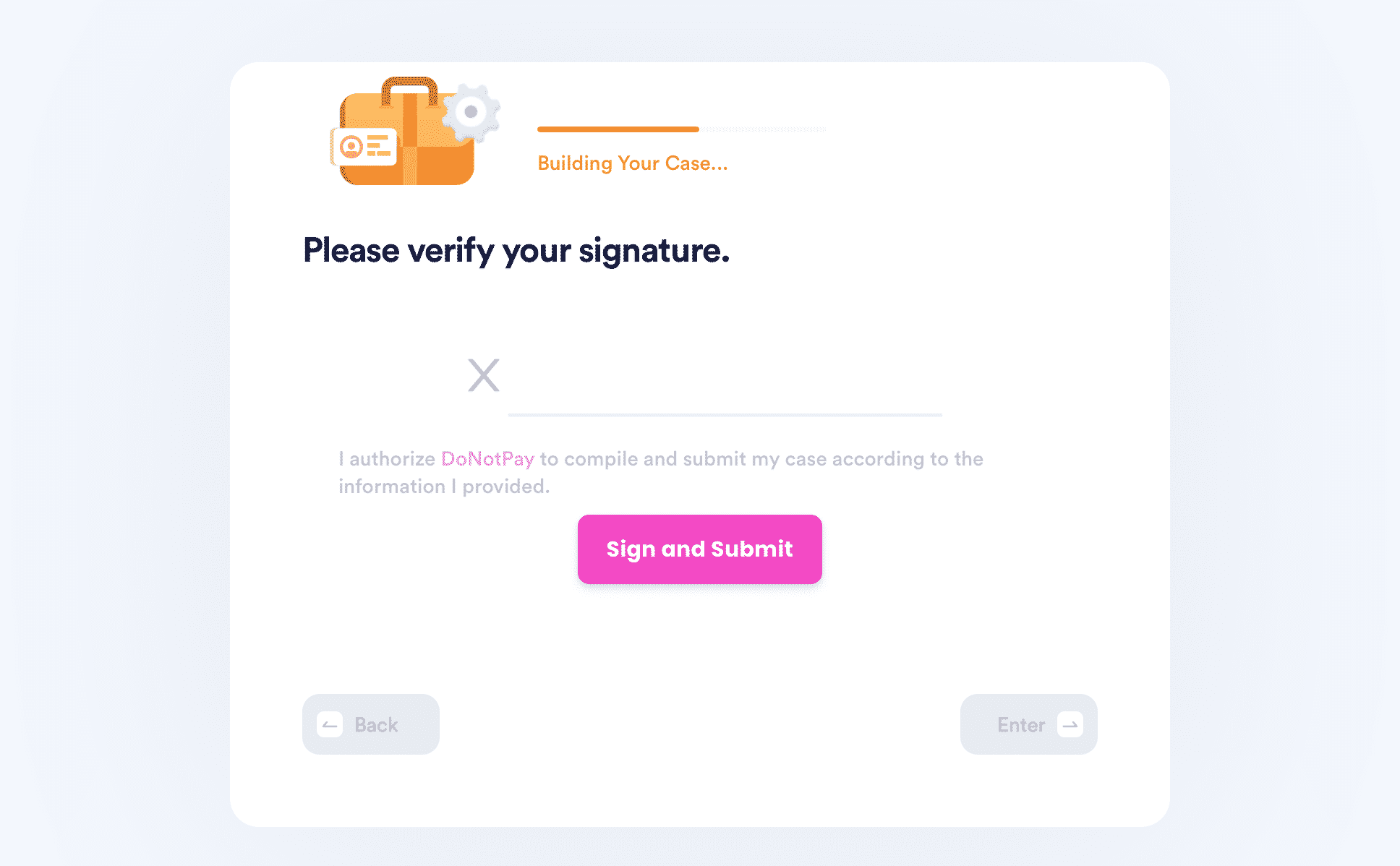 While you're waiting to get your money back, read our guide on getting free gift cards and learn how to check your gift card balance or request cash back from other companies, including:
No More Wasting Money on Lawyers
Spending hundreds of dollars on lawyers seems like a waste, especially when you have a more convenient solution at your fingertips. We developed various neat features that make performing dull legal tasks feel like a breeze! The best part is that you can use them from the comfort of your home or office.
Consult the list below to see the tasks DoNotPay can help you with:
DoNotPay Offers Additional Helpful Tools
Legal tasks aren't the only ones DoNotPay can help you with! We can provide assistance for an abundance of different tasks—from stopping the pesky spam emails to contacting your incarcerated loved ones. Check out the table below and learn how to use our app to:
| | |
| --- | --- |
| Deal With Companies | Deal With Other Tasks |
| | |