Where Can I Sell Gift Cards for Cash Instantly Near Me?
Getting a gift card for your birthday or any other special occasion can be fun, provided that the card is in sync with your taste. Did you receive a gift card from a retailer you don't like? Did you win a card as a reward for completing a survey but don't think you'll use it? Regardless of the situation, you should consider exchanging the unwanted gift card for cash to avoid having it go to waste.
If you're wondering, "where can I sell gift cards for cash instantly near me," our guide will provide the answer! Register for DoNotPay to learn all about gift card exchange methods. We will also help you file a cashback request for the remaining money on your half-used gift card from Disney, Amazon, Victoria's Secret, or any other company.
Can I Sell Gift Cards for Cash?
Receiving a gift card you know you won't use doesn't mean that the card has to collect dust at the bottom of your drawer.
Most people choose to sell their gift cards for cash, either online or in person. While this method is the most popular one, you should know that you probably won't get 100% of the card's value. While selling the card can be a good solution, this doesn't have to be your only option.
Here's what you can do to make use of the card:
| | |
| --- | --- |
| What To Do | Description |
| Exchange the card for another one | There are many online platforms that enable you to trade your gift card for another one. Since some of these websites are shady, make sure to do thorough research before you decide which platform to register for |
| Return the card to the retailer | Some shops accept gift card returns and provide reimbursement |
| Gift the card to someone who'd use it | If you know that one of your friends or family members likes the retailer in question, you should consider giving the card to him or her. In that way, you won't have to spend money on a new present, and the gift card won't go to waste |
Can I Sell Used Gift Cards or Get Cash Back?
Yes! Even if you used a gift card to purchase an item or two, you can sell it for cash, especially if there is still a lot of money on the card's balance.
If the remaining balance is only a few dollars and you can't purchase anything else with it, you probably won't be able to sell it. You should contact the store and request cash back instead.
The law in some states dictates that retailers must give back the money when a gift card that's under a certain balance. The balance limit varies from state to state. California currently has the highest limit—$10 per gift card.
Where Can I Sell Gift Cards for Cash in Person?
Whether you want to sell an unused or a half-used gift card, one of the options you have is to head over to the closest:
While this method enables you to get your money back immediately, the entire process can be rather tedious. Besides having to search for the closest store location on Google, you'll also have to spend hours:
Driving to the store or kiosk
Waiting in lines
Completing the required paperwork
Another drawback is that you'll probably have to provide a receipt as proof of purchase if you choose to go to the retailer directly.
How To Exchange Gift Cards for Cash Online
Don't feel like wasting your time selling your gift card in person? You can register for an online platform that enables you to exchange your card for another one or for cash.
Note that this method takes more time since you will have to wait for the payment to be processed or for your check to come via mail.
Since there are many gift card cash back websites out there, you should find out as much as possible about each of them to make an informed decision. Some platforms offer better payouts and charge lower fees than others.
Do you have only a few dollars on your gift card balance? If you'd like to get that money and as quickly and effortlessly as possible, you should rely on DoNotPay!
Get Your Gift Card Money Back in Three Minutes With DoNotPay
Do you find most gift card cash back platforms complicated to navigate? You'll be relieved to know that DoNotPay has created a product that can help you get your gift card money back in a few clicks.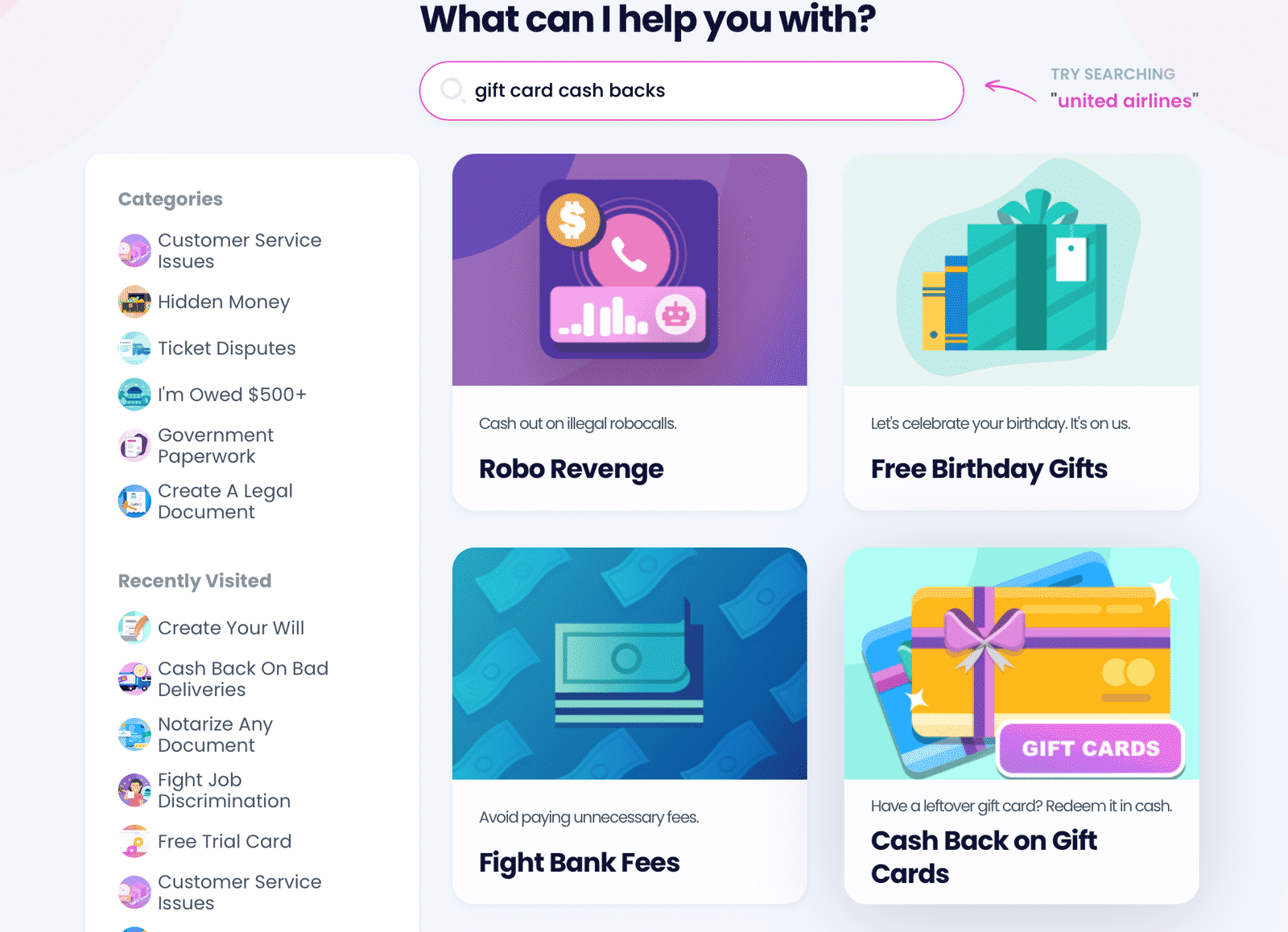 To send your cashback request with ease, do the following:
Pick our Gift Card Cash Back feature
Provide the required information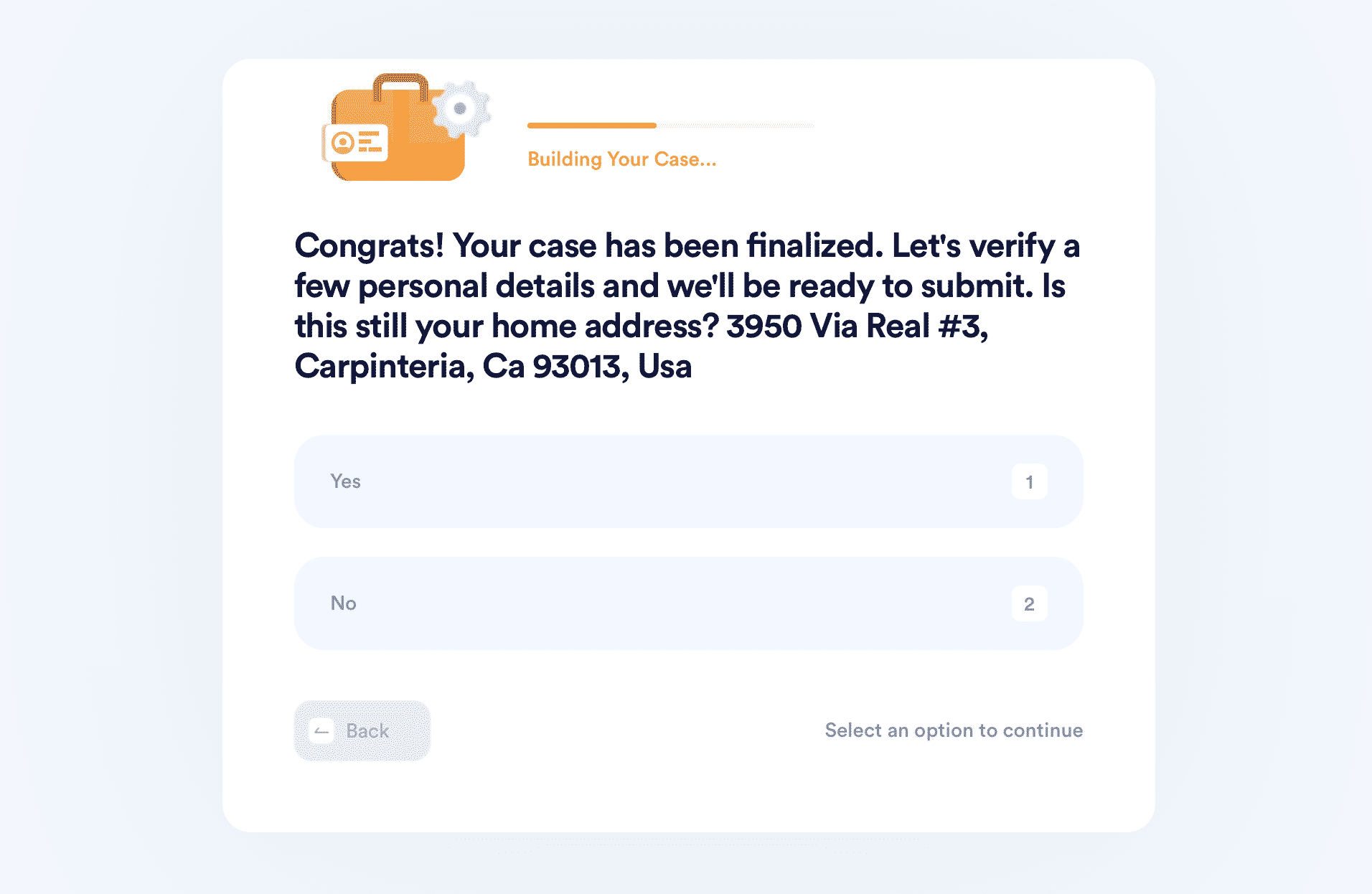 Once you complete these steps, DoNotPay will:
Check whether the state you live in has a cashback policy or whether the retailer in question has an office in a state with this policy
Send the request to the retailer
Take a look at the following list to check out some of the companies we can help you get your money from:
DoNotPay Has the Most Convenient Solution to Most of Your Problems
Whether you want to cancel subscriptions, request refunds for services, purchased items, or late delivery, or enjoy free trials without being charged, DoNotPay has a product for you.
We strive to help you users solve their issues as quickly and effortlessly as possible. With us, you can enter various raffles and sweepstakes, claim warranties or insurance, report copyright infringement, and reduce your property taxes in less than five minutes.
Protect Your Privacy With DoNotPay
Protecting your privacy can be challenging nowadays since most platforms require your phone number and email address upon registration. DoNotPay is here to ensure your personal info stays as secure as possible. Choose our Burner Phone product to register for services without phone verification or our virtual credit card if you want to use a randomly generated email address and payment details.
By using a fake phone number and email address, you can also avoid receiving annoying spam emails, text messages, and shady robocalls. DoNotPay can even make correspondence with inmates safer. If you don't feel comfortable sharing your address with an inmate, DoNotPay can receive the letters for you, scan them, and forward them to you risk-free.