How To Turn Your Used Gift Cards Into Cash With DoNotPay
If you have any used gift cards lying around, you're in luck because DoNotPay is here to show you how to turn them into cash! This article will explain everything you need to know about gift cards. You'll learn how to use them to make some extra profit.
With our Gift Card Cash Back product, you'll be able to redeem any used gift cards you have in a matter of clicks. Why waste time talking to customer service or filling out unnecessarily long forms when we can send a cash back request in your stead?
Types of Gift Cards
Before learning how to redeem your gift cards for cash, you should get to know the basics, such as the various types of gift cards. We've made a table containing some of the most common card types:
Type
Specifics
Single store gift cards
This is the most common type of gift card. It is used for purchasing items from a single brand or merchant. Some examples include:

Target gift cards
Amazon gift cards
Chipotle gift cards

Family of companies gift cards
These gift cards allow you to make purchases at merchants within a family of stores. For example, with the Gap Options gift card, you can buy items at Gap, babyGap, Old Navy, and other related stores
Multi-store gift cards
This type of card is usable at places that are listed on it. For example, you can use it at your favorite restaurant or a department store
Category of stores gift cards
These cards are meant to be used in outlets that match the category of the card
Any store gift cards
This type is the most flexible as it can be used anywhere. You can use it at restaurants, grocery stores, tech stores, etc.
Can You Return a Gift Card for Cash?
You can redeem a gift card for cash in Puerto Rico or one of these states:
Connecticut
Rhode Island
Vermont
California
Colorado
Maine
Massachusetts
Montana
New Jersey
Oregon
Washington
The remaining balance on your card mustn't exceed the limit set by the state. For example, you can redeem your gift card for cash in Colorado if the balance isn't above $5, whereas in California, you can get cash back for up to $10.
The process of getting cash back is different in every company, and it'll require you to follow some tedious steps to redeem your card. DoNotPay allows you to skip all this and get your money back in a couple of clicks.
How To Turn Gift Cards Into Cash
You can turn your gift cards into cash in various ways, including:
Selling it online—You can visit one of the numerous card reselling websites and sell your gift card for cash quickly. Keep in mind that you won't be paid the full value
Listing it on an online marketplace—You can list your gift card on websites such as eBay or Craigslist. This solution will require you to be patient as the card won't be sold immediately, and you will only receive a percentage of the remaining balance
Selling it in person—Maybe you have a friend who's interested in buying your gift card, or there's a gift card exchange kiosk near you where you can turn your card into cash
Redeem it for cash—If you have some balance on your gift card, you may be able to redeem it for money, but you will have to check the laws of the state you're in
The easiest way to turn your gift card into cash is to and use our Gift Card Cash Back product. With it, you'll be able to get your money back without a hitch.
Turning Gift Cards Into Cash With DoNotPay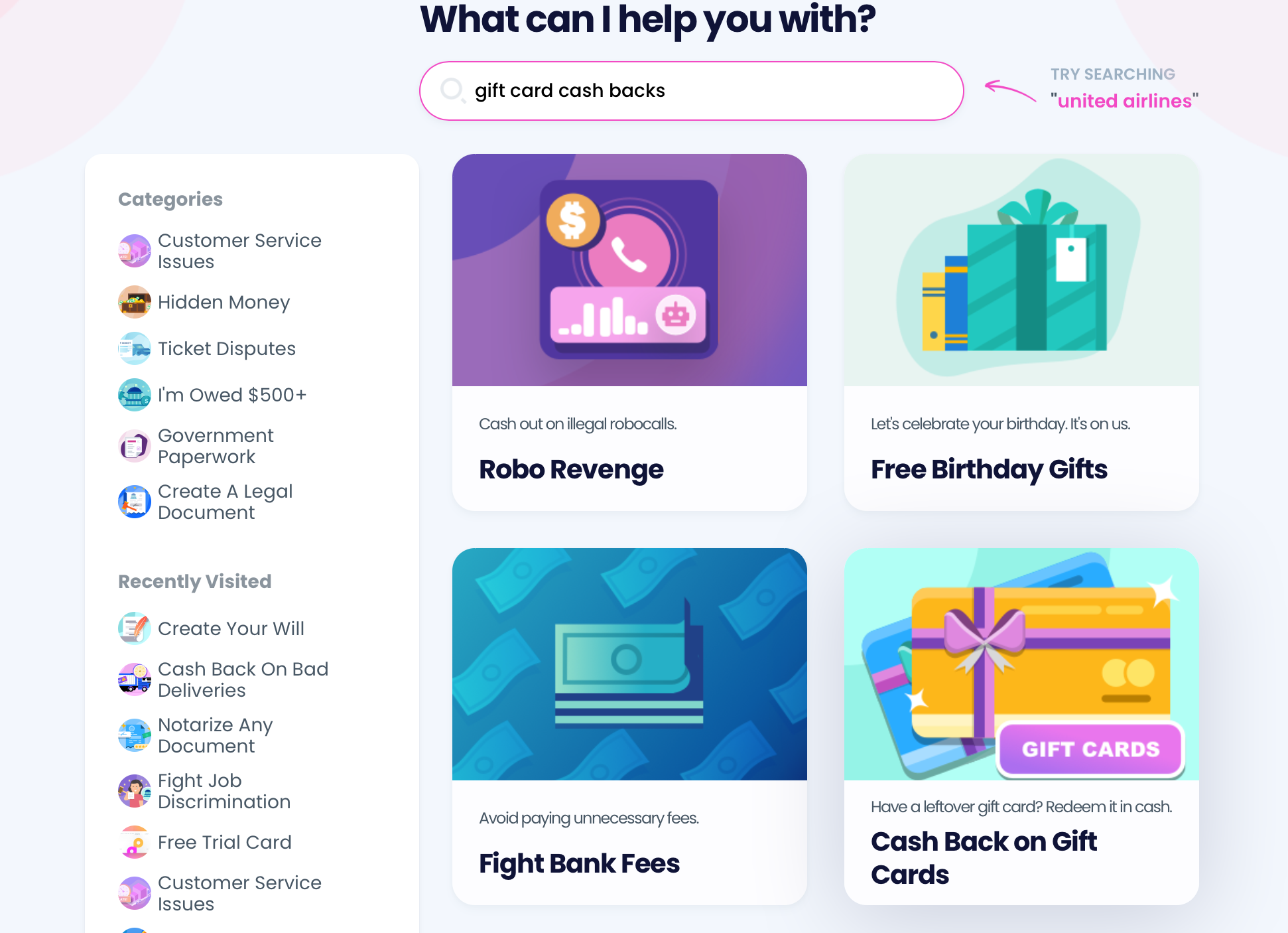 DoNotPay can help you redeem your used gift card for cash and turn the whole process into a breeze. Here's what you need to do:
Select our Gift Card Cash Back product
Provide the necessary information such as:

Your name
Gift card number
The remaining balance
The state where your gift card was issued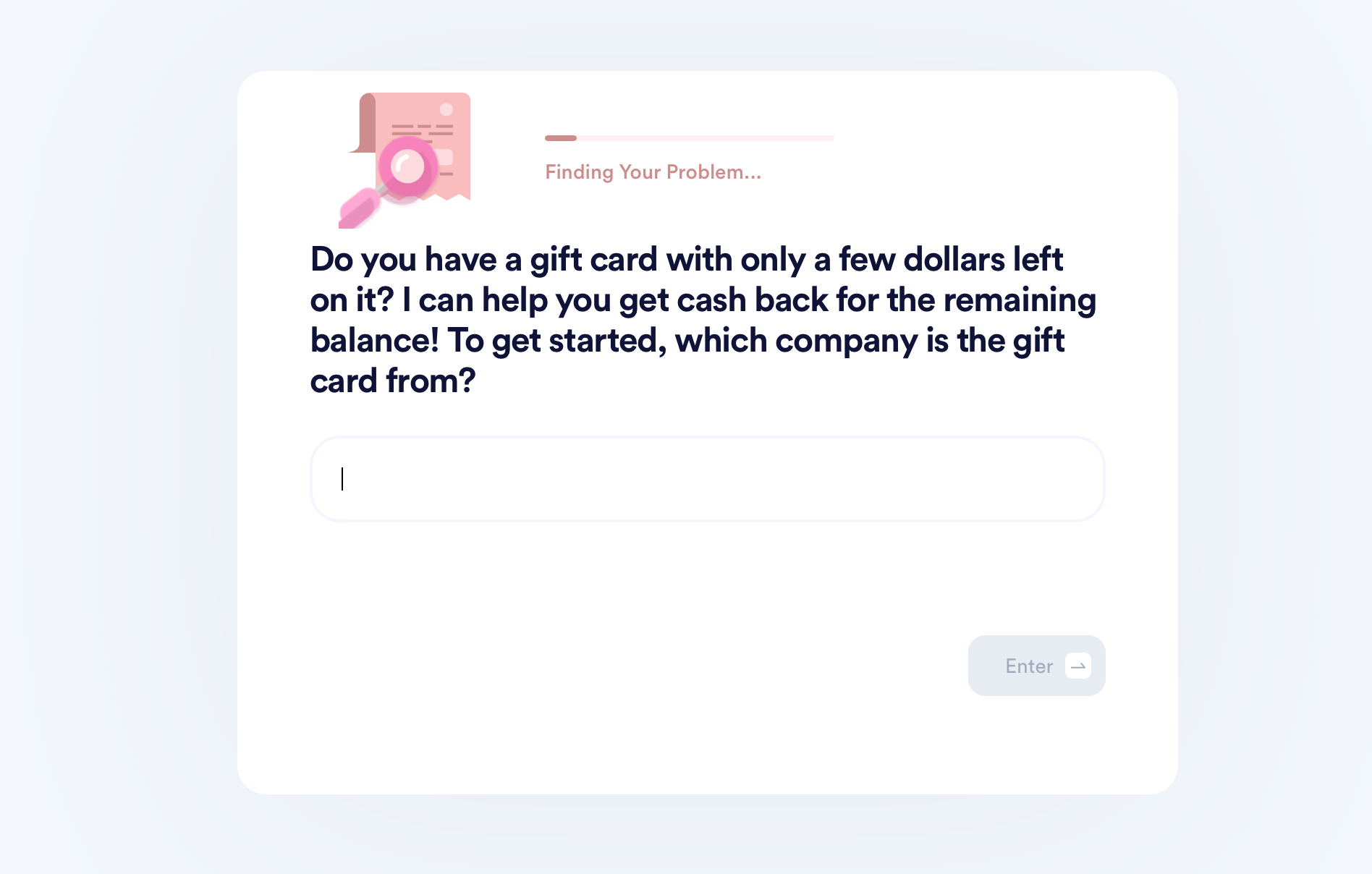 We'll automatically send your request if you're located in a cash back state. In case you're not, we'll find an office of the company that issued your gift card in one of the 11 states mentioned above or Puerto Rico and send it there. You can expect to receive your money within 14 business days.
DoNotPay's assistance doesn't stop here! We can show you how to get free gift cards and help you check the balance before redeeming your used gift cards for cash.
What Companies Can DoNotPay Help You With?
Some of the companies DoNotPay can help you file a gift card cash back request with are:
Say Goodbye to Administrative Issues—Rely on DoNotPay
Are annoying procedures—such as canceling memberships, disputing parking tickets, filing warranty and insurance claims, requesting refunds for purchased products or services—giving you headaches? Do you dread calling an airline's customer support to request a refund and compensation for a canceled flight? You're not alone! The good news is—DoNotPay can help you solve these issues stress-free!
You can use our app to prepare for your driving test or other government exams and schedule an appointment with the DMV in minutes.
Are you wondering whether you're paying too much for your property taxes? Make sure to try out our Property Tax feature and learn about the best way to reduce your property tax bill.
Annoyed by Spammers? DoNotPay Can Help!
With DoNotPay, you can get rid of spam emails and text messages and report robocalls in one fell swoop. Our Burner Phone feature will generate a fake phone number that you can provide upon registration for any service!
Besides helping you enjoy free trials without the risk of being charged, DoNotPay's virtual credit card has another advantage. It will provide a random email address you should use when signing up for a free trial. That way, you'll avoid pesky marketing emails and email notifications.