Check the Hy-Vee Gift Card Balance With DoNotPay, and Get Cash Back!
Would you like to know how much money is left on your Hy-Vee gift card? You can check the Hy-Vee gift card balance fast and hassle-free with DoNotPay. Read our guide to learn how to perform a gift card balance check effortlessly and find out what you can do with the leftover money.
DoNotPay enables you to file gift card cash back requests with ease, regardless of the company that issued it or the state you live in. Convert your gift card to cash without devaluing it!
The Lowdown on the Hy-Vee Gift Cards
Hy-Vee gift cards are used to shop at any Hy-Vee and Hy-Vee Drugstore. Hy-Vee gift cards are available in denominations of:
The company only offers physical (plastic) gift cards at the moment. Their design can be customized, and they can include a personalized message.
Hy-Vee sometimes offers free gift cards (e.g., customers who have been vaccinated against COVID-19 can get a $10 gift card from the company).
How To Check the Hy-Vee Gift Card Balance on Your Own
You can refer to one of the three official methods for checking the Hy-Vee gift card balance:
Call the company
Check the balance online
Visit a store and check it in person
Call the Hy-Vee Customer Support Service and Ask About the Balance
You may check the balance on your new or used gift card by calling the company's gift card line at 1-800-772-4098. Their working hours are not specified, so it's best to call during the day.
Check the Hy-Vee Gift Card Balance Online
Don't want to wait on hold? Check the balance online by following these instructions:
Open the Hy-Vee gift card balance page
Enter your gift card number
Type in the CVV number
Confirm that you're not a robot
Click on the Check Balance button
Visit a Hy-Vee Store and Check the Balance in Person
You can check the gift card balance in any Hy-Vee store, and here is how:
Open the Hy-Vee Store Finder page
Enter your ZIP code, state, and city
Hit the Search button
Check the Hy-Vee Gift Card Balance With Lightning Speed Using DoNotPay!
DoNotPay offers the most efficient way to check your Hy-Vee gift card balance. Here are the steps you need to take:
Click on the Check Gift Card Balance option
Provide your information and upload the photos of your gift card
We will check the balance right away and let you know via email. If you want us to check your balance on cards from other companies, we can do that, too. Here are some of our other guides you might find helpful:
What Should You Do With the Leftover Money on Your Hy-Vee Gift Card?
It's up to you to decide how to use the remaining balance on your gift card, but you should know that you have the following options at your disposal:
Exchanging the gift card for a card from a different brand—That way, you will get a gift card that you'll use
Selling your gift card online for cash—Note that you'll get up to 80% of your money back from third-party websites
Returning the gift card for cash—Most companies, including Hy-Vee, only accept gift card returns when required by law
Selling the gift card at a nearby gift card kiosk—Their rates aren't great either. You can get around 70% of the card's value back
DoNotPay Offers You the Best Option—Demand Cash Back Effortlessly From Any Company
Getting your money back can be tough if you want to wing it yourself. Most people don't know about state laws regarding gift cards. Only the following locations allow cash backs:
Montana
New Jersey
Washington
Oregon
Vermont
Rhode Island
Massachusetts
Connecticut
Colorado
Maine
California
Puerto Rico
DoNotPay can ask Hy-Vee for cash back in your stead, and we'll make sure to send a request to one of their locations in the above-mentioned states. You will get your money back in two to three weeks!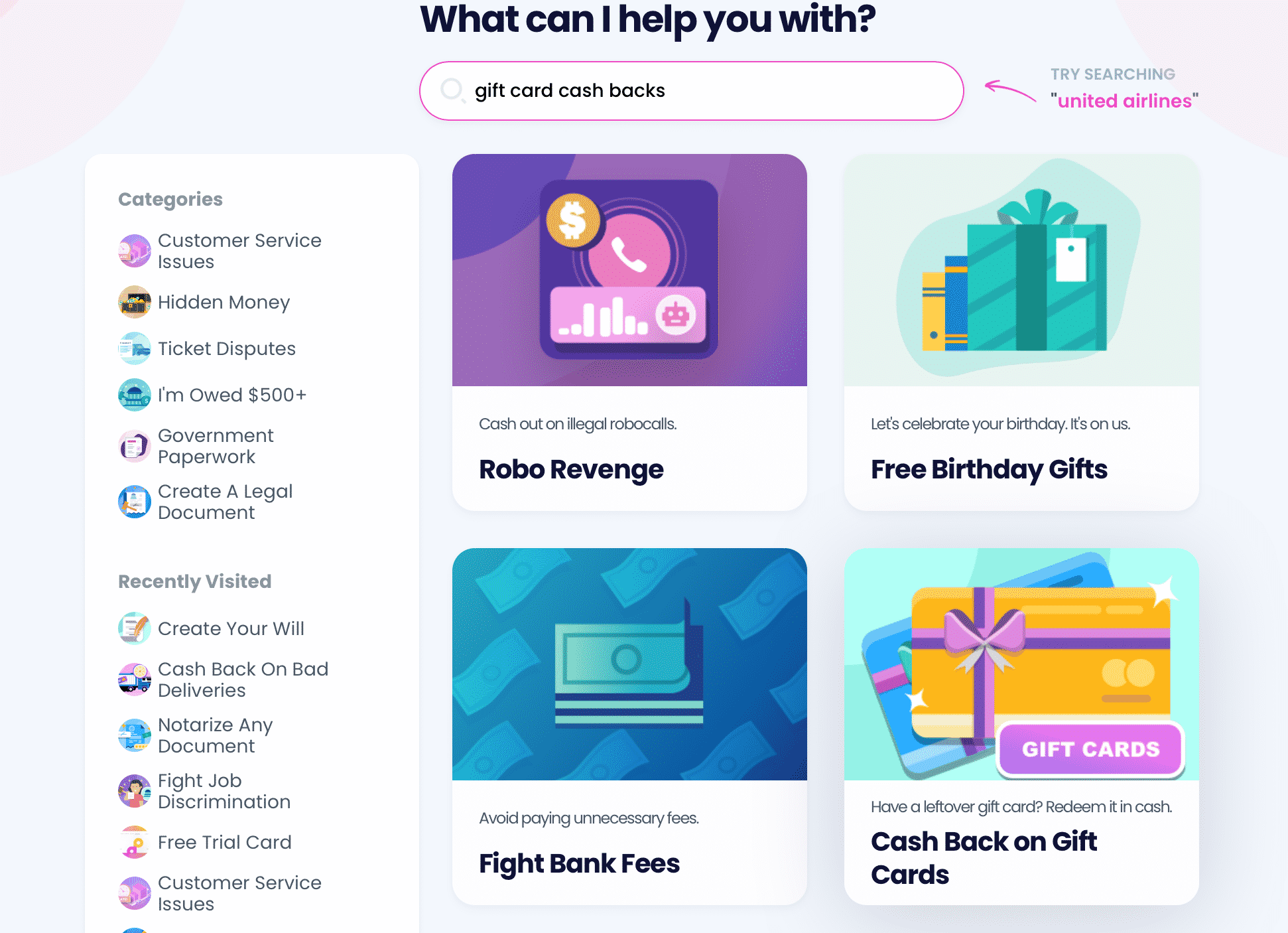 If you'd like to request your Hy-Vee gift card cash back effortlessly, do the following:
Click on the Gift Card Cash Back product
Enter your information and the gift card details
DoNotPay Is the Robot Lawyer You Need!
Dealing with the law and understanding legal protocols is difficult if you're not used to doing it on a daily basis. That's why DoNotPay comes to the rescue!
Assisting you in drafting legal documents, creating a neighbor complaint letter, and suing companies in small claims court is what we do best.
That's not all! With us, you can tackle any legal task head-on, no matter how big or small, including:
Deal With Companies Hassle-Free
If you love to shop and you want to make the experience as easy and enjoyable as possible, you're in the right place! DoNotPay provides you with various features that allow you to accomplish just that.
You don't have to struggle trying to reach customer support or figuring out how to claim a warranty or file an insurance claim by yourself. You can cancel any subscription, sign up for free trials, and discover how to use every last penny from your gift cards in minutes!
In case you made a purchase, but your package is missing, don't fret! Finding your missing parcel is only a few clicks away.