Check the Amazon Gift Card Balance With Zero Hassle
How can you check the Amazon gift card balance with ease? Is there a way you can turn the unspent gift card balance into cash, and is it possible regardless of the state you live in? Find the answer to all these questions in our detailed guide!
What Should I Know About Amazon Gift Cards?
Once you purchase an Amazon gift card or get it as a present and deposit the funds to your Amazon account, the money will automatically become available for spending. These gift cards have no expiration date, which means you can use them at any preferred moment in the future.
The platform also proposes some limitations when it comes to gift card use. You can't redeem the card if you are trying to purchase:
Other types of gift cards
Another Amazon gift card
Prepaid open-loop gift cards
Products outside of the platform
Goods from the Amazon-affiliated businesses outside the USA
It also mustn't be used for promotional and commercial purposes or unauthorized marketing.
How To Check My Amazon Gift Card Balance
To check the balance on an Amazon gift card, you can:
Visit the official Amazon website

Use DoNotPay
Checking Your Balance on the Amazon Website
Complete the instructions below to check your balance through the Amazon website:
Click on the Gift Cards tab
Select View Your Balance
Hitting this button will take you to the page showing the current amount on your gift card and all related activities. Depending on the funds left, you can choose to reload the card and keep shopping or redeem the rest of the money by starting a new order.
How To Check Your Amazon Gift Card Balance With DoNotPay
DoNotPay can check your Amazon gift card balance for you! The process is super simple as well—here's how it works:
Tap the

Check Gift Card Balance

feature and snap a photo of your gift card (front and back)

Confirm your email address
DoNotPay calls your gift card provider and informs you about your remaining balance in next to no time!
What Should I Do With the Remaining Funds on My Amazon Gift Card?
You checked your gift card balance and realized you have some dollars left on it—what's the next step? Here are some possible ways to use the remaining amount:
Spend all the extra bucks when placing your next order
Combine the gift card credit with other accepted payment methods
Reload the existing gift card with some more money and keep using it
Give the gift card to a close friend or family member
Trade your gift card for another one from a retailer you prefer—online or at the designated kiosks
Start using DoNotPay and turn your gift card funds into cash with ease
Can I Get the Remaining Cash From a Used Amazon Gift Card?
Like most other companies, Amazon offers to receive a gift card back in exchange for cash only when the law requires so. This refers to state-specific gift card laws that allow or forbid retailers to reimburse customers for unused gift card funds.
Only 11 U.S. states and Puerto Rico currently have a positive cash back policy, which means that you can return the gift card for cash only if you live in one of them. They also propose specific cash back limits you can see in the list below:
Vermont—$1.00
Rhode Island—$1.00
Connecticut—$3.00
Oregon—$5.00
Colorado—$5.00
Maine—$5.00
Missouri—$5.00
Massachusetts—$5.00
New Jersey—$5.00
Washington—$5.00
Puerto Rico—$5.00
California—$10.00
Turn Your Gift Card Funds Into Cash the Easy Way With DoNotPay
If you don't want to give up on a few bucks waiting on your gift card and prefer to turn them into cash, DoNotPay has got you covered. We developed an amazing app that can help you reclaim the unspent money from partially used regular or free gift cards in three simple steps!
No need to get in touch with the company or send written requests—we will do all the work. Our system will scan your gift card details and check whether you are entitled to receive cash back according to the local gift card statutes. We will contact the company in your name and help you claim the unused gift card balance within 14 working days.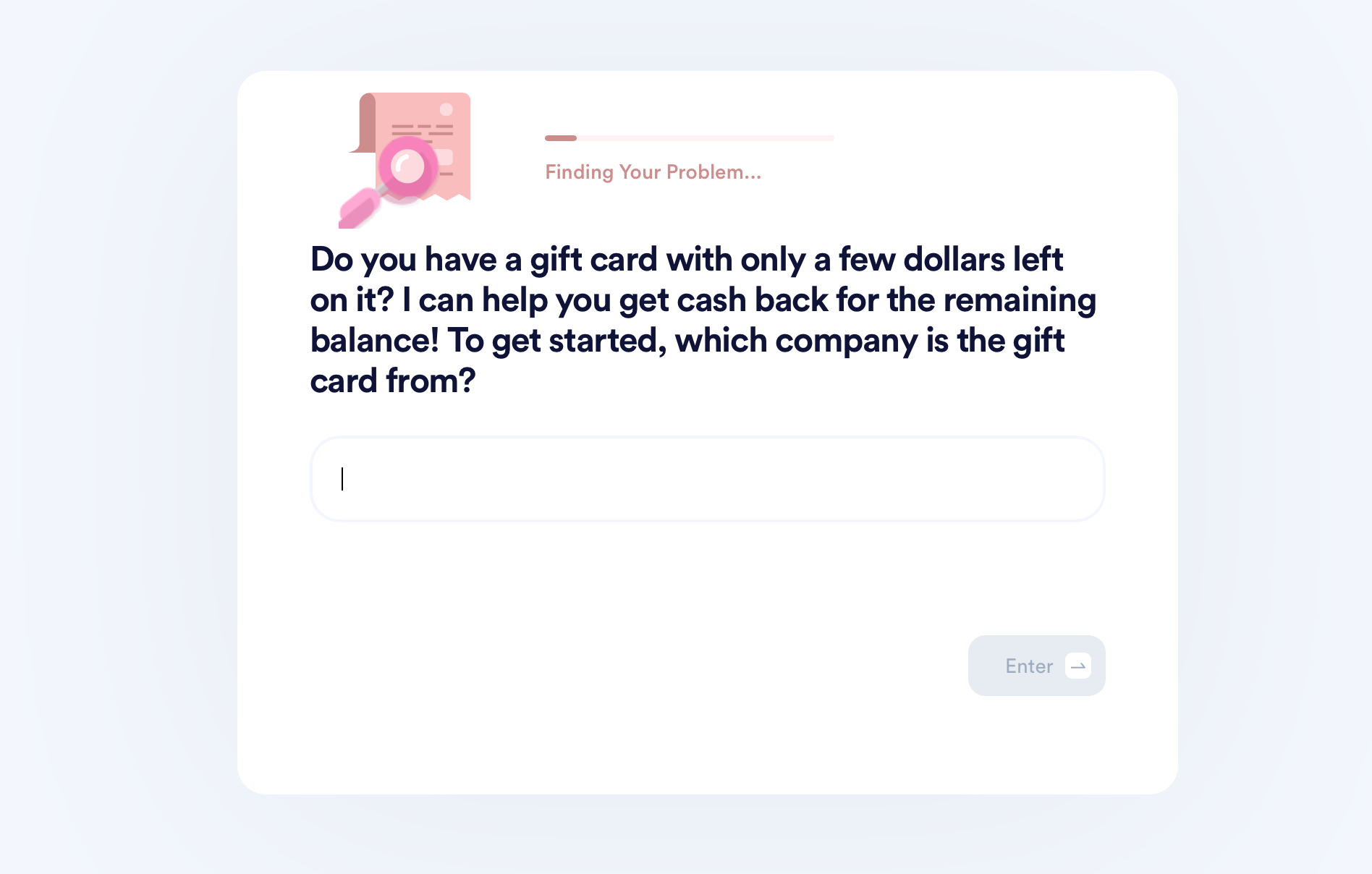 Here's how this service works:
Open DoNotPay in any web browser and log in to your account
Go to the Gift Card Cash Back section
Type in the required gift card details
No cash back policy at your location? No worries—we have a solution for his problem too! If the company has a branch in one of the states that support gift card cash back, DoNotPay will automatically forward the details of your claim to it. This way, you will reclaim the funds that belong to you without unnecessary hassle!
Use the other guides from our handy learning base to cash in the unused money from other retailers' gift cards, such as the ones from:
Rely on DoNotPay To Solve Your Administrative Issues
Getting your documents notarized, drawing up legal paperwork, appealing parking tickets, and similar activities usually require a lot of effort. DoNotPay offers various useful products that can help you deal with administrative problems quickly and save a lot of time. We can assist you with:
Protect Your Consumer Rights With DoNotPay
Companies complicate cancellation and refund processes intentionally, hoping that consumers wouldn't want to spend hours trying to solve the issue they're having. DoNotPay knows how important consumer rights are, and that's why we created numerous products that can help you:
Many people forget to cancel their free trials on time and end up paying for the services they don't even use. To prevent that, DoNotPay has developed a nifty virtual credit card that will allow you to enjoy free trials risk-free. Our virtual credit card will also help you avoid spam email notifications by generating a random email address that you can use when signing up for a free trial.