It's No Secret—Return Your Victoria's Secret Gift Card for Cash
Shopping at Victoria's Secret is great, but what if you don't want to use all of your gift card balance on their products? Can you get some of your used gift card's cash back? You can, and we're here to show you how.
Read our guide and learn how to exchange your Victoria's Secret gift card for cash. If you want to check your gift card balance first, we can help you with this too!
The Victoria's Secret Gift Card Policy Explained in Brief
Victoria's Secret gift cards allow you to buy any item from the company's retail stores or online shop, except for additional gift cards. The cards are available in $10 to $500 denominations. They can be physical or plastic and e-gift or online cards.
None of the cards have expiry dates.
You can't return gift cards and get a refund for them unless otherwise required by law. Currently, you can get your cash back for a Victoria's Secret gift card if the balance is less than $10, according to the Victoria's Secret return policy.
How To Check the Victoria's Secret Gift Cards Balance
Before you exchange your Victoria's Secret gift card for cash, it's best to know how much money it holds. You can check the remaining balance in the following ways:
By phone
Through the website
Via online chat
In person
Using DoNotPay
Check the Balance by Phone
You can check the remaining balance on your gift card by calling the online customer care at 1-800-411-5116 from 8 a.m. to 2 a.m. EST or the store customer care at 1-855-866-5810 from 8 a.m. to 12 a.m. EST.
Have your card info ready because the agent needs it to check the balance.
Check the Balance Online
Here is how to check your gift card balance using the official website:
Open the Gift Cards page
Enter your gift card number and PIN
Click on Check Balance
Check the Balance via Online Chat
You can reach a customer service agent via chat if you:
Open the Customer Care page
Tap on Chat Now
Hit Start Chatting
Hold until an agent joins the chat
Ask them about the balance
Check the Balance in Person
If you don't mind asking for your gift card balance in person, you can visit any Victoria's Secret location in the U.S., and the store assistants will help you. Need help finding the closest shops? Use the Store Locator page by entering your location and clicking on Search.
Use DoNotPay To Check the Victoria's Secret Gift Card Balance in Under Two Minutes!
DoNotPay lets you skip all the waiting and frustration when checking your gift card balance. It takes three steps to learn about your remaining credit if you follow the instructions below:
Click on the Check Gift Card Balance option
Upload a photo of your gift card and provide your contact info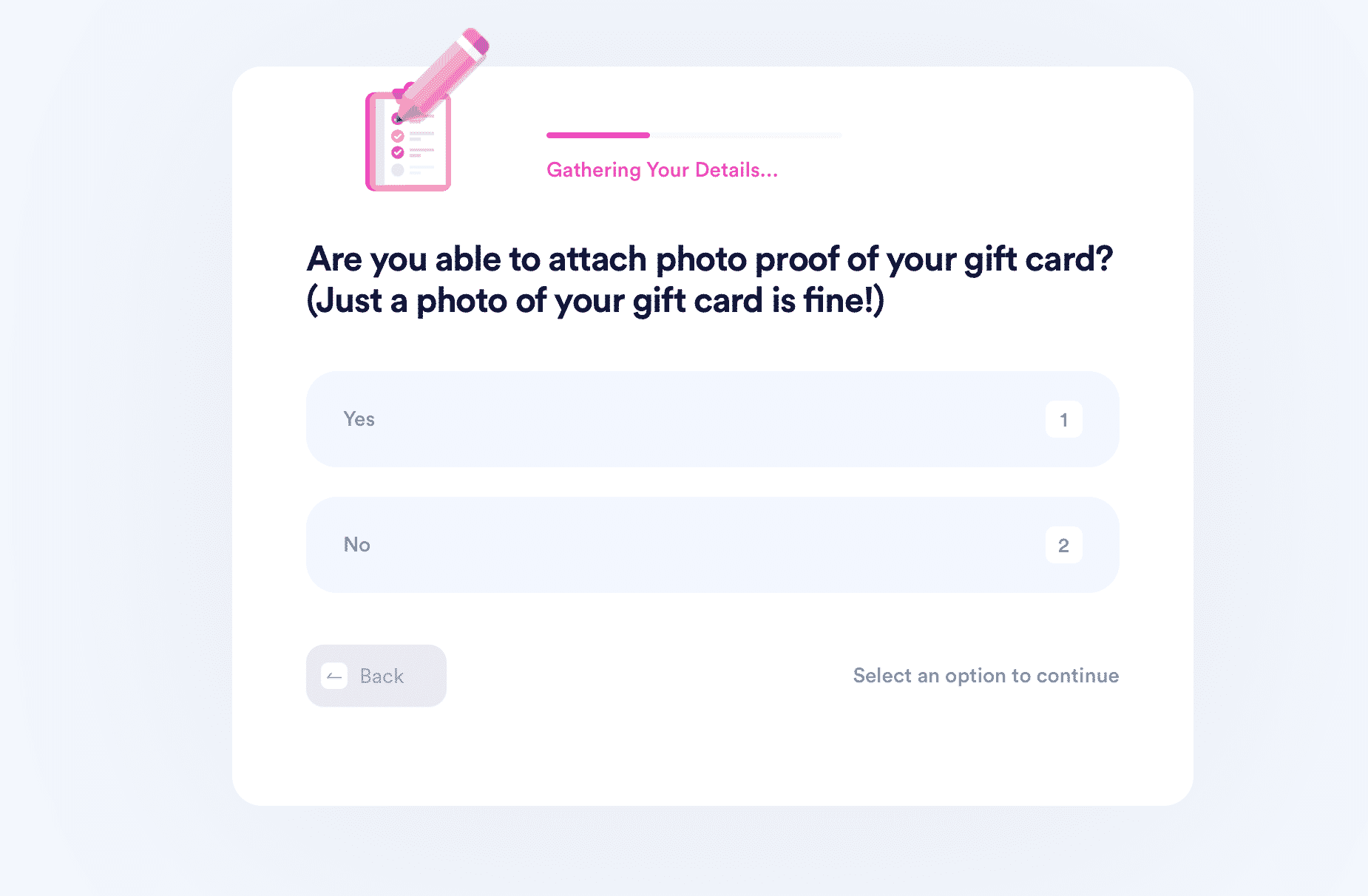 Have more gift cards, but you forgot whether they have any money left? Check the table below for some of our most popular guides:
The Available Methods for Trading Victoria's Secret Gift Cards for Cash
Once you know how much money you can get from your Victoria's Secret gift card, here's what you can do:
Exchange the gift card for a different brand card if you'd like to shop somewhere else or sell the exchanged card
Sell the card online or at a gift card kiosk near you
Return your gift card to Victoria's Secret
Use DoNotPay to get your money back
The following locations allow cash back for gift cards:
Oregon
New Jersey
Colorado
Washington
Rhode Island
Maine
California
Connecticut
Vermont
Massachusetts
Montana
Puerto Rico
You can get your money back from Victoria's Secret yourself if you visit a store in these states and ask a shop assistant about cash back. Does this sound like too much of a hassle? Use our app to get ahold of your money in a snap, regardless of the state you live in!
DoNotPay Can Get Your Leftover Victoria's Secret Gift Card Cash Hassle-Free
Even though you could go through the trouble yourself, DoNotPay can request cash back for you and save you time and gas money. We will remotely ask for your money back from a store that's in one of the twelve eligible cash back locations.
Here's what you need to do:
Click on the Gift Card Cash Back product
Enter your details and the gift card info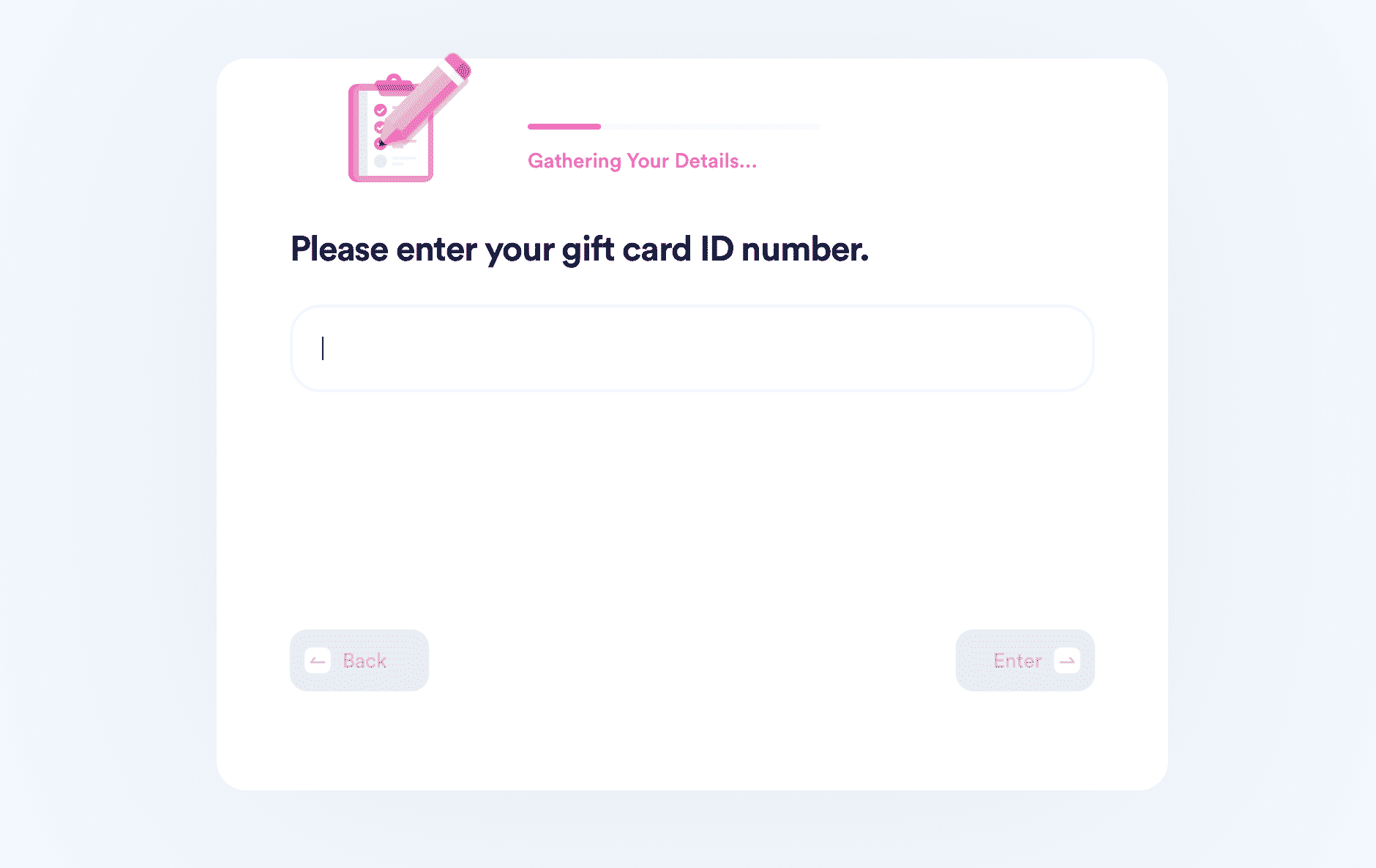 You will have your money back by mail within 14 business days. Our way is the most efficient method for turning any gift card into cash, and it's foolproof. If you need more cards, take a look at our guide for scoring free gift cards!
Tackle Any Legal Task With Our Lawyer App Like a Pro!
Why bother with tedious legal tasks on your own when you can let DoNotPay cut your work in half? No more worrying about how to draft legal documents or sue a company in small claims court—we'll guide you through it effortlessly!
There is no shortage of tasks our Al-powered app can help you with. Once you sign up, you'll learn how to:
File warranty and insurance claims

Reduce property taxes
Fight Scammers in a Few Clicks!
Is your phone buzzing incessantly, and you can't take it any longer? Use DoNotPay to stop annoying robocalls and fight scammers with ease!
Having a company spam you with unwanted emails about their products isn't uncommon, but that doesn't mean you have to put up with it. DoNotPay helps you create a burner phone number, fight email spam, and stop spam text messages in a snap!
You can also find our features super useful when requesting a refund, filing insurance claims, and locating your missing USPS, UPS, or other parcels.