Here's How To Check Your Speedway Gift Card Balance in a Speedy Way
If you have any used gift cards from Speedway, don't throw them away just yet because you may still have some extra money on them. We'll explain how to check Speedway gift card balance in no time and help you get your money back fast!
DoNotPay is speedy when it comes to gift card cash backs. If you , we'll help you get your money back within 14 business days!
How Does a Speedway Gift Card Work?
Speedway gift cards are redeemable for both merchandise and fuel, and they don't expire. The company can customize gift cards for organizations in any dollar amount from $5 to $999.
The company also has a Speedy Cash Prepaid Fuel Card that can be used for fuel only. You can reload a Speedy Cash Prepaid Card in a store or on their website.
Speedway stores offer other gift cards, too, including Amazon, Audible, Darden, and Google Play gift cards.
How To Check Balance on a Speedway Gift Card
You can check your Speedway gift card balance in three ways:
Online
Over the phone
In a Speedway store
Check Your Speedway Gift Card Balance Online
If you opt for checking the remaining balance on your Speedway gift card online, follow these steps:
Visit the Gift Card Balance Check page on the Speedway website
Enter your card number
Type in the access code
Click on Submit
Call the Customer Support To Check the Balance on a Speedway Gift Card
You can call Speedway's customer support to learn about your remaining balance—here's what to do:
Call 1-866-836-6841
Ask the customer support agent to check your gift card balance
Provide the agent with your gift card number and access code
Visit a Speedway Store To Check the Remaining Balance on Your Speedway Gift Card
Head over to a Speedway shop to check how much money you have on your Speedway gift card. Ask the staff at the cash register to check your balance.
This might be a little inconvenient since you have to go to the store personally.
What To Do With the Remaining Balance on Your Speedway Gift Card
Once you find out how much cash you have on your gift card, you can decide what to do with it. We have found some options you might want to consider:
Selling the gift card—Visit a website that buys and sells gift cards. Note that these platforms can be shady and unreliable. You can also sell your card by going to a designated store. Whichever option you choose, you probably won't get 100% of the gift card's value
Exchanging the card—Trade your gift card for a Speedy Cash gift card. Speedway accepts gift cards from around 200 brands, including AMC, Applebee's, Barnes & Noble, and Bed Bath & Beyond. All you need to do is visit the Speedway web page dedicated to trading gift cards, enter a merchant and the remaining balance, and click on Get Instant Offer. You can exchange more than one gift card by clicking on Add Another Card. Speedway will show you how much money you can get for your gift card
Giving the card away—Give your gift card to someone as a present if you haven't used it. This can be a perfect gift for someone who's constantly on the road
Combining the card—Combine multiple Speedway gift cards while shopping at the store
Getting your money back—Request gift card cash back from Speedway. The company's official policy is that they don't redeem gift cards for cash, but that's where we come in. You can use DoNotPay to get your cash back fast
How To Use DoNotPay To Request Gift Card Cash Back
DoNotPay can turn your gift card into cash in a flash. After you , follow these three steps:
Find our Gift Card Cash Back product
Input all the information relevant to your request—gift card number, balance, your email, and similar
Click on Sign and Submit to complete your request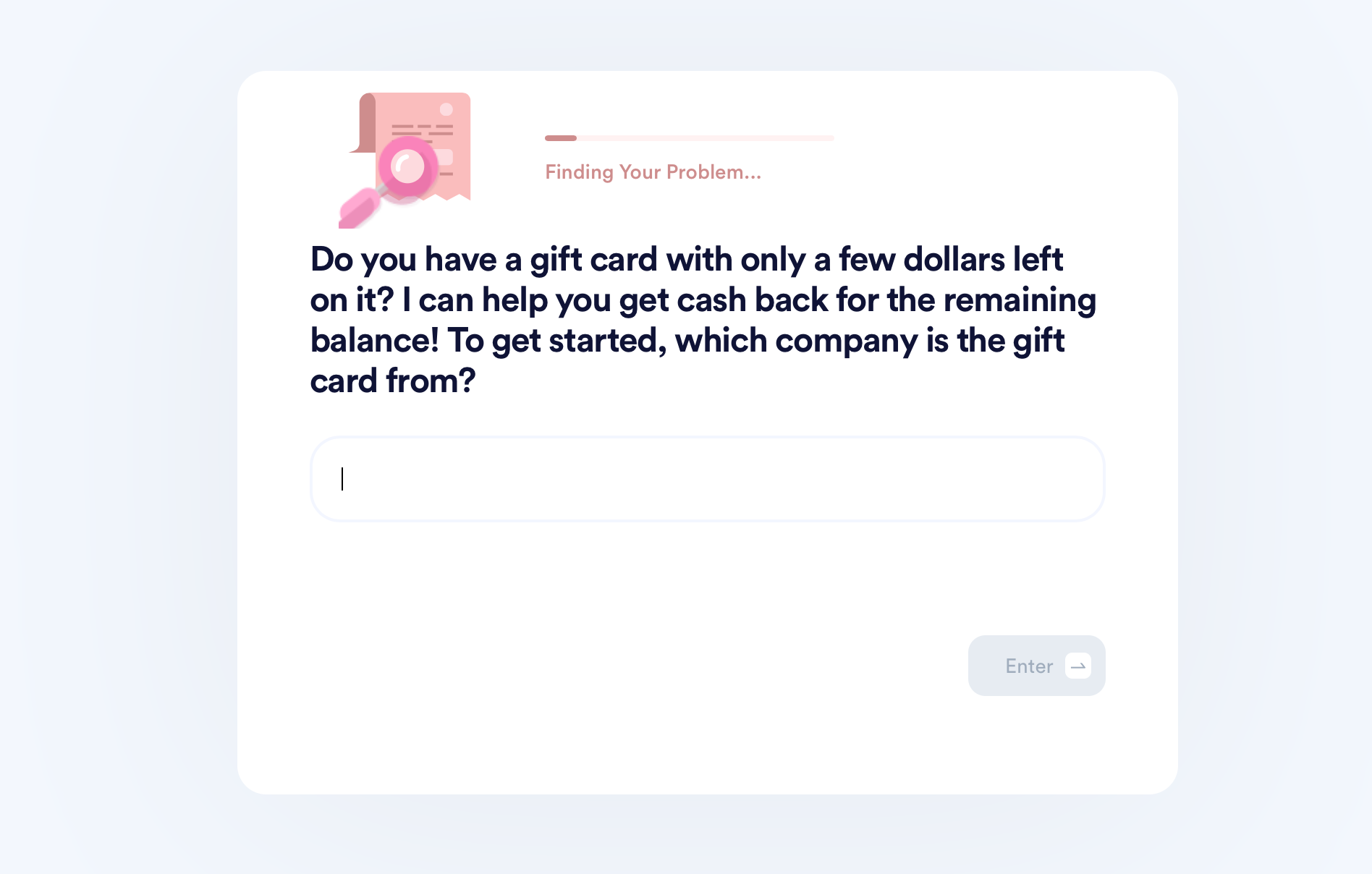 DoNotPay will automatically check if the state you live in has a cash back policy. The said policy obligates companies to redeem the remaining balance on gift cards. If the state you live in doesn't have this policy, DoNotPay can still help. We will find a Speedway office in one of the states that do and send your request to them. You will either get your money in cash or receive a check.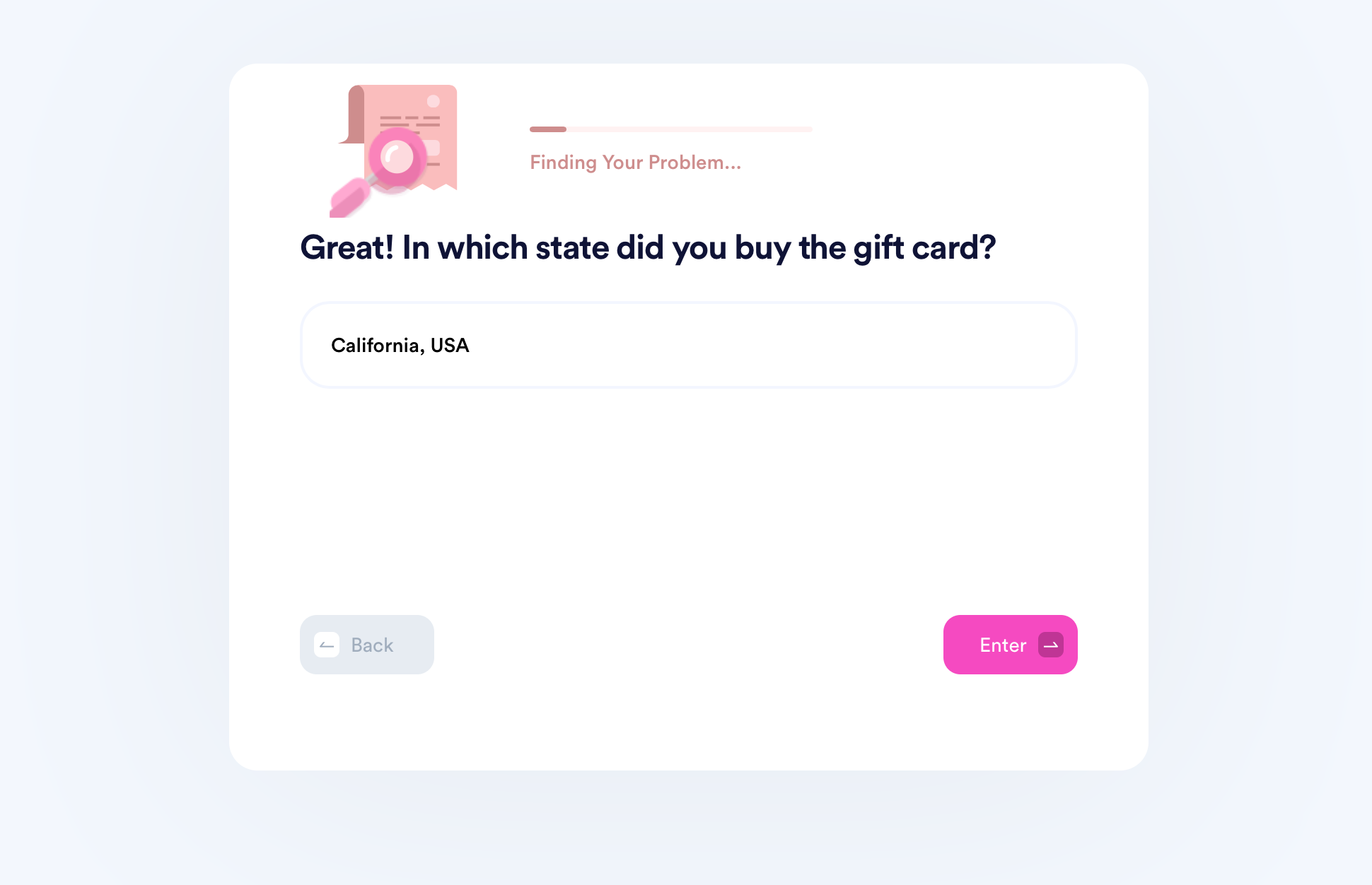 Use DoNotPay To Get Cash Back From Other Companies' Gift Cards
You can use DoNotPay to file a cash back request with other companies as well. These are some companies we can help you with:
DoNotPay's learning center offers valuable gift card-related info. Rely on us to:
Say Goodbye to Administrative Issues—Rely on DoNotPay
Are annoying procedures—such as canceling memberships, disputing parking tickets, filing warranty and insurance claims, requesting refunds for purchased products or services—giving you headaches? Do you dread calling an airline's customer support to request a refund and compensation for a canceled flight? You're not alone! The good news is—DoNotPay can help you solve these issues stress-free!
You can use our app to prepare for your driving test or other government exams and schedule an appointment with the DMV in minutes.
Are you wondering whether you're paying too much for your property taxes? Make sure to try out our Property Tax feature and learn about the best way to reduce your property tax bill.
Annoyed by Spammers? DoNotPay Can Help!
With DoNotPay, you can get rid of spam emails and text messages and report robocalls in one fell swoop. Our Burner Phone feature will generate a fake phone number that you can provide upon registration for any service!
Besides helping you enjoy free trials without the risk of being charged, DoNotPay's virtual credit card has another advantage. It will provide a random email address you should use when signing up for a free trial. That way, you'll avoid pesky marketing emails and email notifications.