Can You Return Gift Cards for Cash—Question Answered
If you have come across an old gift card that you don't plan to use in a store anymore, you may have come up with the idea to throw it away. Don't do it—there are still various ways to put it to good use if it has a few dollars left.
Can you return gift cards for cash? What are some alternative ways to use the balance left? How can you check the exact remaining amount on the used gift card easily? We bring answers to all your questions in this detailed guide!
How Can I Find Out How Much Credit Is Left on My Gift Card?
Before you start thinking about the best methods to turn the leftover gift card funds into cash, you must know what amount you have at your disposal. You may already be aware of the approximate remaining sum, but it's best to check it by using options recommended by the retailer in question.
The most common way to inquire about the gift card balance is to:
Open the online checker on the merchant's website
Input your gift card number and the PIN code from the back of your card
Hit Check Balance
Some cards come without a security code, which is why you may be unable to check the amount left online. In such cases, the safest path is to connect with the company's customer care center and ask an agent for assistance. This is also a great option if you can't access the website at the given moment.
Depending on the retailer, you can reach customer support representatives in various ways, such as:
Calling them at the number provided on the website—usually under the Contact Us or Customer Support section
Emailing them with a specific balance inquiry
Completing an online form on the website
Contacting them via live chat if applicable—not all companies have this option
The last option is going to the nearest store and letting an employee or the store manager swipe your card to tell you the balance on the spot.
Can I Return a Gift Card for Cash, and How?
Have you found out that there is still a small balance on your gift card, but you don't feel like spending it on the retailer's goods? We bet your first thought is to return it to the store and reclaim the unused cash. The bad news is—this isn't always so simple.
There are three possible scenarios, and they are listed in the following table:
Situation
Details
The retailer allows gift card returns
Some merchants let you return a used gift card within a limited time frame if you present a valid receipt. They may also require you to put the card in the original packing before handing it back to them. This may be impossible if you received a free gift card
The retailer approves returns only if required by law
Many companies state in their terms and conditions that they won't accept gift card returns if the law doesn't require so. This means that you can take the card back only if you live in one of the 12 locations with laws that permit cash back. These are:

Oregon
Maine
Colorado
Missouri
New Jersey
Massachusetts
Connecticut
Washington
Rhode Island
California
Vermont
Puerto Rico

Each of these locations proposes a gift card cash back limit, which means you must ensure that your balance is below a specified threshold before returning it

The retailer approves returns only if required by law, but you don't live in a state that supports the cash back option
If your state isn't on the list of locations with favorable cash back policies, you can use DoNotPay to get assistance with reclaiming the remaining gift card funds
Other Ways To Make Use of a Used Gift Card
If you change your mind regarding the return and you prefer to use the card in another way, you can:
Give it to someone who needs it—a friend, relative, or any other person or organization
Sell it on one of the designated websites
Exchange it on a gift card exchange kiosk for cash or online for other retailer's gift card
Let DoNotPay Demand Gift Card Cash Back in Your Stead
Not sure how to start the cash back procedure? DoNotPay can assist you in filing a request with the company in a matter of minutes. Our app will save you from dealing with customer care and do everything in your stead—all you have to do is relax and wait for the money to reach you!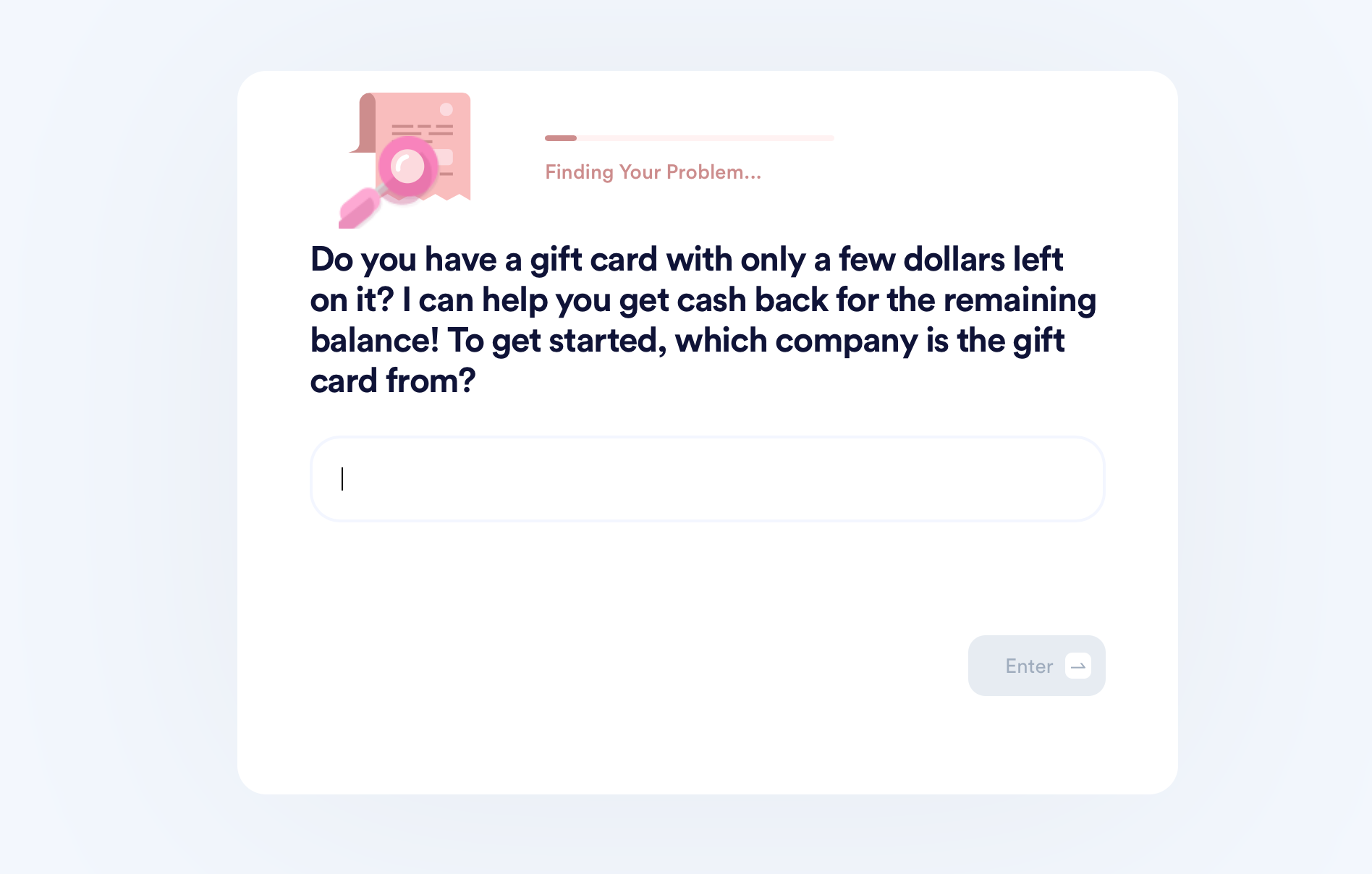 The process is quite simple—you should:
Visit DoNotPay and sign in to your account
Click on Gift Card Cash Back
Give us more details regarding your gift card and the remaining balance on it
Our system will check if you qualify for receiving cash back according to your state rules and send the request to the company right away. If you don't, we will do our best to find a company branch in a state with a cash back policy and forward your claim there.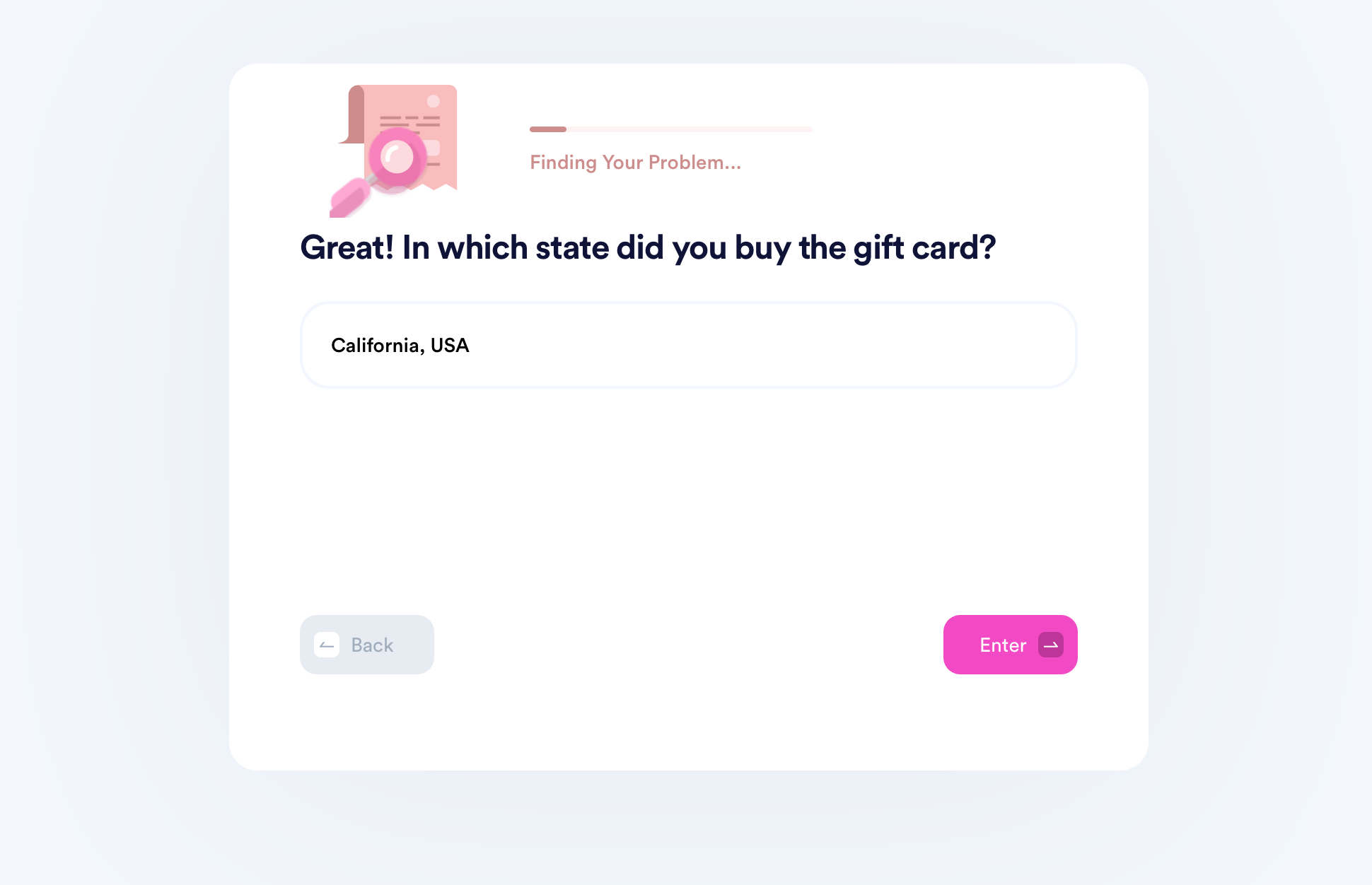 Can DoNotPay Help Me With Other Merchants' Gift Cards Too?
Yes, it can! Our app gives you a chance to start a gift card cash back request with various companies, including:
Learn About DoNotPay's Awesome Products!
DoNotPay is a multifunctional app that can solve numerous everyday challenges swiftly.
You can use our app to protect your work from copyright violations, schedule your driving exam or any other appointment with the DMV, reduce your property taxes in a few steps, and similar.
We have created many useful products to help our users take care of their issues through the same app. With us, you can:
DoNotPay Connects You With Your Loved Ones
Sending letters to inmates can be difficult since you have to follow certain rules to a T to avoid having your letter rejected. The situation is even more complicated if you don't know where your incarcerated loved one serves time. DoNotPay's app can help you locate prisoners and correspond with them without worrying whether you're breaking any rules.
Do you want to send a letter, but you don't feel like heading over to a post office? By using our mailing service, you can mail as many letters as you want from the comfort of your home. With DoNotPay, you can also send online faxes in under five minutes!
Email and text spam is something that everyone experiences at least once in their lives. DoNotPay has a solution for that too. Access your DoNotPay account and count on us to help you block spam and get compensation by reporting pesky robocalls.