Perform a T.J. Maxx Gift Card Balance Check in Minutes!
Have you received a gift card and now want to see how much money you have at your disposal? Don't fret—doing a T.J. Maxx gift card balance check doesn't have to be difficult! We'll show you how to check your T.J. Maxx gift card balance with ease.
Sign up for DoNotPay, and learn how to get your cash back in a jiffy!
What Is a T.J. Maxx Gift Card?
A T.J. Maxx gift card is used as a form of payment at different locations. You can use it at:
T.J. Maxx
Marshalls
HomeGoods
Homesense
Sierra stores (in the U.S. and Puerto Rico)
You can load money onto the card and give it to someone as a gift. Some companies will even give away free gift cards to their loyal customers. If you receive one as a gift yourself, you can use it to make a purchase at any of the above-mentioned locations.
Where Can I Buy a T.J. Maxx Gift Card?
If you want to get a T.J. Maxx gift card for a friend, coworker, or family member but aren't sure where you can buy one, we're here to help.
Apart from the obvious choice—the T.J. Maxx stores—you can also find them in the other stores we mention above.
Purchasing T.J. Maxx gift cards online is also an option. You can check if platforms such as Amazon and Kroger carry them.
How To Check T.J. Maxx Gift Card Balance
Wondering what the easiest way to check how much money you have on your gift card is? We're happy to assist!
You can check your T.J. Maxx gift card balance either online or in person at any T.J. Maxx retail location. Check the table below for the specifics:
How To Check Your Gift Card Balance
Explanation
Online
To check your balance online, follow the next steps:

Visit the official T.J. Maxx website
Provide your card number and security code
Prove you're not a robot
Click on Check Balance

In person
If your card doesn't have a security code, you will have to check your balance in person. This is what you should do:

Go to the nearest T.J. Maxx location
Ask an employee about checking your gift card balance

They should provide you with the info you need
T.J. Maxx Gift Card Check—What To Do With Leftover Money
After you successfully check your gift card balance and find that you have some extra money left, you will probably wonder what to do with the remaining balance.
You can use the cash to purchase something you want from the stores that accept T.J. Maxx gift cards as a payment method. If you want, you can load more money onto it or join multiple gift cards to make a larger purchase.
In case you don't want to buy anything but to get the money from the gift card back in cash, we'll explain how you should do it.
Can I Get Cash Back for My T.J. Maxx Gift Card?
If you don't want your money from used gift cards to go to waste and you need a simple solution to exchange your gift card for cash, we got you covered.
In some states, companies will reimburse you in cash for a gift card under a certain balance. There are 11 states (plus Puerto Rico) that have a cash back policy in place. Does that mean that if you're not from one of those states, you're out of luck? No.
Although only 12 states have gift card cashback policies, that doesn't mean you should give up on getting your money back.
T.J. Maxx Gift Card Balance Check—How To Get Cash Back With DoNotPay
Let's say you checked your gift card balance and realized you have some money left on it. There's no need to waste it or sell your card—DoNotPay will help you get that money back!
Complete the following instructions to get started:
Choose the Gift Card Cash Back feature
Wait for our app to check whether your state has a cashback policy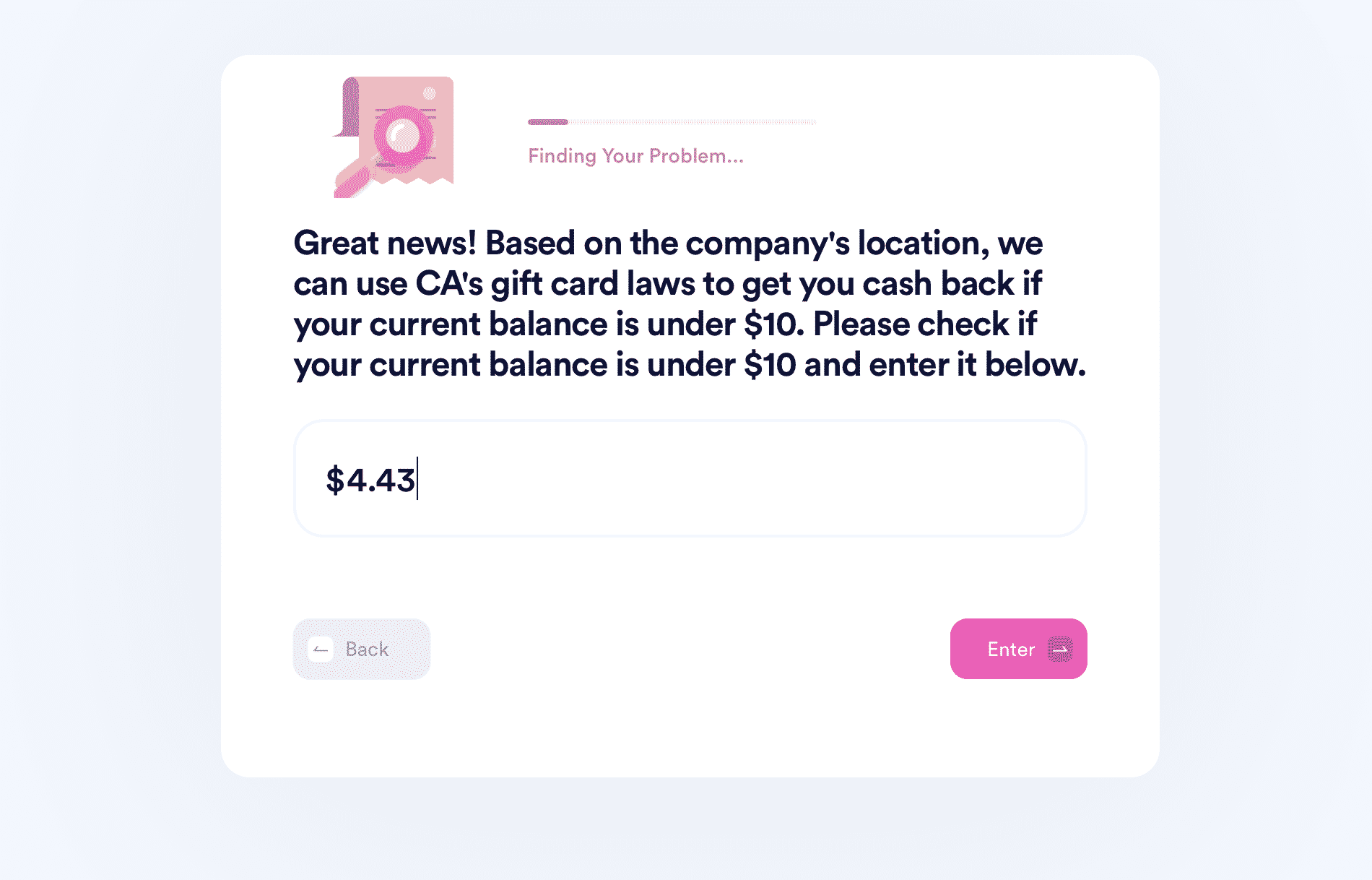 If your state has a cashback policy, you're golden! You'll be able to get your cash back hassle-free.
If your state doesn't have this policy, you don't have to despair. Our app will do further research and see if T.J. Maxx has an office in any of the 12 states that do have the cashback policy in place. We'll send a request to that office, and you should get your cash or check by mail within two weeks.
DoNotPay explains whether you can return your gift cards for cash for more than T.J. Maxx! Check out the list below to see some of the other companies our app helps you with:
DoNotPay Gets the Job Done—Solve Any Issue Within Several Clicks
DoNotPay is an ever-growing app, which is constantly adding new ways to help you with your everyday tasks and those not so common.
Count on your virtual assistant when you need to:
Deal with noisy and rude neighbors
Have Your Cake and Eat It Too—Earn, Save, and Get Your Money Back
Not only can we help you complete numerous tasks, but we can also make sure your money stays where it belongs—in your wallet. Let DoNotPay assist you in getting different types of refunds and compensation:
Late delivery refund
Gift card cash back
Our app can also help you find your unclaimed funds, get free trials and free raffle tickets, and obtain a college fee waiver.