Check a Disney Gift Card Balance in a Flash!
Did you get a Disney gift card some time ago, but you still think it might contain some money? If you'd like to get your money back, look no further—DoNotPay is here to help you out!
In this article, we will teach you how to check your Disney gift card balance in a few clicks. DoNotPay can also help you get cash back from a used gift card with zero to no effort.
What Is a Disney Gift Card?
A Disney gift card is used to purchase theme park tickets and merchandise and pay for hotel stays at Disney destinations. Cards are available in amounts ranging from $25 to $1,000.
The gift card has no cash value, and you cannot add money to it. Disney gift cards have no expiration date, which means that you can use your card whenever you want. You can only use one gift card per order.
How Does the Disney Gift Card Work?
The gift card works at Disney locations and the eStore. If you're shopping online, all you need to do is enter your Disney eGift card number along with your email address and credit card number.
As long as you have some money on your gift card, you can keep using it. If the purchase amount exceeds your gift card balance, Disney will charge your credit card automatically (after exhausting your gift card funds).
What Happens if I Lose My Disney Gift Card?
If you lose your Disney gift card, call customer support at 1-800-650-4327 and inform them about the issue. You will need to provide the following:
Your name and contact information
Purchase receipt
Complete card number
Ask the support representative to block your current gift card and issue a new one. You will receive a card with your previous balance.
How Do I Check My Disney Gift Card Balance?
You can check your gift card balance in two ways:
Over the phone
On Disney's website
How To Check My Balance on a Disney Gift Card Over the Phone
To check your Disney gift card balance over the phone, follow these instructions:
Call 1-877-650-4327
Wait for a customer support representative to answer
Provide your details, including your name and Disney gift card number
Ask them to check your card's balance
How To Check the Balance on My Disney Gift Card Online
Do you want to avoid wasting time waiting to speak to a customer support representative? Head over to the Check Your Balance page on the Disney website, and enter the following information:
Account number—This number identifies your Disney gift card. You can find it on the front of your card
Extended Account Number (EAN)—A security number listed on the back of your gift card. It is used as a PIN to prevent unauthorized use. If you do not see the EAN number on your card, you might need to scratch the grey covering
The balance number is an estimate, not an exact figure of your remaining funds. It might happen that the balance adjustment has been delayed even if you made a purchase using the gift card.
What Can I Do With the Extra Balance on a Disney Gift Card?
Not sure what to do with the remaining balance on your gift card? Here are a few options:
| | |
| --- | --- |
| What To Do With the Remaining Funds | Explanation |
| Use it for a future purchase | Use your card to make a purchase, provided that you have enough money left |
| Sell it | Sell your card to someone who might be able to use it. You can sell the card online, but be wary of shady websites and low payouts |
| Get your money back | Is the balance on your gift card too low? Check if you can return the card for cash. If you don't want to go through the trouble of filing a cash back request yourself, , and we'll do it for you! |
File a Disney Gift Card Cash Back Request With DoNotPay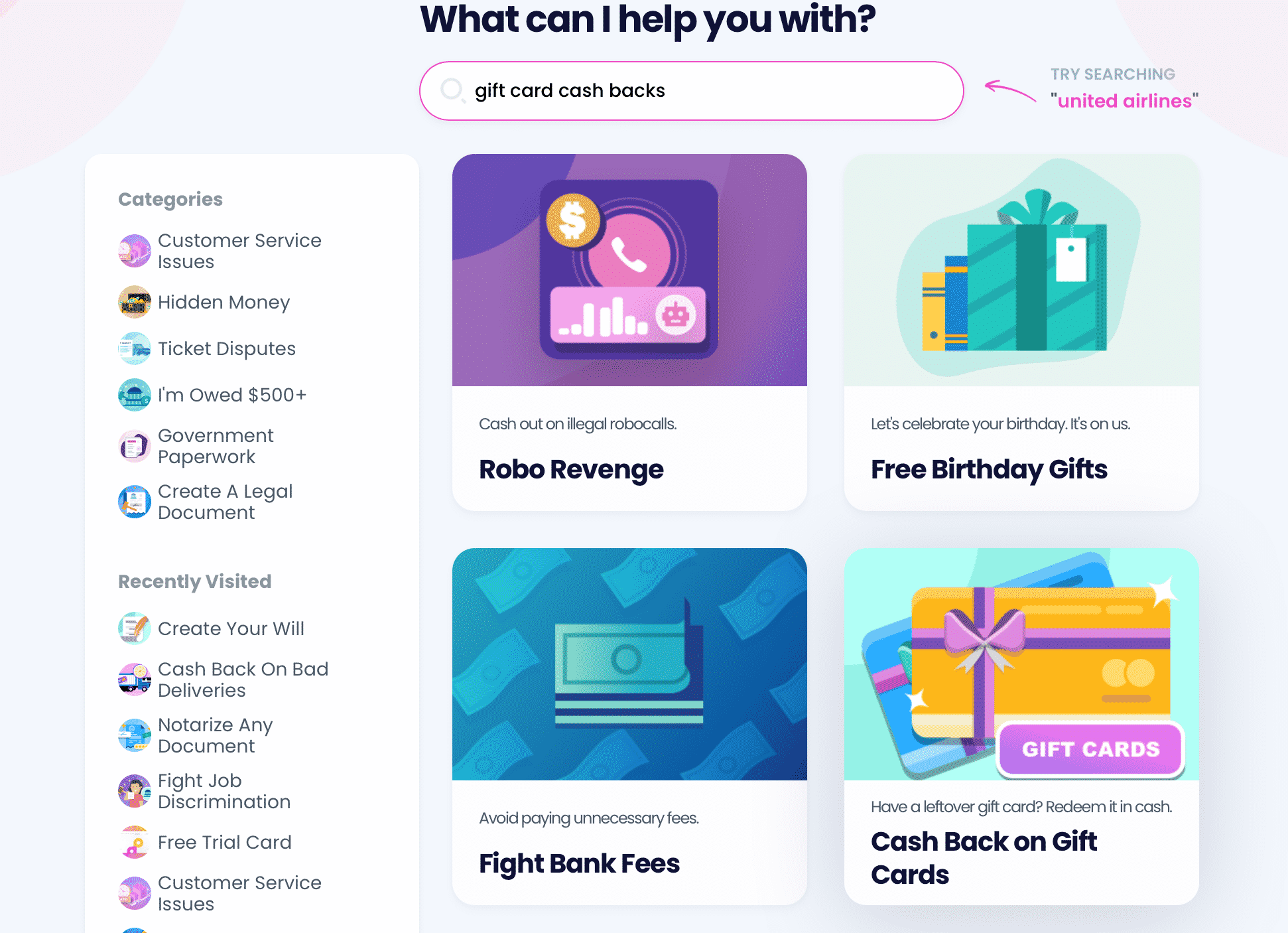 Why throw away a gift card that still contains some money when you can exchange it for cash in a matter of minutes with DoNotPay's Gift Card Cash Back feature? Here are the steps you should follow:
in your web browser
Select the Gift Card Cash Back feature
Provide information about the company, your gift card number, and the remaining balance on the card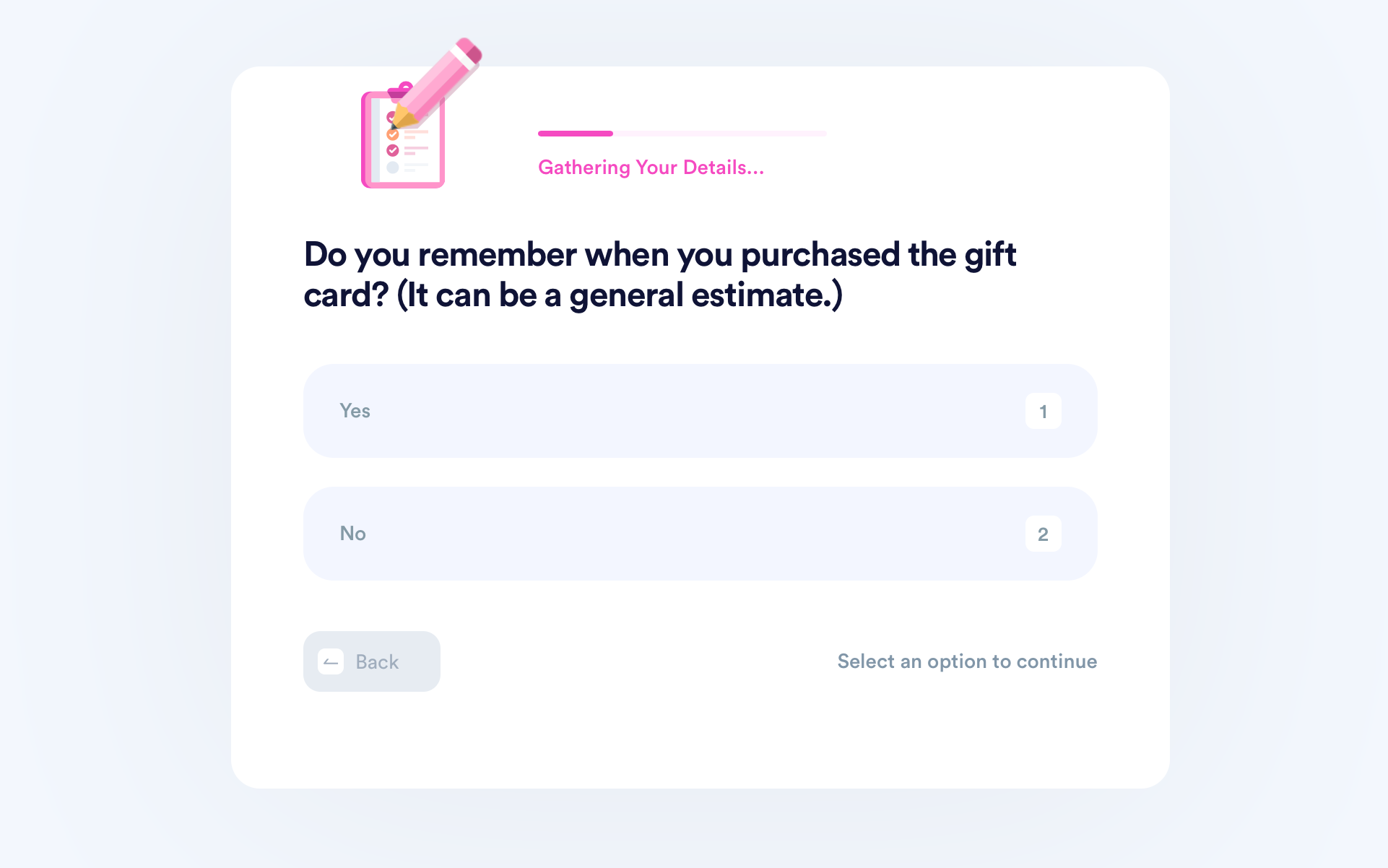 DoNotPay will check if your state has a cash back policy. If not, we will find out if the company has an office in any of the 11 cash back states or Puerto Rico. Once we confirm this information, we will send the request to that office. You will receive your cash or check by mail within 14 business days.
Get Answers to All Gift Card-Related Questions With DoNotPay
DoNotPay can provide more information on gift cards. With us, you can learn more about:
Check out some other companies DoNotPay can help you with:
More Nifty Solutions to Annoying Problems
If you're dealing with problematic neighbors or coworkers, you're not alone—our app can help you handle these issues with our Neighbor Complaints and Fight Workplace Discrimination products.
No problem is too big or too small for DoNotPay! Check out the best time- and money-saving solutions to different nuisances:
| | |
| --- | --- |
| Issues | Solutions |
| Email spam | Using DoNotPay's spam collector |
| High college fees | Applying for college fee waivers |
| Bothersome robocalls | Getting back at robocalls |
| Late delivery | Requesting a late delivery refund |
| No fax machine | Sending faxes online |
| High property taxes | Applying for property tax exemptions and appealing your property assessment |
An Array of Hacks To Help You Deal With Greedy Companies
Nobody likes to spend more money than they have to. DoNotPay is here to offer many penny-pinching hacks and also stop companies from taking advantage of you.
Almost every free trial nowadays isn't really free. Companies request your credit card info and auto-renew subscriptions. Fight this sneaky practice by using DoNotPay's virtual credit card next time you want to snatch a free trial. We'll also uncover any unwanted memberships you have mooching off of you and help you cancel them in a few clicks.
If you need to contact a company's customer service, avoid wasting your time and money on hold and count on our app to wait in your stead.
Do you need to get your money back, but you don't know how? Use DoNotPay to: