Whole Foods—Check the Gift Card Balance in Minutes
Anyone owning a Whole Foods gift card is bound to use it quite often to buy high-quality groceries. If you are a regular user of a Whole Foods gift card, you need to know how to check the remaining balance on the card on time. Doing so will help you prevent potential unpleasant situations at the cash register.
Regardless of whether you want to continue using your gift card in Whole Foods stores—check your gift card balance with our tips. If the balance on your used gift card drops below a certain amount, can help you redeem it in cash!
The Whole Foods Gift Card in a Nutshell
Whole Foods gift cards are available in various designs and themes, depending on the occasion. They can be loaded with any amount from $25 to $200. Although you can order the card online, you can't use it for online purchases, including:
Catering and meals on the Whole Foods official website
Grocery delivery through Amazon or other third party partners
Whole Foods gift cards can be used in any of the U.S. and Canadian market stores. They come in two forms—physical and digital (e-card) and don't have an expiration date.
You should take good care of your card since the store won't refund you if it gets lost or stolen. Also, if you have a couple of bucks left on your card that you can't spend, the store won't reimburse you for the remaining balance if not required by law.
Ways To Perform a Whole Foods Gift Card Balance Check
You can check the balance on your Whole Foods gift card in one of the ways presented in the table below:
| | |
| --- | --- |
| Method | Description |
| In person | If there's a Whole Foods market in your vicinity, you can walk over there and ask one of the staff members to help you. They will ask for your card information (such as number and PIN code) and tell you the current balance |
| Via phone | You can call 1-866-WFM-CALL (866-936-2255) and give your card information over the phone. The employee will inform you of your gift card balance instantly |
| Online | If you access the Whole Foods website, you can check your balance there. You should scroll down to the bottom of the page, find the Check the Balance section, and enter your card information in the required field |
What Can You Do After You Check the Balance on a Whole Foods Gift Card?
Once you perform the gift card balance check, you may discover that you have only a couple of dollars left.
Depending on whether you want to continue using the card or not, you have a few options for the remaining funds:
Recharge the card—You can recharge the card online by accessing the Whole Foods website and clicking on the Gift Card section. There are two available options:

Reloading the balance one time
Setting the card on auto-reload

Assess if there is enough money for one more purchase—If you're not interested in using the card anymore, you should check if there's enough money to make one last purchase and clear out the card
Get the remaining balance in cash—While Whole Foods may refuse to provide reimbursement for the remaining cash on your gift card, they will have to if the state law says so. If you want to request the money from your gift card in cash, the balance mustn't exceed $5 for most states
Finished Your Whole Foods Gift Card Balance Check? Let DoNotPay Get the Remainder of Your Cash Back
If you have a small amount left on your Whole Foods gift card, there's no need to let it go to waste. You can get that money in cash with DoNotPay's assistance!
To get your money back, our app will do the following:
Check whether your state has a gift card cash back policy
Make sure there are Whole Foods markets in one of the states that allow getting the gift card money back
Send a request to Whole Foods offices in one of those states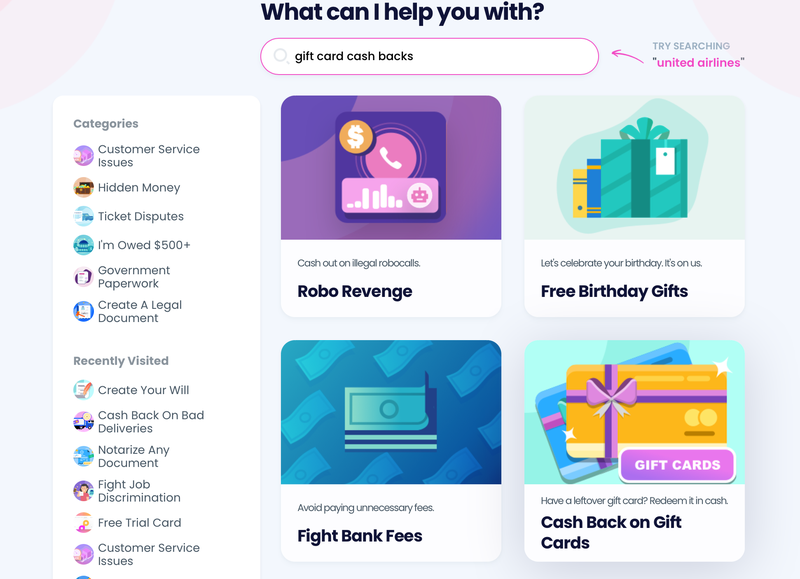 We will do all the heavy lifting once you and:
Find our Gift Card Cash Back product
Answer our questions regarding:

State where the card was issued
Card information
Remaining balance
Once you complete the required steps, we will send the request. You can expect your money to reach you via mail in 14 business days!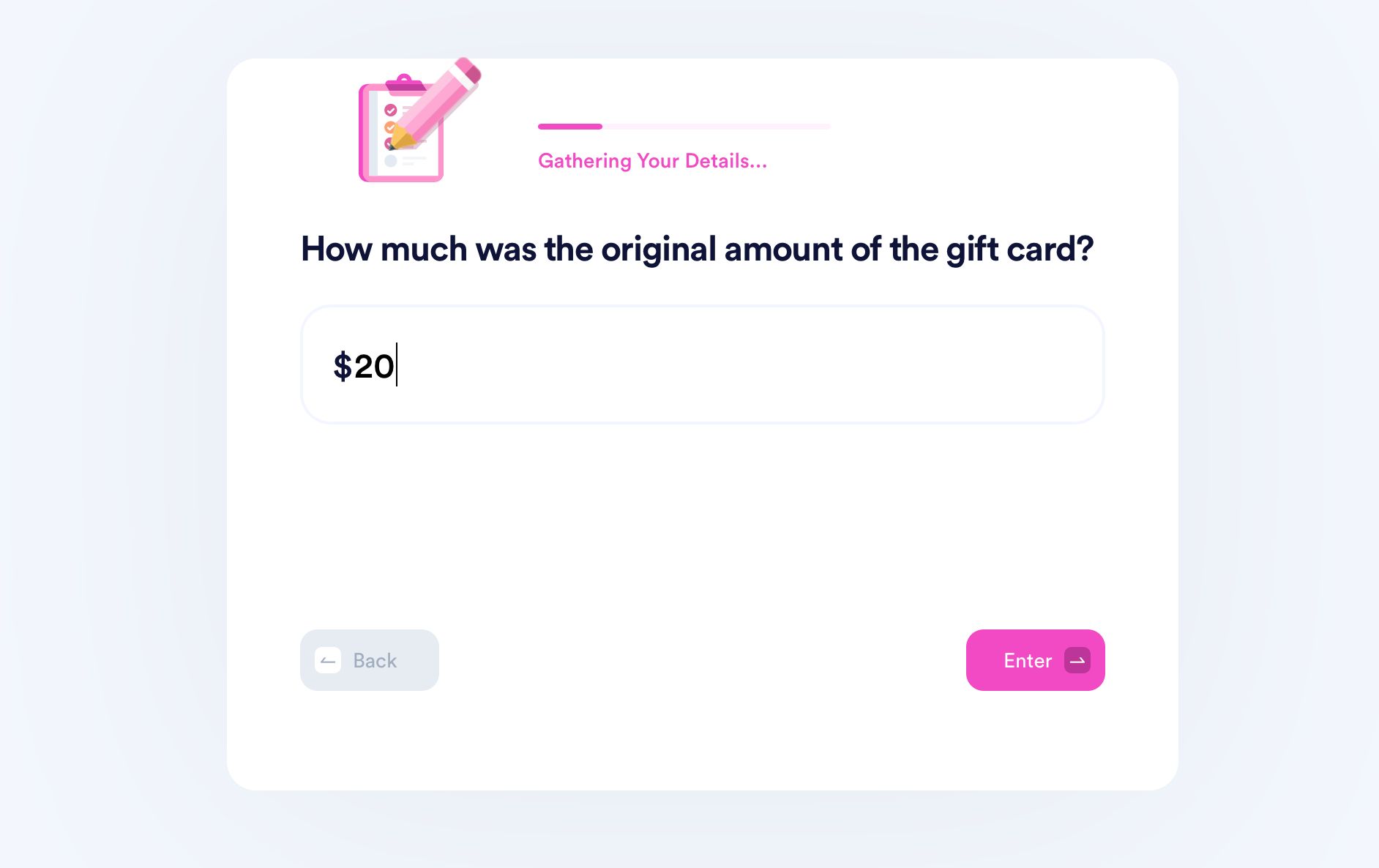 Rely on DoNotPay for All Your Gift Card-Related Questions
DoNotPay is your invaluable source of information about managing gift cards. Access our learning center and:
Get answers to some burning gift card-related questions, like how to:

Learn how to check the balance on the following companies' gift cards:
Let DoNoPay Help You With Your Paperwork
Why waste time on bureaucracy if you can rely on DoNotPay to handle pesky tasks for you? Cancel all your subscriptions at once, find unclaimed funds in a matter of minutes, appeal parking tickets hassle-free, and discover the best way to get your documents notarized remotely.
In case you need help paying bills or you want to earn some money by participating in paid clinical trials, DoNotPay is here to help you out!
Fighting workplace discrimination is of utmost importance, but the entire procedure seems rather complicated. The same goes for the crime victims compensation application in most states. DoNotPay is here to change that. We will help you file a report, request compensation, and create numerous other documents, including demand letters for neighbor complaints.
Keep Your Online Safety in Check!
While internet safety should be one of your top priorities, staying anonymous while surfing the web is almost impossible. If you want to avoid giving out your number when registering for services, you should try out our Burner Phone product.
DoNotPay can also protect your credit card info, name, and email address, all through our handy virtual credit card. Sign up for free trials without worrying about unexpected charges.
With our app, you will learn how to deal with stalkers and harassers and how to access public records the easy way.
DoNotPay offers many other useful products that can help you prepare for government tests, have your college fees waived, and manage any annoying issue in minutes.