All Burritoed Out? Check Your Chipotle Gift Card Balance and Get Cash Back With DoNotPay
Not everybody loves Mexican food, but a gift card is almost always welcome—until it lies in a drawer with too little balance left to buy anything good.
If you have a drawer full of old plastic, DoNotPay can help you check your Chipotle gift card balance and redeem the value left on the card for cash.
How Does a Chipotle Gift Card Work?
You can buy a Chipotle eGift card online for any value between $10 and $500 or a plastic card in-store. If you buy a plastic card, it will be mailed to the recipient, whereas eGift cards are sent via email for you to print out or load on your mobile device.
You can redeem your gift card in any of Chipotle's 2,770 locations across the U.S. by presenting it as you pay. For online purchases, you should enter the card number as you check out.
How Can You Check the Balance of Your Chipotle Gift Card?
You can check the remaining balance on your Chipotle gift card in two ways:
Online
In store
Online
Chipotle offers a checking service where you can enter the number of your gift card and receive notification of the balance remaining.
In Store
A cashier can check your remaining balance in any of Chipotle's locations.
If you have an unspent balance on your Chipotle gift card and you are happy to buy food with it, you can use the card up to its limit and make up the difference in cash.
Can You Redeem Your Remaining Chipotle Gift Card Balance for Cash?
Chipotle doesn't allow you to redeem any outstanding balance on your gift card for cash. The restaurant chain wants you to buy as much food as possible from their outlets, so your card can only be used to buy their products.
This doesn't mean there is no way to get cash for your gift card, though.
How Can You Get Cash for Your Chipotle Gift Card?
In some states in the U.S., state law stipulates that you can redeem unspent gift card values for cash. The maximum claimable amount is usually $5, but there are exceptions. The most notable of these is California, where you can claim up to $10.
If you live in one of these states, you can use the following services to get cash for your gift cards:
Service
Explanation
In store
You can visit a Chipotle outlet and try to explain that they are required by state law to give you cash for your unspent gift card balance.

You may find this a challenge, and you will probably be sent from pillar to post to get any positive response

Kiosks
Gift card kiosks, often found in grocery or department stores, will give you cash for gift cards. You insert your gift card into the machine, and it will offer you a cash amount based on a percentage of the unclaimed value of the card
Regardless of your location, there are several online options to get cash or a swap for your Chipotle gift card:
Some companies also offer free gift cards, which you may be able to exchange for cash.
By far, the easiest way to redeem your unspent gift cards or get cash for free ones is to use DoNotPay's gift card Cash Back product.
How Can DoNotPay Help You Get Cash Back From Your Chipotle Gift Card?
DoNotPay's gift card Cash Back product is the latest in our line of products designed to make your life easier.
Our service will check whether you live in one of the states that have a cash back law. If you do, the process is simple—give us the details, and we will handle the rest!
Even if you don't live in a state with a cash back policy, we can still help. We will automatically check whether the company issuing the card has an outlet in one of the 11 states and Puerto Rico.
If it does, we will forward your card details to one of the eligible outlets, and you will get your money in the mail.
What Do You Have To Do To Get Your Money?

Getting cash back from your gift cards couldn't be simpler—all you have to do is:
Navigate to DoNotPay in your web browser and sign up
Go to our Gift Card Cash Back product
Enter the details of the card, such as issuing company, card number, and the remaining balance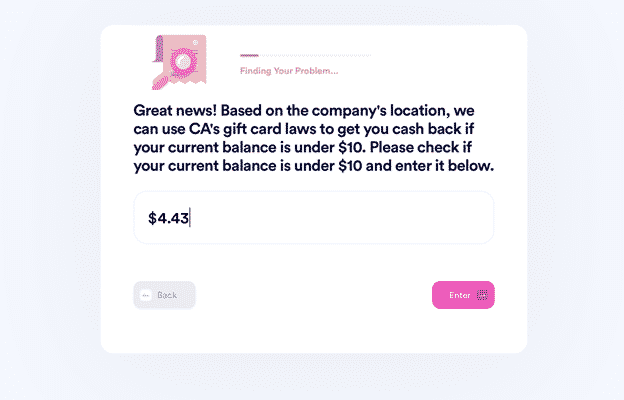 Let us handle the rest—we will:
Check whether you are in a state with a cash back policy
Send your card details to the best available Chipotle outlet
You should receive your money within 14 days.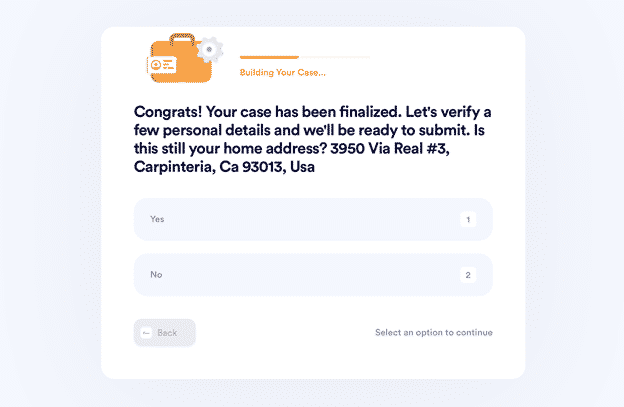 DoNotPay Can Help With Other Gift Cards
We don't just deal with Chipotle—the list of gift cards we can help you check your balance on and redeem cash from is growing all the time. Here are some examples of other gift cards we can help with:
DoNotPay Helps Out in More Ways Than One
As a versatile app, DoNotPay is so much more than a money-saving hack. Check out the table below for an overview of what we can do for you:
| | | |
| --- | --- | --- |
| Earn and Save Money | Solve Legal Issues | Protect Your Privacy |
| | | |
Managing Tasks With DoNotPay Saves Both Time and Money
If your to-do list is overflowing and you need more hours in the workday to get everything done, we've got a solution! DoNotPay's products help you check off your errands in record time. Within minutes, you'll be able to get a free trial, cancel a service, or request a refund. Perhaps you're dreading wasting your time in lines or on the phone, but don't worry—we'll deal with customer service, book a DMV or a notary appointment in your stead.
We can also assist you in filing a FOIA request, getting in touch with an inmate, and prepping for government tests.