How To Check Panera Gift Card Balance and Get Extra Cash With DoNotPay
There's nothing more annoying than having a couple of bucks left on a gift card and not being able to spend them.
If you own a Panera Bread gift card and you think you have some balance on it left, fret not because DoNotPay has your back! We'll show you how to check the Panera gift card balance and use our Gift Card Cash Back product to get your money back in a few clicks.
What Is a Panera Gift Card?
Panera gift cards are used for purchasing food and other products at Panera Bread. They are treated like cash, which means you can't get a refund or replace them if they're lost or damaged.
Panera Bread offers several gift card types:
| | |
| --- | --- |
| Types of Gift Cards | Specifics |
| Plastic Gift Cards | Commonly used for purchases of any value between $2 and $200 |
| eGift Cards | Ideal if you want a card that you can customize and email |
| Bulk Gift Cards | Usually comes with a $20 discount on bulk purchases of $250 and more |
Panera gift cards don't have expiry dates, and they can be redeemed either online or in person in their bakery-cafes.
How To Check My Panera Gift Card Balance
You can check your Panera gift card balance in the following ways:
Keep in mind that your balance is usually updated 24 hours after making a purchase, so the information you receive when inquiring is only an estimate.
How To Check My Panera Gift Card Balance on the Website
If you want to check your Panera gift card balance online, here's how to go about it:
Visit the Panera Bread website
Find the Gift Cards section
Click on the Check Your Balance tab
Enter your Panera bread gift card number and PIN
Click Check Balance
How To Check My Panera Gift Card Over the Phone
To check your Panera gift card balance over the phone, you will have to:
Dial 1-855-372-6372
Ask them to check your card balance
Provide the customer service representative with your ID and Panera gift card number
How To Check My Panera Gift Card Balance in Person
Checking your Panera gift card Balance in person will require you to visit the nearest Panera bakery-cafe. Once you're there, ask a staff member to check your gift card balance and give them your ID.
What Can I Do With My Panera Gift Card Balance?
If you have some remaining balance on your Panera gift card, you can use it for a future purchase in one of their bakery-cafes. If you're short a buck or two for a purchase, you can either reload the gift card or use your credit card to pay instead.
How To Reload a Panera Gift Card
To reload a Panera Bread gift card, you will need to:
Visit the company website
Find the Gift Cards section
Click on Reload a Gift Card
Type in your Panera Bread gift card number and PIN
Tap on Next
Enter your email address on the next page
Once you're done, you will be sent an email confirming that the reload is complete. Bear in mind that this process can last up to four hours, so you may have to wait a bit.
Can I Redeem My Panera Gift Card for Cash?
Panera Bread gift cards can only be used for online or in-person purchases and aren't redeemable for cash, except if required by law. If you have some leftover balance on your gift card that you'd like to turn into cash, DoNotPay can provide assistance! We'll send a cash back request in your stead, and you'll receive the leftover funds in no time!
Get Cash Back With Ease Using DoNotPay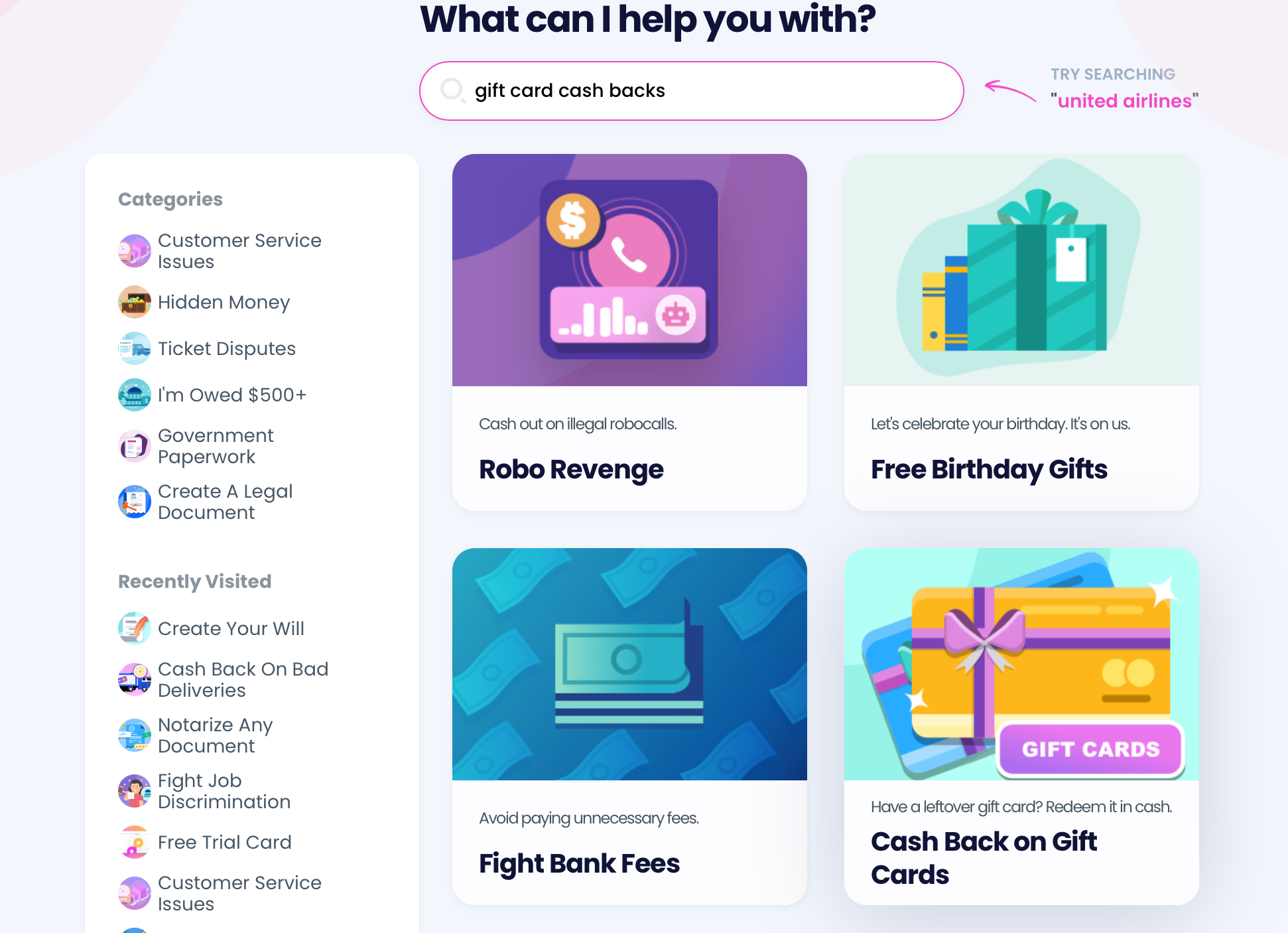 You've checked your Panera gift card balance, and you've got some extra money on it, but you can't redeem it? Don't worry because DoNotPay will do it for you! With our Gift Card Cash Back product, you can get your money in no time, and it'll only take a few clicks. Here's how it works:
Find the Gift Card Cash Back product
Provide the necessary information about the card, such as the company name, remaining balance, and card number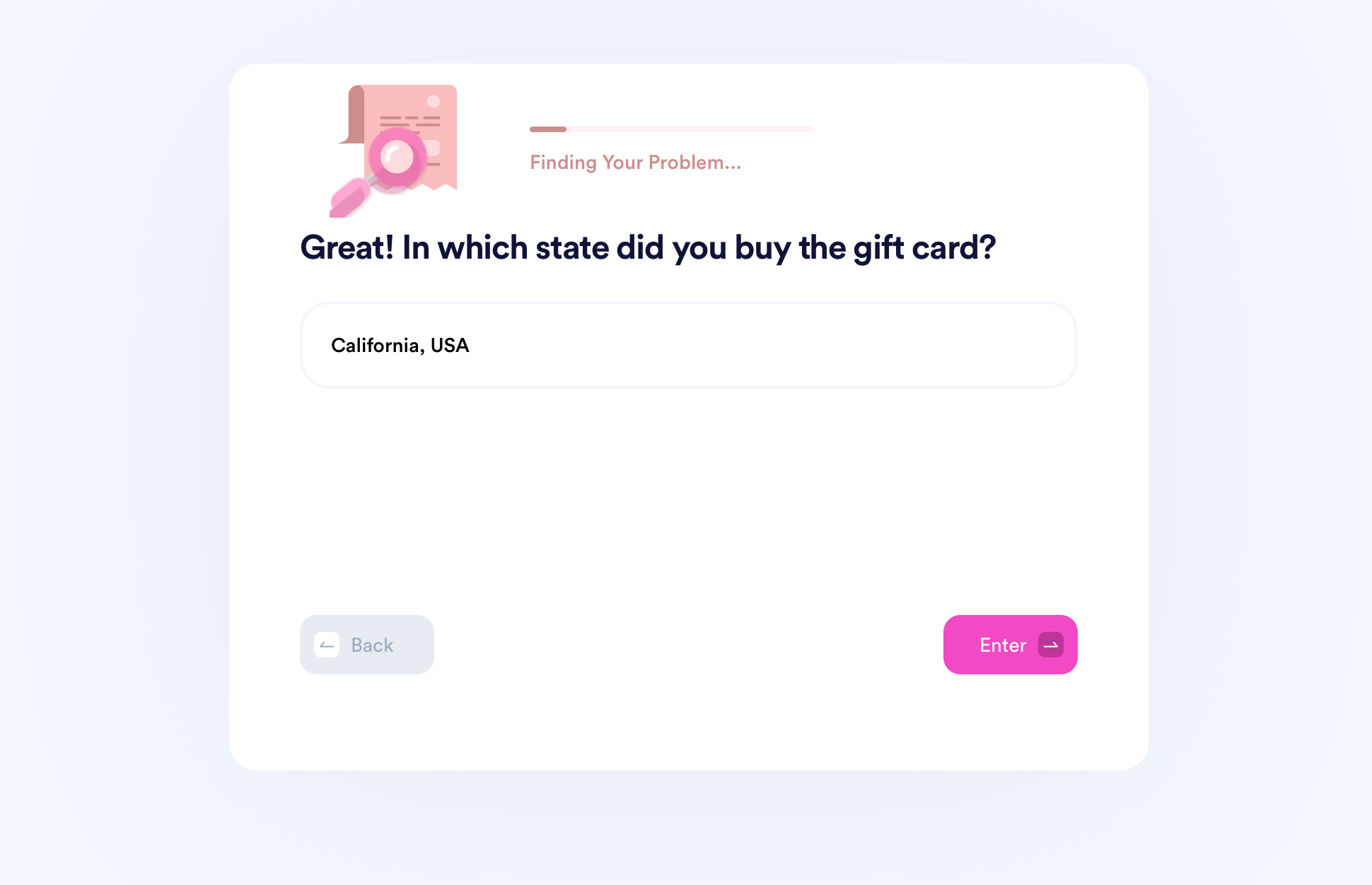 We'll check if your state has a cash back policy. If it doesn't, we will see if Panera Bread has an office in one of the states with the said policy. Once we send the cash back request, you'll receive your cash or check by mail within 14 business days.
If you have any questions regarding gift cards, check out our learning center. You can find insightful articles, such as:
Save Some Coins With DoNotPay
Are various subscriptions and memberships burning a hole in your pocket? DoNotPay can help you cancel all of your memberships in a matter of minutes without having to contact customer service reps.
Next time you want to register for a free trial, prevent unexpected costs with our virtual credit card. Once the trial is over, you'll be unsubscribed right away because our virtual credit card doesn't contain any money. We will also generate a random email address you can use if you want to protect your privacy and avoid spam marketing emails.
Do you need help claiming warranties and insurance policies? DoNotPay can help with that too.
Should you need assistance returning an item or requesting refunds for purchased products, canceled flights, or late deliveries, we've got your back!
Avoid wasting money on lawyers—DoNotPay is here to help you sue anyone in small claims court and create numerous legal documents in the blink of an eye!
DoNotPay Can Help You Earn Money Too
DoNotPay users can save hundreds of dollars thanks to our app, but did you know that we can help you earn a few bucks as well? Our app enables you to claim missing money under your name or file your application for paid clinical trials in less than five minutes.
You can even get compensation for reporting robocalls or apply for a crime victims compensation program in your state by signing up for our app and following a few simple steps.