Check Your Target Gift Card Balance and Get Cash Back in No Time!
Did you receive a Target gift card without the disclosed value, or did you use the card and would like to know how much money you have left? Whichever the case may be, you're probably wondering how you can check your Target gift card balance effortlessly. DoNotPay is here to help you out!
In our guide, you'll find out:
What the easiest way to check the balance on your Target gift card is
How to redeem the remaining balance on your used gift card
How To Check Target Gift Card Balance
You can check the balance on your Target gift card in two ways—online and over the phone.
How To Check Your Gift Card Balance Online
To check a Target gift card balance online, follow these steps:
Visit the Gift Card Balance page on the Target website
Type in the 15-digit gift card number in the first field (you can find this number under the barcode on the card)
Enter the access number in the second field
Hit the Check Balance button
How To Check Your Gift Card Balance Over the Phone
If you choose to perform a Target gift card balance check over the phone, do the following:
Dial 1-800-544-2943
Press 1
Follow further instructions
Do You Have Extra Balance on Your Target Gift Card? Find Out What You Can Do!
If, after purchasing your desired items, you still have a few dollars on your Target gift card, you shouldn't throw the card away. You can use the remaining amount to buy something affordable, such as a cup of coffee at Target Café.
Another solution is to combine the gift card in question with:
The third option is to exchange the remaining Target gift card balance for cash.
Can You Get Cash Back for Your Target Gift Card?
Target has a different cashback policy depending on whether a gift card was purchased before or after October 1, 2020. Check out the following table to see if you can get gift card cash back:
Cards Purchased on and After October 1, 2020
Cards Purchased Before October 1, 2020
Target doesn't allow you to exchange gift cards for cash unless required by law
Target doesn't offer cash back for eGiftCards and Mobile GiftCards unless required by law.

You can get your money back for unused physical Target GiftCards if you return them at a store and provide a receipt
In some states—including Oregon and California—retailers are required by law to reimburse clients for gift cards that are under a specific balance. In most states with cashback policies, the limit is $5. This might seem like a small amount, but if you have multiple half-used Target gift cards, the total sum could be far from modest.
Check Your Target Gift Card Balance and Rely on DoNotPay To Get Your Money Back
Filing a cashback request can be a lengthy and complicated process. Instead of having to go to your local Target and waste time waiting in long lines, you should rely on DoNotPay. We will help you establish whether your state has a cashback policy and get your Target gift card money in under five minutes.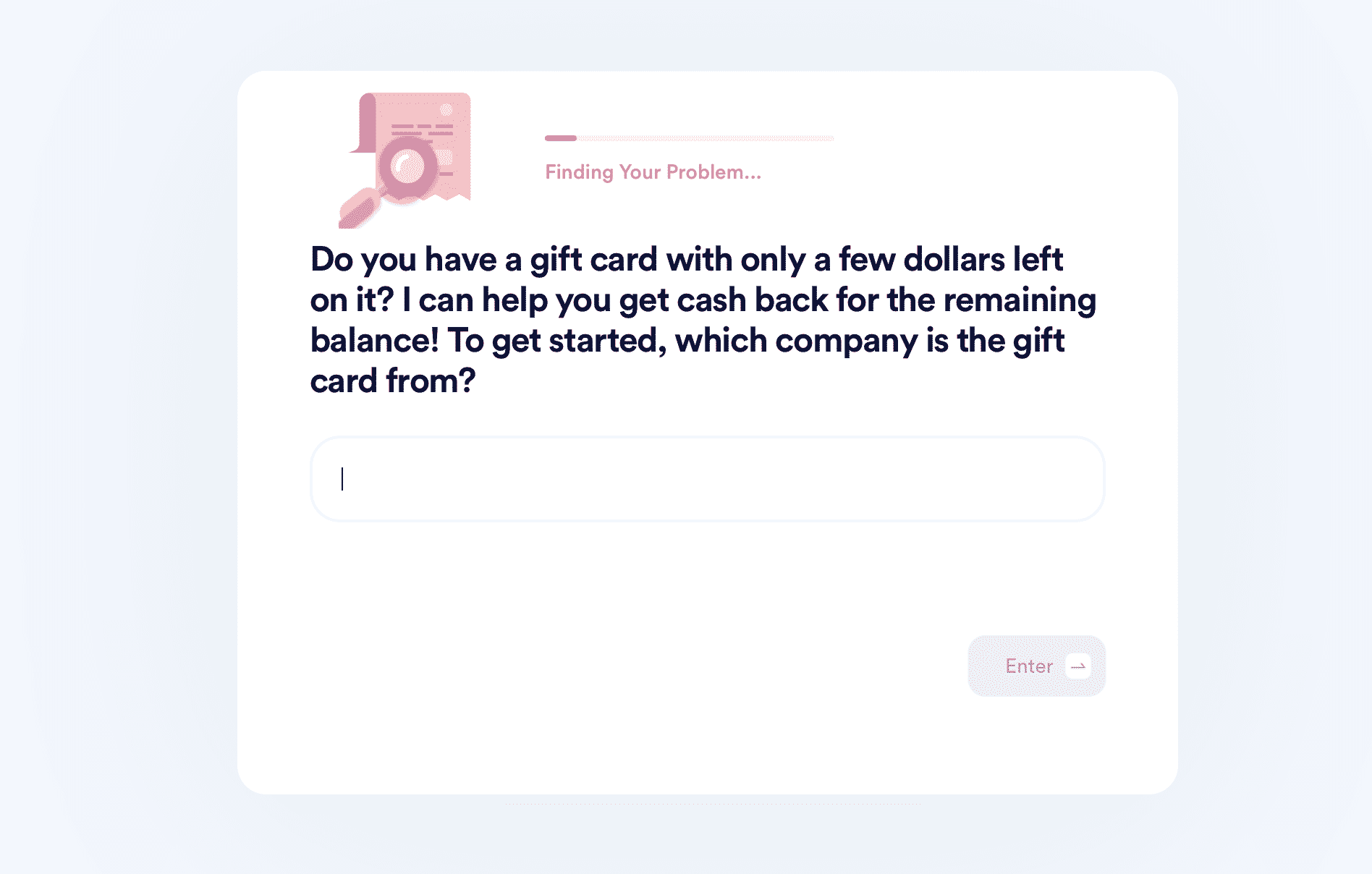 To redeem your remaining Target gift card balance in cash, follow these steps:
Open our Gift Card Cash Back product
Answer our questions
We will send your cashback request to Target right away.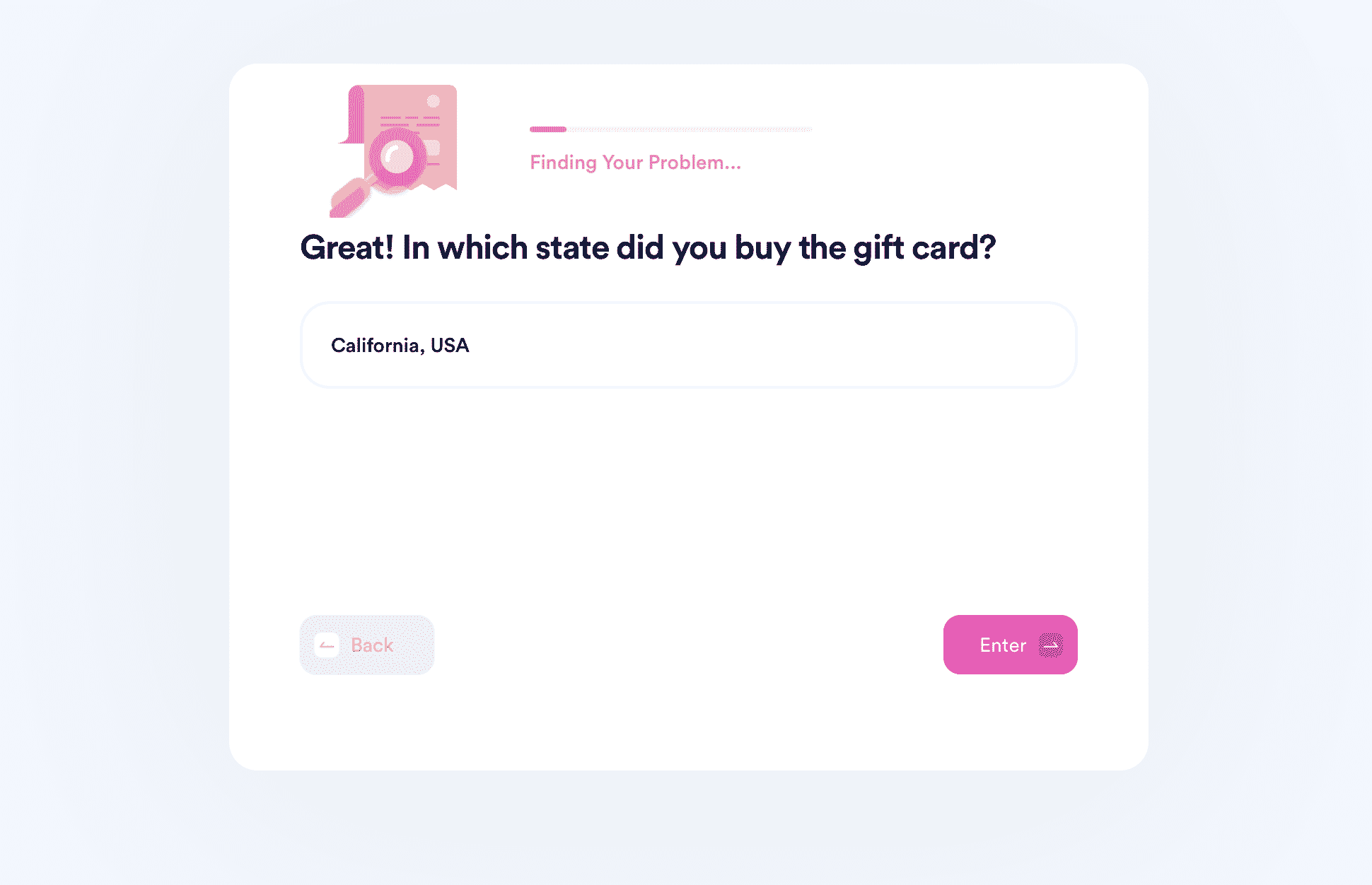 Do you live in a state without a cashback policy? You don't need to despair, as DoNotPay can help you get your money back hassle-free in that case too! We will search for a Target store in a state with a cashback policy and send your request there.
Target isn't the only retailer DoNotPay can help you with. You can use our app to get your money back from other companies, such as:
Get Answers to All Your Gift-Card-Related Questions!
Other than helping you get your money back with zero effort, DoNotPay can also provide valuable info regarding gift cards. Subscribe to DoNotPay to find out the answers to various gift-card-related questions, such as:
DoNotPay Can Help You Solve Pesky Issues Stress-Free
Dealing with everyday issues can become overwhelming, especially if they include bureaucracy. DoNotPay can help you handle numerous problems in a few minutes. With us, you can schedule your DMV appointments, get documents notarized remotely, and create various legal documents—including child travel consent statements and demand letters for neighbor complaints—in a snap.
Do you need help paying your bills, disputing parking tickets, or getting cash back for your gift cards? Once you register for DoNotPay, you'll be able to manage all of these and many more issues in no time.
What Else Can You Use Our App For?
Besides helping you handle tedious administrative hurdles, DoNotPay can do much more for you! You can use DoNotPay to:
With us, you can send online faxes or mail letters from the comfort of your home. Do you have friends or family members who are serving time? We can help you connect with inmates in a flash by enabling you to locate them and send them letters.