7-11 Gift Card Balance Check—How To Do It and What To Do With the Remaining Cash
7-Eleven gift cards can get you some food and beverages, but you're not likely to keep track of your balance once you have used a gift card. If you want to know how to do a 7-Eleven gift card balance check, you are in the right place.
We'll give you advice for checking the remaining balance, tips for spending it, or even better, a failproof way to get your cash back!
How Does a 7-Eleven Gift Card Work?
7-Eleven offers all sorts of gift cards, most of which can be used with other brands, e.g., cards for Steam, Amazon, Netflix, Xbox, Uber, etc. The 7-Eleven gift cards we're explaining in this article are original plastic cards used to shop at 7-Eleven stores since they don't offer digital cards.
They are worth between $5 and $100 and can be used at any 7-Eleven in the U.S. You need to tell the clerk that you wish to pay with your gift card. The card expires in three years from the moment you use it for the first time. There's no need to activate the card since that process is automatic. 7-Eleven will not replace a stolen, damaged, or lost gift card.
The Quickest Ways To Do a 7-Eleven Gift Card Balance Check
7-Eleven doesn't currently offer an online balance check for gift cards. The only three options remaining are:
Checking by phone
Checking in person
Checking with DoNotPay
How To Do a 7-Eleven Gift Card Balance Check Over the Phone
The number to call and check your 7-Eleven gift card balance is 1-866-520-4842. Remember to have your card nearby so you can provide the details to the customer service representative and they can check your balance.
How To Perform an In-Person 7-Eleven Gift Card Balance Check
The other option for checking your 7-Eleven gift card balance is by visiting any of the 9,800 stores in the U.S. and Canada.
Have trouble locating the closest 7-Eleven? Use the official 7-Eleven Store Locator to get the directions. The easiest way of using this website is by providing it access to your current location.
How To Check Your 7-Eleven Gift Card Balance With DoNotPay
You can avoid traveling to 7-Eleven to check your gift card in person and dialing customer service to acquire the info about your balance.
Once you , follow the next steps and let our app do the work:
Select the

Check Gift Card Balance

feature

Upload photos of your 7-Eleven gift card from the front and back

Confirm your email address
DoNotPay will reach out to 7-Eleven on your behalf and find out how much money you have left on your gift card in no time!
Convenient Ways To Use Your Remaining 7-Eleven Gift Card Balance
Many websites will tell you to sell your gift card or exchange it for other cards, but that's not the best course of action. These sites aren't trustworthy, and it's not recommended to use them.
It's best to use your remaining 7-Eleven gift card balance to get some hot food, coffee, juice, ice cream, or anything else offered in 7-Eleven stores. If you're strapped for cash, an even better option is to sign up for DoNotPay and get your money back.
Does 7-Eleven Offer Cash Back on the Remaining Gift Card Balance?
7-Eleven doesn't have an official cash back policy. Their gift cards are to be used in their stores, and that's all they have to say. Is there another way to turn a gift card into cash?
Yes, there is—DoNotPay can show you the way! You can get your remaining balance from your gift card back in 11 U.S. states and Puerto Rico. The locations with this cash back policy are:
Vermont
California
Oregon
Maine
Colorado
Massachusetts
New Jersey
Montana
Connecticut
Washington
Rhode Island
Puerto Rico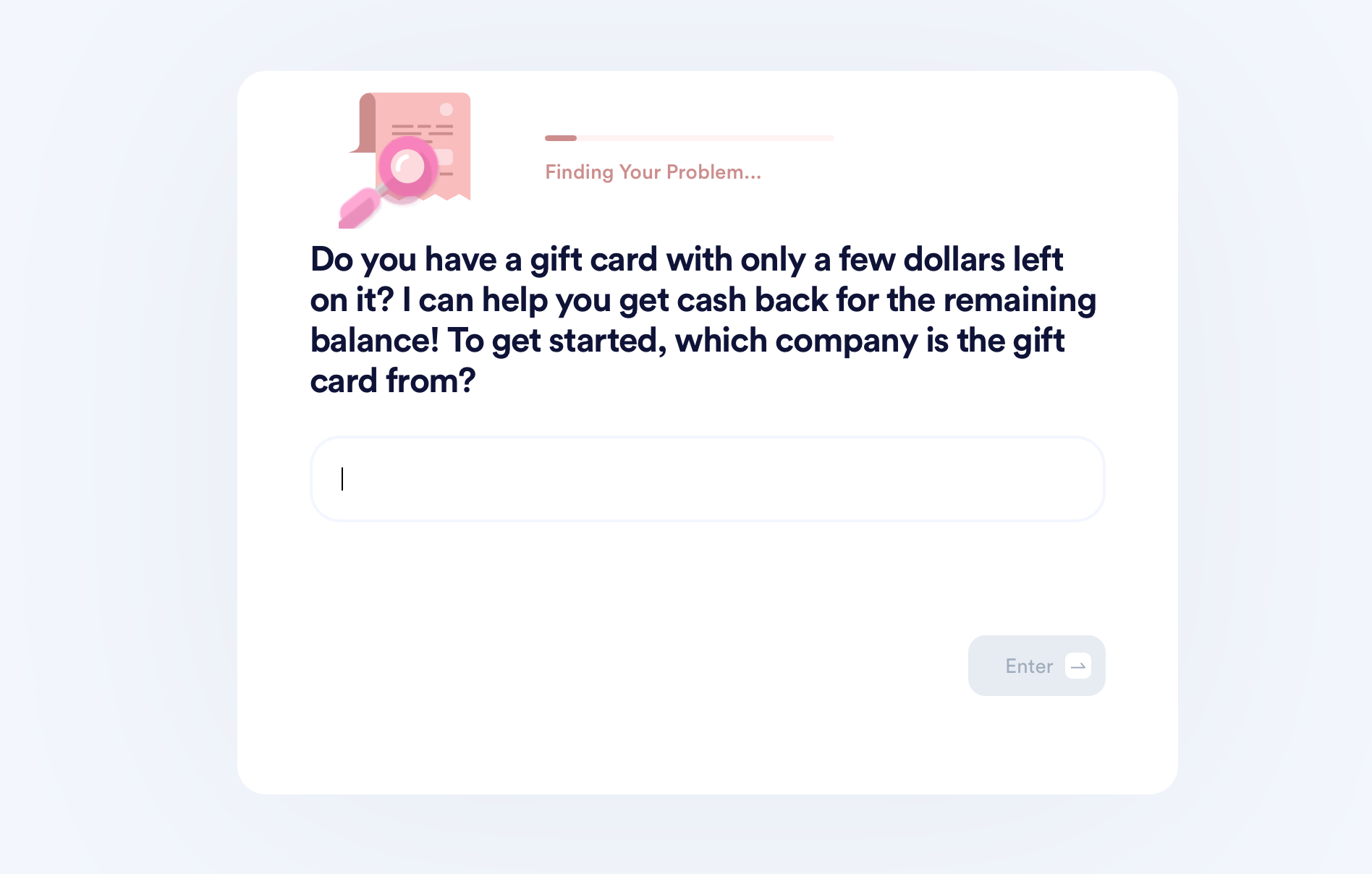 If you live in one of the 12 areas mentioned above, you can walk to a 7-Eleven and exchange your used gift card for cash. Note that the amount you can get depends on the state. In California, you can get $10 back, and that's generous compared to other states.
Was Your 7-Eleven Gift Card Balance Check Fruitful? Get Your Money Back With DoNotPay!
An even better way to get your money back is by ! After you've checked your gift card balance and found some money, DoNotPay can get it back for you remotely and save you the trip. Here's what you need to do:
Open the Gift Card Cash Back product on our website
Enter your gift card information (please provide as many details as possible)
Our awesome method works even if you don't live in one of the cash back states. As long as 7-Eleven has a store in any of those 12 locations, we can get it back for you.
You can expect your money in two weeks or less!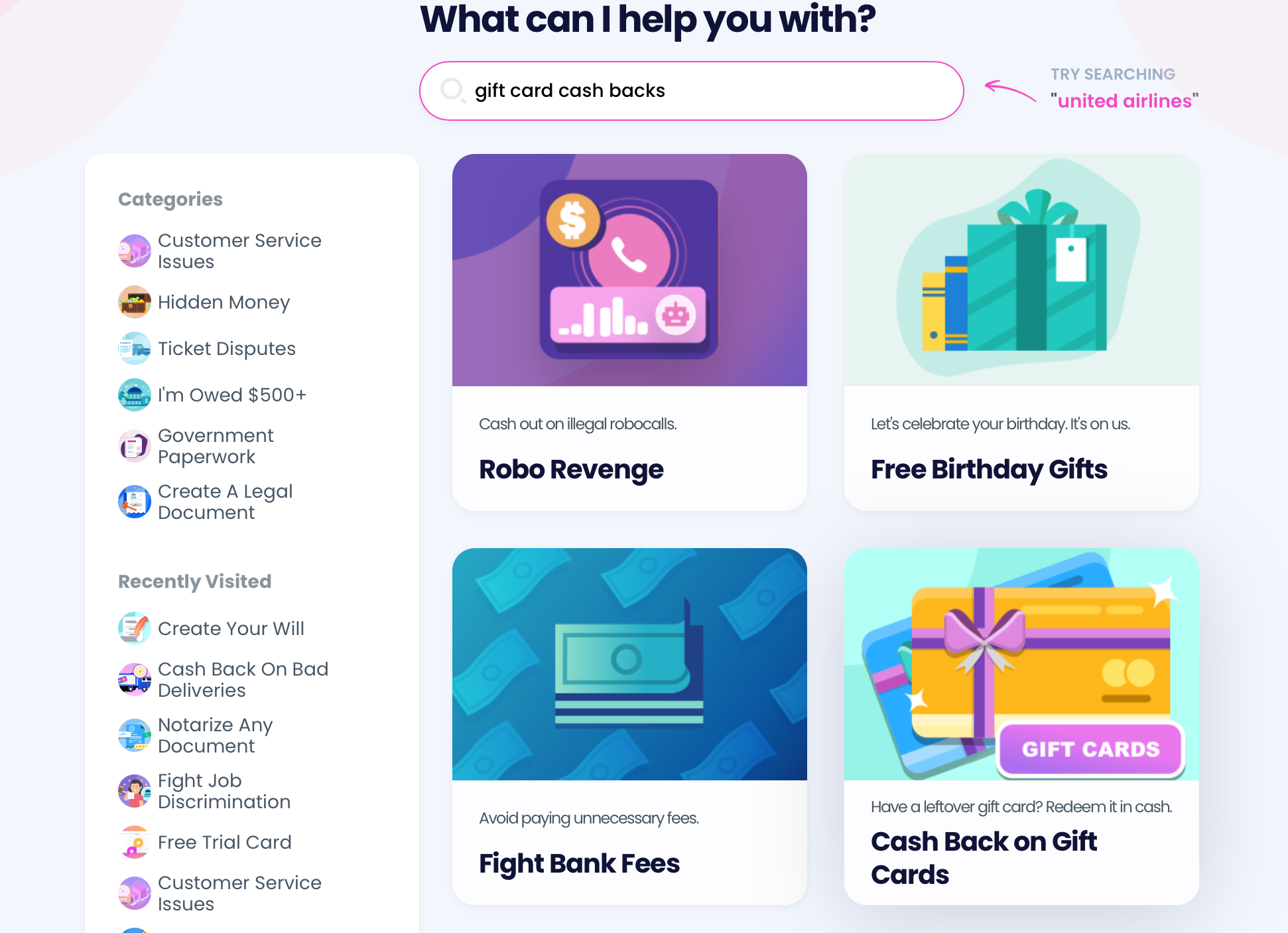 That's Not All! DoNotPay Is Not Done Helping You With Gift Card Troubles
You can say DoNotPay is a gift card magician. We can fix you up with free gift cards and help you check the balance on many other cards, not just 7-Eleven. Check the table for more guides:
| | | |
| --- | --- | --- |
| Fast Food Chains | Retail Stores | Other |
| | | |
DoNotPay Can Help You Solve Pesky Issues Stress-Free
Dealing with everyday issues can become overwhelming, especially if they include bureaucracy. DoNotPay can help you handle numerous problems in a few minutes. With us, you can schedule your DMV appointments, get documents notarized remotely, and create various legal documents—including child travel consent statements and demand letters for neighbor complaints—in a snap.
Do you need help paying your bills, disputing parking tickets, or getting cash back for your gift cards? Once you register for DoNotPay, you'll be able to manage all of these and many more issues in no time.
What Else Can You Use Our App For?
Besides helping you handle tedious administrative hurdles, DoNotPay can do much more for you! You can use DoNotPay to:
With us, you can send online faxes or mail letters from the comfort of your home. Do you have friends or family members who are serving time? We can help you connect with inmates in a flash by enabling you to locate them and send them letters.