How To Get Free Gift Cards and Receive a Few Bucks Back
Gift cards are a great way to make someone happy and ensure they can get themselves whatever they want. Buying the wrong present is disappointing for both parties.
But what if you are short of money? Worry not because DoNotPay knows a way around it.
We will explain how to get free gift cards easily and still make someone happy. You can also keep the card and treat yourself to something nice!
Get Free Gift Cards in Your Free Time
There are different ways you can get free gift cards, including:
Playing games
Watching videos
Browsing websites
Completing surveys
In return for these simple tasks, you can get paid via PayPal or receive a free Visa, Amazon, Target, Walmart, or some other gift card.
Get a Gift Card for Free on Various Platforms
Here are some platforms offering free gift cards for completing specific activities:
Websites
How To Get Free Gift Cards
Swagbucks
You can get cash back via PayPal or a gift card if you:

Shop
Watch videos
Take surveys

This website offers gift cards from famous retailers, such as Amazon and Walmart

SquishyCash
Playing games or taking surveys on SquishyCash can get you a free gift card for:
CreationsRewards
You might end up with gift cards for Amazon, Walmart, or some other store for activities like:

Searching the web
Shopping online
Watching videos
Completing surveys

InstaGC
By participating in some InstaGC organized activities, you will be able to choose from lots of gift cards on this website. These include:

Amazon
Walmart
Forever 21
Google Play
Office Depot
American Airlines
How To Get Free Visa Gift Cards
Some apps and websites also offer free Visa gift cards, for example:
Comcast/Xfinity—Recommend Comcast cable to friends and get up to $500 in Visa gift cards in the following pattern:

$100 for the first friend
$200 for the second referral
$200 for the third person joining

MyPoints—Take surveys and shop on the MyPoints portal to collect points and get cash or a Visa gift card
Univox Community—Share your opinion, collect points, and:

Get paid via PayPal
Receive a Visa Virtual card

PrizeRebel—Complete surveys and participate in the referral program to earn points in your account and then cash out by choosing:

PayPal cash
A Visa, Amazon, or some other gift card

Verizon Wireless—Refer friends, colleagues, or family members to Verizon and receive as much as $200 in Visa Rewards cards
CenturyLink—For every person who signs up for CenturyLink through you, you will score a $75 Visa gift card
Get Free Gift Cards Online—Is This Legit?
Lots of market research apps and websites need to gather relevant data on various brands and their consumers. To motivate individuals to take surveys, share their opinions, and complete additional tasks, they often offer free gift cards.
These platforms share research results with brands and companies to improve their marketing strategies and business plans, so the cash prizes or gift cards are not actually free.
You should be cautious whenever you see anyone giving free money as there are lots of scammers who:
Steal your data
Charge you hidden fees
You should do your research before signing up for a service you have not heard of. Check if the sign-up is free of charge and make sure your information is used for market research specifically. Choose trustworthy companies that will not trick you and will reward you for the performed tasks accordingly.
Get Your Gift Card Cash Back via DoNotPay Smoothly
If you end up with a few bucks on your gift card and cannot buy anything for that amount, you can get your money back. While not all U.S. states require companies to reimburse the remaining balance on gift cards (up to between $5 and $10), some do.
You need to check the company's gift card refund policy and your state laws as well as complete the required—often complex and nerve-racking—procedures.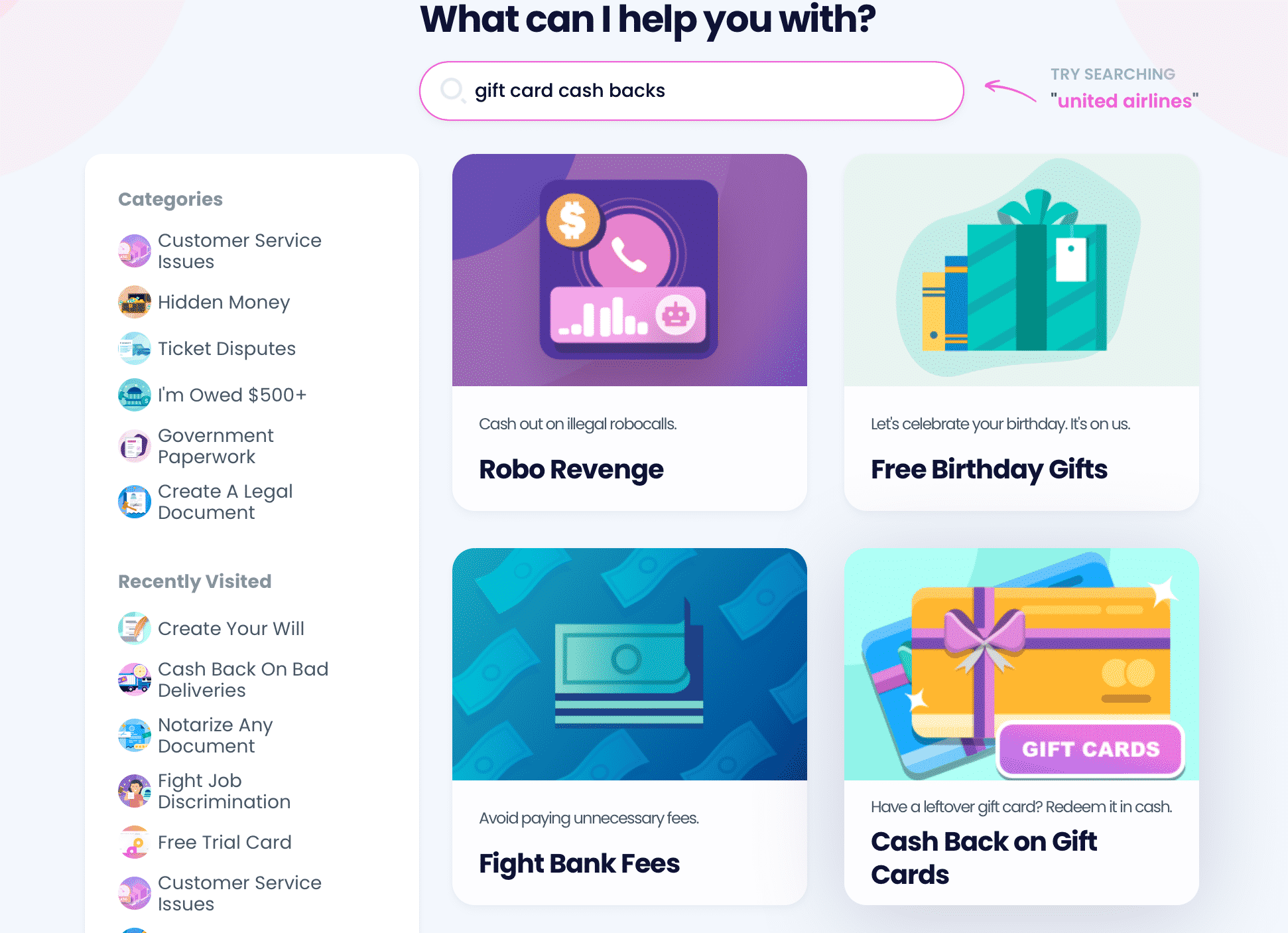 Our AI-powered app offers an efficient yet simple way to get your money back! Subscribe to DoNotPay and complete these short steps:
Choose our Gift Card Cash Back product
Enter details about your gift card, e.g., the company name, card number, and remaining balance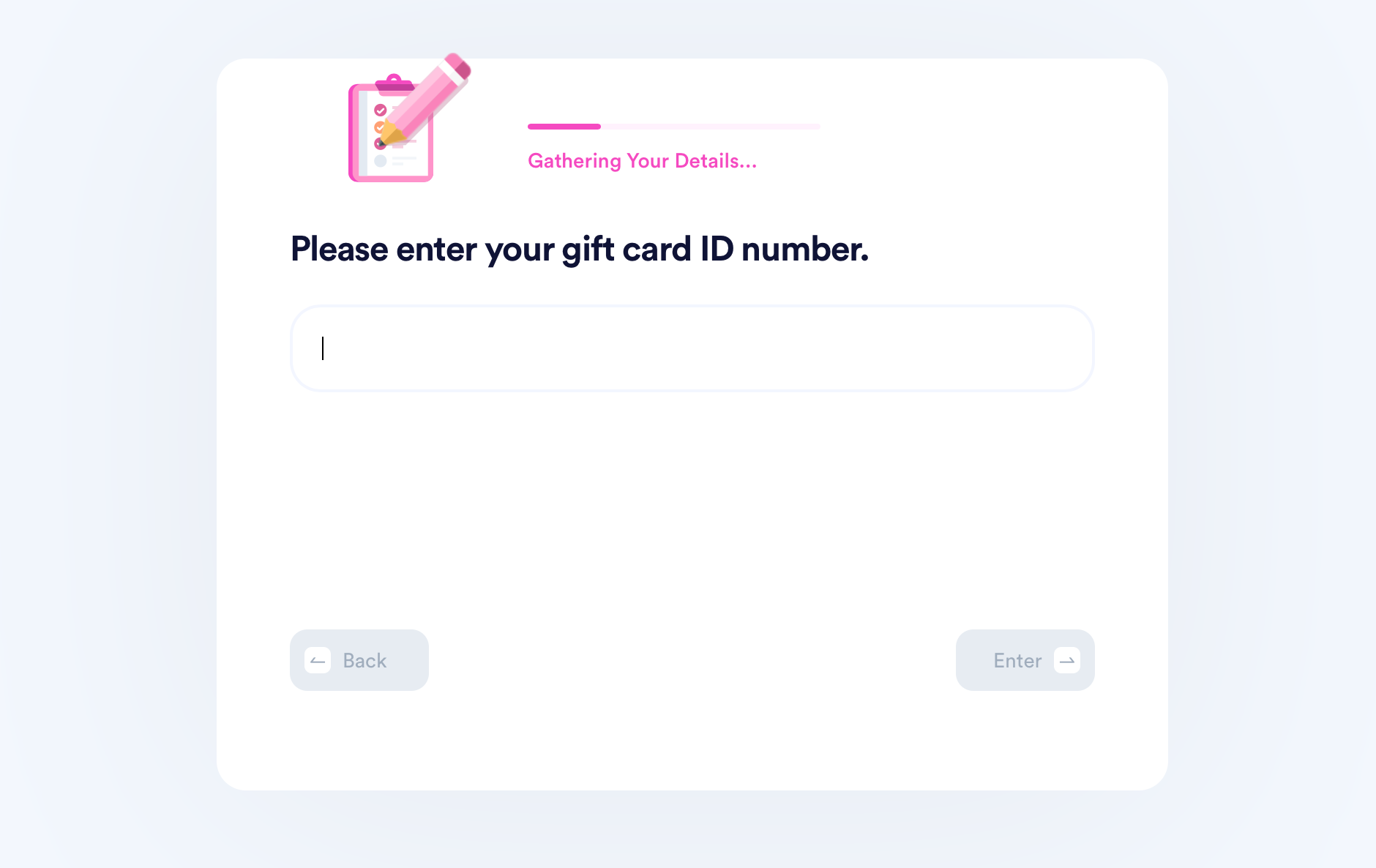 DoNotPay will check whether your state has a cash back policy. If not, our app continues checking if the gift card provider has offices in one of the states with the required regulation in place. DoNotPay will send your request to that office, and you can expect to receive cash or a check within 14 business days.
Turn to DoNotPay for Relevant Gift Card Data
Access DoNotPay to find many useful guides explaining complex gift card cash back issues in simple terms. If you use gift certificates often, you may find the following helpful:
DoNotPay Helps You Deal With Various Problems Worry-Free
DoNotPay has developed a wide variety of products you can use to manage numerous tasks.
Do you want to get a refund from a company? Are you wondering whether you can request compensation from airlines for poor Wi-Fi or canceled flights? Is hiring a lawyer to draw up legal documents too expensive for you? Sign up for DoNotPay and solve your issues in a matter of minutes!
Use our AI-powered app to get rid of robocalls, spam emails, and text messages.
Need help locating and canceling all your unused memberships? DoNotPay has a product for that too!
Prepare for your driving test using our Government Tests Prep feature and schedule a meeting with the DMV to take the test through the same app. We can even help you claim your car insurance or warranty and contest parking tickets in a flash!
Learn How To Protect Your Privacy With DoNotPay
Protecting your personal info online can be challenging but not impossible. The next time you come across a service that requires phone verification, make sure to use our Burner Phone product and have us generate a fake phone number you can use.
Our virtual credit card can help you sign up for free trials without having to disclose your name, email address, or credit card info.
Are you thinking about connecting with an inmate pen pal? Make sure to keep your real address a secret by relying on DoNotPay. Besides helping you send letters to inmates, we can also receive mail from the prison on your behalf, scan each letter, and send it to your email address.