Get the Scoop on How To Check Your Dairy Queen Gift Card Balance
A Dairy Queen gift card is an appropriate present for anybody with a sweet tooth. Unfortunately, people tend to let their gift cards go unused or forget them as soon as they discover the balance is too low to make a purchase.
Did you know you can redeem the remaining value on your used gift card in cash under specific circumstances? If this option sounds appealing to you, use DoNotPay's helpful tips to check your Dairy Queen gift card balance and get your gift card cash back swiftly!
Your Dairy Queen Gift Card Explained
Dairy Queen gift cards can be loaded to a maximum amount of $250, and total purchases for any individual card cannot exceed $500 in a single day. Before checking your balance and deciding what to do with the remaining amount, take a look at the crucial facts regarding Dairy Queen gift cards.
They can be:
Redeemed at any acceptable Dairy Queen location across the U.S. and Canada
Replaced if lost or stolen, with appropriate proof of purchase
Used anytime since they have no expiration date
Dairy Queen gift cards also come with specific limitations. They cannot be:
How To Check Your DQ Gift Card Balance
Dairy Queen offers the following methods of checking your gift card balance:
In person—You can visit the nearest Dairy Queen and ask an employee at the cash register to check your gift card balance
Via phone—Call 1-800-605-9371 and get the gift card balance details over the phone instantly
What Can I Do After Performing a Dairy Queen Gift Card Balance Check?
Have you conducted the Dairy Queen gift card balance check only to discover that you have a couple of bucks left? Your options of handling the remaining balance are limited and consist of:
Letting the money get transferred back to Dairy Queen
Assessing if you can make one more purchase and clean out the card completely
Redeeming the remaining money in cash with 's help
Eleven U.S. states and Puerto Rico require companies to provide cash reimbursement for the leftover gift card money as long as the balance doesn't exceed a certain amount. Check out the table below for further clarification:
| | |
| --- | --- |
| Gift Card Cash Back States | Maximum Balance Limit |
| California | $10 |
| Colorado, Maine, Massachusetts, Montana, New Jersey, Oregon, Puerto Rico, Washington | $5 |
| Connecticut | $3 |
| Rhode Island and Vermont | $1 |
Our app can save you from confronting Dairy Queen employees and going through a tiresome and time-consuming gift card cash back procedure on your own. We will draw up and send the request in your name and ensure you get the gift card money even if you don't live in one of the gift card cash back states!
Check Balance on Your Dairy Queen Gift Card Balance and Let DoNotPay Handle the Rest
DoNotPay's new Gift Card Cash Back product is your fast ticket to redeeming the remaining money on your gift card. Why should you fight the gift card battle alone when you can and finish the whole procedure with a few clicks?
Here's what you should do after accessing our app in a web browser:
Look for our Gift Card Cash Back product
Provide our chatbot with some details, including:
Company's name
State where the card was issued
Your gift card number
Remaining balance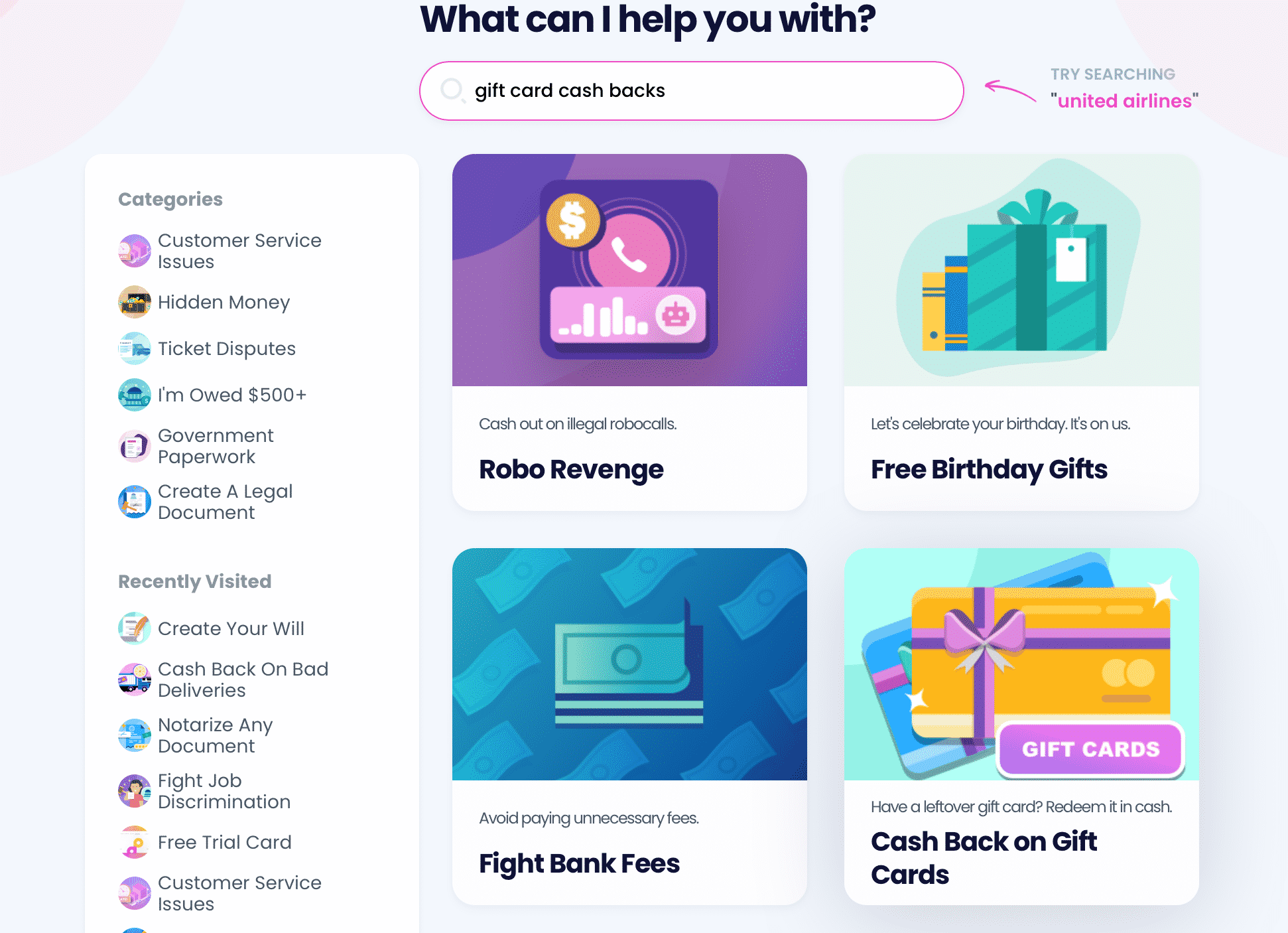 Provided you live in one of the cash back states, we will send your request quickly. If it turns out your state of residence doesn't have a gift card cash back policy, don't despair! Our app will send your claim to one of the restaurants in a state with gift card cash back legislation. Your money will reach you via mail in no more than 14 business days!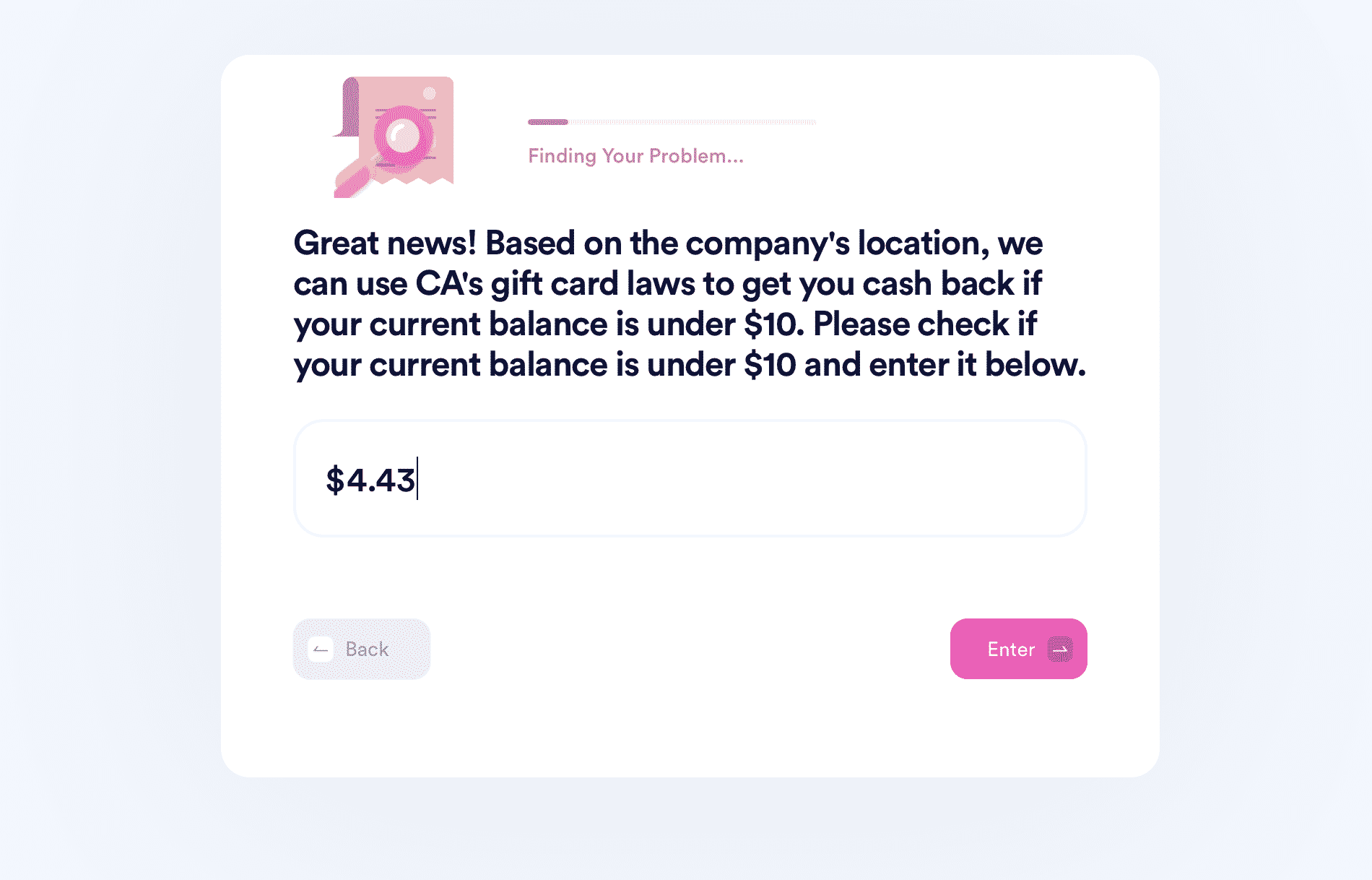 If you own a gift card from any other company, we can show you how to check the balance on any of them and help you redeem your money even from free gift cards.
Check out some of the gift cards we can help you with:
What if the DQ Gift Card Balance Check Shows I Have More Than a Few Dollars Left?
Provided your Dairy Queen gift card has enough money on it, but you don't need it anymore, you can do the following:
Sell the card online—Turning your gift card into cash via unauthorized websites is always risky, but it can be done. Bear in mind that you won't be able to sell it for 100% of its value
Exchange it for another card—You have the option of swapping your Dairy Queen gift card for another of similar value. Make sure to research the websites that offer these services thoroughly
Give the gift card to someone else—Giving your card to someone as a gift may not provide profit, but it's still better than letting it sit in your drawer unused
Learn About DoNotPay's Awesome Products!
DoNotPay is a multifunctional app that can solve numerous everyday challenges swiftly.
You can use our app to protect your work from copyright violations, schedule your driving exam or any other appointment with the DMV, reduce your property taxes in a few steps, and similar.
We have created many useful products to help our users take care of their issues through the same app. With us, you can:
DoNotPay Connects You With Your Loved Ones
Sending letters to inmates can be difficult since you have to follow certain rules to a T to avoid having your letter rejected. The situation is even more complicated if you don't know where your incarcerated loved one serves time. DoNotPay's app can help you locate prisoners and correspond with them without worrying whether you're breaking any rules.
Do you want to send a letter, but you don't feel like heading over to a post office? By using our mailing service, you can mail as many letters as you want from the comfort of your home. With DoNotPay, you can also send online faxes in under five minutes!
Email and text spam is something that everyone experiences at least once in their lives. DoNotPay has a solution for that too. Access your DoNotPay account and count on us to help you block spam and get compensation by reporting pesky robocalls.