How To Check Your Nordstrom Gift Card Balance and Get Cash Back
Do you have a used gift card from Nordstrom lying around in a drawer somewhere? What if you still have some money on the card? DoNotPay can help you get that money back!
We will explain everything from how to check your Nordstrom gift card balance to how to return your gift card for cash in a few steps!
What You Need To Know About Nordstrom Gift Cards
Nordstrom offers two types of gift cards—traditional Gift Cards and eGift Cards. You can use your card to purchase items both in Nordstrom stores and online. Here are the websites you can visit to buy something online:
How To Check Your Balance on Nordstrom Gift Card
In the table below, you can find ways of checking your Nordstrom gift card balance:
How To Check Your Gift Card Balance
Details
Nordstrom stores
You can visit any Nordstrom store and ask a cashier to check your balance. Here's how to find the nearest store:

Visit the Stores & Events webpage
Type in your city, state, or ZIP code
Click on Search

Online
Visit the Gift Card Balance page on the Nordstrom website and follow the steps below:

Type in your gift card number
Enter your access number or code
Click on Check Balance

Via phone
Call the Nordstrom customer support at 1-844-639-8924 and:

Ask the customer support agent to check your gift card balance
Provide them with your information
What To Do After You Perform a Nordstrom Gift Card Balance Check
Once you know how much money you have on your Nordstrom gift card, the question that arises is—how to use the remaining balance. There are several options you can choose from:
Purchase an item at Nordstrom—If you have enough money, you can spend it by purchasing something at a Nordstrom store or online by using your access code
Sell the gift card for cash—You can sell your gift card for cash online or in a designated store. Going to a store or a kiosk to exchange your card can be inconvenient, especially if it isn't close to your location. While selling your card online is a more practical choice, you should know that some websites can be unreliable. Another drawback is that you probably won't get 100% of your money back
Give your gift card as a present—If you don't know what to do with your gift card, you can always give it to someone as a present, especially if your balance is high. This can be a great last-minute gift
Donate the gift card—There are plenty of charities that accept gift cards as donations
Get cash for the card—Nordstrom usually doesn't allow redeeming gift cards for cash unless required by law, but if you sign up for DoNotPay, we can help you get your money back with zero effort
DoNotPay Can Help You Exchange Your Nordstrom Gift Card for Cash
Even though gift card laws are different in each state, DoNotPay can help you redeem your gift card for cash anywhere.
You can do your research and check if your state law requires companies to reimburse unused gift card funds in cash, or you can use DoNotPay and speed up this complicated process. While only 11 states and Puerto Rico have gift card cash back policies, we can help you get the reimbursement in other states as well.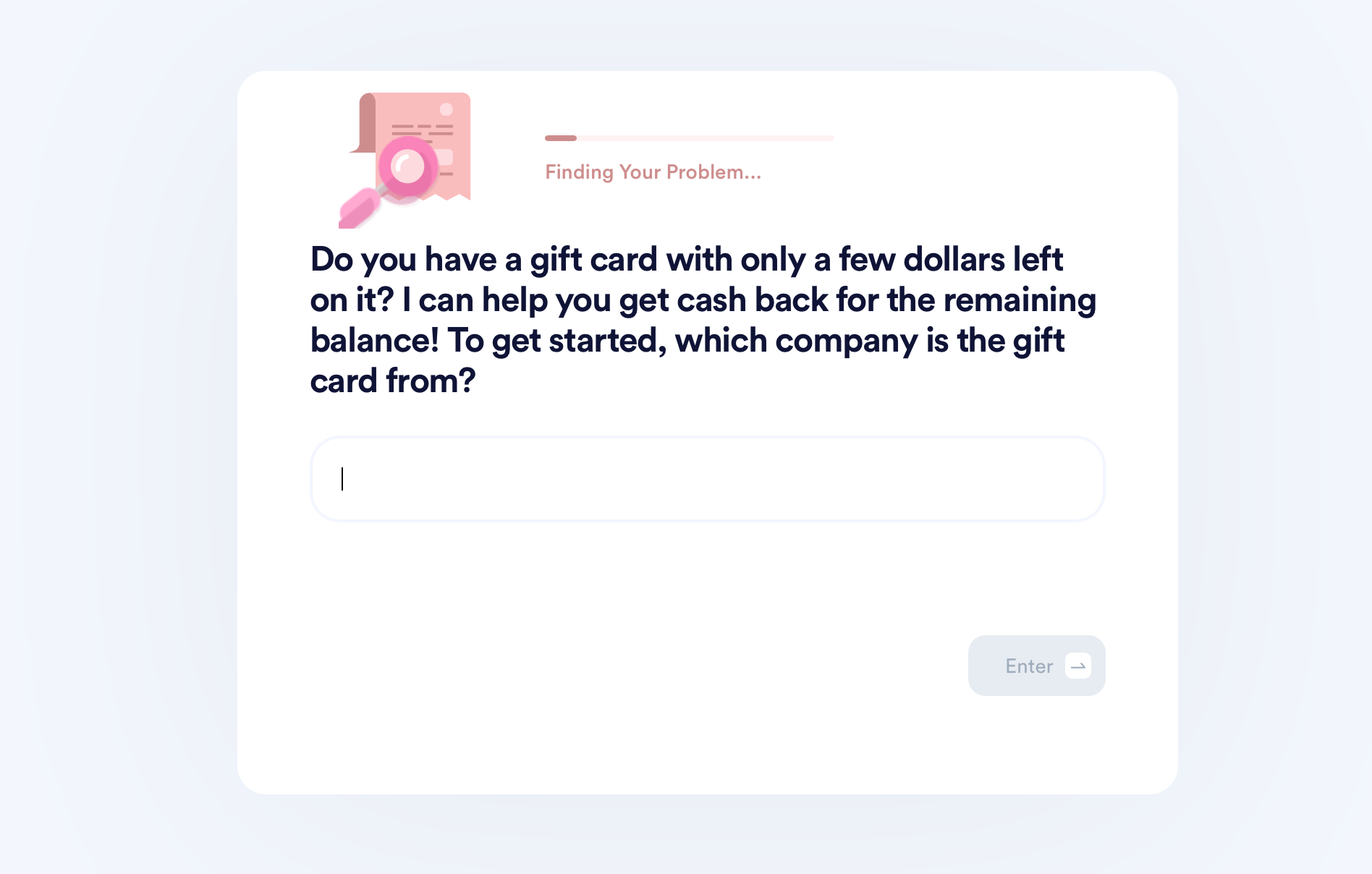 After you sign up for DoNotPay, follow the steps below to get the remaining money from your gift card:
Enter Gift Card Cash Back into the search bar
Add the information about the gift card—company's name, remaining balance, card number, etc.
Click on Sign and Submit
We will check if your state has a gift card cash back policy. If it doesn't, we will find a Nordstrom office in one of the states with the said policy and send your request to them. You should get your cash or a check by mail within 14 business days.
Keep in mind that companies, by law, can't reimburse the money if it's above a certain balance—most commonly $5. California has the highest limit—residents there can get up to $10 back.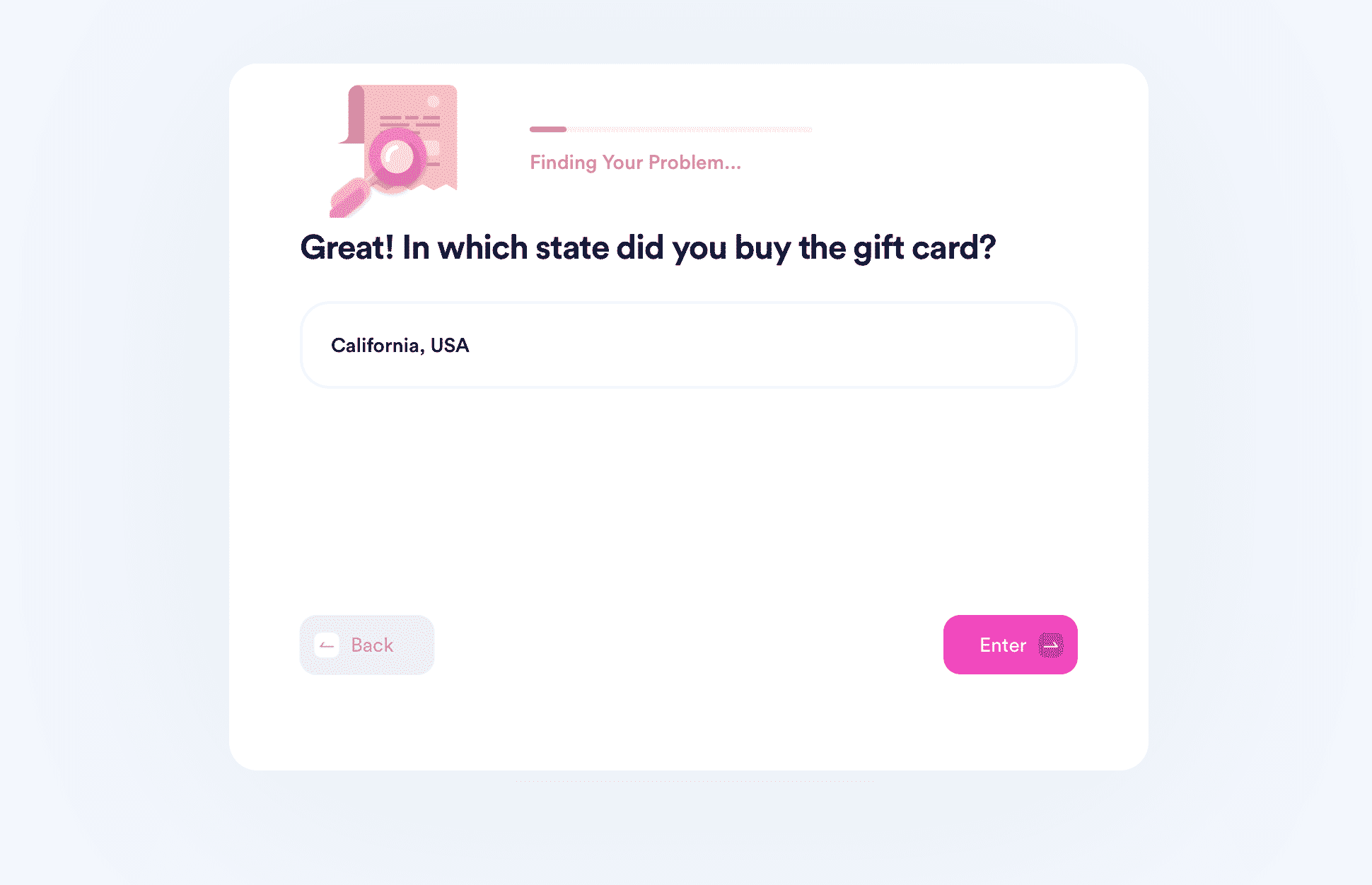 DoNotPay Is an Expert for Gift Cards—Here's Why
You can find more information about gift card reimbursement by visiting DoNotPay's helpful learning center. You can find out how to:
Check your balance on the gift cards from the following companies:
You can use our learning center without signing up, but we advise you to create a profile to get any problem solved quickly.
Say Goodbye to Administrative Issues—Rely on DoNotPay
Are annoying procedures—such as canceling memberships, disputing parking tickets, filing warranty and insurance claims, requesting refunds for purchased products or services—giving you headaches? Do you dread calling an airline's customer support to request a refund and compensation for a canceled flight? You're not alone! The good news is—DoNotPay can help you solve these issues stress-free!
You can use our app to prepare for your driving test or other government exams and schedule an appointment with the DMV in minutes.
Are you wondering whether you're paying too much for your property taxes? Make sure to try out our Property Tax feature and learn about the best way to reduce your property tax bill.
Annoyed by Spammers? DoNotPay Can Help!
With DoNotPay, you can get rid of spam emails and text messages and report robocalls in one fell swoop. Our Burner Phone feature will generate a fake phone number that you can provide upon registration for any service!
Besides helping you enjoy free trials without the risk of being charged, DoNotPay's virtual credit card has another advantage. It will provide a random email address you should use when signing up for a free trial. That way, you'll avoid pesky marketing emails and email notifications.