Check Your Ross Gift Card Balance and Turn It Into Cash in No Time
After a shopping spree at Ross, you might be unsure of the remaining balance on your used gift card. DoNotPay presents the easiest way to check your Ross gift card balance and turn it into cash in the blink of an eye.
Ross Gift Cards Explained
Ross gift cards are available for purchase:
The company doesn't sell its gift cards through any third-party retailers.
Note that Ross doesn't offer e-cards. When you purchase a gift card online, Ross ships a traditional plastic card to the person whose contact info you enter during checkout. Upon ordering, Ross will charge you a postage fee to cover card shipment expenses.
You may want to get rid of your Ross gift card because:
You can't reload it after spending the entire balance—Using reloadable gift cards is more convenient because you don't have to throw them away and get new ones once you spend the loaded amount
Ross doesn't have an online store—You can forget about the convenience of shopping from the comfort of your home
You can replace a lost or stolen gift card only if you present the original receipt—If you got a Ross gift card as a present, you probably don't have the receipt, making it impossible to get a replacement
Ross's gift card terms of use aren't entirely clear—You will most likely learn about the unfortunate terms of use only after losing your card or trying to reload it at a Ross store since the company website doesn't offer much information
You can't check your gift card balance online—You will have to resort to other ways to inquire about your remaining funds
How To Check Your Ross Gift Card Balance
Ross doesn't offer many options when it comes to gift card balance checks. There are only two ways to do so:
In-store
By phone
How To Check Your Ross Gift Card Balance In-Store
To check your Ross gift card balance:
Visit your nearest Ross store
Approach a staff member
Ask them to check your remaining gift card balance
Provide all information they ask for
How To Perform a Ross Gift Card Balance Check by Phone
To check your gift card balance by phone:
Call Ross customer service at 800-335-1115
Ask the customer service representative to check your remaining balance
Provide necessary information
What Can I Do With the Leftover Funds on My Ross Gift Card?
According to Ross, customers in California can get their cash back if the remaining balance on their gift card is under $10.
If you aren't from California and the leftover funds can't cover anything you want at Ross, don't worry—you can still make use of your gift card using one of the following methods:
| | |
| --- | --- |
| Method | Explanation |
| Exchange your gift card online | Many websites enable you to exchange your gift card for another one with the same balance but from a different store |
| Sell your gift card online | Plenty of websites offer to buy your intact or partly used gift cards |
| Exchange your gift card at a card kiosk | Some department stores have card kiosks you can check out to sell your gift cards for cash instantly |
All of these methods require extensive research, and you'll never get your entire card's worth back. DoNotPay offers a solution that saves your precious time and gets you your money back! balance using our Gift Card Cash Back feature!
Redeem Your Ross Gift Card Using Our New Product!
DoNotPay can help you claim your leftover gift card balance in cash! To do that, follow these steps:
in your preferred browser
Select our Gift Card Cash Back product
Enter the required information regarding your gift card
Ross has stores in the following states that enforce cash back gift card laws:
California
Colorado
Massachusetts
Montana
New Jersey
Oregon
Washington
We will find a Ross store in one of those states and forward your request there. You will receive your cash back in a maximum of 14 business days.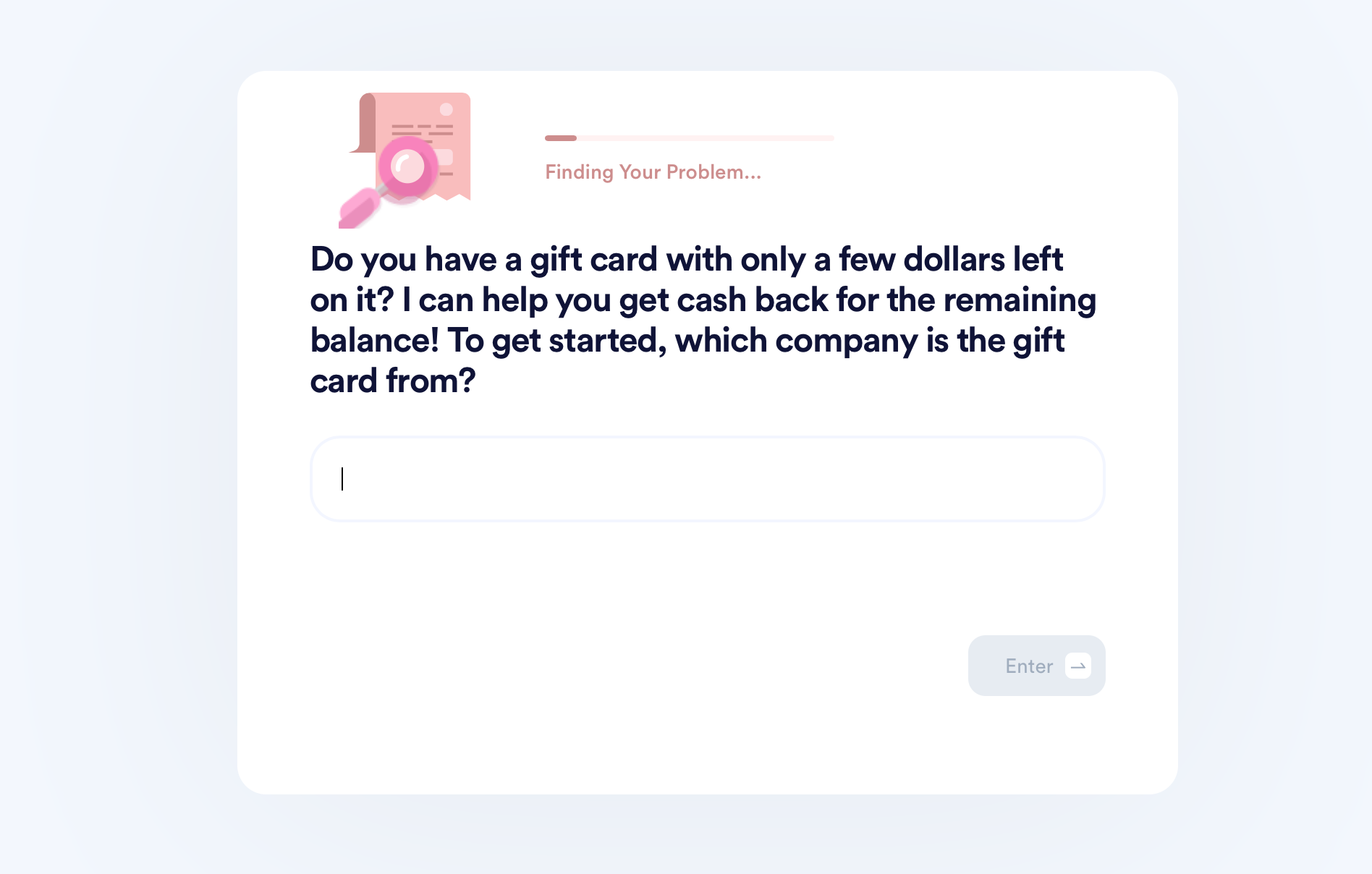 Keep in mind that states with this policy in place have cash back limits that are usually up to $10, so you may not be able to redeem your gift card if it's unused.
Get Your Gift Card Cash Back From Even More Companies!
Our product can help you claim leftover money from even more gift cards, such as:
For all your gift-card-related questions, our learning center offers a variety of helpful articles:
DoNotPay—A Pocket-Sized Assistant
If you need protection from stalkers and harassers, we know what to do. Whether you want to deal with a rude or noisy neighbor or fight workplace discrimination, DoNotPay has got your back. Even spammers don't stand a chance against our AI-powered app—both the texters and the robocallers.
If your situation takes a turn for the worse, you may need to take the issue to court. In this case, the world's first robot lawyer swoops in to help! You can count on DoNotPay to assist you every step of the way, regardless of whether you need to take a person or a company to small claims court.
Our App Helps You Through Numerous Red-Tape Issues
Dealing with paperwork doesn't have to be tedious. With DoNotPay's help, cutting through red tape is fast and easy. With a few clicks in our app, you'll be able to: