Do a Domino's Gift Card Balance Check and Grab a Pizza the Cash Back Pie
What could be better than pizza? The only possible answer is pizza that somebody else has paid for!
Domino's gift cards are hugely popular as gifts or incentives. The problem with any gift card, though, is when it has become so depleted that you can't buy anything worthwhile with the remaining value. This is when gift cards get consigned to a drawer and forgotten about.
If you have a stash of used gift cards lying around, DoNotPay can help perform a Domino's gift card balance check and convert small remaining amounts into cash!
How Do Domino's Gift Cards Work?
Domino's offers physical and electronic gift cards that you can use in any of the chain's 6,400 outlets across the country or for online purchases.
You can buy cards in-store or online in denominations of up to $100, and the cards remain valid until all the pre-loaded funds have been depleted.
Using a Domino's gift card is as easy as (pizza) pie however you are ordering your food:
| | |
| --- | --- |
| Purchase Type | Method |
| In-store | Hand your card to the cashier or customer services representative at checkout |
| Online | Enter your card number in the correct field at checkout |
| Delivery | Give your card to the delivery agent as you pay for your food—your card is accepted by DoorDash and most major delivery services |
How Do You Check the Balance on a Domino's Gift Card?
If you are unsure how much cash is left on your Domino's gift card, you can check the balance using the following methods:
Online
By phone
In-store
Online
If you go to the Domino's website, you can find an easy-to-use balance checker. You will need to enter your card number, the four-digit PIN on the card, your email address, and your mobile phone number.
By Phone
You can reach Domino's customer service call center on 877-250-2278. If you follow the voice prompts, you will be able to check your card balance. Make sure you have your card handy when you make the call.
In-Store
Cashiers in Domino's outlets can swipe your card and tell you your remaining balance.
If you think there may be an error in your remaining balance, you can contact Domino's via the company's website and check the transactions logged against the card in the last 60 days.
Too Much To Throw Out, Too Little To Spend?
If you only have under $5 left on your gift card, you have a few options to fully deplete your funds.
The most straightforward way to spend your remaining balance is to use it against your next purchase and top up the balance with another accepted payment method.
If you are all pizza'd out and don't foresee using your card for a purchase soon, these are your other options:
| | |
| --- | --- |
| Gift Card Options | Explanation |
| Exchange your card | Several websites offer to swap your partly-used gift card for another one that you prefer |
| Sell your card online | You can sell your used gift card online—depending on the type of card and the remaining balance, you can get a cash offer for your card. If you accept the offer, you have to fill in the card details, and the card ownership and balance is transferred to the purchaser in exchange for cash |
| Get instant cash for your card | Many grocery and department stores have gift card vending machines that offer instant cash for your card |
All the above methods are convenient and easy, but you will lose on the value of your Domino's gift card.
Each of these systems makes money by only offering a percentage of the real value of your card—typically, you will only receive 85–90% of your actual remaining balance.
Will Domino's Give You Cash for Your Gift Card?
Domino's says it will not exchange your gift card for cash "unless required by law."
This refers to a law enacted in 11 states and Puerto Rico that allows you to claim cash back on small remaining gift card balances. The states and claimable amounts are:
| | |
| --- | --- |
| State | Cashback Limit |
| California | $10 |
| Massachusetts | $5 |
| Washington | $5 |
| Maine | $5 |
| Colorado | $5 |
| Missouri | $5 |
| New Jersey | $5 |
| Oregon | $5 |
| Connecticut | $3 |
| Vermont | $1 |
| Rhode Island | $1 |
| Puerto Rico | $5 |
This sounds easy, but there are a couple of issues you may face:
You have to be in one of the listed states to qualify
You need to go to a Domino's outlet to claim your cash back
The cashier and outlet management may not know the law, so you may have to explain it to them
As always, DoNotPay has a solution.
DoNotPay can help you understand how gift cards work, claim free gift cards, and wherever you are!
Get Your Domino's Cash Back With DoNotPay

Claiming cash back on your Domino's gift card is as easy as one, two, three—here's what you need to do:
in your web browser
Go to our Cash Back on Gift Cards feature
Enter your card details (vendor, card number, and remaining balance)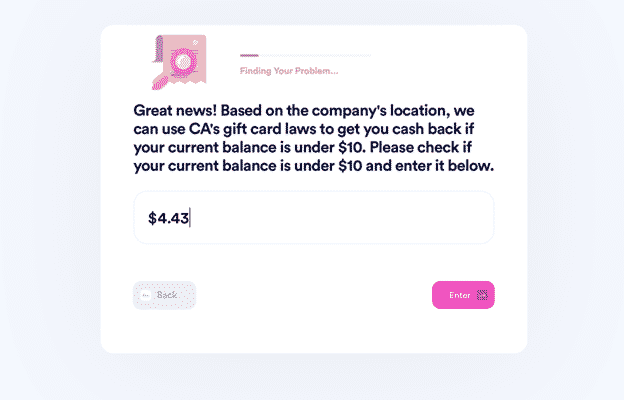 We will send your details to the nearest Domino's outlet for them to process. Even if you don't live in one of the states with a cash back policy, we will find the best Domino's location in a cash back state and send your claim there. You should receive your money within 14 days.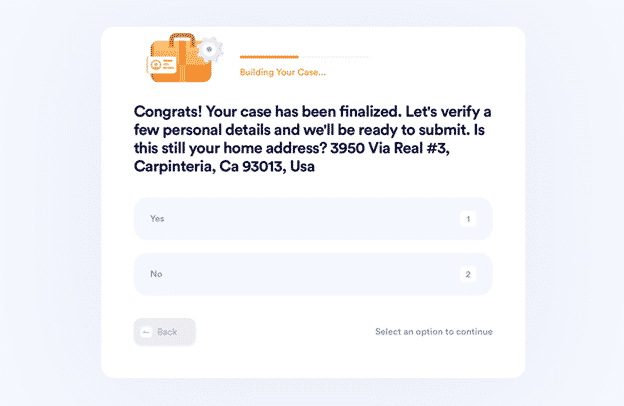 Not Only, but Also—DoNotPay's Range of Cards With Cash Back Options
We are growing the range of gift cards we can help get cash back for every week—here are some of the most popular cards we can help you with:
Money Troubles Got You Down? Use DoNotPay To Get What You're Owed!
If you need help paying bills, you could benefit from our hacks for saving and earning money.
Our app can help you get free trials with no hidden charges, thanks to DoNotPay's virtual credit card. If you want to get rid of a service, we can assist you in canceling it or requesting a refund. We'll get everything done so that you don't have to deal with customer service. In case a company is playing dirty, our award-winning app can help you take it to small claims court.
A slow bureaucratic process shouldn't stop you from getting your money back. This is where DoNotPay comes in! We provide the fastest way of:
Rely on DoNotPay To Manage Different Tasks and Issues
DoNotPay is a multifaceted app making your life easier in numerous ways. Here's how you can benefit from your DoNotPay account: