Check Lululemon Gift Card Balance and See How To Redeem It for Cash
Gift cards are amazing—they allow us to pick our own present and take the burden of choosing it from the gift-giver, but do we always use them? Many gift cards end up half-used and buried in our purses or desks. Sometimes we forget about them, and sometimes we throw them away carelessly even though there are a few dollars left on them.
This begs the question—why throw your card away if you can use it to exchange the remainder for cash? Lululemon gift card owners, DoNotPay has a solution for you! Use our guide to check Lululemon gift card balance and learn what to do with the remaining money.
How Does the Lululemon Gift Card Work?
Lululemon gift cards work like any other gift card—you can use them instead of cash when shopping at Lululemon Athletica stores.
When buying something online, type in your Lululemon gift card number when you reach the payment section. You can also use it to purchase at a Lululemon store, as well as an Ivivva store and showroom.
How To Check Lululemon Gift Card Balance in a Flash
Checking Lululemon gift card balance is as simple as it gets if you follow these steps:
Visit the Lululemon website
Scroll down and look for the Check your Balance section on the right
Enter your gift card number
Click on the Check My Balance button
That's it—the website will provide your transaction history and remaining balance.
Can I Check Lululemon Gift Card Balance at the Store?
Yes—but don't forget to bring your card! Head to your local store and ask an educator for assistance. They will check your Lululemon gift card in a minute and inform you of the remaining balance.
Have Extra Balance on Your Lululemon Gift Card? See What You Can Do With It
Each year, people in America toss out 3 billion dollars worth of gift cards—don't let yours go down the drain! If you got a Lululemon gift card with some extra money and wonder what to do with it, you have several options:
Use it to buy some workout clothes at a Lululemon or Ivivva store
to try to redeem the cash
Combine the card with PayPal to buy something if there is not enough money on it
If you decide to go with the last option and plan to open a PayPal account, consider getting a free virtual credit card for PayPal verification.
Can I Get Cash Back for My Lululemon Gift Card?
Countless stores treat gift cards like cash, but can you actually swap the remaining balance for cash at a Lululemon store? According to the official website, that is not possible.
If you reach out to DoNotPay, there is still hope. Some states require companies to redeem cards for cash by law, including:
Maine
Colorado
California
New Jersey
To convert gift cards to money, the card balance cannot exceed a certain threshold, which is usually $5 to $10. Customers are not always aware of this, and that's where DoNotPay steps in!
Use DoNotPay To Redeem Your Lululemon Gift Card for Cash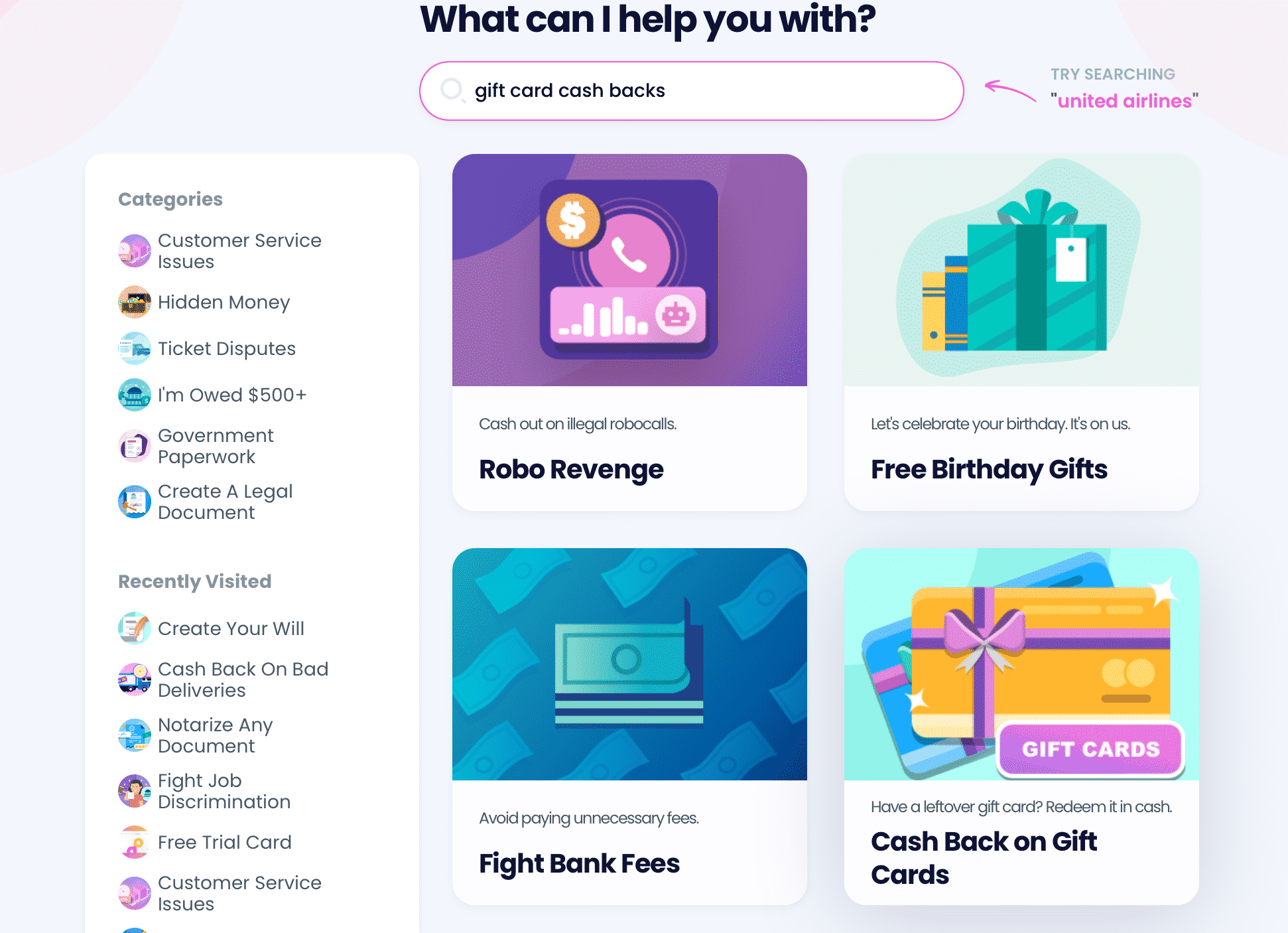 DoNotPay allows you to avoid all the hassle and get your money back in no time! Do not toss out your half-used Lululemon gift card just yet—see if you can convert the funds into cash. To do so, follow our step-by-step instructions:
from any web browser
Look for the Gift Card Cash Back feature
Enter the gift card information, including the company name, balance, and card number
Confirm a few personal details
Verify your signature
All done! While you're submitting your request, DoNotPay checks whether your state has a cash back policy or not. If it does, you will receive your money within two weeks.
What if My State Does Not Have a Cash Back Policy?
DoNotPay has a solution for that, too! If you live in a state that does not enforce such law, we will look into the company to see if it has an office in any of the cash back states. If it does, we will send your request to it, and you will get your money within 14 business days.
Already Used Your Gift Card but Want To Return Funds? DoNotPay Can Take Care of That
Whether you get it for your birthday or receive a free gift card with a purchase, it is possible to make a wrong choice when you use it. If that happens, don't worry—DoNotPay can help you get a gift card refund!
DoNotPay has already done that many times! The table provides information on getting cash back from eBay, Vanilla, and Steam. Check it out to see what to expect when requesting a refund from:
| | | |
| --- | --- | --- |
| Company | Can You Request a Refund via DoNotPay | Refund Time |
| eBay | Yes | 3–4 business days |
| Vanilla | Yes | 7–14 business days |
| Steam | Yes | Within 14 days |
Rely on DoNotPay To Solve Your Administrative Issues
Getting your documents notarized, drawing up legal paperwork, appealing parking tickets, and similar activities usually require a lot of effort. DoNotPay offers various useful products that can help you deal with administrative problems quickly and save a lot of time. We can assist you with:
Protect Your Consumer Rights With DoNotPay
Companies complicate cancellation and refund processes intentionally, hoping that consumers wouldn't want to spend hours trying to solve the issue they're having. DoNotPay knows how important consumer rights are, and that's why we created numerous products that can help you:
Many people forget to cancel their free trials on time and end up paying for the services they don't even use. To prevent that, DoNotPay has developed a nifty virtual credit card that will allow you to enjoy free trials risk-free. Our virtual credit card will also help you avoid spam email notifications by generating a random email address that you can use when signing up for a free trial.