Gift Card Laws by State From A to Z
The rules and regulations regarding the money on your gift cards differ depending on the part of the country you live in. DoNotPay will dissect the gift card laws by state so that you have a clear picture of the topic. Our app can also help you get cash back from the cards in a few easy steps!
Common State Gift Card Laws
When it comes to gift cards, some federal regulations apply in all states. Check them out in the list below:
Gift cards can last for five years from the day they were purchased
Every gift card has to show fees on the card itself or its packaging
Post-sale fees can't be imposed until one year of inactivity
You can use reloadable gift card funds for five years from the date of the most recent reload
Only one post-sale fee can be imposed per month
Gift Card Laws by State—What You Should Know
Some states permit post-sale fees that can be charged after the card has been purchased. These fees include:
Maintenance fees—for inactive or dormant cards
Transaction fees—a fee for every time you use the card
Activation fee—a fee when you use the card for the first time
Take a look at the table below to see more details regarding gift card laws:
States Where You Can Turn the Card Into Cash
States That Can Collect Your Card Gift Balance (After a Certain Amount of Time)
States Where You Can Be Charged Extra Fees

Washington
Oregon
California
Montana
Colorado
New Jersey
Rhode Island
Massachusetts
Vermont
Maine
Connecticut
Puerto Rico

Washington
Idaho
Nevada
Montana
Wyoming
Colorado
New Mexico
North Dakota
South Dakota
Nebraska
Oklahoma
Texas
Louisiana
Iowa
Illinois
Mississippi
Georgia
North Carolina
Tennessee
Virginia
West Virginia
Pennsylvania
Delaware
New Jersey
New York
New Hampshire
Maine
Alaska
Hawaii

Washington
California
Idaho
Nevada
Arizona
Utah
Wyoming
Colorado
South Dakota
Nebraska
Kansas
Oklahoma
Texas
Arkansas
Missouri
Iowa
Wisconsin
Mississippi
Alabama
Georgia
South Carolina
North Carolina
Tennessee
Virginia
West Virginia
Indiana
Ohio
Pennsylvania
Maryland
Delaware
New Jersey
New York
Alaska
In some states, like Illinois, for example, the law requires that any unused cash on a gift card needs to be treated as unclaimed property. This means that the money should be turned over to the state unless the card doesn't have an expiration date and never charges fees.
The state can't take the money from your account until at least five years pass.
Where Is It Required by Law To Redeem Gift Cards for Cash?
If you live in one of the states where the company needs to give cash back from a used gift card, you should learn about the details. This can normally happen once the card reaches a specific amount. These are the states where you can redeem gift cards worth at most:
$10—California
$5—Colorado, Maine, Massachusetts, Montana, New Jersey, Oregon, Washington
$1—Rhode Island
If you don't want to bother yourself with the state laws on your own, you can turn to DoNotPay for help. Our app will find out everything about the cash back policy in the state you live in.
Get Cash Back From Any Gift Card With DoNotPay's Help
DoNotPay can do all the required research related to state laws about gift cards. Even if you don't live in one of the places where you can exchange your gift cards, the store you got your card from may have an office in another state. We can ensure that you get the remaining amount from your gift card easily.
You only have to follow these instructions:
Sign up for DoNotPay in a web browser you normally use
Open our Gift Card Cash Back product
Enter your gift card number, remaining balance, and other necessary card info
DoNotPay will send your request to the store where your gift card was purchased. The money should be given back to you in the next two weeks.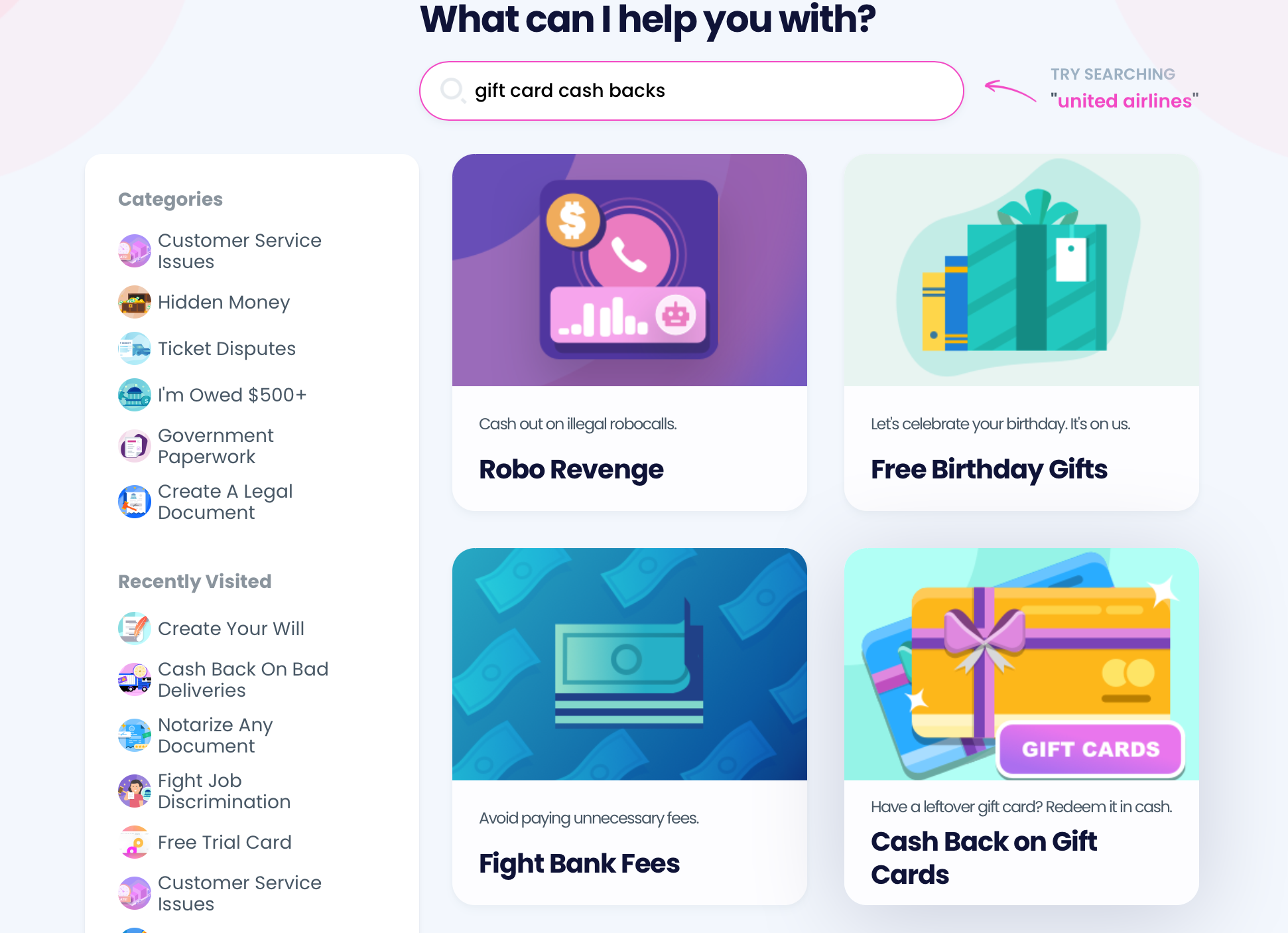 Our app has all the information you need when it comes to handling gift cards. You can visit our Learning Center to find the answers to these questions:
DoNotPay Can Show You How To Check Your Gift Card Balance
Before you decide to get cash back, you need to see what amount of money is left on your card. DoNotPay has guides for checking the remaining balance on your gift cards. See how much cash you have left without trouble if you own a gift card from one of these companies and many more:
Say Goodbye to Administrative Issues—Rely on DoNotPay
Are annoying procedures—such as canceling memberships, disputing parking tickets, filing warranty and insurance claims, requesting refunds for purchased products or services—giving you headaches? Do you dread calling an airline's customer support to request a refund and compensation for a canceled flight? You're not alone! The good news is—DoNotPay can help you solve these issues stress-free!
You can use our app to prepare for your driving test or other government exams and schedule an appointment with the DMV in minutes.
Are you wondering whether you're paying too much for your property taxes? Make sure to try out our Property Tax feature and learn about the best way to reduce your property tax bill.
Annoyed by Spammers? DoNotPay Can Help!
With DoNotPay, you can get rid of spam emails and text messages and report robocalls in one fell swoop. Our Burner Phone feature will generate a fake phone number that you can provide upon registration for any service!
Besides helping you enjoy free trials without the risk of being charged, DoNotPay's virtual credit card has another advantage. It will provide a random email address you should use when signing up for a free trial. That way, you'll avoid pesky marketing emails and email notifications.