Check Your iTunes Gift Card Balance Quickly and Easily With DoNotPay's Help!
Receiving an iTunes gift card opens up a world of possibilities to stream, store, and download films, music, and videos.
Apple is well-known for its care in keeping control over its brand though, which means that iTunes gift cards work differently from the traditional cards you can get from other companies.
DoNotPay has all the info you need to check your iTunes gift card balance and explore your options across the Apple world!
How Do iTunes Gift Cards Work?
When you buy or receive an iTunes gift card, it comes pre-loaded with the following amounts:
New cards are becoming available—offering custom denominations between $15 and $500—and are interchangeable between Apple Music and the Apple store.
Once you have got your iTunes gift card, you need to scratch off the security tape at the back of the card to reveal your code.
On your Apple device, you then access your Apple ID account and click on the Redeem Gift Card feature. You can then type in the code from your gift card, and your account will be credited with the gift card amount.
On a PC, you can reload your Apple account via iTunes.
The gift card is then empty, and you can dispose of it.
How Do I Check My iTunes Balance?
If you have received an iTunes gift card and want to know its value, the amount should appear on the card.
If the card has not been redeemed, its value will be exactly as it appears on the card. If it has already been redeemed, the value will be zero.
Here are the steps you should follow to check your balance:
| | |
| --- | --- |
| Account Balance Checks | Explanation |
| On a device | On your Apple computer, mobile device, or PC, go to the iTunes store app or your account home screen and click on the option to view your account balance |
| Online | You can go to the Apple account site, log in with your Apple ID, and check your balance |
| By phone | If you call 1-800-MY-APPLE, you can follow the voice prompts to log a balance inquiry |
Can I Get Cash for my iTunes Gift Card?
If you have an unredeemed iTunes gift card you don't want, you have a few options to swap it for cash or a different gift card. The possible methods are:
Via a card exchange
Using an online merchant
At a mall kiosk
Via a Card Exchange
You can swap your iTunes gift card online for a gift card of a similar value from another vendor. The offer you receive will depend on supply and demand. If there are a lot of iTunes gift cards currently available, the exchange you are offered may be worthless.
Using an Online Merchant
Several websites offer to buy your iTunes gift card for cash, intending to resell it afterward.
At a Mall Kiosk
You can find kiosks in many malls, grocery outlets, and department stores that buy and sell gift cards. When you present your iTunes gift card, the cashier will make a cash offer—if you accept it, you will get your cash instantly.
All these methods are tried and tested, but you should bear in mind that you will probably not receive the full face value of your iTunes gift card in return.
Both online and physical gift card merchants operate on the principle of "buy low, sell high." You will probably only get between 80% and 90% of the face value of your iTunes gift card in cash.
There are no other options for converting your iTunes gift card into cash.
What About Other Gift Cards?
Most other gift cards are more flexible, meaning that they can be used multiple times until their full value is spent. Examples of this type of gift card are:
You may find you have some of these lying around with a few dollars unspent on them. This is good news—if you have below $5 on a traditional gift card, you can redeem the amount in cash from the card's original vendor.
Legislation in 11 states and Puerto Rico means that you can return a used gift card with a value of $5 or less (in most states). The vendor is obliged to give you cash in return.
The downside is that you have to:
Be in one of the 12 areas
Go to a vendor's nearest outlet
Explain your request to staff who may or may not know the law
Luckily, DoNotPay has a solution. We can get cash back on your gift card in a few clicks regardless of where you live!
DoNotPay Gets You Cash Back!

Getting help from DoNotPay is quick and easy!
To claim cash back on the remaining balance of your gift card, all you have to do is:
Go to our Cash Back on Gift Cards feature
Give us your gift card details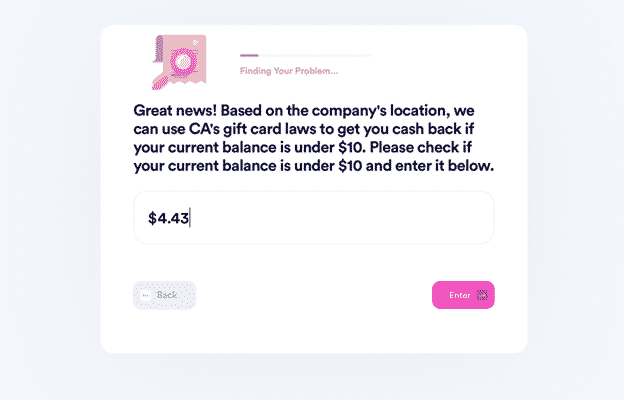 DoNotPay will do the rest! No matter where you are located, we will forward your cash back claim to a vendor outlet in one of the states with a cash back policy. They will process it, and you should receive your money within 14 days.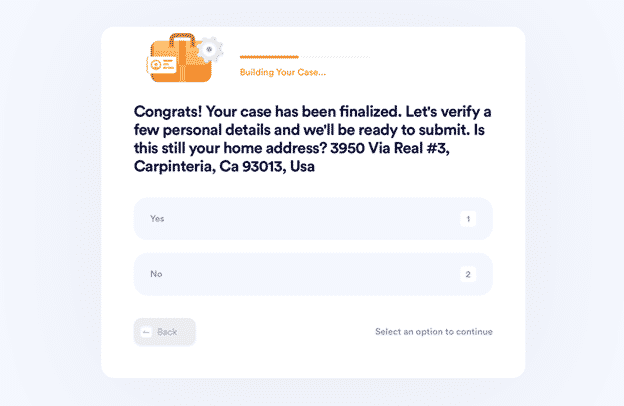 Shortcuts and Solutions at Your Fingertips
DoNotPay provides both the easy way out and the easy way in. Use our app to get rid of spam emails, text spam, unwanted services, and unpaid parking tickets. We can also assist you in signing up for services without revealing your real number and getting free trials using our virtual credit card.
Our app is all about saving you time and money. Forget about the obsolete fax machine and post office—you can use DoNotPay to send faxes, mail letters, and connect with your incarcerated loved one.
DoNotPay Goes Above and Beyond To Help
We understand how bureaucratic hurdles get too much to handle. This is why so many of our products deal with these types of issues. From getting a document notarized, filing a warranty claim, and skipping the phone line when calling customer service to requesting a refund, booking a DMV appointment, and drawing up legal documents—there's not much we can't do for you.
Dealing with the never-ending paperwork is a thing of the past for DoNotPay users! Our app makes it easy to: