Check the Nutrisystem Gift Card Balance and Get Your Money Back!
Are you unsure about what your remaining balance on a Nutrisystem gift card is? Check the Nutrisystem gift card balance to find out how much money you have left and decide what to do with it.
DoNotPay can help you check your gift card balance and get cash back from any company! Our specialized gift card tools lay at your disposal, and the only thing you have to do is !
The Nutrisystem Gift Card Policy in a Nutshell
Nutrisystem gift cards can be purchased from Nutrisystem and its subsidiaries and affiliates—such as Costco—which offer Nutrisystem cards in $100 denominations. You can use the cards to get the following weight-loss Nutrisystem products and subscriptions:
Shakes
Snacks
Diet entrée
Auto diet meal delivery
You can't use Nutrisystem gift cards to buy additional gift cards. Nutrisystem states that their gift cards can't be returned, refunded, or exchanged unless when required by law. This refers to the gift card cash back laws in certain states that allow you to get up to $10 back from used gift cards. Nutrisystem issues gift card cash backs via check within 14 business days.
How To Check the Nutrisystem Gift Card Balance Using the Official Methods
There are two methods for checking the Nutrisystem gift card balance via the official channels—you can:
Call the Nutrisystem customer service team
Email the customer support
Calling the Nutrisystem Customer Service
You can call the Nutrisystem customer care agents at 1-800-585-5483:
Monday through Friday from 8 a.m. to 8 p.m. EST
Saturday and Sunday from 9 a.m. to 5:30 p.m. EST
Prepare your gift card number and PIN because this info is necessary for the balance check.
Sending an Email to the Nutrisystem Customer Service
Those that prefer inquiring about their balance online can do so by emailing the Nutrisystem customer care at customerservice@nutrisystem.com. Say that you want to check your gift card balance in the email title, and add your gift card information in the text field.
Check Your Nutrisystem Gift Card Balance Quickly With DoNotPay
DoNotPay offers the best solution for checking the remaining gift card balance, regardless of the company in question, be it Nutrisystem, Market Basket, or Dollar Tree. Using the feature is easy, and it only takes a few minutes. You need to:
Click on our Check Gift Card Balance product
Provide us with your info, and add the photos of the gift card
We'll contact the merchant and email you as soon as we find out the balance.
What To Do With the Remaining Balance on Your Gift Card
You'd think that you can only spend the leftover gift card balance on Nutrisystem products, but that's not true. You may also do the following:
Sell your gift card at a gift card kiosk—You can find them in any major city in the U.S. but note that they don't offer much money in return for your gift card
Exchange your gift card online for a card from a different brand—While you'll get a gift card that you'll use, don't expect to get the same amount on your new card
Sell your gift card online through third-party websites—These online gift card marketplaces offer around 70% of the original gift card value in cash
Return your gift card to Nutrisystem and get cash back—This option is only possible if you have up to $10 remaining and if you live in Puerto Rico or one of the following U.S. states with cash back laws:

California
Maine
Washington
Vermont
New Jersey
Massachusetts
Connecticut
Rhode Island
Colorado
Oregon
Montana
Get Your Gift Card Cash Back With DoNotPay
DoNotPay has a reliable way to help you convert any company's gift card to cash. We will send your request to the company's offices in a cash back state, even if you live in a state that doesn't recognize the importance of gift card laws yet. Filing your request through our app only takes a few clicks. Here's what you need to do:
Select the Gift Card Cash Back feature
Type in the company info, the amount remaining on the card, and the card number
Sign and submit the request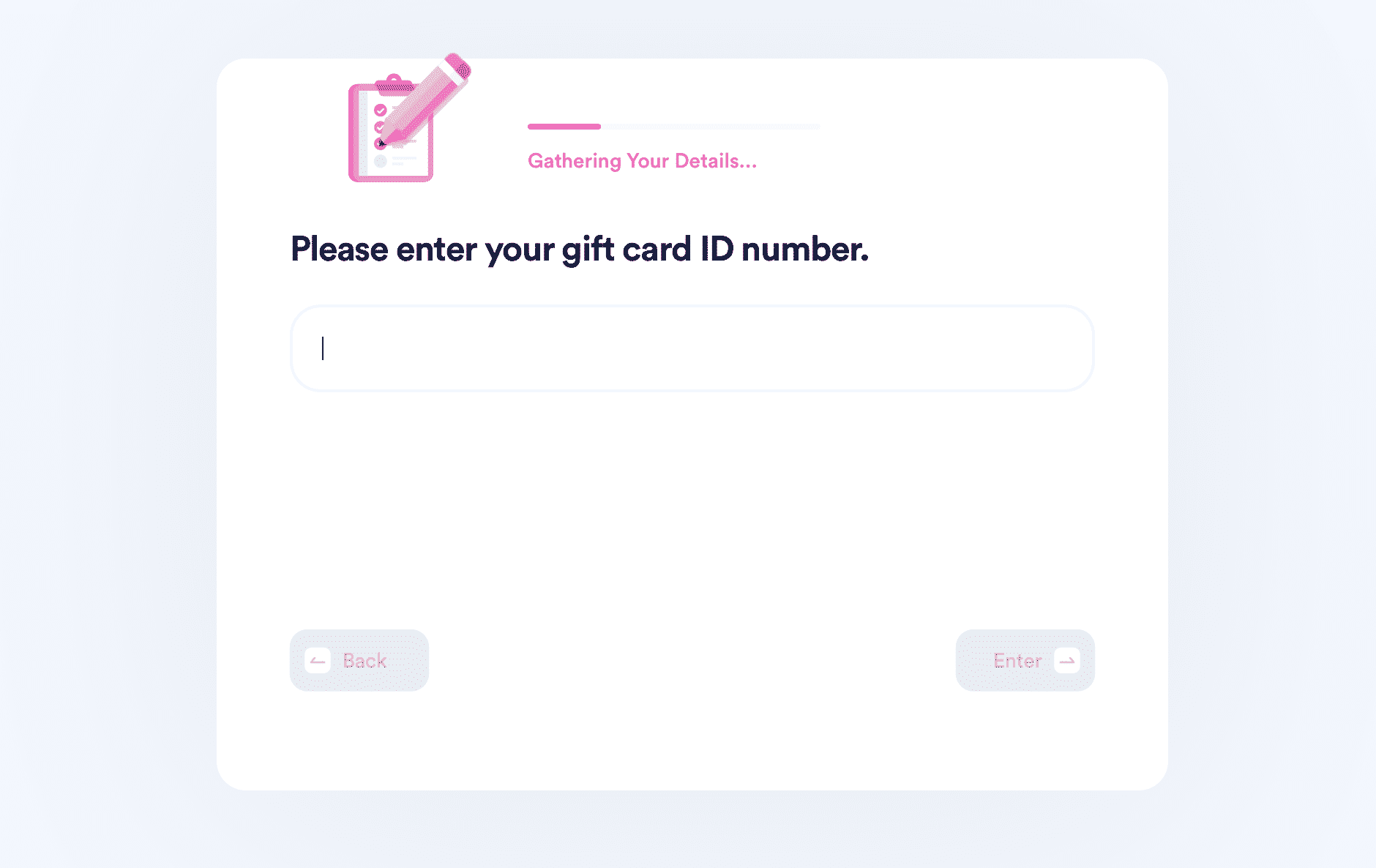 Do you wish to get the answers to other gift-card-related questions? No problem! With us, you can learn how to get free gift cards, check the balance on other gift cards, or seek cash backs from many different companies, such as: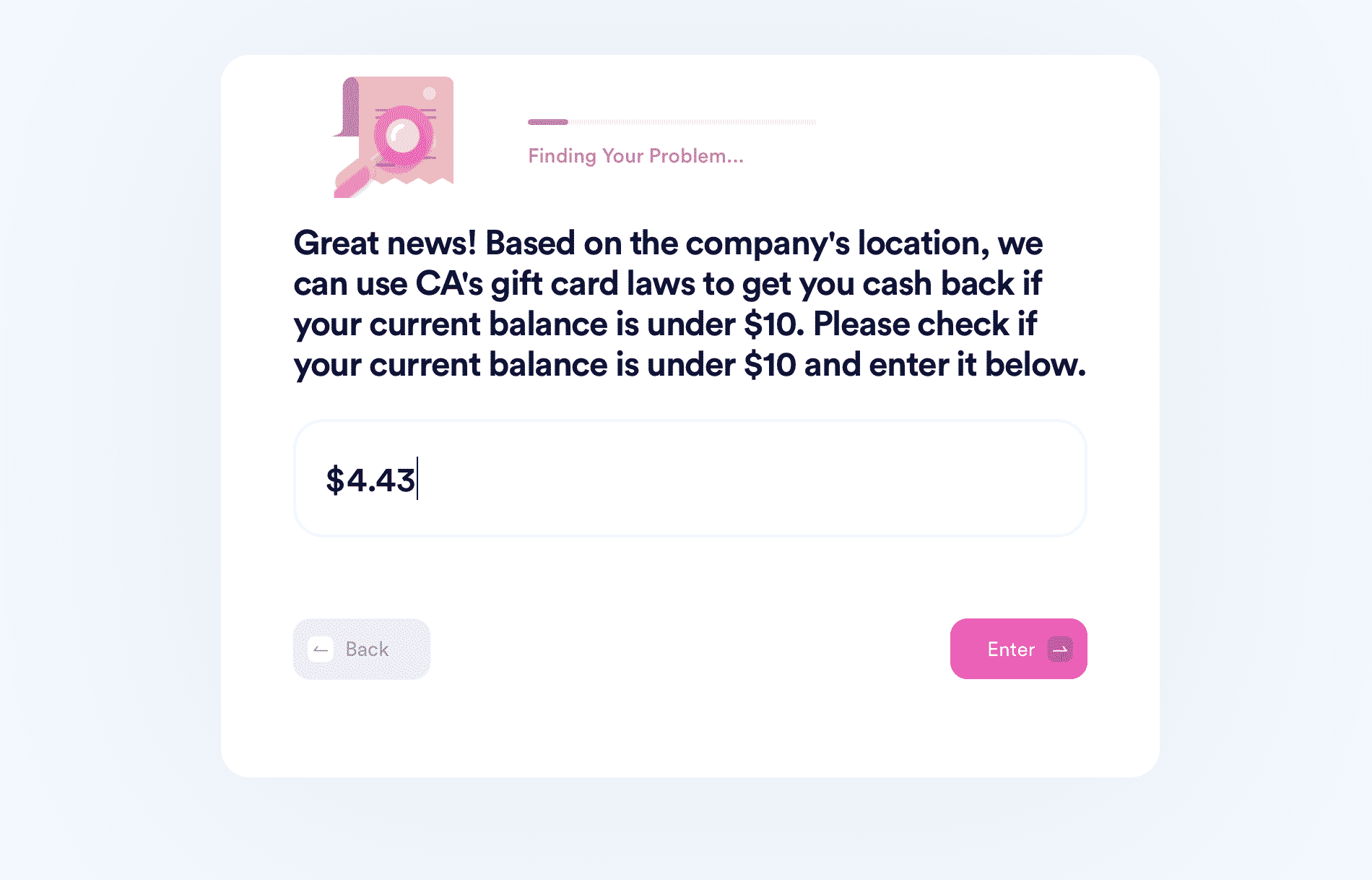 No More Wasting Money on Lawyers
Spending hundreds of dollars on lawyers seems like a waste, especially when you have a more convenient solution at your fingertips. We developed various neat features that make performing dull legal tasks feel like a breeze! The best part is that you can use them from the comfort of your home or office.
Consult the list below to see the tasks DoNotPay can help you with:
DoNotPay Offers Additional Helpful Tools
Legal tasks aren't the only ones DoNotPay can help you with! We can provide assistance for an abundance of different tasks—from stopping the pesky spam emails to contacting your incarcerated loved ones. Check out the table below and learn how to use our app to:
| | |
| --- | --- |
| Deal With Companies | Deal With Other Tasks |
| | |