Sephora Gift Card Balance Check in a Nutshell
Lipsticks, mascaras, irresistible perfumes… Spending the funds from your Sephora gift card must have been a true delight, but what should you do with that small amount left on it?
The good news is—you don't have to throw the card away just because it can't bring you a huge discount. You can get the cash back and use the remaining money for anything your heart desires thanks to DoNotPay. This article will focus on explaining how to do a Sephora gift card balance check and redeem the funds from the comfort of your home!
How Do Sephora Gift Cards Work?
Sephora provides two types of gift cards:
Standard—physical (plastic) gift cards you can purchase online in any Sephora store or with authorized retailers
eGift—a digital gift card sent to your email
Regardless of the type, each gift card contains a unique 16-digit card number and an 8-digit security (PIN) code and can be used for both online and in-store purchases. They are also non-refundable, and you can't buy other gift cards with them or return them for cash.
If you bought a card in the U.S., you can't use it in other countries since it's only valid in domestic Sephora shops and other approved stores. The maximum number of redeemable gift cards per online order is two—or ten if you contact the company's customer support before placing an order.
How To Check a Sephora Gift Card Balance
Once you notice an old Sephora gift card lying around, you will want to know if there's any money left on it. You can do it in four ways:
Method
Explanation
Online
It's easiest to check a Sephora gift card balance on the official website of the company. Here are the instructions you should follow:

Choose the Gifts tab on the homepage
Select Gift Card
Click on Check Your Balance
Input the gift card number and PIN code
Tap on Check

Via your Sephora account
Here's how to see the remaining amount on your gift card via your Sephora profile:

Navigate to the Account Information page
Select Payments & Credits
Enter the gift card number and security code
Click on Check

Phone
If you aren't too tech-savvy and you prefer to check the balance over the phone, call Sephora's customer care center at (888) 860-7897. Provide the representative with the gift card details, and they will tell you how much money it has left
In person
Bring your physical card or a printout of your eGift card to the nearest Sephora shop. The seller will be able to check the balance on your Sephora gift card within seconds
What Can You Do With Those Extra Bucks on Your Sephora Gift Card?
You found out there are a few extra dollars remaining on the card—the next step is to work out how to use them best. If you don't want to redeem them during the next purchase—and we hear you because they don't make much difference—you can choose one of the following options:
Is It Possible To Receive a Cash Back From Sephora?
Like many other companies, Sephora doesn't offer cash back to customers unless required by law. According to U.S. gift card statutes, this option is available in only 11 states and Puerto Rico. If your state has a positive cash back policy, you can withdraw the funds from your gift card given that it doesn't exceed the proposed limits. Here's a table showing the prescribed limitations by states:
Balance Limit
State
$1.00
$3.00
$5.00

Maine
Oregon
Missouri
Colorado
New Jersey
Massachusetts
Puerto Rico
Washington

$10.00
Don't Leave Remaining Funds on Used Gift Cards—Redeem Them With DoNotPay
Getting a gift card cash back in the approved states usually requires visiting the nearest shop or retailer's office and negotiating with the seller. If they aren't familiar with the state law that regulates this matter, you may have trouble explaining that they are required to reimburse you. Luckily, you can skip these frustrating and drawn-out situations and request the remaining funds from a used gift card in a few clicks with DoNotPay!
Once you provide us with the essential gift card details, our AI-based app will let you know if your state approves the cash back option. Even if it doesn't, we will check if the retailer has a branch near you, and if they do, we will forward your request to the local office! This means you will get the funds left without getting in touch with the shop!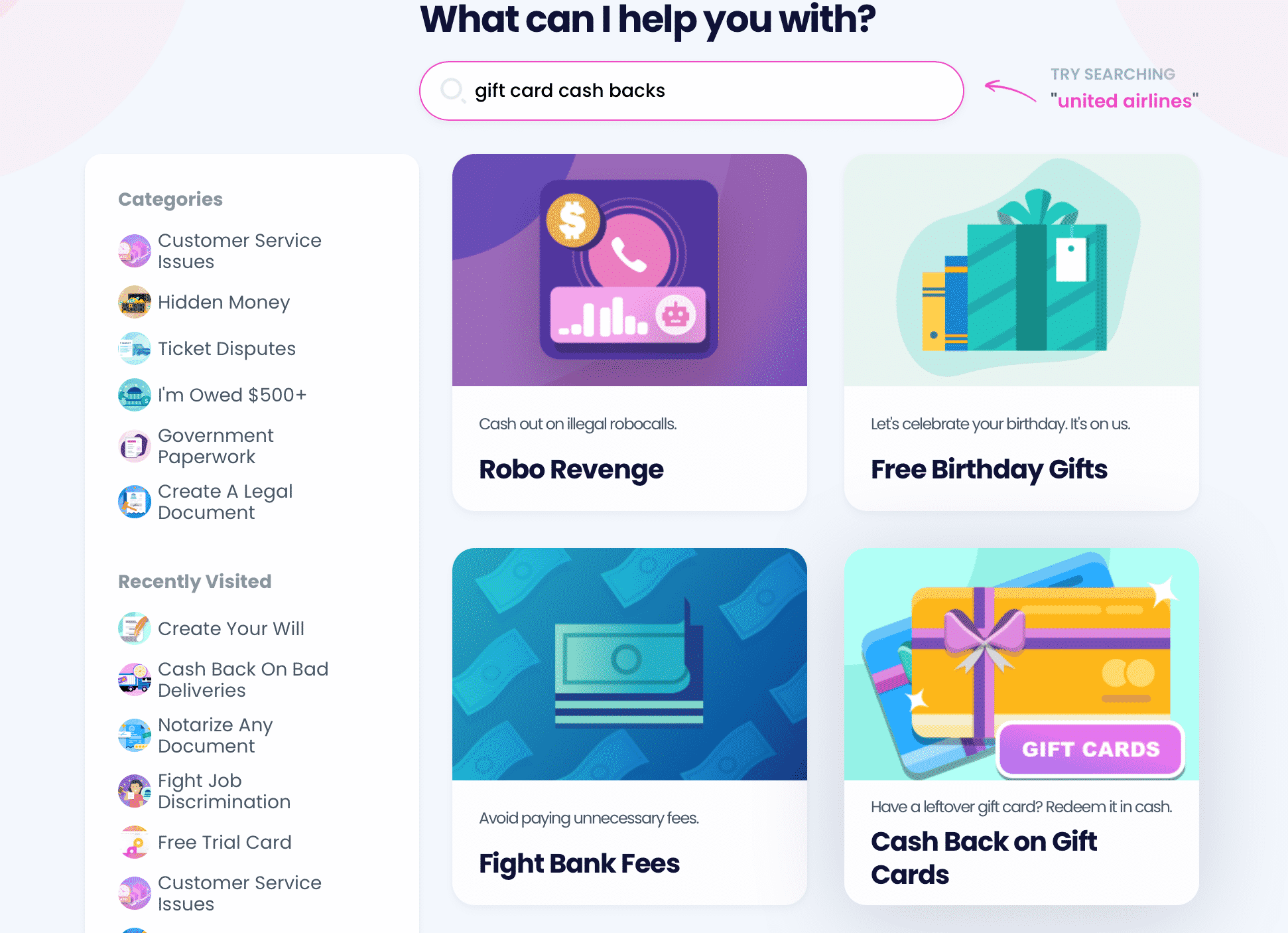 Here's the drill:
Pick the Gift Card Cash Back option
Input the name of the company, the gift card number, and a few more required details
Don't miss other guides on checking gift card balances and receiving the remaining amounts from other companies, including the ones shown in the table:
We can also help you get cash back on the free gift cards offered by these and many more retailers!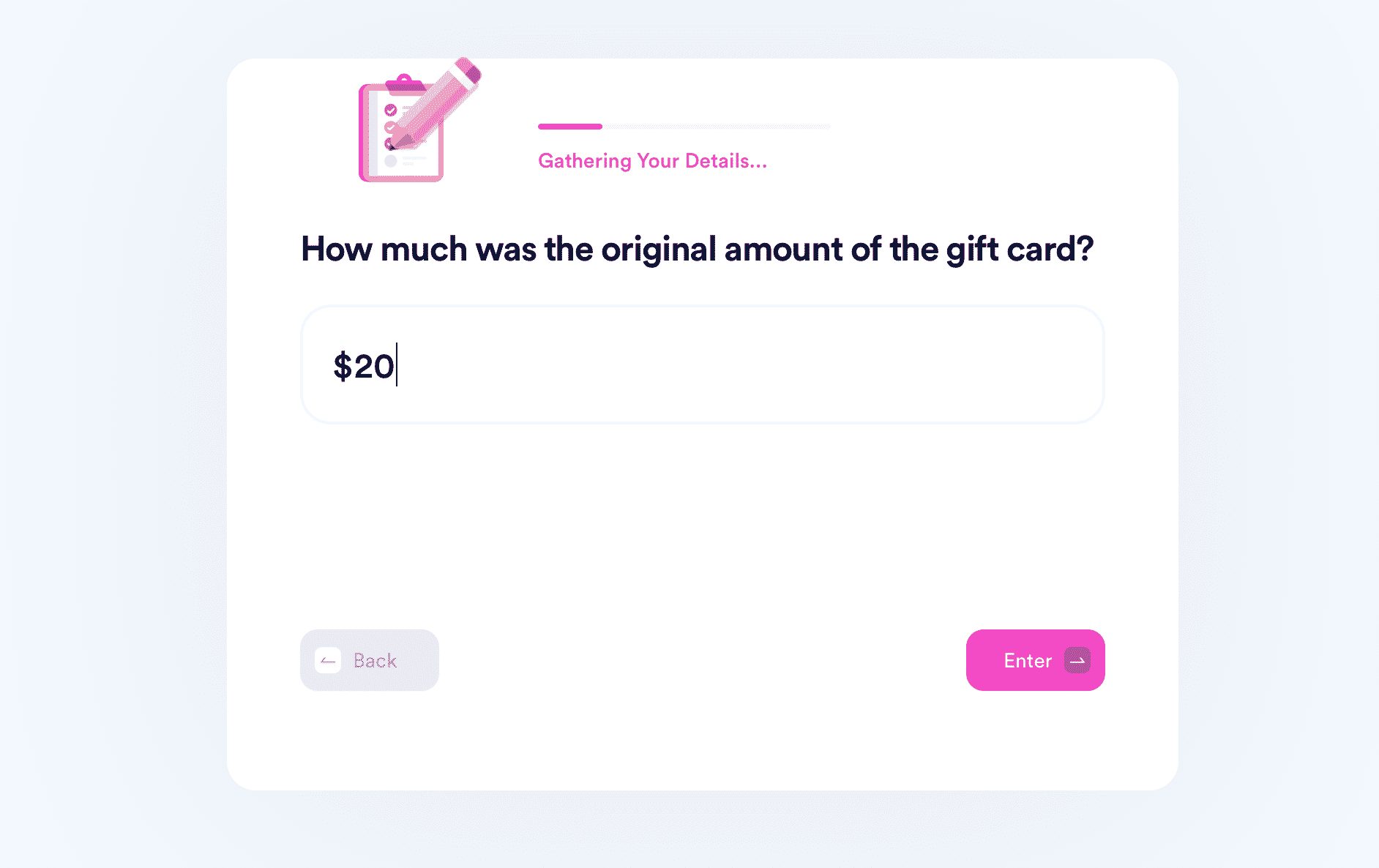 Let DoNoPay Help You With Your Paperwork
Why waste time on bureaucracy if you can rely on DoNotPay to handle pesky tasks for you? Cancel all your subscriptions at once, find unclaimed funds in a matter of minutes, appeal parking tickets hassle-free, and discover the best way to get your documents notarized remotely.
In case you need help paying bills or you want to earn some money by participating in paid clinical trials, DoNotPay is here to help you out!
Fighting workplace discrimination is of utmost importance, but the entire procedure seems rather complicated. The same goes for the crime victims compensation application in most states. DoNotPay is here to change that. We will help you file a report, request compensation, and create numerous other documents, including demand letters for neighbor complaints.
Keep Your Online Safety in Check!
While internet safety should be one of your top priorities, staying anonymous while surfing the web is almost impossible. If you want to avoid giving out your number when registering for services, you should try out our Burner Phone product.
DoNotPay can also protect your credit card info, name, and email address, all through our handy virtual credit card. Sign up for free trials without worrying about unexpected charges.
With our app, you will learn how to deal with stalkers and harassers and how to access public records the easy way.
DoNotPay offers many other useful products that can help you prepare for government tests, have your college fees waived, and manage any annoying issue in minutes.