DoNotPay Warns You of the 3rd-Degree Sex Offenders Living Near You
The number of sex crimes reported in the U.S. increased by a staggering 25% between 2000 and 2019, with almost 460,000 men and women being victims of rape or sexual assault in 2019 alone.
Most U.S. states classify the gravity of sex crimes by degrees varying from one to four. You should be extra cautious of the 1st and 3rd-degree sex offenders, who are pegged as the most dangerous ones.
Sex offenders don't come with an identity tag, and that can be an unending source of anxiety for you. Keeping your safety needs in mind, DoNotPay has designed an AI-powered sex offender scanner to help you stay vigilant. today to get our auto-alerts on the sex offenders living in your area!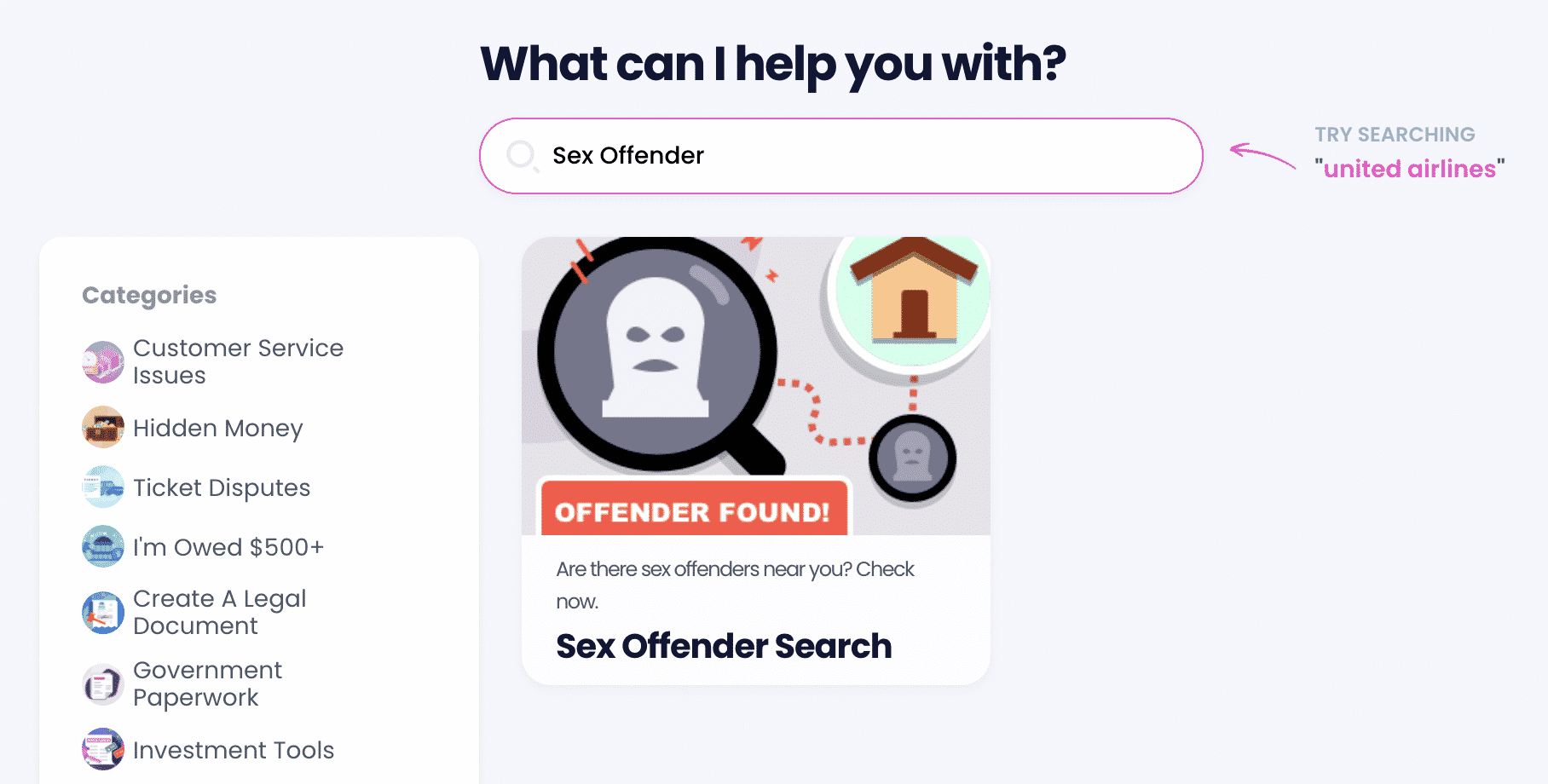 Sex Offender Degrees Explained
U.S. laws assign degrees to sex offenders depending on the severity of their crime. While most states recognize first-, second-, and third-degree sexual offenses, others also add a fourth degree to include misdemeanor crimes of a sexual nature.
Every state law uses different parameters to categorize criminal sexual conduct (CSC). The first- and third-degree sexual offenses almost always involve sexual penetration, which leads to more serious punishment and longer registration duration with the states' sex offender registries.
Who Is Tagged as a 1st Degree Sex Offender?
First-degree CSC is a felony charge that may stem from sexual penetration in various situations.
Depending on the state of jurisdiction, a first-degree sex offender may be convicted under the following situations:
Sexual assault where the victim is under 13
Sexual assault where the victim is 13–16, but the offender is related to the victim or has a position of authority over the victim
The offender uses force or coercion on the victim
The offender uses a weapon to harm the victim
The act results in pregnancy or causes bodily harm to the victim
These conditions vary from state to state, but their essence in terms of the law remains the same.
Understand Who a 2nd Degree Sex Offender Is
For most states, second-degree CSC is practically a first-degree sex offense without sexual penetration. This includes cases in which the offender intentionally touches the victim—a minor or otherwise—either for sexual gratification or to cause distress to the victim.
Power dynamics observed in certain relationships—like jailor-inmate, teacher-student, and employer-employee—often play a key role in many second-degree sex crimes.
What Is a 3rd Degree Sex Offender?
A sexual assault in the third degree is an extension of a first-degree sex offense and is recognized as statutory rape in some states. You will need to dive deeper into each state's law to analyze whether someone is a third-degree sex offender in that state.
Victims of a third-degree sex offender can be of three types:
A minor over 13 years
A non-minor, but the penetration happens by physical violence, threat, or coercion
Anyone who is mentally or cognitively impaired, physically incapacitated, or helpless, and the offender is aware of the victim's state
What Is a 4th Degree Sex Offender?
Fourth-degree sex offenders are commonly accused of having some form of non-consensual sexual contact with any non-minor. It includes touching the victim's intimate parts directly or through clothing, whether for sexual gratification of self or to humiliate the victim.
A large number of states group these offenses with their respective lists of second-degree sex crimes for both minors and non-minors.
How Are Sex Offenders Kept In Check?
Under Megan's Law, every U.S. state is mandated to maintain a sex offender registry that is accessible to the general public. Depending on individual state registration laws, the registry keeps track of the offenders by collecting the following information:
All names and aliases used by the offender
Photographs
Fingerprints
Scars and tattoos
Vehicle details
Residential address
Employment details
Apart from publishing the above identifiers, law enforcement also maps the offenders' whereabouts through:
Scheduled verifications
Monitoring devices, if permitted by state law
Is Every Sex Offender on the Registry?
No. By default, you will never find an unregistered sex offender on the registry. Some states assign tiers to convicted sex offenders based on their risk of re-committing the same crime, and only those with a high-risk factor are asked to register.
What Are the Restrictions Imposed by the Registry?
A registered sex offender is not allowed to live freely like a normal citizen in most states. This table will help you get an idea of some common restrictions imposed on sex offenders:
Type of Restriction
Details
Residential restrictions

Sex offenders may be banned from residing within specified limits of schools, daycare facilities, or other public places where minors gather
An offender may also be restricted from living near a certain radius of the victim

Employment restrictions
Many states prohibit sex offenders from finding employment at any place that allows them to come in contact with minors
Travel and movement restrictions

Some states disallow sex offenders from visiting public places frequented by minors
A sex offender must get themselves registered in the new state if they move

Restrictions on internet use

Sex offenders can use the internet and social media based on their parole or probation conditions
They may be banned from chatrooms used by minors
Their online activities can be monitored by law enforcement
How To Use Sex Offender Registries
You can visit the official website of any state's sex offender registry to access the database. You may need to accept a disclaimer or a user agreement to affirm that you won't misuse the data to stalk, harass, or intimidate any sex offender.
The efficacy of sex offender registries relies on several variables in each state. Many registries are plagued by shoddy management, update lags, and slow and inadequate search mechanisms.
DoNotPay Can Sniff Out a Third-Degree Sex Offender Within Seconds
You can lose hours of your time rummaging through tedious sex offender registries and still not find any relevant results. With DoNotPay, you don't have to sacrifice your time or compromise your safety anymore.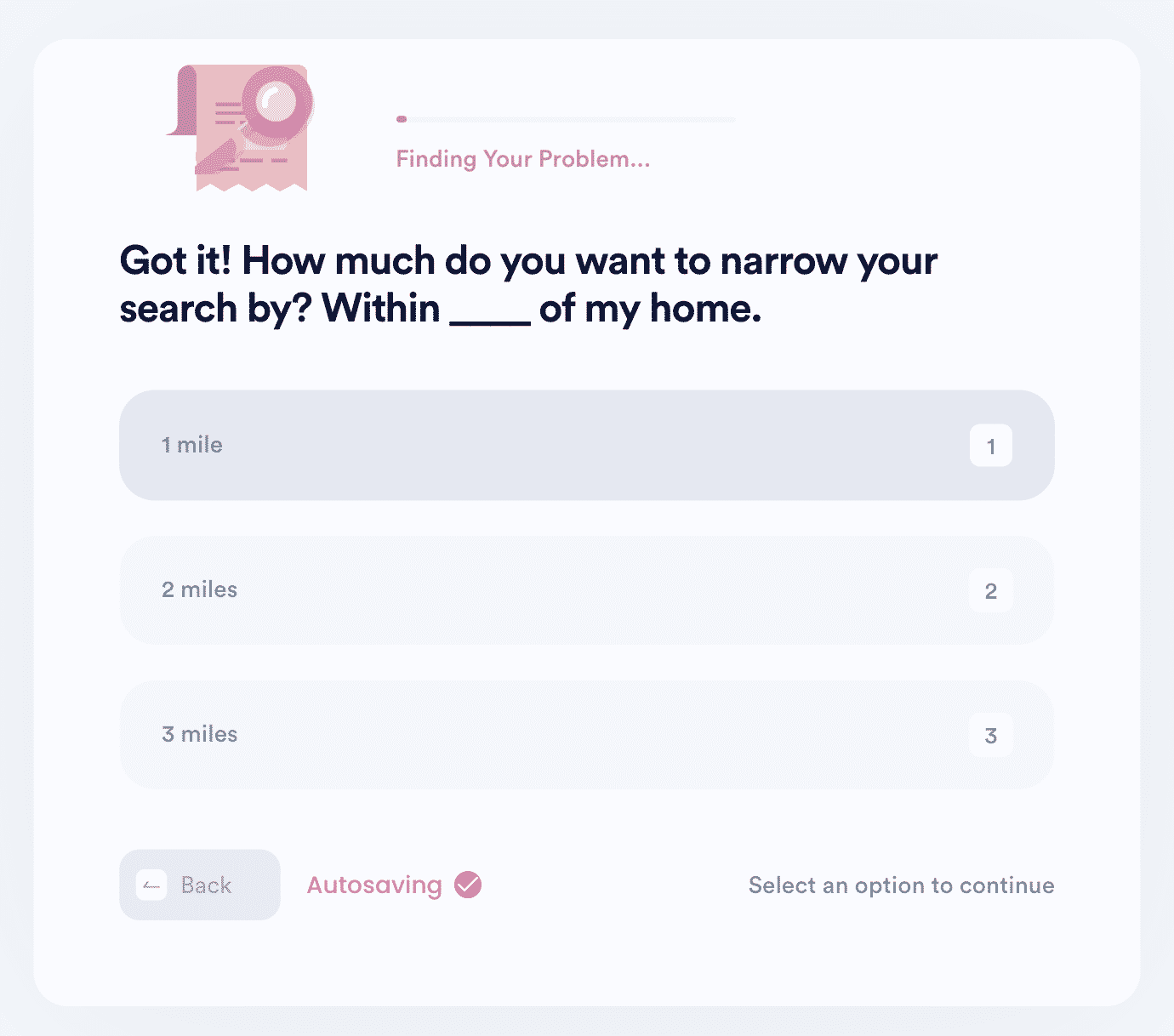 Our unique Sex Offender Search feature can extract the info you need from any state sex offender registry in four easy steps:
and click on Sex Offender Search
Choose your report type—a comprehensive or a single-offender report
Tell us the proximity radius for the area search—one, two, or three miles
Select our optional weekly scan service, if desired
DoNotPay will use the search parameters to quickly generate a report based on the latest registry data. If you opt for our weekly search feature, our app will automate the scan of your given address and keep you up to date with its timely alerts.
Looking for a specific sex offender registry guide? Find your state in the table below:
To Sue or Not To Sue?
Hiring a lawyer to help you sue a company can be helpful, but it can also cost you an arm and a leg. Luckily, you can avoid wasting hundreds of dollars and use our robot lawyer to sue any company in small claims court instead!
DoNotPay offers you a variety of other features you will find quite useful when dealing with bureaucratic issues. Check out the list below to see what else our app can help you with:
Creating standardized legal documents

Lowering property taxes
Shopping Without Dropping
Whoever said you should shop until you drop didn't have access to DoNotPay's various features. With our app, you can make your shopping experience smooth sailing and stress-free!
Here's a fragment of what you can accomplish by using our neat features: