Learn How To Report a Sex Offender on Facebook
Sex offenders need tight surveillance to make sure they have no opportunity to reoffend.
While punishments for sex crimes are rightly harsh, many states do not stop sex offenders from being present on social media. The big players in the social media world do, but they rely on reports being filed to identify sex offenders and ban them.
Your role is crucial, and if you spot a sex offender, it is your duty to file a report. Sex offender Facebook profile presence can become a thing of the past, and DoNotPay can show you how!
Does the Law Allow Sex Offenders To Have Facebook Profiles?
Federal law does not stop sex offenders from being present on social media, but some states have tried to enact local legislation restricting convicted sex criminals' internet use.
In 2017, the Supreme Court overturned a North Carolina law that banned sex offenders from having social media profiles. The federal legislator felt that the ban was an infringement of the criminals' constitutional right to free speech.
In reaction to this, some states now require convicted sex offenders to include their social media profiles on the state's sex offender registry. The information is not always made public, but law enforcement authorities can monitor registered sex offenders' social media activity.
How To Report a Sex Offender on Facebook
Facebook is a private company and can set whatever rules it wants.
One of its most stringent policies is a complete ban on any sex offender having an active profile. Facebook users are encouraged to report any convicted sex offenders, and the procedure to report a sex offender on Facebook is as follows:
Log on to your Facebook profile
Go to Facebook's report a convicted sex offender page
Fill in the form, giving:

Your email address
Full name of the offender
URL of the offender's profile
Country or region where the offender was convicted
Links to any supporting documentation to prove your allegation
Once Facebook has been informed of the sex offender's identity, the company will investigate the allegation. If it is proved correct, Facebook will disable the account.
If you can't provide proof of your allegations, Facebook advises you to contact your local law enforcement authorities and have them contact the company.
Which States Restrict Sex Offenders' Internet Use?
Despite federal legislation, the following states place limitations on registered sex offenders' use of the internet and social media:
| | |
| --- | --- |
| Restriction | States |
| All sex offenders are banned from using social media sites | |
| Sex criminals on parole, probation, or supervised release are prohibited from using social media | |
What Other Restrictions Do Sex Offenders Face?
Convicted sex offenders are required to place themselves on their state sex offender registry after they have served any sentence imposed.
Registration involves their details being placed in the public domain, including:
Full names and any aliases or handles
Home address
Employer details
Crimes committed
This is a consequence of Megan's Law and is intended to make it easier to map the whereabouts and monitor the activities of sex offenders.
Registered sex offenders also face several restrictions on their lives. The law varies from state to state but can include limitations on:
| | |
| --- | --- |
| Sex Offender Restrictions | Explanation |
| Travel | Convicted sex offenders may need to seek permission to travel out of their state for periods over five days. International travel may also involve bans from certain countries |
| Residency | Many states require registered sex offenders to live anything from 500 to 3,000 feet away from any facilities that cater to children |
| Work | Sex offenders are not allowed to work with children in many states, regardless of whether their original crime involved the abuse of a minor |
Some states only impose these regulations on tier III or level III criminals, but even the lowest-risk offenders are likely to suffer restrictions to their normal lives.
What Should You Do if You Are Worried About Sex Offenders?
If you are worried about protecting your loved ones from predatory sex offenders in your area or specific criminals you may know of, you need to find out where they are.
Your first course of action is to search your state registry for registered offenders in your neighborhood or the national registry for the whereabouts of a criminal who is unregistered in your state.
If you spot someone on Facebook you suspect of being a sex offender, you can use the same search methods to check their identity.
Searches are free and relatively easy to perform but have one major drawback—most state registries won't tell you if anything changes. DoNotPay has the answer—we can and set up a weekly update to keep you abreast of any changes!
DoNotPay Keeps Tabs on Sex Offenders!

We understand how much you value your safety and that of your loved ones! DoNotPay's Sex Offender Search product is designed to give you lasting peace of mind—we can search and find offenders in your area or nationally and can even send you weekly updates.
Here's how to use our feature:
in your web browser
Select our Sex Offender Search feature
Choose to search for

Offenders in your neighborhood
A specific criminal's whereabouts
Once we know what you are looking for, we will send you your report in an instant. If you opt in, we will send you a weekly update on your search results so you don't miss any developments!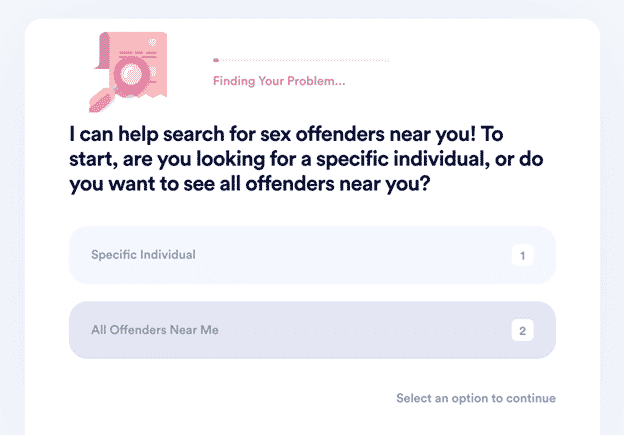 Our App Solves Your Legal Issues!
Do you really have to set aside astronomical amounts to pay lawyers for drafting legal documents or taking a person or business to small claims court?
The answer is no—all the cash remains in your pocket, thanks to DoNotPay! From now on, you can perform many legal tasks from home with the help of our app. It enables you to create flawless powers of attorney, divorce settlement agreements, and child travel consent forms in a snap.
That's not all—once we generate these documents for you, we also help you have them notarized via a video meeting. No need to waste your time and fuel visiting notary offices.
Check Out Other Perks DoNotPay Offers!
DoNotPay provides a wide selection of services, from creating virtual credit cards and burner phone numbers to getting refunds from companies and canceling subscriptions. Have you received an unfair parking ticket? Appeal it with our app before you know it! Are email spam and robocalls making your life a living hell? No scammer stands a chance against our efficient AI-powered tools and features!
We also work in your favor when it comes to safety. Our app offers perfect ways to prevent copyright infringement, stalking and harassment, work discrimination, sex offenses, and disputes with annoying neighbors.