Looking for a Reliable Sex Offender App? DoNotPay Is Your Best Bet
Every year, thousands of records are added to various sex offender registries across the U.S. Some offenders remain under the custody of correction agencies, while many are released back into society.
Did you know that 80% of convicted adult rapists have also molested children? An ideal sex offender app is supposed to alert you if a registered sex offender lurks near your loved ones, but the available apps fail to do that.
DoNotPay's Sex Offender Search tool is a one-stop solution to all your vigilance woes. Our app not only keeps track of all the sex offenders within the three-mile radius of any address but also warns you with automated alerts. to discover stress-free safety!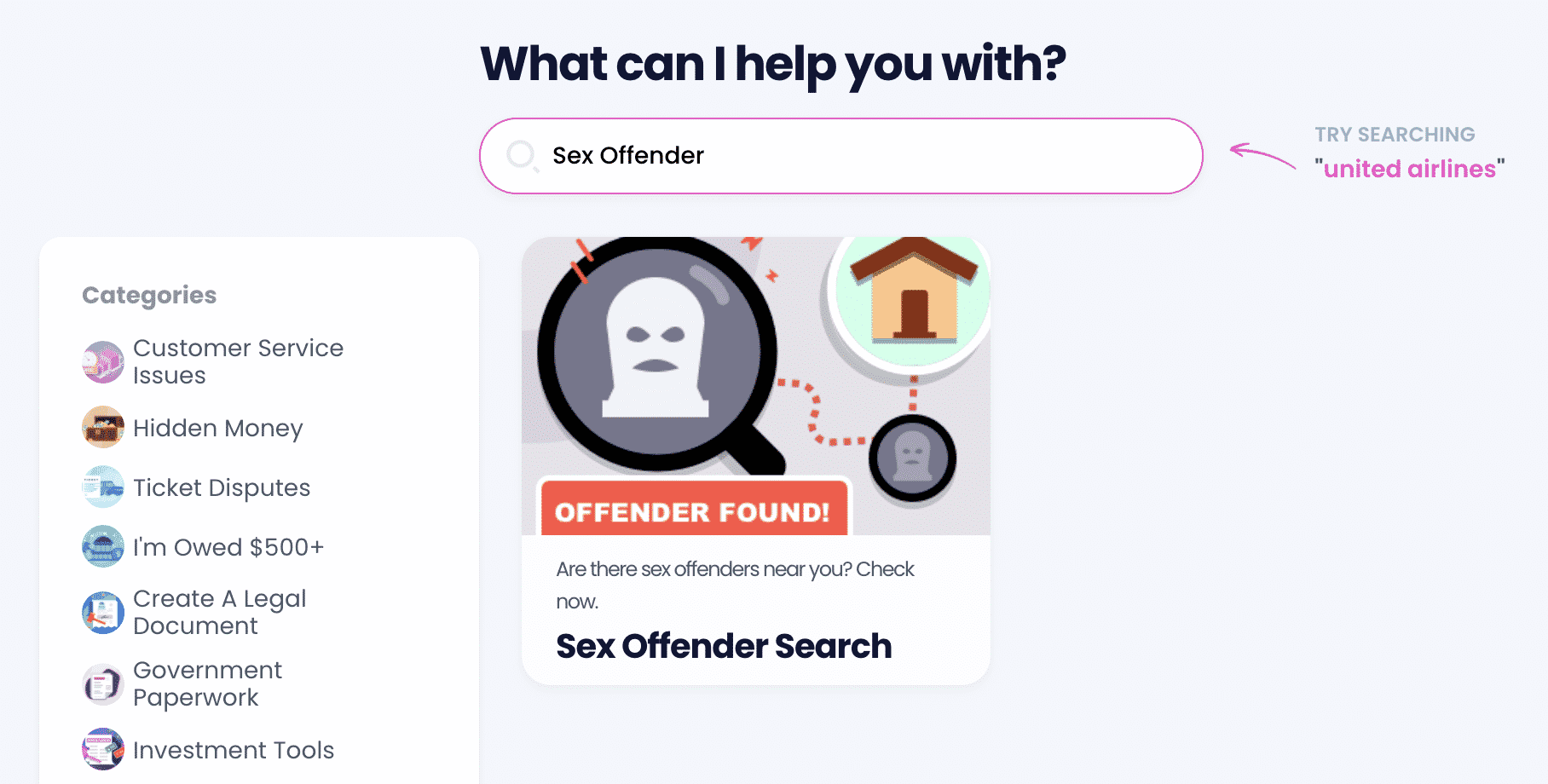 U.S. Dept of Justice Sex Offender Registry Search
Megan's Law made it compulsory for states to release the names of the local sex offenders to the public. The Dru Sjodin National Sex Offender Public Website (NSOPW) compiles the list of registered sex offenders from all 50 states.
You can use the website search to find sex offenders from any state as long as you accept NSOPW's disclaimers. Here's a summary of the website usage terms and conditions:
You must not use the website's database to threaten, stalk, or harass any registrant or their family
NSOPW will not be liable for your actions based on the registry database
The search results may not be accurate due to update lags or information mismatch with a core state registry
NSOPW also asks you to read its privacy policy and similar conditions-of-use ones of any state registry before using the database
NSOPW's Sex Offender Locator App—Is It Effective?
The NSOPW's sex offender locator is a mobile application that uses your phone's GPS to check if an offender has provided an address near you.
The app can only give you a report for a limited search radius of:
One-fourth mile
Half mile
One mile
You can also access the maps of each state to see offenders' location pointers near a particular geographical coordinate. The app uses a painfully crude user interface as you need to keep tapping the map on your screen for a slow-to-load but refined view, and that is incredibly frustrating.
This is hardly a real-time mapping solution as the report is solely dependent on the static addresses given by the offenders during registration or verification with local law enforcement. The major limitations of this app are its:
Frustrating inability to give you the latest results
Battery-draining user interface
Significant lack of variants in the search parameters
Limited proximity radius
Unsupported geographical search in many states—including Texas, which has the highest number of sex offenders in the country
The NSOPW acknowledges the pitfalls in its current system and claims to be working with the state authorities to improve jurisdiction-wise search.
Beyond the Dru Sjodin Sex Offender Search Options
There are many third-party apps beyond the government registry search, each with its flaws and benefits.
Use this table to analyze why third-party search apps may or may not be for you:
Pros
Cons

Have a more sophisticated user interface than government-powered searches
May display real-time offender location in certain states
Show detailed results that will keep you informed in more ways than one
Provide multiple options to run a search, like name, ZIP code, or address

May mislead people with old and irrelevant data in search results
Don't give you insights into the sex offender registration laws
Can burn a hole in your pocket by charging an exorbitant amount for their services
Cannot give you information about the unregistered sex offenders
May join sex offenders with other criminals in their search reports
The Best Sex Offender Search App That Ticks All the Boxes
Foolproof safety doesn't have to be a chore with DoNotPay's consistent and easy-to-use Sex Offender Search feature. Our app can access any state's latest registry database and give you the authentic, error-free results you need!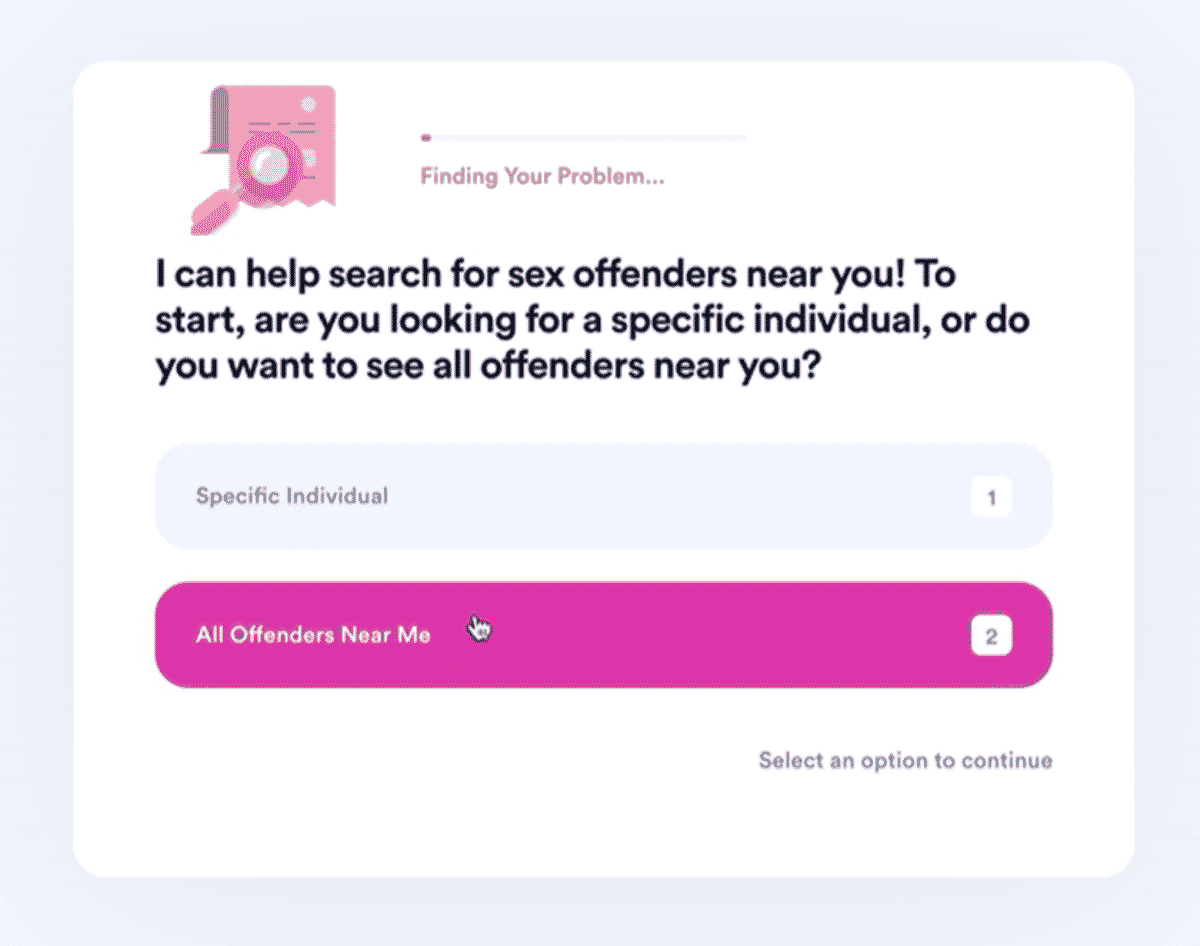 Our app won't confuse you with a complicated interface or irrelevant search results. We have a simplified four-step process to fetch your desired data in under a minute:
and hit the Sex Offender Search button
Choose between our report types—a single-offender report or a comprehensive list of all sex offenders near your address
Set a proximity radius between one and three miles for the search
Select the optional weekly scan feature to make this a routine safety protocol
The app will instantly extract the data you need from the source registry and present you with a convenient report containing the mugshots and registry details of the sex offenders.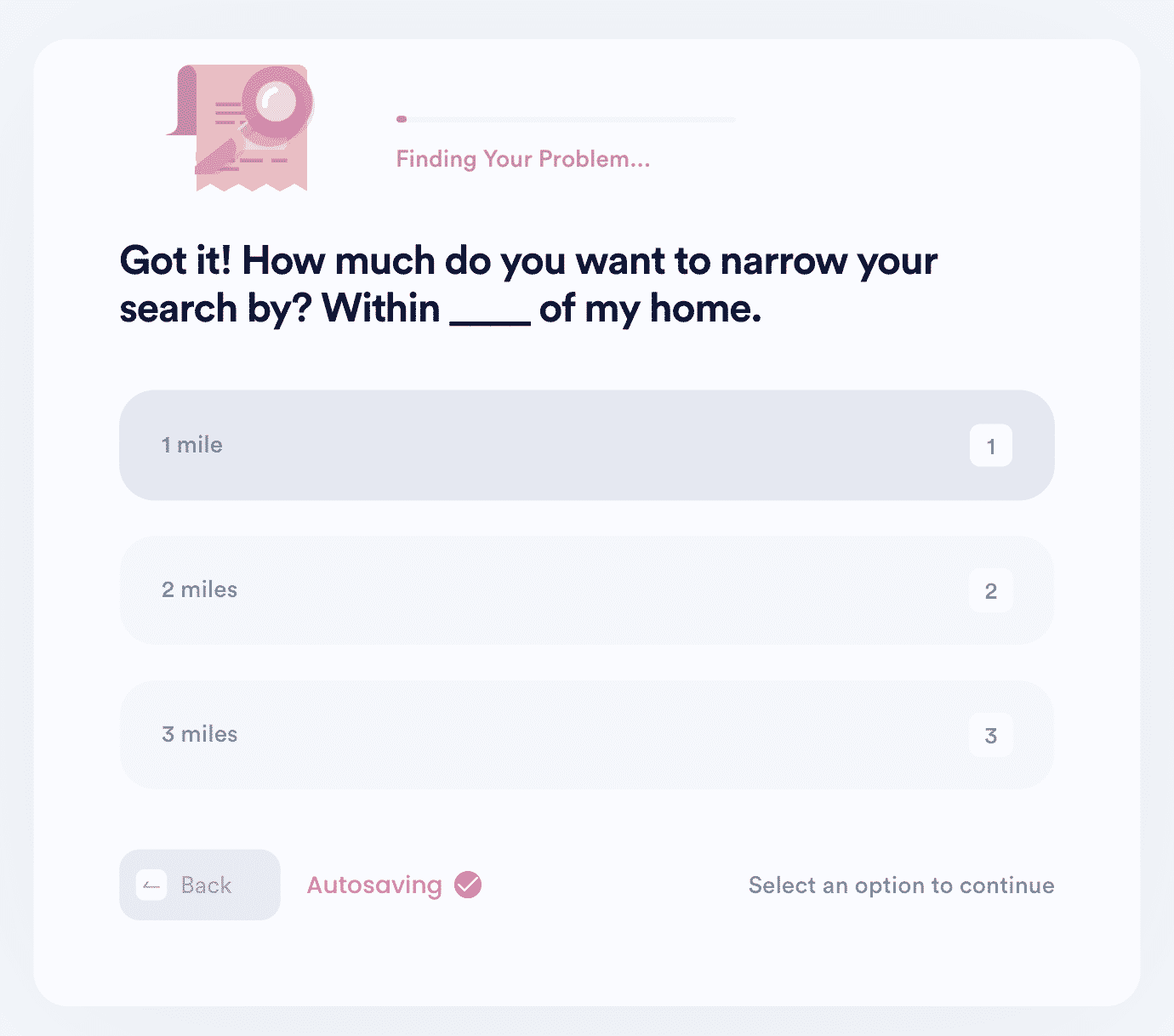 Sex Offenders Near Me—DoNotPay's App Automates the Search
With registries expanding their records every other day, many parents spend hours every week trying to track sex offenders near a school or in their neighborhood. DoNotPay offers a no-nonsense, time-savvy fix to keep your child safe.
If you opt for our weekly area scans, we can run a search for your given address every seven days. After each successful search, we will deliver the newly generated report to your phone.
You will get all the details of the new sex offenders entering the search perimeter without lifting a finger!
What if I Spot a Pedophile in the App's Report?
If DoNotPay's report alerts you of a pedophile living in your vicinity, consider these steps to ensure the safety of your child:
Educate your child on the basics of vigilance, like being wary of strangers or recognizing a bad touch
Let your community members know discreetly to help them stay alert
Reach out to the pedophile's supervising officer for any safety concern
DoNotPay Delivers More Than Other Sex Offender Apps
If you are unsure about the sex offender laws in your state, DoNotPay can back you up. Our learning center has detailed manuals on state-specific sex offender laws and registries. Our guides will help you stay informed about:
Use this table to navigate to your state's customized sex offender support handbook:
Need Legal Assistance? DoNotPay Got You Covered!
Forget about getting a migraine every time there is an administrative task to handle. DoNotPay makes it easy and stress-free to deal with any bureaucratic issue that comes your way.
Not only can we assist you in drafting a legal document and getting it notarized, but we also help you:
Finishing Your Daily Errands Has Never Been Easier!
Looking for help with running errands? You don't have to spend hours trying to make a DMV appointment or contacting a customer service rep! Completing your day-to-day tasks stops being a burden once DoNotPay gets involved.
There is no shortage of errands we'll help you run for a small subscription fee, including:
Sign up for DoNotPay and avoid spending hours on simple daily tasks that can be done in a jiffy!