Reduce Tuition Costs With Scholarships for Out-of-State Students
Have you been researching prospective colleges to apply for? Then you must have noticed that out-of-state students have to pay double or triple tuition fees, as compared to their in-state counterparts.
Apart from the high tuition fees, out-of-state students also need to spend thousands of dollars annually on learning essentials and on-campus living expenses.
If you want to be accepted by a college that's not in your state of residence, you should start checking out scholarships for out-of-state students. This article will help you stay informed and evaluate all currently available scholarship or grant options!
Scholarships for Out-of-State Tuition—Common Questions Answered
Many students are curious about why the tuition is higher for out-of-state students—the answer lies in funding.
Most colleges use funds provided by the state's taxpayers. In turn, the college rewards in-state residents by charging a subsidized amount in tuition. Since out-of-state students come from families who pay taxes in their home state, they have to pay more to study at a college in a different state.
We have compiled some of the most common questions about out-of-state scholarships and grants in the U.S.—browse through this table for answers:
Question
Answer
Who can apply for out-of-state scholarships?
The term "out-of-state" covers various types of students. Considering the current opportunities available in the U.S., the following students can apply for out-of-state scholarships:

Freshmen

Undocumented students

Inter-state

transfer students

Who offers these scholarships?
The majority of the country's out-of-state scholarships are offered by federal- or state-funded universities, for example:

At present, you won't find any out-of-state scholarships offered by private schools as their tuition cost is the same for all students

What are the eligibility criteria for out-of-state financial aid?
Most universities offer out-of-state partial or full-ride scholarships to attract and retain talented students from all over the country. While the scholarships are merit-based, preference may be given to students who:
How To Check Scholarship Options for Out-of-State Students
Searching for scholarships that cater to out-of-state students can be challenging if you don't know where to look. At present, you can use one of three ways to find and analyze out-of-state scholarships:
Scan a specific university's website—If you have decided which university you want to attend, you can visit the university's website and find details about their out-of-state scholarship offer. This method may not always be effective because most universities:

Have confusing and hard-to-navigate websites overloaded with different information
May not publish the latest scholarship info regularly
Mix up out-of-state scholarships with other university scholarships

Use a scholarship search engine—Many

high school seniors

use scholarship search engines to find college-bound scholarships in different states. This method is both time-consuming and disappointing as the search results are plagued with scores of irrelevant, outdated scholarships and sneaky advertisements for student loans
—Our Apply for Scholarship product is a timesaving tool that lets you find all out-of-state scholarships that you qualify for in a jiffy! We will use your unique student profile to match you with all relevant scholarships within seconds! Our app is constantly updated with the latest out-of-state scholarship info and related deadlines announced by universities—and we'll include them all in the personalized report generated for you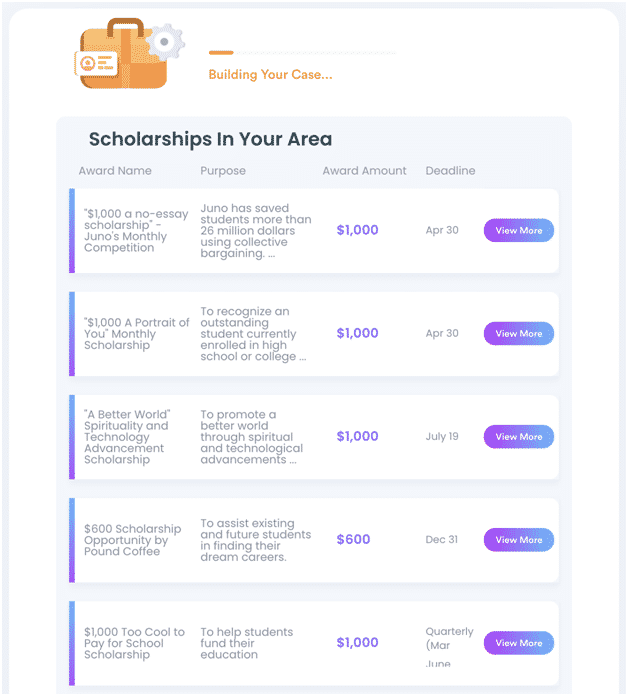 Best Colleges Offering Merit Scholarships for Out-of-State Students
If you're looking for college or grad school scholarships, these are some of the colleges that offer financial assistance to the majority—i.e., 80–90%—of their out-of-state students:
Bowling Green State University
University of Hawaii (Manoa)
Delaware State University
University of Toledo
California State University
Scholarships for Students Going Out of State—Challenges
One major issue with scholarships for out-of-state students is that the amount is hardly enough to sustain them. Many non-resident undergraduates end up working part-time jobs to afford books, transportation, and mandatory educational trips.
Another raging problem is that out-of-state tuition increases almost every year, but there's no proportional rise in the corresponding financial aid.
If you want better financial support, use DoNotPay to check out other scholarships. We can give you an insight into all general scholarships that mark you as an eligible candidate, like the ones listed in this table:
Scholarship Criteria
Example
Major or field of study

Math and

science

Engineering

and technology

Political science

Nursing and

medicine

Psychology

Music

,

art

, and

creative writing

Accounting

Legal studies

Identity as a minority

Veterans

Hispanics

Asians

Disability

or disease
DoNotPay Can Also Help You Apply for Multiple Scholarships!
Applying for scholarships is a tedious task—but not with DoNotPay! You can also use our app to apply for multiple no-essay scholarships without breaking a sweat.
Here's what you need to do:
and search for Scholarships
Complete the student questionnaire
Choose if you want to search or apply for scholarships
When you select the search option, we will create a list of all scholarships that suit your profile—including the competitive scholarships that require writing an essay. You can use the list to evaluate which scholarships you'll apply for in the future.
If you choose to apply, we will display a list of no-essay scholarships for you to browse. You can tap on the ones you like, and we will simultaneously apply for those scholarships on your behalf. This way, you'll stand a chance to win the maximum awards at your disposal!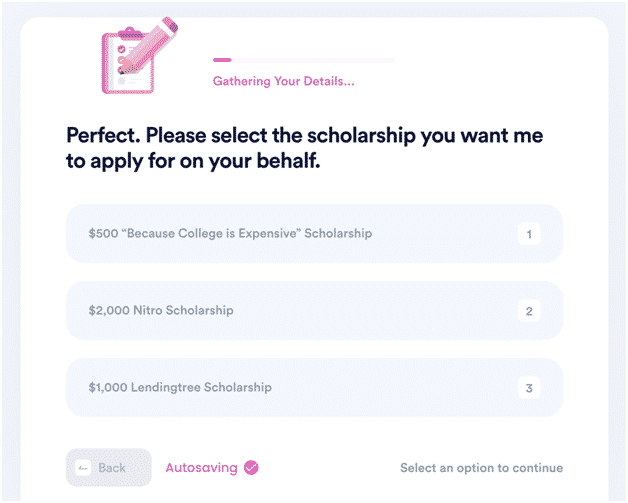 Use our app every week to send instant applications to the latest no-essay scholarships. We'll send you a confirmation email to help you keep tabs on the status of each scholarship application.
What's Next?
Once you complete the task at hand, you don't have to stop there—we offer a myriad of products that can relieve you of the stress that comes with dealing with admin and legal hurdles.
DoNotPay can assist you in drawing up a divorce settlement agreement, child travel consent form, power of attorney, and other legal documents, contacting government representatives, getting tourist visas, fighting workplace discrimination, getting a burner number, appealing banned accounts, getting access to public records, scheduling a DMV appointment, and much more.
Tackle Any Energy-Draining Task With DoNotPay
With DoNotPay by your side, you don't have to worry about how you'll cover your utility bills at the end of the month—we'll provide swift assistance as soon as you sign up!
Wondering what else our app is capable of? Check out how we can: