The University of Alabama Out-of-State Scholarship Program—An In-Depth Analysis
The University of Alabama (UA) is ranked among the top 2% of colleges in the world, which makes it a popular study destination for out-of-state students. If you analyze UA's annual tuition costs and average student boarding, transportation, and living expenses, you'll find that out-of-state students have to pay almost three times more than in-state ones!
A University of Alabama out-of-state scholarship gives you the much-needed help to reduce tuition expenses and increase your financial aid benefits. In this article, we will dive into the requirements for UA out-of-state scholarships and also look into other relevant funding opportunities.
Types of University of Alabama Out-of-State Scholarships
High school seniors or graduates—who apply for an undergraduate course at the University of Alabama—will be considered out-of-state students for admission purposes if they are:
Currently, the University of Alabama automatically considers every out-of-state student for two types of college scholarships, as described in this table:
Scholarship
Details
Out-of-State University of Alabama Merit Scholarships

UA merit scholarships and grants can be partial or full-ride and have a yearly value of $6,000–$28,000
The qualifying requirement is usually:

GPA in the range of 3.00–3.50+
SAT score between 1200–1600
ACT score of 28–36

Examples:

University of Alabama Presidential Scholarship
Foundation in Excellence Scholarship
Crimson Legends Scholarship

Out-of-State UA Competitive Admissions Scholarship

UA Competitive scholarship offers $8,000 to out-of-state students towards tuition fees
Students competing for this scholarship are evaluated holistically according to six criteria:
As per university policy, a student will be awarded only one of the above scholarships. If you qualify for more than one scholarship, you'll receive the one that brings you the biggest financial benefit.
University of Alabama Transfer Scholarships for Out-of-State Students
If you are transferring to UA in your junior or sophomore year, you won't be eligible for general merit or competitive scholarships.
Currently, transfer students who have the minimum qualifying hours of transferable coursework can apply for the following scholarships after admission:
Where Are You Transferring From
Scholarship
A two-year junior or community college

Capstone Transfer Scholarship
Phi Theta Kappa Capstone Scholarship

A four-year college or university

Roll Tide Transfer Scholarship
These scholarships will only cover the remainder of your tuition fee, depending on the credit hours available.
University of Alabama Scholarship Application for Out-of-State Students
All out-of-state students in their freshmen year are automatically considered for the relevant scholarships once they submit the following to the administration:
A copy of the UA admission application
Official transcript outlining their past performance from:

Highschool (for fresh college applicants)
All public or private schools and colleges attended (for transfer students)

ACT and SAT score certificates
Your resume and recommendation letters (optional)
The existing out-of-state grants or scholarships are strictly merit-based, so students from a low-income group shouldn't expect any preference here.
Understand the University of Alabama Scholarship Deadline
UA's scholarship deadline depends on the cut-off dates of admissions in the spring or fall/summer semester.
The cut-off dates may change each year—the current ones are:
| Semester | Dates |
| --- | --- |
| Sping | November 1 |
| Fall/Summer | January 15 |
The university evaluates scholarship applicants three times during the year. You will be considered for the first round of scholarships only if you are admitted for the spring semester. Many scholarships are exhausted in the first round, so it's better to stick to the spring admission deadline.
Students enrolled for the fall/summer semester will be considered for the residual scholarships in the second and third rounds.
Use DoNotPay To Check Out-of-State Scholarship Requirements and Deadlines
It's hard to find clear info about the University of Alabama's merit and competitive scholarships for out-of-state students. There is a myriad of scholarships offered under each scheme, and the individual scholarship eligibility requirements change every year. Many students find it hard to keep up with the multiple announcements and guidelines issued by the University of Alabama scholarship office.
If you're anxious about missing important scholarships, use DoNotPay's unique scholarship search tool to keep track of them. Our app has access to the latest database of active scholarships in the U.S. All you need to do is and provide your student details to our app's chatbot—your grades, location, extracurricular interests, veteran status, and other qualifications. You'll immediately find a list of relevant scholarships with updated details about eligibility, deadlines, and reward amount for each!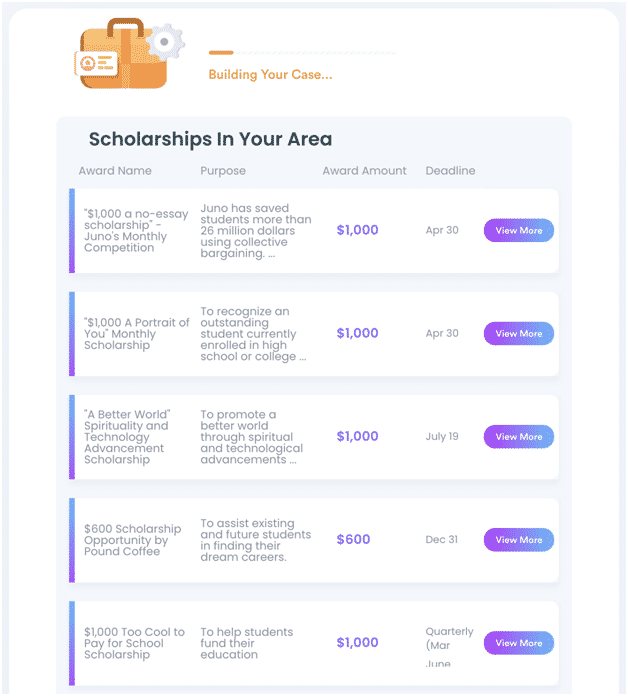 Don't Ignore Other University of Alabama Academic and Diversity Scholarships
University of Alabama's out-of-state scholarships are only focused on new admissions. If you fail to win or qualify for them, don't lose hope. You can still apply for academic and diversity scholarships at the university.
Based on your choice of major, you can find academic scholarships for fields such as:
UA's diversity scholarships cater to the needs of underrepresented minority students from ethnic or religious groups, like Hispanics, Filipinos, Indians, Africans, Asians, Muslims, Catholics, or Jews.
If you have a parent or grandparent who was a UA college or grad school student, you can also apply for the university's Alumni Scholarship Program.
Want To Cover Rising Tuition Expenses With More Scholarships? Use DoNotPay
The University of Alabama has a history of raising tuition fees only for out-of-state students, while the fee for in-state learners remains the same. Keeping this in mind, it's always better to apply for more scholarships to strengthen your education funds.
With DoNotPay, you will find many U.S. scholarships matched to your demographic profile as well. Whether you're a woman, a transgender person, a black woman, a white male, or a foster kid, we match you with dozens of scholarships within five minutes! We can also help you apply for no-essay scholarships directly through the app—this maximizes your odds of finding continuous financial assistance!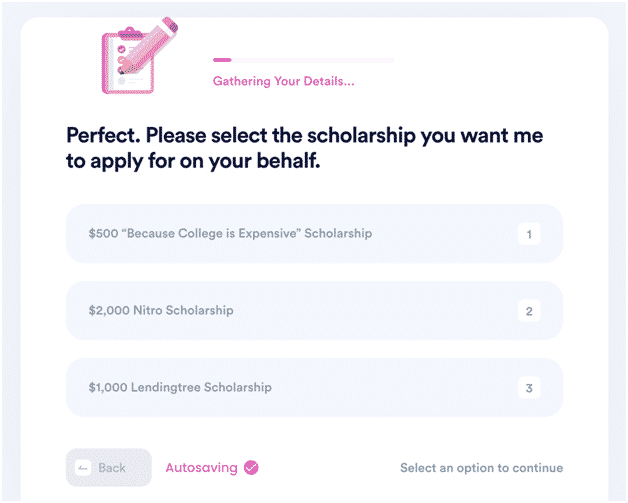 To use our multifaceted scholarship support services, do this:
and search for Scholarships
Enter your student details to narrow down the results
Choose if you want to search or apply for scholarships
Remember to check your inbox for our confirmation emails—they will help you keep tabs on all the scholarships we've applied for in your stead.
If you want to apply for scholarships with essay tasks, use DoNotPay to find the ones with topics that appeal to your interests.
Use DoNotPay To Deal With a Plethora of Bureaucratic Tasks!
Tired of dealing with bureaucracy? We understand the struggle, and that is why our app makes handling administrative tasks a breeze!
Regardless of whether you need to compose a legal document, such as a power of attorney or a child travel consent form, appeal property taxes or your parking tickets, file a financial aid appeal and a FOIA request, or get a document notarized, DoNotPay has got you covered!
In case you also need to submit anonymous HR complaints, our app will provide you with the easiest way to do so!
Go on a Stress-Free Shopping Spree With DoNotPay
Do you like to shop until you drop? With DoNotPay, you won't have to worry about dropping! We'll make sure you can:
If you need more money to continue your shopping spree, let our app help you find any unclaimed funds under your name and enter numerous giveaways and sweepstakes!