Mississippi State Scholarships—Find All the Opportunities
College education in America is expensive, and attending Mississippi State University is no exception, whether you're a college or a grad school student. For that reason, you should find and use all the available help.
Scholarships and grants may be the best financial aid option because you don't have to return the money. The good part is that this university offers plenty of scholarships to different types of students. You only need to know where to look and how to apply for the Mississippi State scholarships, and this article will provide that info.
What Scholarships Are Available at Mississippi State?
The scholarships at Mississippi State University can be categorized as:
Academic
Competitive
Departmental
Leadership and service
Phi Theta Kappa scholarships
Prospective students can also search the university's scholarship database based on their residency (scholarships for MS students and for non-residents) or their student status (scholarships for freshmen, community college transfers, or four-year institution transfers).
Many scholarships at Mississippi State are marked as automatic, but there's a significant number of need-based programs and scholarships awarded by external funds and organizations.
The Best Mississippi State Scholarships
The following table presents some of the best automatic scholarship programs available at this university:
| Scholarship Name | Award | GPA | Additional Criteria |
| --- | --- | --- | --- |
| Freshman Mississippi Resident Academic Excellence Scholarship | Up to $5,000 per year | Over 3.00 | SAT score of at least 1030 |
| Freshman Mississippi Resident Colvard Future Leader Scholarship | Up to $3,500 per year | Over 3.50 | SAT score of at least 1160 |
| Community College Non-Resident Tuition Scholarship | Up to $14,000 per year (maximum three years) | 3.00 or 3.50 (depending on the level) | 24-48+ transferable hours |
| Freshman Non-Resident Tuition Scholarship | Up to $14,500 per year (or $58,000 over four years) | 3.50+ | SAT score between 1450 and 1600 |
The listed award amounts are for the 2021–22 academic year and are subject to change each year.
Other Scholarships
The list below contains just a few examples of Mississippi State scholarship opportunities that require students to submit applications:
Freshman MS Boys State/Girls State Scholarship
Freshman Student Body President Scholarship
National Merit Semifinalist & Finalist Scholarships
Phi Theta Kappa All-Mississippi Academic Team Scholarship
Provost Scholarships
STAR Student Scholarship
Transfer Eagle Scout/Gold Award Scholarship
4-H Academic Scholarship
How To Apply for Mississippi State Scholarships
If you are confident in your previous academic achievements, you can just apply to Mississippi State and keep your fingers crossed for one of the automatically awarded scholarships.
In case you don't want to leave anything to chance, you should submit the Mississippi State General Scholarship Application to be considered for other scholarship opportunities.
Here are the steps that you need to follow once you get admitted to Mississippi State:
Log in to your MyState account with the NetID and NetPassword
Locate and click on Submit/Revise General Scholarship Application under the Financial Aid and Scholarships column
Log in again if necessary and fill out the application form that will pop up in a new window
You don't have to complete the whole application form in one sitting, but make sure to click the Save button before you leave the page.
Applications usually open on October 1. The priority submission deadline for freshmen is December 1 and March 1 for Mississippi State transfer scholarships.
Besides completing the General Scholarship Application, make sure to carefully read application instructions and deadlines for every program you're interested in, especially if you apply for scholarships awarded by external sources. Some scholarship programs may require an essay, recommendation letter, or cover letter.
How Can You Find All Mississippi State Scholarships and Grants?
Looking for scholarships is not easy, even if you are interested in only one university. Search tools on official websites are often confusing and contain shuffling between different search filters.
Besides browsing the university's official scholarships page, you can contact the Mississippi State scholarship office (officially known as the Office of Admissions and Scholarships) for more help. The contact details are listed in the table below:
Address
Email
Phone
Fax
P.O. Box 6334

25 Old Main

101 Montgomery Hall

Mississippi State, MS 39762-6334

admit@msstate.edu
662-325-2224
662-325-1MSU
To make sure you don't miss any funding opportunities you qualify for, you may have to apply various search tactics. Here are some other valuable resources you can use:
High school counselors (especially if you are a

high school senior

)
Online scholarship portals
Federal agencies
Various organizations, NGOs, and foundations
When searching online, try to add terms that should narrow down your search—look for scholarships meant for women, international students, veterans, moms, the disabled, etc. You can also use your major, for example, scholarships for nursing or engineering.
The most efficient search tool you will encounter is DoNotPay. Our app can help you find all the Mississippi State scholarships you qualify for in less than five minutes. and discover your opportunities without wasting any time.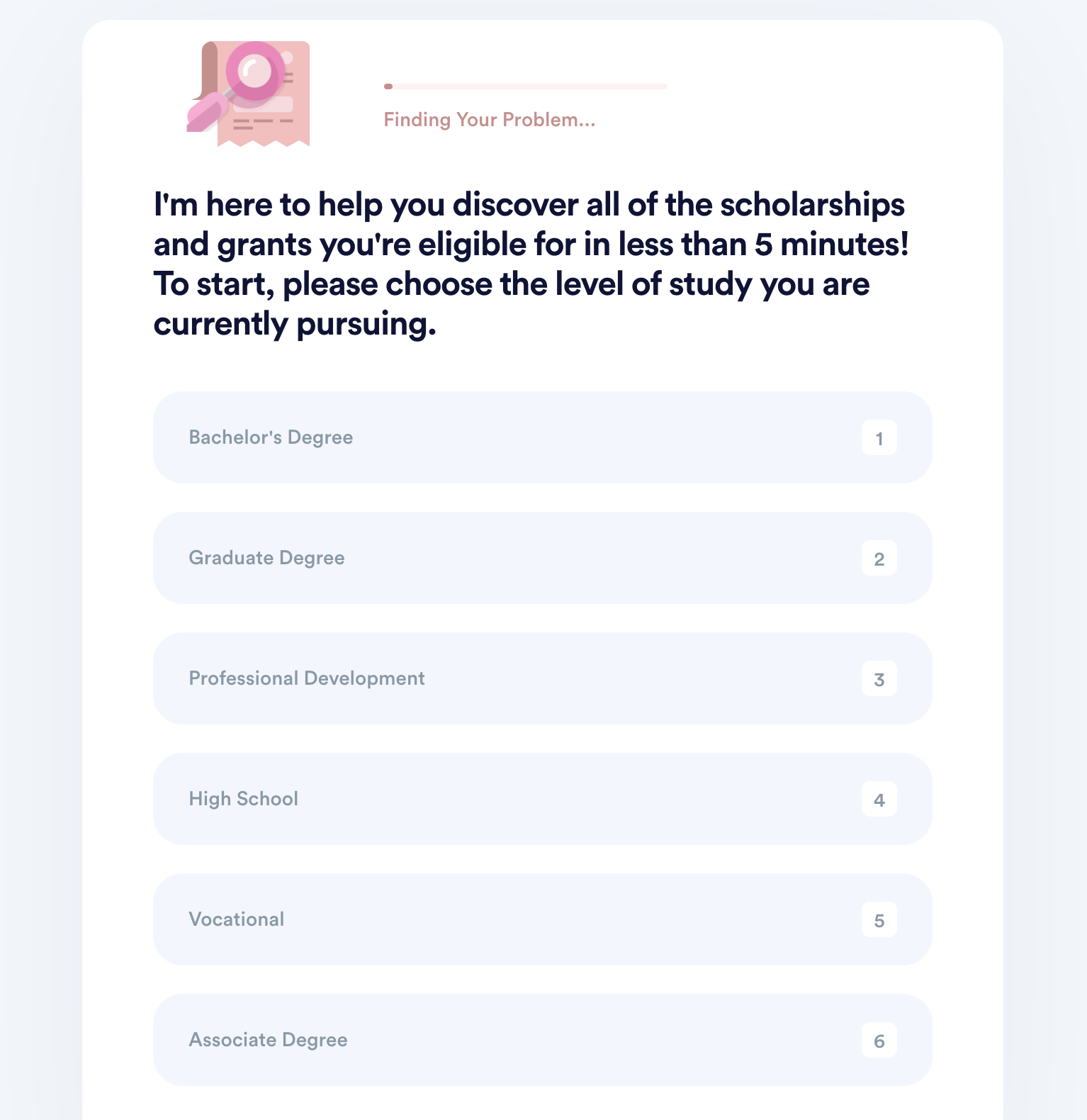 The Best Way To Find and Apply for Scholarships
To graduate without debt, you should leave no scholarship opportunity unexplored. Discover all the scholarships you are eligible for, including the ones almost nobody applies for in less than five minutes.
All you have to do is:
Find the Apply for Scholarships product
Answer a couple of questions that will help us curate a comprehensive list tailored to your unique circumstances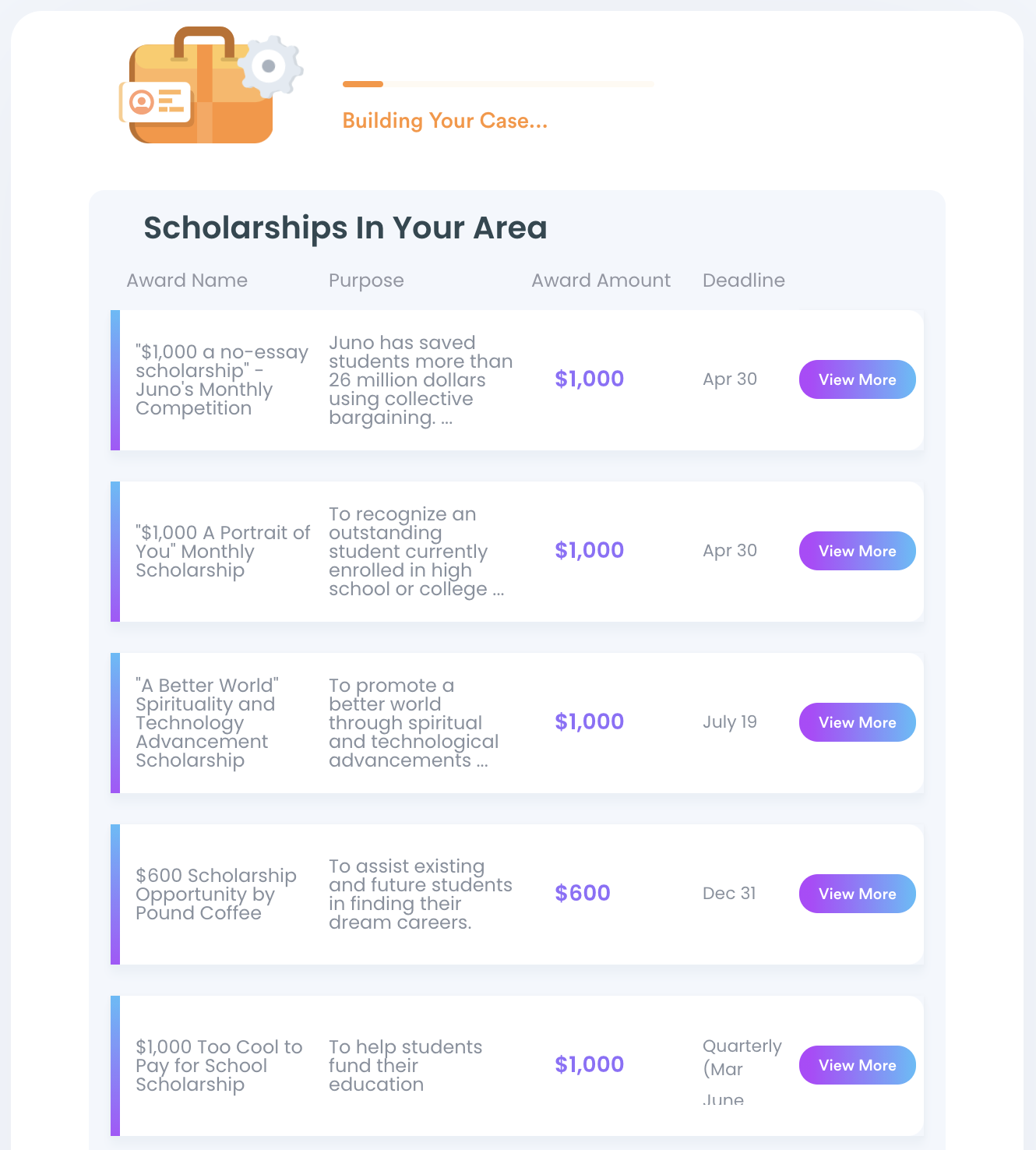 With your authorization, DoNotPay can even send your applications for no-essay scholarships automatically. Stop wasting time on googling and start applying for Mississippi State scholarships now.
Is Bureaucracy Getting on Your Nerves? We Have a Solution!
We all know that dealing with bureaucracy isn't pleasant, and it often leads to overwhelming frustration. The good news is that DoNotPay has found a workaround! You can now do the following by using our app:
Let DoNotPay Make Your Legal Troubles Disappear!
Drafting contracts and other legal documents isn't a task you should handle on your own. Don't want to spend a fortune on lawyers? That is why DoNotPay—the world's first robot lawyer—is here to take the lead and help you out! Check out the list below to see some of the legal documents that our app can draft for you:
Divorce settlement agreements

Powers of attorney
We don't stop there! Cut through the red tape and let DoNotPay assist you in taking anyone to small claims court, getting your documents notarized, submitting anonymous HR complaints, or requesting crime victims' compensation.