How Much Financial Aid Can I Get for College—Mystery Solved
If getting financial aid is the only way for you to pay for your education, the best option to achieve it is to apply for the federal student aid program. One of the most common questions is—how much financial aid can I get for college? The answer is—it depends.
This article will explain the essentials of financial aid application and the formula for calculating the amount you may receive. Check out our guide and find out how signing up for DoNotPay can assist you in appealing the offer you are unhappy with and get more money!
How To Qualify for Financial Aid for College
To apply for college financial aid, you have to meet specific qualification criteria. This means you must:
Be one of the following:

U.S. citizen
Permanent resident (green card holder)
Refugee
Parolee
T-Visa holder
Asylum granted
Conditional entrant
Cuban-Haitian entrant

Demonstrate financial need
Repay your existing student loans regularly
Be a regular student enrolled in an acceptable degree or certificate program
Have a valid Social Security card and number unless you are from the Republic of Palau, the Republic of Marshall Islands, or the Federated States of Micronesia
Be successful in maintaining a satisfactory academic progress
How Will I Get Financial Aid for College?
If you meet all the standards proposed by the Federal Student Aid (FSA), you can start the financial aid application process.
The first step is to fill out a special form called the Free Application for Federal Student Aid (FAFSA). Its purpose is to provide complete information about your financial situation and help institutions decide if you are eligible for college or graduate school support. You must fill it out every year to keep getting the necessary financial help.
Before you proceed with completing the form, make sure you:
Check the application deadlines for the current year, as they may vary from state to state or from college to college
Prepare the necessary documentation since you will have to complete the form by entering details from your ID, Social Security Card, or bank statements
The FAFSA form contains more than 100 questions and covers your personal details, household information, annual income, and tax return details. Make sure you answer the questions carefully since even the slightest mistake can cause difficulties in your application procedure.
Once the form is filled out, you can submit it:
Online, via your FSA account—you must create it before completing your FAFSA form and receive your unique FSA ID number to be able to sign the document electronically
Via myStudentAid app
By mail
You will also receive a Student Aid Report (SAR) listing all the information you provided in your FAFSA. Its purpose is to help you detect potential mistakes you may have made when completing the form.
How Much Financial Aid Can You Get for College?
To get an idea of the approximate financial aid amount you can receive, you must consider two crucial factors:
Cost of attendance (COA)—the amount necessary for covering all college-related expenses. It's calculated separately by each college you apply for, and it includes:

Total tuition amount
Additional fees
Required books
Meals
Housing

Estimated Family Contribution (EFC)—the specific sum you and your family can set aside to cover the college-related expenses per academic year. The colleges you are interested in will calculate it by processing your FAFSA information about income and financial circumstances in your family
The financial aid sum you will receive should be equal to the difference between the COA for the specific college and your EFC. Here's the table showing the maximum financial support amounts for the most prominent federal programs:
Aid Type
Maximum Amount per Year
Federal Pell Grant
$6,340
Federal Supplemental Educational Opportunity Grant (FSEOG)
$4,000
Federal Work-Study
No maximum (the amount varies from college to college)
Federal student loans
Dependent undergraduates:

$5,500 for the first year
$6,500 for the second year
$7,500 for the third, fourth, and all the remaining years

Independent undergraduates:

$9,500 for the first year
$10,500 for the second year
$12,500 for the third, fourth, and all the remaining years

Graduates/professionals:

TEACH Grant
$4,000
The Amount You Get Isn't Enough To Cover All the Expenses? File an Appeal With DoNotPay!
If the offer from your dream college isn't as satisfying as you expected, DoNotPay gives you a chance to send an appeal letter to the institution quickly and efficiently! Instead of writing it yourself, give us the basic info, and we will compose and send it on your behalf in only a few taps!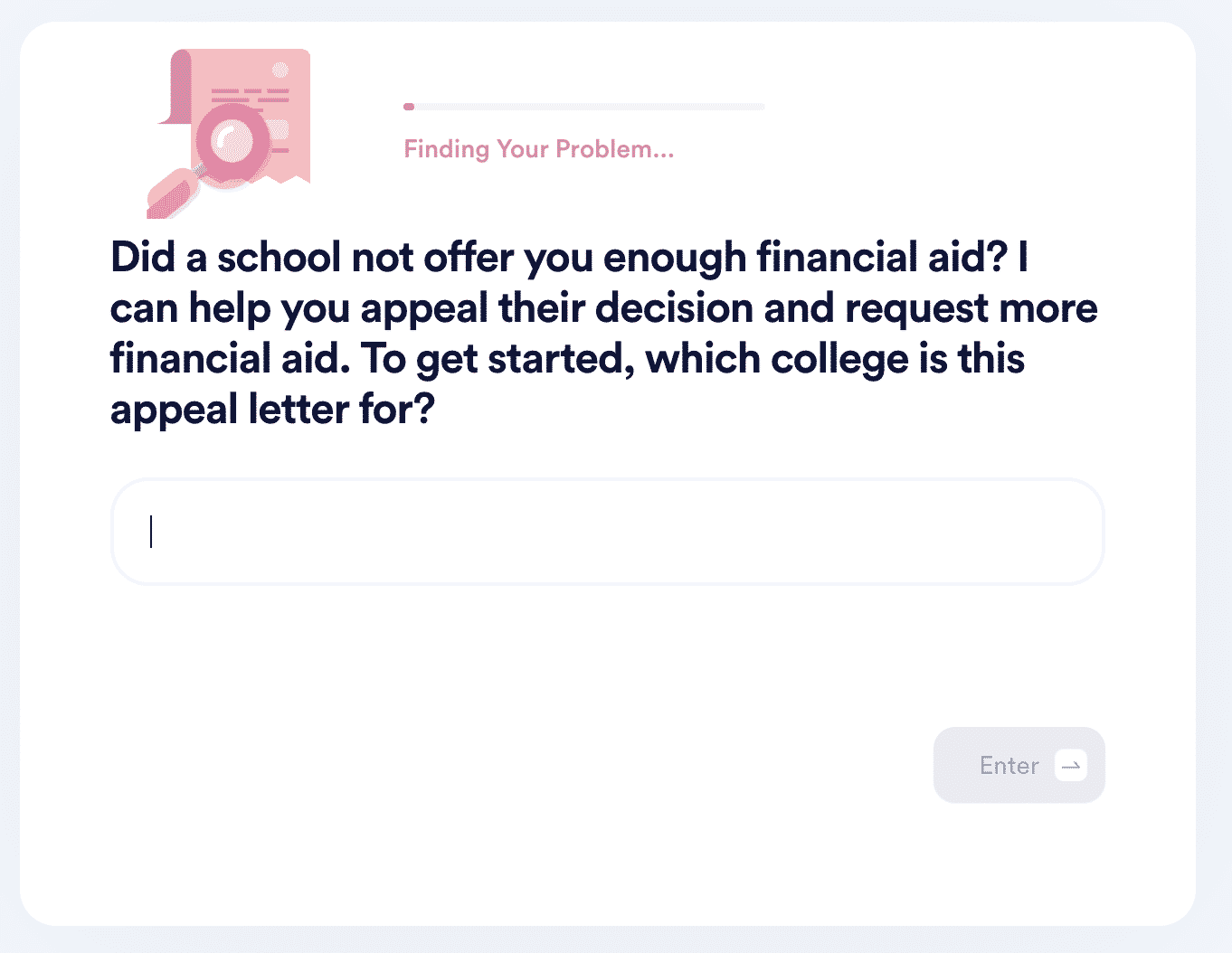 Here's what you need to do:
Open DoNotPay in your preferred browser and log in
Navigate to the Appeal for More Financial Aid feature
Enter the name of the college you want to get into and list a few more institutions that offered you a better amount if applicable
Answer a few questions about your financial situation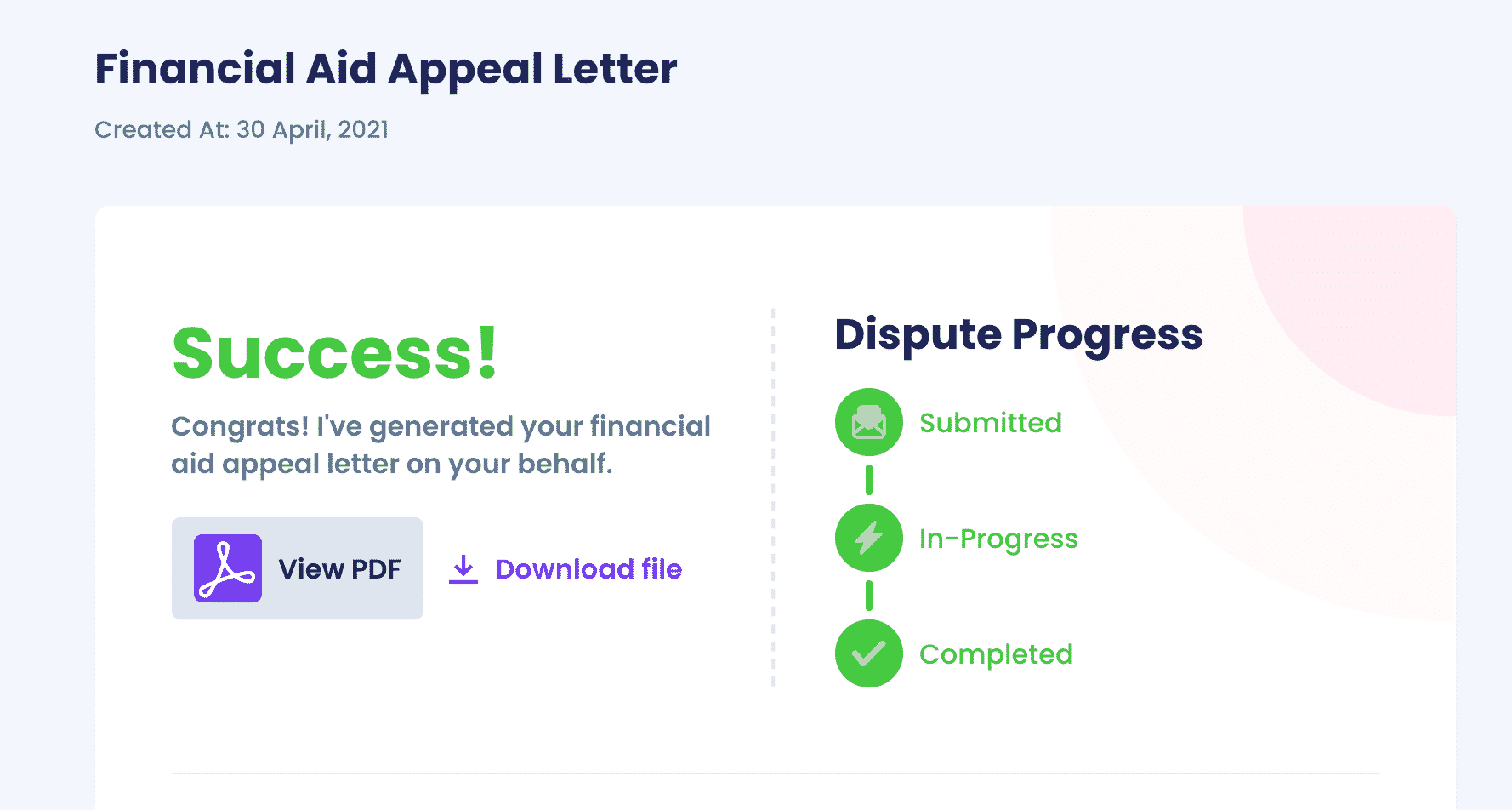 Our learning base features many practical guides that will teach you everything about the financial aid application for many well-known universities, including:
DoNotPay Crosses All Your Tasks Off Your List
Whether you need help with preparing for government tests, online faxing, or getting your documents notarized—DoNotPay will be able to help! Whatever problem you're facing, we'll turn it into a breeze!
Sign up now if you want an easy solution to stop email spam, cancel unneeded subscriptions, schedule DMV appointments, and draw up agreements from the comfort of your home.
We can also help you reduce property taxes, pay bills, appeal parking tickets, and find any unclaimed money.
Improve Your Quality of Life With DoNotPay
The beauty of our platform is that besides bureaucratic issues, it can also assist you with numerous other struggles! To name a few, we can help you:
The list could go on for days!