The University of Florida Scholarships—Explained and Simplified
The University of Florida (UF) is a top-ranked public research university, and as such, it attracts tens of thousands of students every year. What may discourage some of the potential applicants is the high cost of attendance. The tuition is about $21,000 for in-state and $30,000 for out-of-state students. Don't let this stand in your way—get financial aid.
The University of Florida scholarships can pay for your education without burdening you with loans. These funds can come from the state, university, individual colleges and departments, or private organizations and companies.
DoNotPay discloses what types of UF scholarships exist, how to find them and apply, and what to do to secure additional aid.
Types of Scholarships for the University of Florida
If you are a prospective or current UF student, these are the scholarship types you should look into:
State of Florida Aid (SFA) awarded scholarships
Academic scholarships
Scholarships for undergraduates
Scholarships for graduates
SFA Awarded Scholarships
The State of Florida offers non-endowed and endowed gift aid to UF students. The board revises students' academic achievements and economic status.
You will be considered automatically for these scholarships if you:
Complete the Free Application for Federal Student Aid (FAFSA) form
Demonstrate financial need
Have a 3.0 GPA or higher
Meet the requirements specified by the funder
Here are the scholarships that SFA awards to current and future students at UF:
Type of Scholarships
Scholarship Examples
Machen Florida Opportunity Scholarships (MFOS)
Several scholarships for first-time freshmen with total family income below $40,000 and parents without a bachelor's degree
Non-endowed scholarships

Follett Bookstore Scholarship
Kenneth D. Watson Memorial Scholarship
Robert D. and Flora E. Fuhrman Scholarship
Ryan McKee Scholarship
UF General Scholarship

Endowed scholarships

Mary Ellen Burnett Endowed Scholarship
Joseph and Lillian A. Damon Scholarship
John V. Lombardi Scholarship
Steve Rhoden Memorial Scholarship
John G. Ruge Scholarship

National merit scholarships
Benacquisto Scholarship for high school seniors
UF Academic Scholarships
Academic scholarships are administered by specific departments and offices within the University. Take a look at the table below to revise which offices delegate what kind of gift aid:
Office or Department
Scholarship Examples
The Office of Admission
The Office of Undergraduate Affairs

Florida College Transfer Academic Scholarship (FCTAS) for transfer students
Florida College Transfer Scholarship (FCTS)

The Office of the Provost
Tuition Exchange Program
The Dean of Students Office
UF Department of Housing and Residence Education

Randall J. Bodner and Gary W. Faircloth Scholarship
Cathie Ponikvar/NRHH Award

UF International Center (UFIC)

UFIC Semester and Academic Year Scholarships
National Study Abroad Scholarships

The Awards Division of UF's University Honors Program

John V. Lombardi Scholarship
Stamps Scholarship
Albert G. Raybun Scholarship
Scholarships for Undergraduates
Certain programs are designed to help undergraduate students only. As a freshman, sophomore, junior, or senior at UF, you can apply for:
Shirley M. Cowans Scholarship
Education Station and Preschool Annual Scholarship
Lancaster Scholarship
J.W. Martin and A.M. Martin Phillips Scholarship Fund
Scholarships for Graduates
Students who wish to pursue further education and enroll in graduate studies have a chance to receive:
Barbara and Richard Anderson Scholarship
Kent Batchelder School Counselor Scholarship
Mildred M. and Robert S. Baynard Scholarship
Jennifer L. Coxen Scholarship
Vernice Law Hearn Scholarship
Rose Melzer Annual Scholarship
Harold and Bette Ricker Scholarship
Dr. Walter Smith Scholarship
How To Approach the UF Scholarship Search
Increase your chance of paying for UF studies with free money by applying to as many scholarships as you can. You first need to discover the programs you are eligible for—to do that, you should:
Talk to your high school counselor
Use the UF Scholarship Search Engine
Turn to the UF OneStop service for financial aid questions
Contact UF financial aid advisor
Email or call reps at the Student Financial Aid and Scholarships main office
Reach out to your college department or the ones you're interested in
Scholarships awarded by UF aren't the only option. You should search for outside programs as well. Consider specific groups you belong to—such as veterans, homeschoolers, mothers, minorities, and similar. Base the research on your interests, ethnicity, religion, inclusivity, or any unique characteristic.
Looking for a way to simplify the process? Subscribe to DoNotPay, and we'll curate a list of every aid you qualify for. Yours is only to inform us of your academic study level, grade, interests, and qualifications, and we'll make sure that you don't miss any prospective scholarship or grant.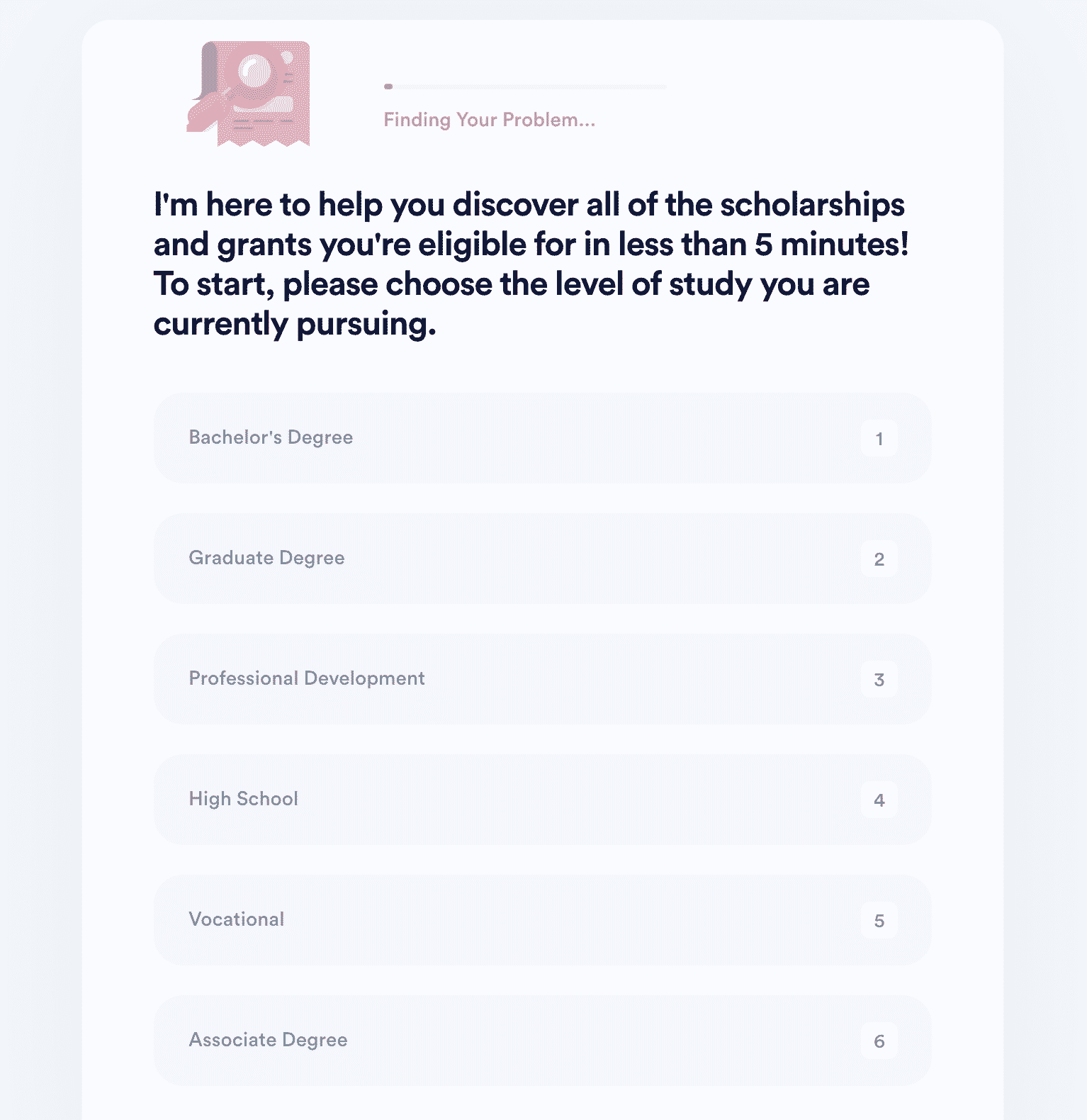 Applying for Scholarships for UF—The Must-Knows
When applying for financial aid, you need to follow the instructions provided by the program funders. UF scholarships may also have unique requirements depending on the department, whether the aid is merit- or need-based, and similar.
You ace your applications by following these general tips:
Aim for early deadlines
Apply for scholarships and admission at the same time
Customize scholarship essays to each program
Ask for letters of recommendation in advance
Create a financial aid file and store documents such as:

Copies completed FAFSA
Federal Student Aid Report
Copies of federal income tax return schedules and W-2s
Copies of forms for different aid applications
Be prepared for additional expenses—like application fees. If you want to learn how you can waive the UF fee, check out our simple guide.
Collect the University of Florida Scholarship Awards With DoNotPay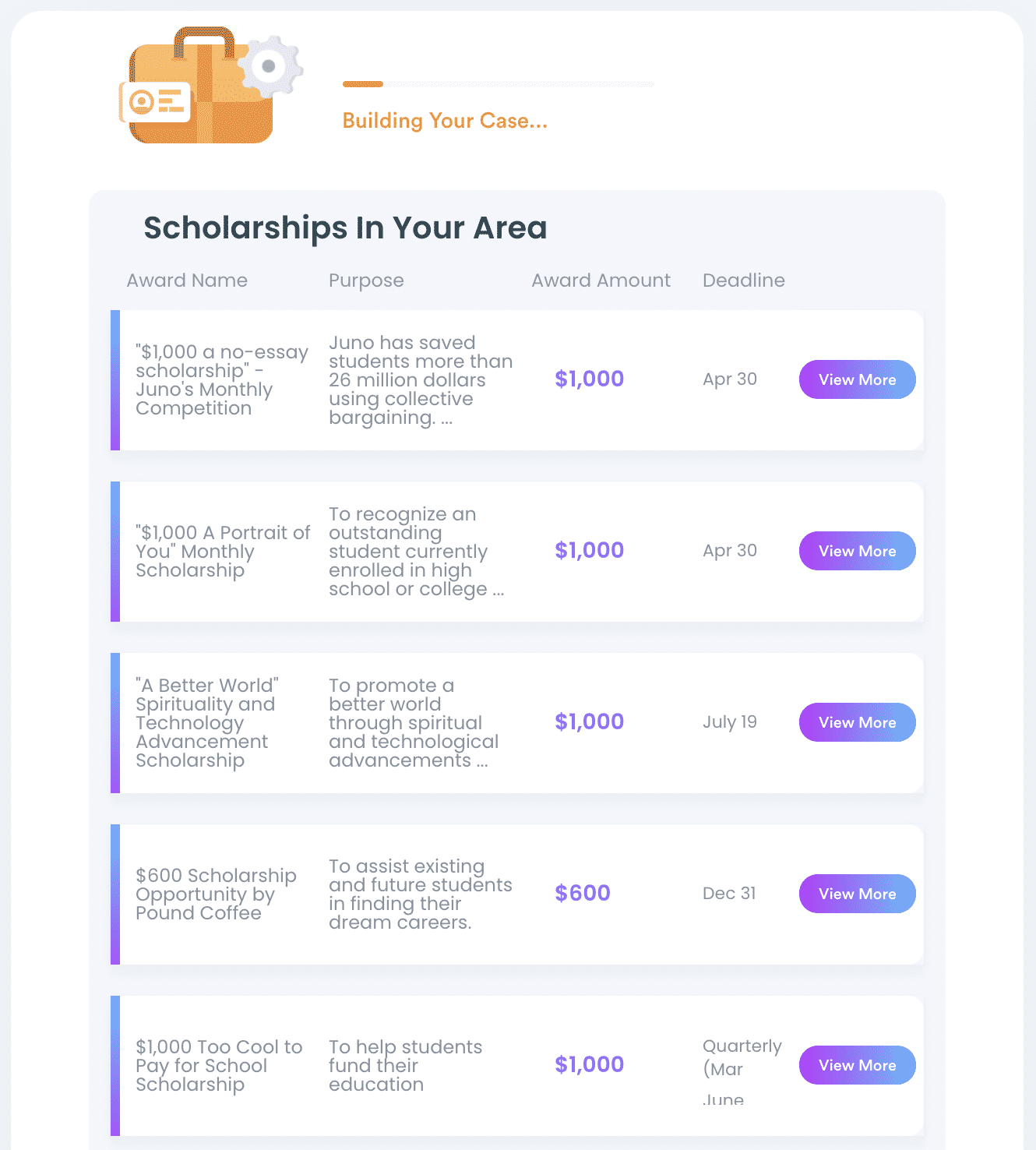 Getting a college scholarship doesn't need to be a nerve-racking process. DoNotPay is here to make it fast and easy. You are only one login and a few questions away from receiving your full list of gift aid for UF.
See it all in action by taking these steps:
Go to our Apply for Scholarships product
Fill out a brief questionnaire
Revise the list and apply for no-essay scholarships automatically
Anything Else You Need?
DoNotPay offers an exhaustive range of products and services for one low monthly fee. You can take full advantage of our offer once you resolve the issue at hand.
Our app can both save you money and help you earn it—sign up to appeal parking tickets, get assistance with utility bills, get compensation from airlines, request a refund, have your college application fees waived, find your missing money, reduce property taxes, enter any sweepstake, or send a financial aid appeal letter to any school.
We can also turn your gift card balance into cash, help you apply for scholarships, and assist you in getting compensation as a victim of crime.
There's Even More to Our Offer
The world's first robot lawyer can turn any nightmarish admin or legal procedure into a piece of cake. Look into our knowledge base to find out how to send a letter of warning to your bad neighbor, submit an anonymous complaint to your HR, fight workplace discrimination, get access to public records, deal with a stalker or harasser, put an end to robocalls, and file a complaint with any company.