How To Get Michigan State Scholarships—Are You Making the Right Moves?
Michigan State University (MSU) is among the top schools in the U.S., but its steep tuition costs are a nightmare for students. With an average yearly education cost of almost $55,000, MSU is 97% more expensive than the country's average public school.
Michigan State scholarships can support your education funds and minimize student loans, but many students fail to win them because they:
If you're worried about losing out on the best MSU scholarships, our student-friendly guide will steer you in the right direction!
An Overview of the Michigan State University Scholarships
Michigan State University offers hundreds of scholarships that have different eligibility criteria. Currently, the university offers scholarships for the following categories:
Scholarships earmarked for incoming students
Merit scholarships
Departmental academic scholarships
Criteria-specific scholarships
We have analyzed each of the above options to help you decide which scholarship you should apply for.
Michigan State University Scholarships for Incoming Freshmen
Every year, over 30,000 graduating high school seniors enroll in various undergraduate programs at MSU. Based on students' residential data, the university offers the following freshmen scholarships:
Scholarship Type
Details and Examples
In-state freshman scholarships
These scholarships are strictly meant for:

Michigan residents from any of the state's counties
Students graduating from any of Michigan's recognized public or private schools

Here are some examples:

The Honors College STATE Scholarship
Yeager

Science

and

Engineering

Endowed Scholarship
William H. and Eleanor E. Willert Scholarship for Graduates of Dundee High School

Michigan State out-of-state scholarships
Out-of-state,

undocumented

, or international students have to pay three times more than in-state learners. To offset these costs, MSU offers dozens of scholarships like:

The #YouAreWelcomeHere Scholarship for international students
The Professorial Assistantship scholarship for homeschooled students
The Red Cedar Scholarship for descendants or dependents of an MSU alumnus living in another state
The college scholarships for incoming students can be partial or full-ride. Currently, the university doesn't clarify if a newly-admitted student can claim more than one scholarship.
Can Transfer Students Qualify for Freshmen Scholarships at MSU?
Transfer students are not eligible for any of the freshmen scholarships, but they may apply for the following scholarships in their sophomore or junior year:
Spartan Transfer Scholarship
Associate Achievement Award
To qualify for these scholarships, students need to submit the following:
Transcripts from all their previous schools
Required number of recommendation letters
Proof of:

Minimum transferable credit hours
Cumulative GPA of 3.5+
A student can qualify for more than one transfer scholarship at MSU.
Michigan State University Merit Scholarships
Michigan State University offers 15 merit scholarships to students who:
Are one of the finalists of a National Merit Scholarship test
Name MSU as their first-choice university on the test
Display superior performance on other standardized tests
These scholarships are usually renewable every semester and may cover full tuition costs and on-campus boarding and living expenses.
MSU Academic Scholarships Offered by Different Departments
Every school under MSU sets aside certain scholarships for students who perform the best in their chosen major in fields such as:
Human capital and society

Psychology

Accounting

Business management

Art

and film studies

Music education and performance
Departmental scholarships are also open to graduate or doctoral students.
Criteria-Specific Scholarships at Michigan State
Michigan State University has a plethora of scholarships with specific qualifying criteria based on demographics, personal adversity, or minority classification. You can check out some examples in this list:
Vernon F. Barker, Sr. Memorial

Veterans' Scholarship

ROMBA LGBT+ Fellowship
The Harold I. Gach Scholarship Endowment for cancer survivors
The Kenneth L. and Marla Knas Scholarship for first-generation students
The Walter and Phyllis Olin Bielanski Endowed Scholarship for:
The Quickest Way To Run an MSU Scholarship Search
Scanning through the encyclopedia of Michigan State scholarships is a Herculean task, especially for a busy student. Ever since the pandemic, many MSU students have complained of fatigue due to online classes and related assignments, which leaves them with no energy to look or apply for scholarships.
Keeping current student needs in mind, DoNotPay has devised a one-stop solution in the form of a super handy scholarship search tool.
Once you start using DoNotPay, you'll never have to worry about checking your eligibility for each scholarship—we'll do that for you in under five minutes!
To use our app, all you need to do is enter your student details through a short questionnaire. We will automatically match you with all relevant financial aid types from our latest database of scholarships available in MSU, the State of Michigan, and the rest of the U.S. to access your tailor-made list!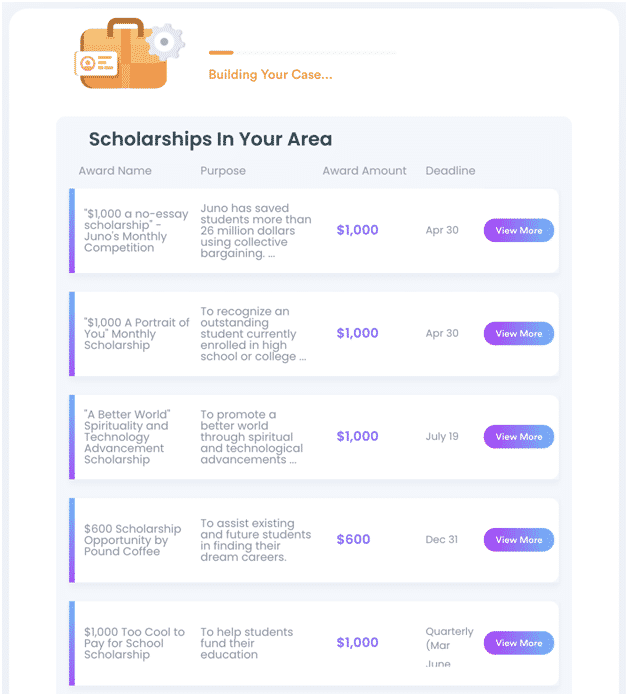 DoNotPay Also Simplifies the Application Procedure for You!
Many students never apply despite finding lucrative scholarship opportunities because they:
Find the application procedure to be exhausting and time-consuming
Cannot afford the time to apply for them
Think they aren't good enough to win
If you dread applying for scholarships, DoNotPay can simplify the chore! Our app can help you apply for all no-essay scholarships that fit your student profile.
Our application option works by generating a list of scholarships that don't require you to write an essay. You can browse through the list and tell us which ones you like—we will automatically apply for those scholarships in your stead!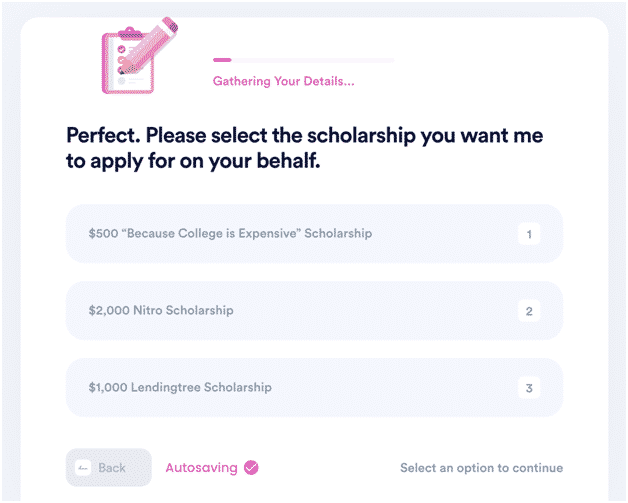 Follow these steps to start using our services ASAP:
and search for Scholarships
Answer the questionnaire with details like your grades, university, major, etc.
Select between our search and apply features
DoNotPay only gives you a list of attainable scholarships, so you should apply to as many as you can to raise your chances of winning. We're positive you'll hit the jackpot in no time!
What's Next?
Once you complete the task at hand, you don't have to stop there—we offer a myriad of products that can relieve you of the stress that comes with dealing with admin and legal hurdles.
DoNotPay can assist you in drawing up a divorce settlement agreement, child travel consent form, power of attorney, and other legal documents, contacting government representatives, getting tourist visas, fighting workplace discrimination, getting a burner number, appealing banned accounts, getting access to public records, scheduling a DMV appointment, and much more.
Tackle Any Energy-Draining Task With DoNotPay
With DoNotPay by your side, you don't have to worry about how you'll cover your utility bills at the end of the month—we'll provide swift assistance as soon as you sign up!
Wondering what else our app is capable of? Check out how we can: