All You Need To Know About Utah State Scholarships
It's no wonder that students rush to apply to Utah State University (USU) since it's among the top ten public schools in the United States. Unfortunately, the cost of attendance—which can reach up to $37,000 per year for undergraduates and around $53,000 for graduate students—can prove too much of a financial burden for prospective attendees. Luckily, Utah State University offers various options in terms of financial aid.
Learn which Utah State scholarships you should apply for to make the most of your education without having to break the bank!
The Basics of Utah State Scholarships
USU students can receive scholarships based on academic merit and financial need. Utah State University determines your eligibility for institutional academic scholarships based on a criterion called the scholarship index.
What Is the Utah State Scholarship Index?
The Utah State scholarship index is a value that represents your ACT and SAT test scores. To determine your scholarship index and eligibility for particular scholarships, you can find tables with precalculated index values on the University's website.
Types of Utah State University Scholarships
Utah State University provides scholarships for students of different levels of study, such as incoming freshmen, undergraduates, and graduate students. The university also has scholarship options for special student categories, such as international and out-of-state students. The two types of scholarships you can apply for at USU are:
Academic scholarships
Non-academic scholarships
If you're looking for more scholarship opportunities, DoNotPay can help! and learn more about Utah-based and other essay and no-essay scholarships that can land you extra bucks for your college expenses!
USU Academic Scholarships
Check the table below for details on academic scholarships available at Utah State University:
Scholarship Name
Eligible Students
Prize
Presidential
Resident and non-resident freshmen in Logan & Statewide campuses
100% of tuition and fees
Deans
Depends on a student's residency status and chosen campus
Scholar
Merit
Inspire
Resident freshmen in Eastern, Blanding, and Moab campuses
$1,000 per year for two years
Success
$600 per year
100 Mile Radius
Non-resident freshmen in Logan and Blanding campuses

Logan—$11,500
Blanding—$5,700

WUE
Non-resident freshmen in Logan & Statewide campuses
$11,500 per year for four years
Waiver
Non-resident freshmen in Eastern, Blanding, and Moab campuses
$7,200
Afton Tew Scholarship
International freshmen and transfer students with a minimum GPA of 3.90
$1,000 per year for four years
Incoming freshmen who cannot take their standardized tests due to COVID-19 can request a comprehensive scholarship review. The University then considers all available criteria to estimate a student's eligibility for academic scholarships, such as:
Grade point average (GPA)
Class rank
High school course rigor
Non-Academic Scholarships at Utah State University
Take a look at the table below to learn about nonacademic scholarships at Utah State University:
Scholarship
Eligible Students
Prize
Alumni Legacy Non-Resident Waiver
Undergraduate non-residents who have at least one parent or grandparent who graduated from USU
Varies
Alumni Resident Scholarship
$250
Ambassador Program Scholarship
USU ambassadors
100% of tuition and fees
HB144 Utah Non-Resident Tuition Exemption Affidavit
Legal immigrants
Waiver of the out-of-state part of tuition costs. The out-of-state part of tuition is the difference between the tuition costs for Utah residents and non-residents
Involvement Scholarship
Students demonstrating leadership skills and contributing to the school
Varies
Need-Based Scholarship
Low-income students
Varies
You can find scholarships by contacting the financial aid office for your particular USU campus or college.
How To Apply for Utah State University Scholarships
When you submit your admission application, Utah State University considers you for academic scholarships automatically. To apply for non-academic scholarships at USU, you might have to submit the following documentation:
Free Application for Federal Student Aid (FAFSA)—the USU federal school code is 003677
Individual scholarship applications

Essays

, cover letters, or personal statements
High school or college transcripts
Find External Scholarship Opportunities With DoNotPay!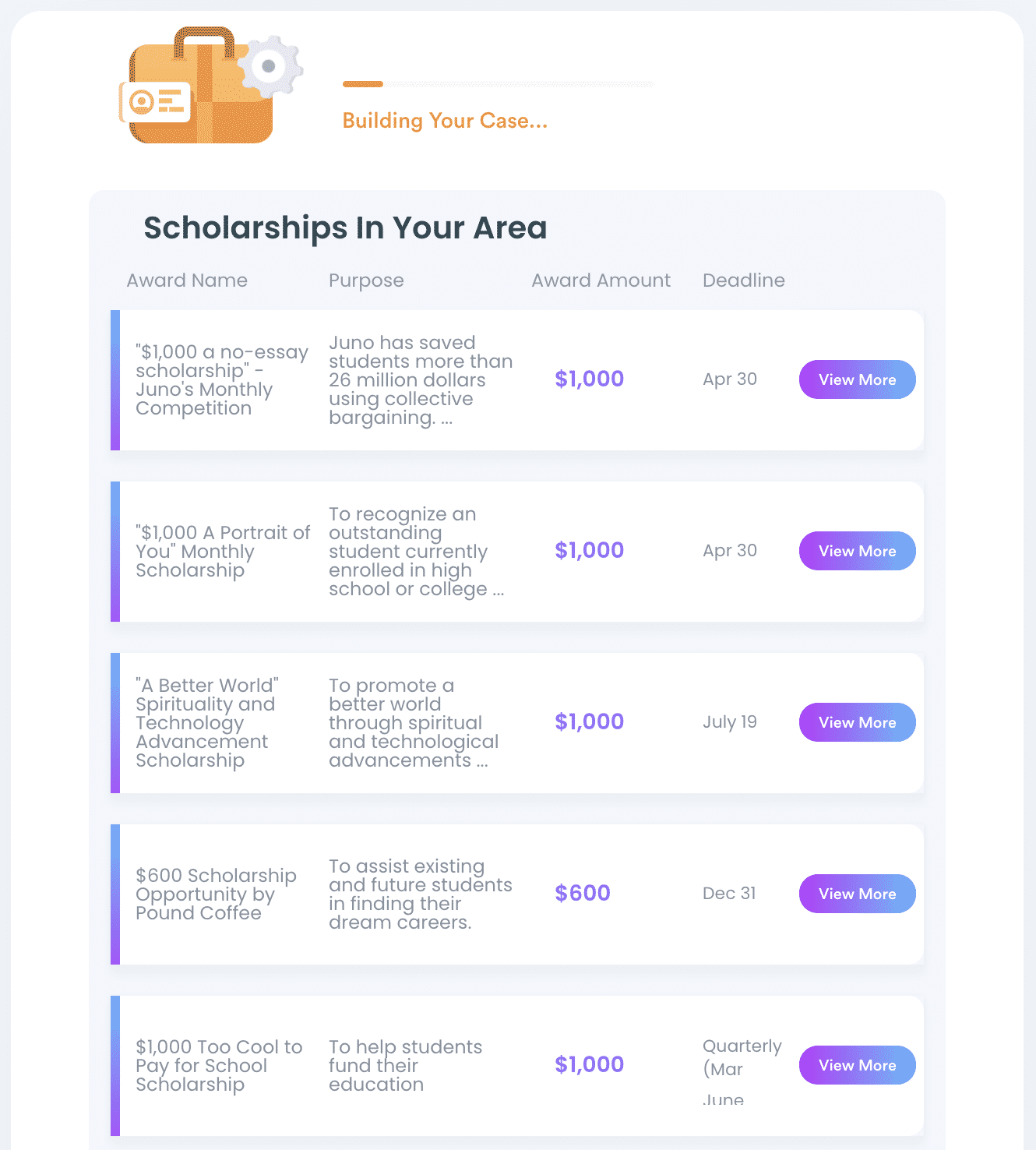 Affording college is a struggle for many students. That's why DoNotPay offers a feature that can help if you receive:
Disappointing response from the financial aid department of the Utah State University
Insufficient financial support for the upcoming academic year
If you need another way to acquire funds for your education:
Type in Apply for Scholarships in the search bar
Answer the questions about your:

Level of study—for example,

high school senior

or

college sophomore

Field of study—such as

art

,

engineering

, or

science

Special qualifications—for instance, being a woman,

veteran

, or former foster child
As soon as you complete the steps, our app starts analyzing thousands of scholarships to find the ones you qualify for and compiles them in a list. You can access that list at any time, and we update it frequently so you don't miss out on any opportunity.
Suppose you need a little extra help with completing all of those exhausting scholarship application forms. In that case, you can let our app apply for no-essay scholarships on your behalf using the information you already provided!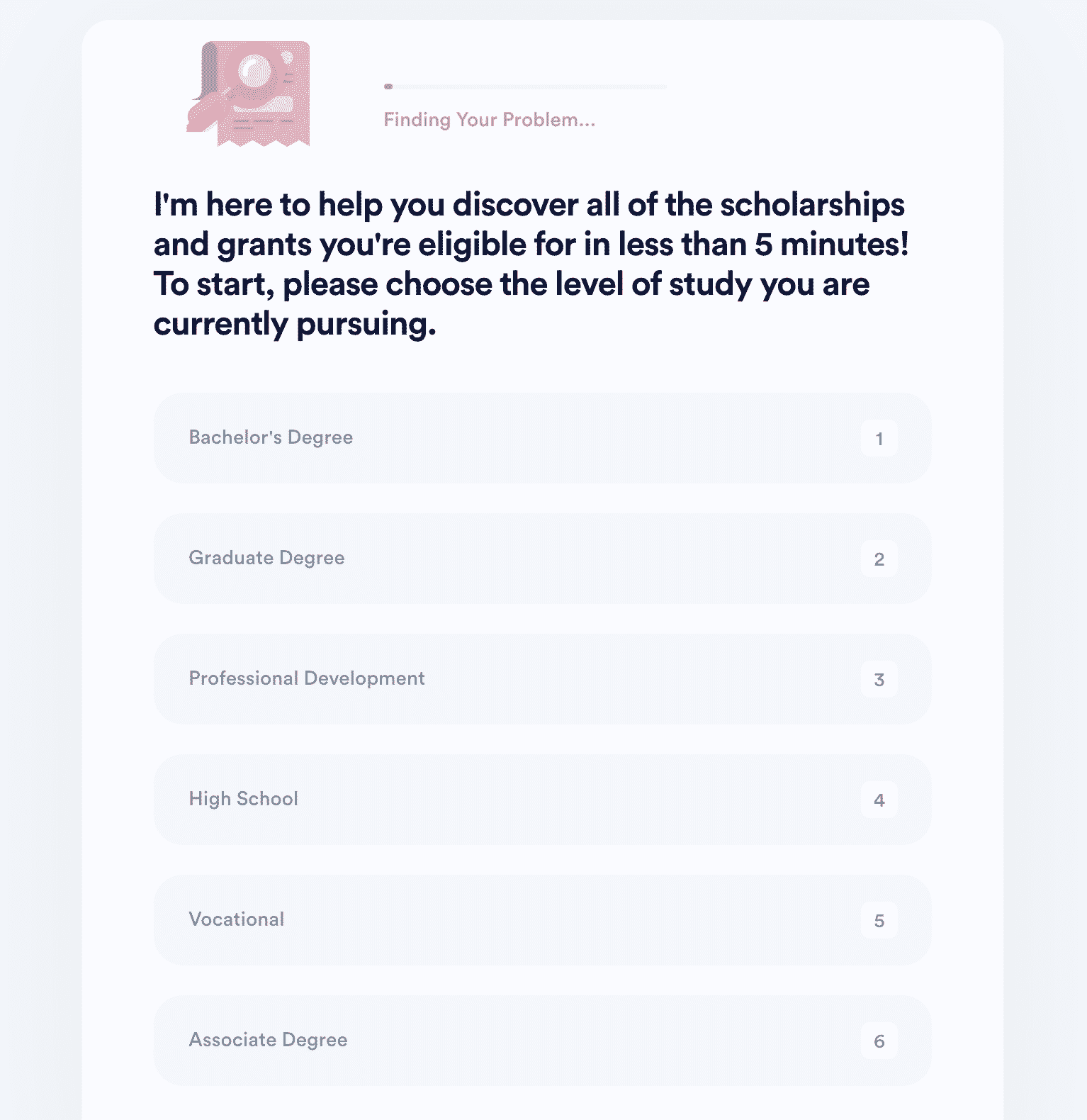 DoNotPay Offers Quick Solutions to Tedious Problems
Are you overwhelmed by your never-ending to-do list? We're happy to jump in with a perfect solution to deal with everyday tasks the easy way!
Once you subscribe to DoNotPay, you'll be able to schedule DMV appointments, lower your monthly bills, and contest parking tickets without breaking a sweat!
If you are looking for further assistance, our app will show you how to deal with the following tasks effortlessly:
Rely on DoNotPay's Legal Assistance Any Time!
If a company refuses to cooperate, use DoNotPay—the world's first robot lawyer—to sue it in small claims court! Getting the justice you deserve is only a few clicks away!
You can also use our app's various features to do the following:
Demand refunds

Reduce your property taxes