Applying for Indiana University Scholarships—How DoNotPay Can Help
Tuition fees and other education-related expenses are on a steady rise throughout the United States, and Indiana University (IU) doesn't steer away from the trend. With students having to pay extortionate amounts to get a degree, they need to obtain financial aid to continue with their education—be it loans or scholarships and grants.
In this article, we'll show you how you can land Indiana University scholarships without any hassle by explaining what different awards exist, where you can find them, and how to apply for them.
Learn how to make the best out of DoNotPay's Apply for Scholarships feature, and find out which scholarships you qualify for within five minutes!
Indiana University Scholarships—How Do They Work?
IU tuition fees can get high. Some students staying at Indiana University Bloomington—the main campus—need to pay up over $54,000 annually. Check out this table to see costs of attendance for different student groups:
| Level of Study | Indiana Residents | Nonresidents |
| --- | --- | --- |
| Undergraduate | $27,298 | $54,318 |
| Graduate | $33,272 | $53,460 |
These numbers are a good enough reason to turn to scholarships for help.
Financial aid programs offer awards to students who can demonstrate:
Academic excellence (merit-based)
Financial inability to pay (need-based)
Indiana University merit scholarships are usually more rewarding as they are designed for students who have:
High GPAs
High ACT or SAT scores
Resumes of project and community service involvement, as well as other extracurricular activities related to their field of study
Students who can't meet these requirements can turn to need-based awards by proving they can't afford to study at IU. They need to fill out the College Scholarship Service (CSS) profile or the Free Application for Federal Student Aid (FAFSA) form.
This way, students can get an estimate on their Expected Family Contribution (EFC), which needs to be below a certain limit that varies depending on the program.
IU Scholarship Types
Scholarships for Indiana University college students are divided into four groups:
First-year scholarships

Transfer student programs

Nontraditional student scholarships
Non-IU scholarships
First-Year Indiana University Scholarships
First-year programs are available to freshmen and high school seniors who are going (or intend) to enroll at IU. Around 40 programs (both need- and merit-based) are offered to first-year students from the University itself.
Check out the table to see some of the scholarship opportunities:
| Scholarship Name | Residency Requirements | Basis for Award | Award Amount |
| --- | --- | --- | --- |
| Dean's Scholarship | Out-of-state students | Merit | $1,000–$11,000 |
| IU Global Engagement Scholarship | International students | Merit | $1,000–$11,000 |
| Annexstad Family Foundation | In-state and out-of-state students | Merit and need | $25,000 over four years |
| Cox Research Scholarship | In-state students | Merit | The full cost of attendance |
| Hamilton Lugar School (HLS) Selective Scholarship Application | In-state, out-of-state, and international students | Merit | $600–$8,000 |
| MacDonald Scholars Program | In-state and out-of-state students | Need | $20,000–$36,000 over four years |
Transfer Student Programs
This section includes Indiana University Bloomington scholarships for students who come from:
Ivy Tech Community College
Other institutions from across the U.S.
Other campuses within IU
Aside from demanding from students to show merit or need, there are other requirements applicants need to fulfill. Some examples include:
Scholarship Name
Specific Requirements
Hudson & Holland Scholars Program
Members of a minority:

Hispanics

African Americans

Native Americans

Asians

Jean Ann Ford Fund for Education Scholarship
Underrepresented males
Office of Disability Services for Students Scholarships
Students with

physical

or

learning disabilities

Phi Theta Kappa Transfer Scholarship
Members of Phi Theta Kappa international honor society
Tau Sigma National Honor Society Program
Members of the organization
Nontraditional Student Scholarships
IU sees nontraditional students as those who create a path for themselves, choosing specific programs and involving themselves in various projects. Many Indiana state scholarships offer help to nontraditional students, including:
The Bloomington Urban Enterprise Association (BUEA) Incentives for Bloomington Residents
IU Credit Union Scholarship
Returning Student Services Fund
Indiana Women's Education Foundation and PEO Scholarships (programs for women)
Non-Indiana University Scholarships
Non-IU programs are those that come from sources not related to the University. These can be private funds, donors, or companies that offer financial aid to IU students.
Most non-IU awards require you to fit a certain profile, either regarding your level or field of study (e.g., computer science, arts, mechanical engineering, and filmmaking).
Additionally, scholarship providers might require you to belong to a certain group, including:
Searching for Indiana University Scholarships
Discovering various financial aid programs is the first step to getting an award, and it's the most time-consuming one. You can lose months doing various searches trying to find scholarships you're eligible for.
If you're stuck and don't know how to do the research more efficiently, here are a few suggestions on where you can look for awards:
IU's financial aid office
DoNotPay
You can to get a personalized list of all scholarships you're eligible for—based on your financial and academic status—within five minutes.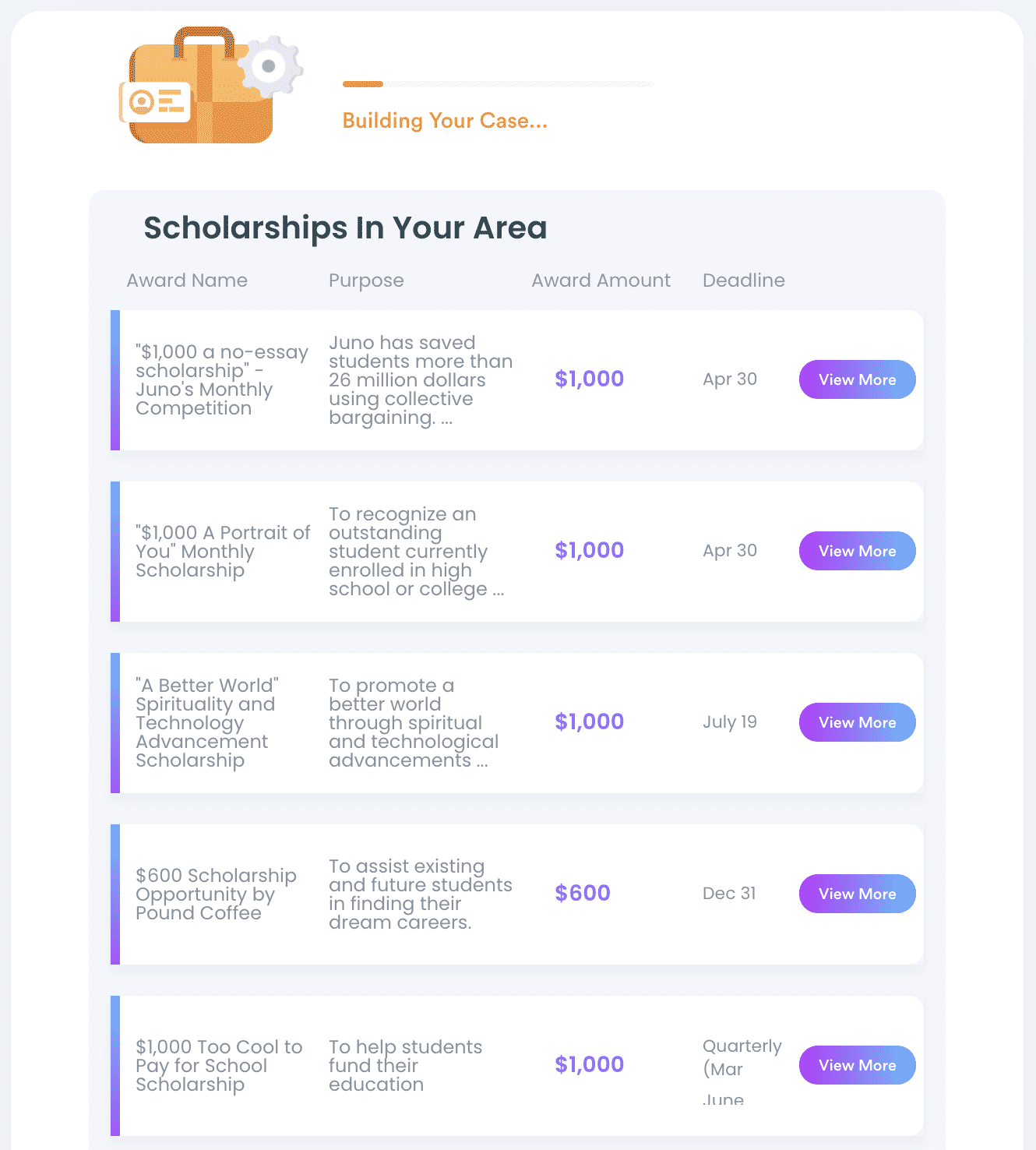 Indiana University Scholarships—The Application Process
The way you apply for an award depends on the program itself as various scholarships have different deadlines and sets of requirements. Here are some important dates to consider when applying for a scholarship at Indiana University:
August 1—first day to apply for admission and awards
October 1—opening day for the FAFSA form
November 1—early-action application deadline
January 15—deadline for updated test scores
February 1—deadline for Selective Scholarship Application
April 15—deadline for submitting the FAFSA form
May 1—deadline for reserving a place at IU
When you're applying for a scholarship, you should always make sure you:
Are eligible
Apply before the deadline passes
Submit all the necessary paperwork, including:

Essays

FAFSA form
The Best Way To Secure Indiana University Scholarships—Use DoNotPay
Researching and applying for scholarships are tedious tasks that will take a lot of time and effort, and you'll still miss out on many programs you haven't come across. You can optimize your process by using DoNotPay—our app allows you to find all available awards and apply for no-essay scholarships within minutes.
All you need to do is the following:
via your browser
Select the Apply for Scholarships feature
Answer a few questions
Our app will use your answers and create a custom list of financial aid programs for which you meet the requirements. If the list contains programs that don't require a written essay, you can apply directly through the app by instructing us to complete the process on your behalf.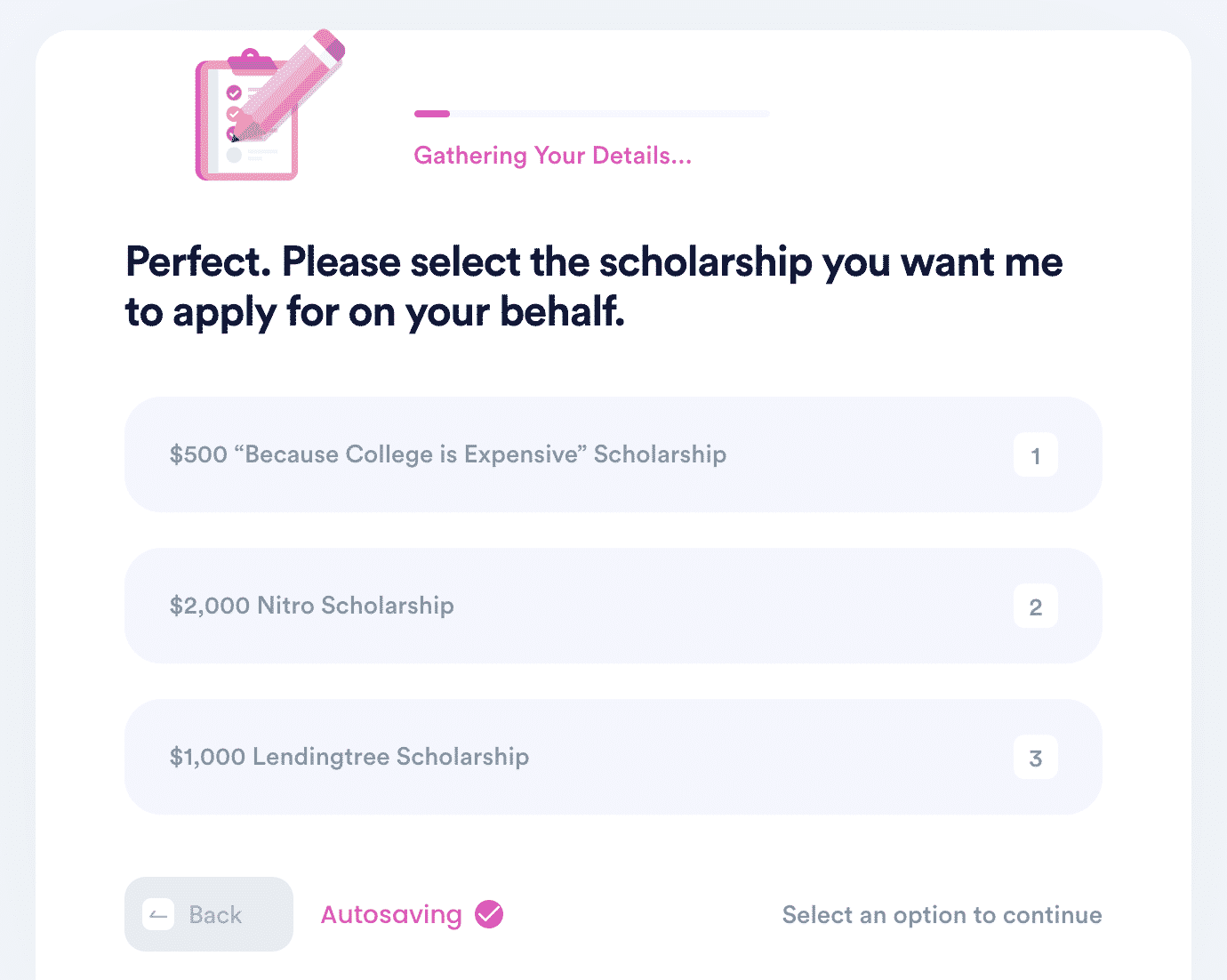 DoNotPay Turns Any Tiring Task Into a Piece of Cake
Are you tired of dealing with bureaucratic or legal matters on your own? You no longer have to—as soon as you subscribe to DoNotPay, we'll take any exhausting task off your plate.
Our app is capable of drawing up legal documents—including marital settlement agreements, child travel consent forms, powers of attorney, defamation demand letters, and affidavits to homeschool—getting them notarized remotely, filing complaints against companies, suing any individual or corporation in small claims court, sending FOIA requests, and so much more.
The World's First Robot Lawyer Offers So Much More
DoNotPay's capabilities don't end there—we can also:
Help you get a tourist visa