Scholarships for Living Expenses Explained
When planning a budget for your college education, you must consider living expenses. You can apply for various financial aid programs and cover your tuition using the award money, but do all scholarships and grants cover room and board? These types of scholarships can be difficult to find, which is why you should rely on DoNotPay.
Discover how you can find scholarships for living expenses, and send your application within minutes with DoNotPay's help.
Can Scholarships Be Used for Housing?
Each scholarship or grant has its own guidelines when it comes to college expenses the funds can cover. While some scholarships cover partial or full tuition, others cover everything from tuition, mandatory expenses, books, supplies, and living expenses.
If you choose to apply for scholarships that cover living expenses, make sure to familiarize yourself with how such scholarships can affect your tax liabilities.
Grants and Scholarships That Pay for Room and Board
Check out some of the scholarships and grants that can help you cover living expenses:
Pell Grant and Federal Supplemental Education Opportunity Grants
Montgomery GI Bill Active Duty (MGIB-AD)
National Science and Mathematics Access to Retain Talent (SMART) Grant
Teacher Education Assistance for College and Higher Education (TEACH) Grant
Cal Grants
City College of New York scholarships
Youngstown State University scholarships
Oakland University scholarships
The Pell Grant and Federal Supplemental Education Opportunity Grants
These need-based federal grants cover all schooling expenses, including room and board. Check out the table to see who can apply for these two grants:
| Federal Grant | Who Is It For? |
| --- | --- |
| Pell Grant | Students pursuing undergraduate studies |
| Federal Supplemental Educational Opportunity Grants | Undergraduate students, but the priority is given to students who qualify for the Pell Grant |
To be considered for any of these grants, you need to complete the FAFSA, which determines the financial aid you can receive based on your financial need.
The funds are sent directly to your school. They will use the grant to cover all course-related expenses, including room and board if you reside on campus. After the school has deducted everything, any grant funds left will be sent to your personal account so you can use them for other schooling expenses.
National Science and Mathematics Access to Retain Talent (SMART) Grant
This grant awards up to $1,300 to students in the third and fourth years of college. The funds can be used to pay for tuition and living expenses. To be eligible for the grant, you must be pursuing a course in maths, science, engineering, or other technical programs.
Teacher Education Assistance for College and Higher Education
This $4,000 scholarship is designed for students enrolled in courses that lead to a career in teaching. The funds can be used for any education-related expense. Successful recipients commit to teaching in schools that serve low-income students up to four years after graduation.
The Montgomery GI Bill Active Duty (MGIB-AD)
This federal grant is the oldest military scholarship awarded to veterans. If you qualify, you can use the program funds for all college expenses, including room and board.
Cal Grants
High school seniors planning to attend colleges in California can apply for this grant by completing the FAFSA. Applicants must reside in California.
City College of New York Scholarships
Students of City College of New York can apply for on-campus housing provided by the institution.
Youngstown State University Scholarships
To qualify for the housing grants at the University, students must:
Live on campus
Be enrolled full time
Demonstrate financial need by filing the FAFSA
Oakland University Scholarships
The University in Rochester offers housing grants of up to $4,000 to its students. To qualify, applicants must:
File the FAFSA to prove financial need
Maintain a minimum GPA of 3.0
Submit ACT score of at least 21
How To Find Scholarships That Pay for Housing
Scholarships that pay for housing and other living expenses can be some of the most difficult ones to find. We recommend the following search tips:
Visit your school's financial aid office and enquire about the available opportunities
Check with local organizations that may offer scholarships to residents of certain areas
Complete the FAFSA to find federal programs for which you qualify
Check programs offered by your state education agencies
Search online using scholarship search engines
Search for programs that target your demographic group, for instance, international students, moms, women, graduate school students, etc.
For an easier and faster search, use DoNotPay. Our app will help you discover all the scholarships you are eligible for in a matter of minutes. All you need to do is and provide your education details.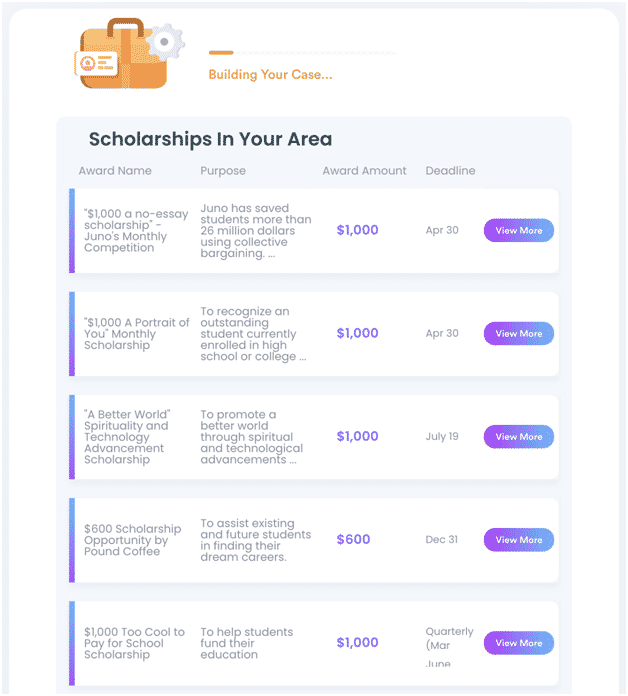 How To Apply for Scholarships
While every program has its own set of rules that dictate how you should apply, most scholarships require applicants to submit the following:
Essays

The FAFSA
School transcripts
Find and Apply for Scholarships the Easy Way—Use DoNotPay
The scholarship search can be a real headache, but DoNotPay is here to streamline the entire process. With us, you get a comprehensive list of all the scholarships that you qualify for with minimum effort. All you have to do is:
Find the Apply for Scholarships tool
Answer a few questions
Besides compiling a list of scholarships and grants that match your profile, our app can also help you send applications for no-essay scholarships automatically with a few clicks.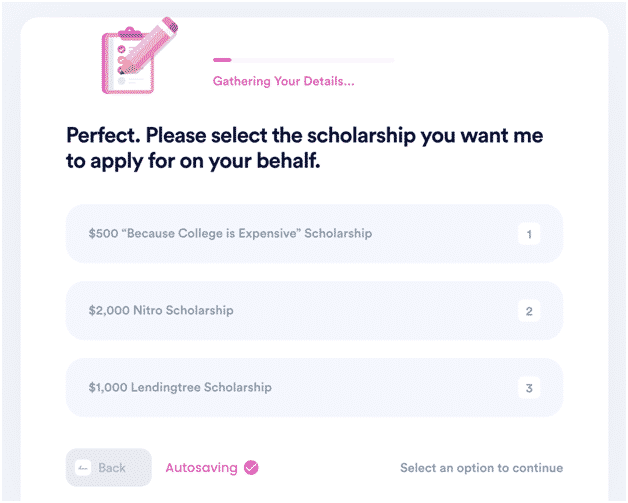 Explore DoNotPay's Product Range
Are you looking for additional assistance from our app? We're happy to inform you that DoNotPay provides you with a number of useful tools that you can use to complete mundane tasks in the blink of an eye! Sign up for our app and let us help you get:
DoNotPay Resolves Your Financial Issues in a Few Taps
You don't have to struggle to figure out how to resolve financial problems yourself when you have our app at your disposal. In only a few clicks, you'll be able to discover any unclaimed money under your name, submit insurance and warranty claims, or request compensation for delayed flights.
But that is not all! Lowering your utility bills, appealing parking tickets, or canceling memberships and subscriptions is also something you can do in no time and with minimum effort if you use DoNotPay! Work smarter, not harder!