Everything You Need To Know About the McMaster Return Policy
Have you bought a product from McMaster and realized it's defective? Can you return these items? The company's return policy states that you can!
This article will give you a quick overview of the McMaster return policy. If you are unsure about how to file a return request on your own, you can use DoNotPay to facilitate the process!
What Exactly Does the McMaster Return Policy Say?
There isn't much information available about the McMaster-Carr return policy on the company's website. The policy itself is quite straightforward. You can return the unwanted product at the nearest McMaster-Carr location. You will not be required to present a receipt or a Return Authorization Number to make the return.
Reviews from McMaster-Carr customers suggest that the company has no time limit on its return policy. You can exchange an item any time, without an invoice or a receipt! There is also no limit to how many or what kinds of products you can return.
How To Exchange an Item at McMaster-Carr
McMaster-Carr does not have an exchange policy, per se. If you want to exchange an item, you should return it and place a new order.
Refunds at McMaster-Carr
Once you return the unwanted item, McMaster-Carr will give you credit in exchange. Some users have stated that they received a refund in their original method of payment within two weeks of returning the products.
McMaster-Carr Store Locations for Your Returns
If you want to return an unwanted item to McMaster-Carr, you can send the items to one of the following locations:
City
Address
New Jersey
200 New Canton Way

Robbinsville, NJ 08691-2343

Atlanta
1901 Riverside Pkwy.

Douglasville, GA 30135-3150

Chicago
600 N County Line Rd.

Elmhurst, IL 60126-2034

Los Angeles
9630 Norwalk Blvd.

Santa Fe Springs, CA 90670-2932

Cleveland
200 Aurora Industrial Pkwy.

Aurora, OH 44202-8087
Returns Made Easier With DoNotPay
Returning a product can be time-consuming and requires quite a bit of effort. There are forms to fill out and phone calls to be made. In case of in-person returns, you will likely be required to stand in long lines and wait your turn. The stores often take a long time processing your request or outright refuse to accept it.
If you want to speed up the return process, use our handy solution! DoNotPay gives you a time-efficient and hassle-free way to return a product.
To use our services, log in to DoNotPay and:
Search for the Return My Purchase product
Tell us about the product and why you want to return it
Add pictures of the item, if possible
Click Submit
We will create a return request letter for you and send it to the company in question. The letter will contain details about what went wrong with your purchase and what you would like the company to do. We will also include a deadline so that the retailer responds to your request in a timely manner.
Having a request in writing is also a great way to dispute any potential future arguments.
If you are concerned about having to pay extra in terms of shipping costs—don't be! We will provide you with a free shipping label, so you don't have to pay an extra cent!

How To Request a Refund Using DoNotPay
If the company refuses to give you a refund, we can help you get what's rightfully yours! To demand a refund using DoNotPay, sign in to the app and:
Look for the Chargeback Instantly feature
Choose the Get Protected option
Answer a few questions and click on Sign and Submit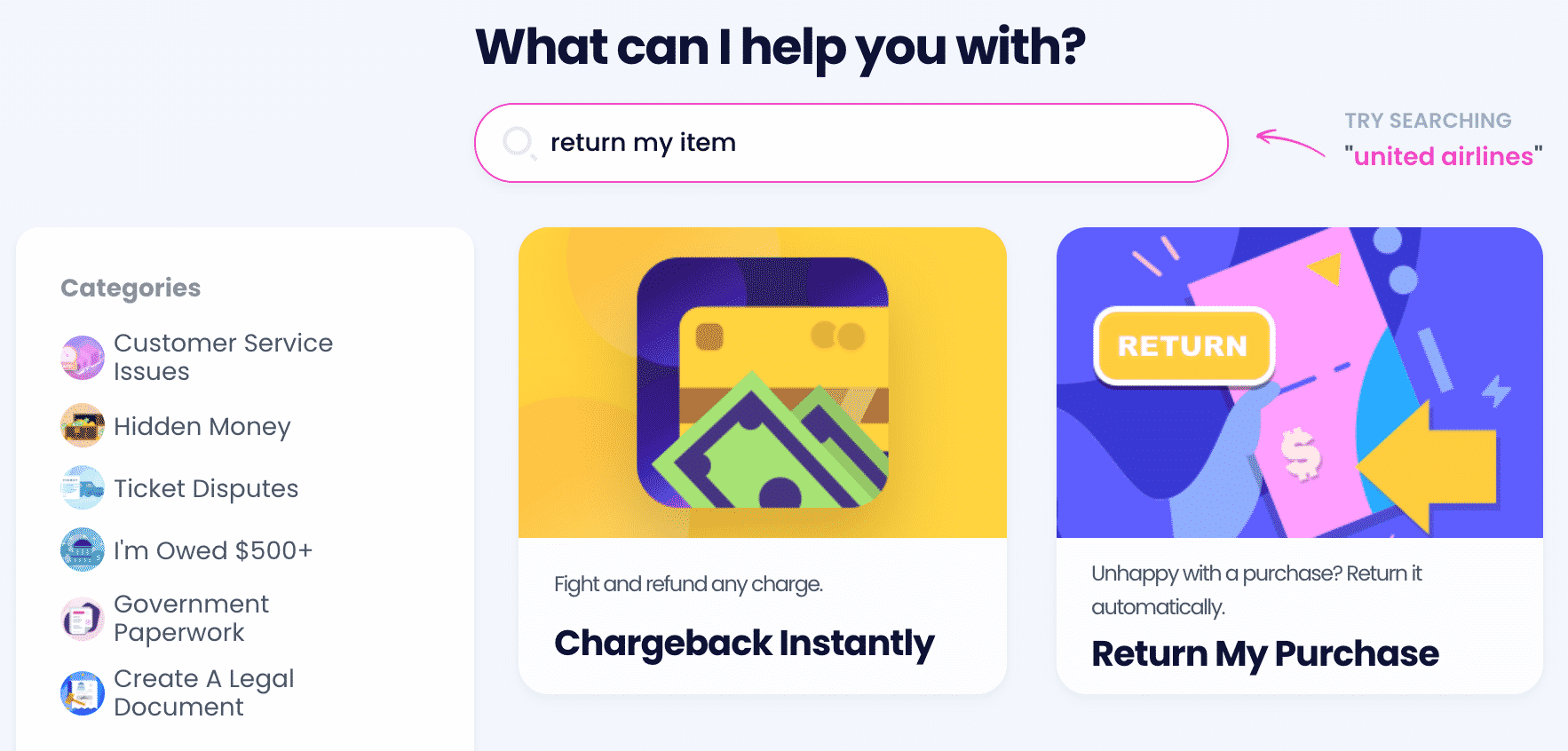 Who Else Can We Help You Return Products To?
Do you have to return items to other retailers? Have you already filed a refund request but received no response? DoNotPay can help you:
Learn all about different stores' return policies
Request returns and demand refunds from a range of retailers
Check out our comprehensive guides to the following companies' return policies:
Has McMaster-Carr Wronged You? We Can Help Set Things Right!
If you feel like McMaster-Carr—or another company—has sold you short, you can sue them in small claims court! We can help you do the following:
Create a demand letter
Fill out the necessary court forms
Gather and organize the required paperwork
File a complaint
Create a customized script listing the arguments needed to win your case
Wasted Your Money on a Non-Returnable Purchase? There Are Other Methods To Earn It!
Don't feel down if the item you got isn't returnable—DoNotPay has many more tricks up its sleeve that will help you earn some money!
From helping you enter sweepstakes, decrease your property taxes, and lower your utility bills to assisting you in earning off email or text spammers and robocalls, waiving your college application fees, submitting a college financial aid appeal letter, and getting a refund from any company or airline, we can do it all!
DoNotPay Is Always at Your Disposal
Our app's mission is to take everyday admin and legal tasks off your plate so you don't have to waste any of your precious time. If you want to appeal your parking tickets, draw up a legal document, get any agreement notarized, get a tourist visa, keep a sex offender at bay, mail anything without waiting in line, or get in touch with a loved one in prison, DoNotPay will resolve any of these with ease.
Too busy to track your memberships? You don't need to worry about canceling your free trial on time before it turns into a paid subscription if you use our virtual credit card.
With DoNotPay, you can tackle any otherwise annoying chore stress-free.