Get Smart—Learn About the PetSmart Return Policy
Many companies claim it's easy to return merchandise to them and request refunds, but that's far from the truth. Is the PetSmart return policy giving you a 'ruff' time? You don't have to take it. DoNotPay is here to help you understand its ins and outs.
If you're having trouble with PetSmart, we can assist you with:
Requesting a return
Asking for a refund
The PetSmart Return Policy in a Nutshell
You can return any mint condition item to PetSmart, except for prescribed medication products. This means that items have to be in their original packaging and appear new; otherwise, your return will be denied. Products you have purchased online and those purchased in the stores can be returned to your local PetSmart shop. Online-bought items can alternatively be returned by mail.
How Does the PetSmart Return Policy With a Receipt Work?
Here are some ground rules for returning PetSmart items with a receipt:
Receipts are only valid for 60 days after the purchase
Items bought with cash or a debit card are refunded in cash
Credit card purchases will be refunded to the original card
Merchandise return cards are issued for returns of items paid by checks, non-standard payment methods, such as PayPal, or currently inactive cards
Return cards cannot be exchanged for cash. They serve as store credit cards at PetSmart
Exchanges for items of lower value result in the refund of the remaining balance to the original form of payment
Vitamins, grooming tools, filters or pumps, electronic items, and non-prescription pet medication valued at $10 or more can only be returned with a valid receipt
How Does the PetSmart Return Policy Without a Receipt Work?
The following rules apply to returning PetSmart items without a receipt:
Valid government-issued ID has to be presented
Merchandise return cards are the only method of compensation for this type of return
How To Return Items to PetSmart on Your Own
There are a couple of ways to initiate a return request to PetSmart—in-store or by mail.
Returning PetSmart Products to the Store
Follow the instructions for returning items to PetSmart stores:
Open the PetSmart Store Locator page
Enter your location and click on the Search button
Visit the store and bring the items eligible for a return, including the proof of purchase
Talk to the store manager or clerk and ask them for assistance
Returning PetSmart Products by Mail
Do the following if you wish to return your items to PetSmart via mail:
Call PetSmart customer service at 1-888-839-9638 from 8 a.m. to 9 p.m. EST
Ask them for a return authorization number and shipping label
Pack the items for shipping. Remember to place the return number inside the box
Attach the packing slip and the return shipping label to the outside of the box
Drop the package off at the nearest FedEx location
Mail the package to:
petsmart.com Returns
2221 John Glenn Avenue
Columbus, OH 43217
Note that wrapping, handling, shipping, and other additional fees won't be refunded by PetSmart, and you have to pay for the shipping.
PetSmart doesn't accept exchanges via mail. You can only ask for an exchange in the stores.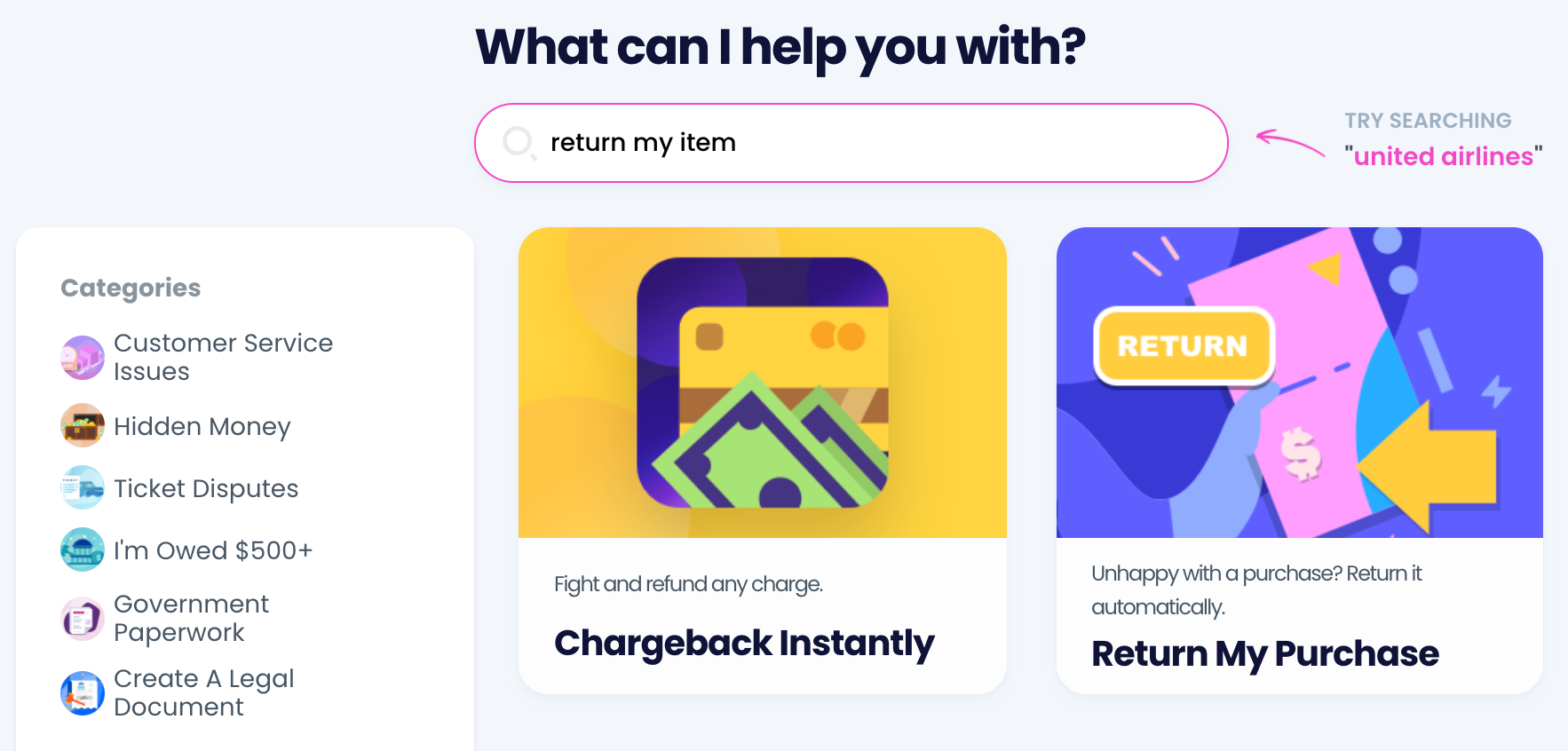 Request a Return Without Jumping Through Hoops! Let DoNotPay Help!
Returning items to companies can be a drag, whether it's PetSmart, Costco, Walmart, or any other retailer.
DoNotPay has a way to make the return process less painful. We can send return request letters in your stead! Here's how to go about it:
Click on the Item Return Request feature
Answer our questions regarding your return and include photos if necessary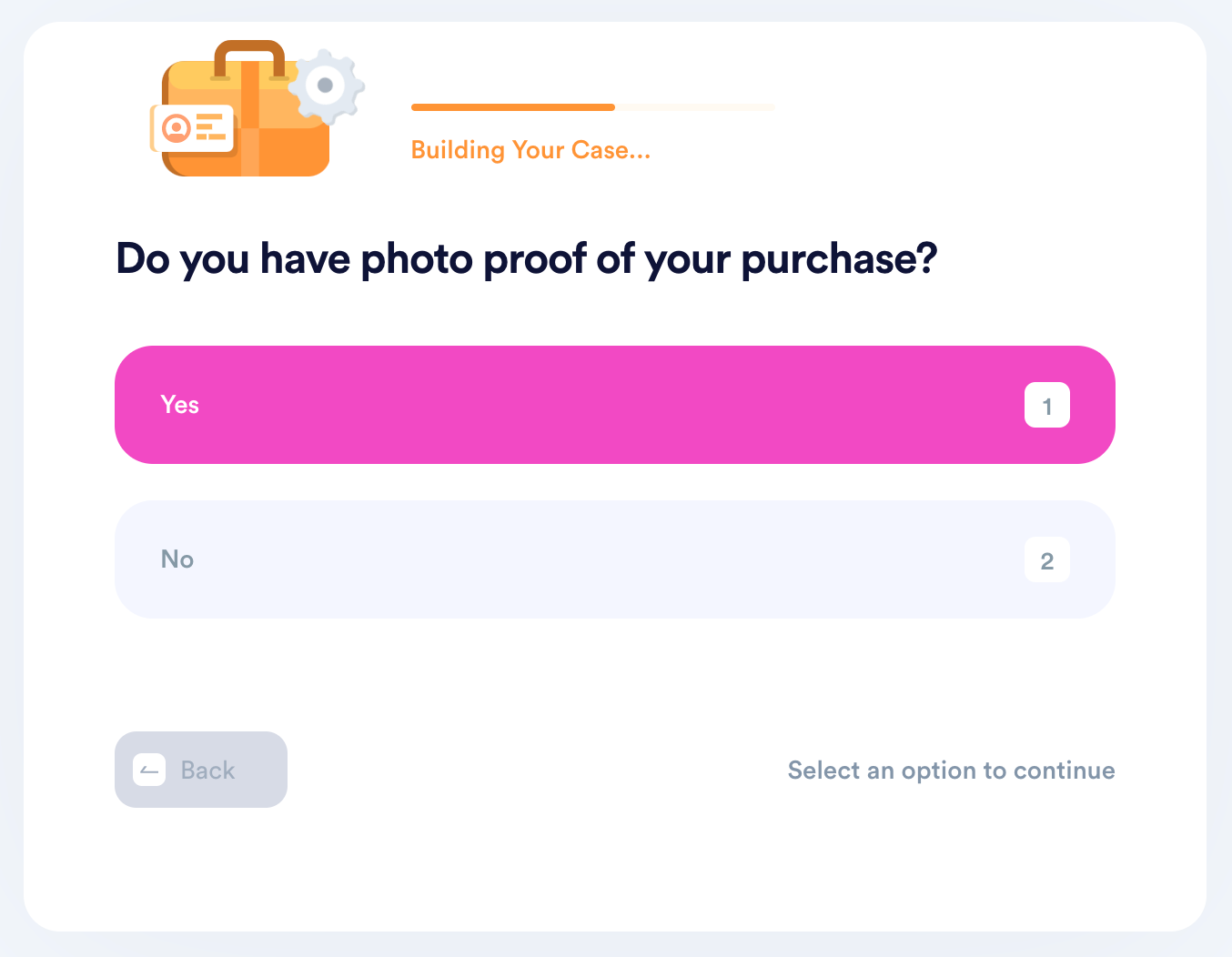 Our customized letter will inform PetSmart of your request and give them a deadline by which they need to act on it.
If you want to request returns from other companies, we can help you do this as well. Here's a table with return policy guides for some popular companies:
| | | |
| --- | --- | --- |
| Retail | Fashion and Beauty | House Renovating |
| | | |
How Long Do PetSmart Returns Take?
You will receive an email notification when your return is processed. PetSmart takes up to 30 days from receiving your return to issue a refund. It takes between three and seven days for credit processing, depending on your bank.
DoNotPay Can Help You Get a Refund
If asking the company directly for a refund is too much hassle, you can instead. Here's how to request a refund using our method:
Open our website
Click on the File a Chargeback option
Answer our questions regarding your purchase
Hit Sign and Submit
Want To Save Money and Avoid Bad Purchases? Look No Further!
Aside from helping you send a return request to any company, DoNotPay can also assist you in getting a refund in a flash! We can also help you request a refund for any late, missing, or damaged delivery.
Do you want to stop wasting your money on useless services? Our app can help you cancel them and provide you with a virtual credit card that terminates free trials before companies get to charge you!
If you want to discover some forgotten assets you may have, we can help you find them in just a couple of minutes. With DoNotPay, you can both save money and earn it!
Once you sign up, you can report text and email spammers, annoying robocalls, and real-life stalkers and harassers and earn off them. We can also help you sue any company or individual in small claims court if you feel like they did you dirty.
Getting Rid of Bureaucratic Procedures Has Never Been Easier
The process of composing a return request letter is tiring, which is why you should turn to DoNotPay for help. Our app will assist you if you want to avoid similar bureaucratic hassles, such as:
Sign up for DoNotPay to utilize all of our nifty products!