Williams-Sonoma—Check the Gift Card Balance and Receive Cash Back With DoNotPay
Gift cards are fantastic, especially when you get them for free, but the accompanying procedures can be a hassle.
If the Williams-Sonoma gift card balance check is giving you a headache, we're going to show you how to do it efficiently. After reading this article, you'll know how to use the remaining balance on your gift card or redeem the leftover cash with the help of DoNotPay!
How To Check the Williams-Sonoma Gift Card Balance
Here's a small preview of all the ways to perform a Williams-Sonoma gift card balance check:
| | |
| --- | --- |
| Can You Check Your Williams-Sonoma Gift Card Balance? | Yes/No |
| In person | Yes |
| Contact form | No |
| Phone | Yes |
| Website | Yes |
| Email | No |
Performing Williams-Sonoma Gift Card Balance Check on the Website
To check the balance on your gift card online, you should:
Visit the Williams-Sonoma's Balance Check page
Type in the 16-digit card number in the designated field
Enter your unique 8-digit PIN
Click on Check Balance
In less than a minute, you'll see the remaining amount on your gift card.
Check Your Gift Card Balance Over the Phone
Another option is to phone customer support. To do so, you should:
Call 877-812-6235
Explain why you're calling
Provide the required information to the representative
If you want to check the balance on your paper Williams-Sonoma gift certificate, you must reach out to customer support over the phone.
Visit a Local Store To Check Williams-Sonoma Gift Card Balance
You can also check the balance at any retail store from the Williams-Sonoma family of brands. The staff will need your:
Gift card number
PIN
Can I Get Cash Back for My Williams-Sonoma Gift Card?
You can only use your gift card for purchases. It can be redeemed online, by phone, or at the following store locations:
Williams-Sonoma
Pottery Barn (including PBkids and PBteen)
West Elm
The gift card is applicable for all purchases made in the States and Puerto Rico.
Williams-Sonoma doesn't allow customers to exchange their gift cards for cash. While there are different websites where you can sell your gift card for a portion of its value, DoNotPay helps you get your money back.
Make Your Bank Account Happy With DoNotPay's Cash Back Feature
How many times have you used a gift card but never actually spent the whole amount? Even though you can't exchange most gift cards for cash, giving up on the remaining funds is not necessary when you have DoNotPay at your side!
After completing the Williams-Sonoma gift card balance check, you can retrieve the remaining few dollars if you:
Select the Gift Card Cash Back feature
Type Williams-Sonoma in the Company Name field
Enter the card number and remaining card balance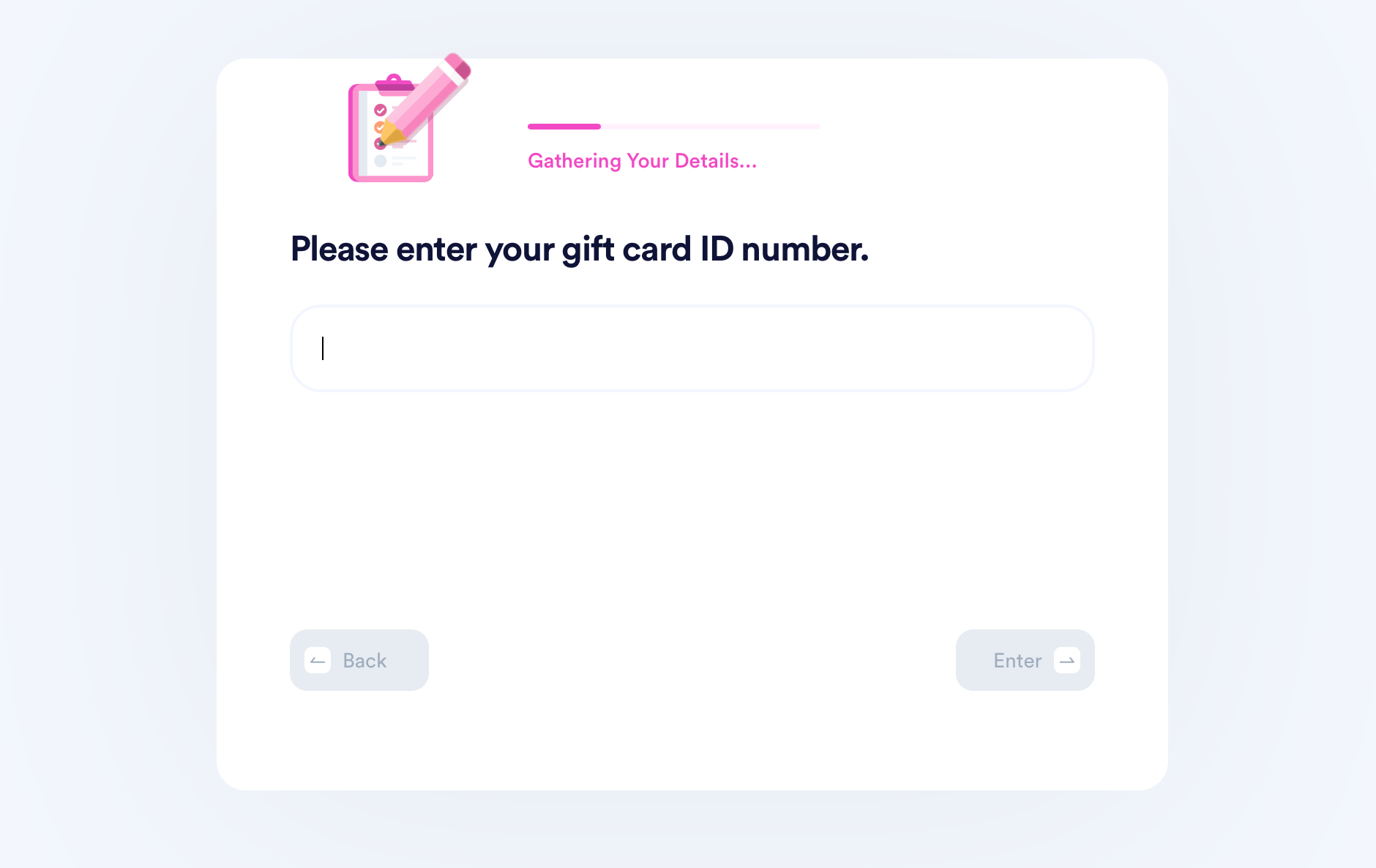 Even if you're not eligible for cash back by your state laws, DoNotPay will continue digging to check if Williams-Sonoma has any offices in Puerto Rico or one of the states with cash back policies.
Here are the states with a mandatory cash back policy in place:
California
Colorado
Connecticut
Maine
Massachusetts
Missouri
New Jersey
Oregon
Rhode Island
Vermont
Washington
We will direct your cash back request to one of these offices, and you should get your money back in 14 business days.
Clear Out the Leftover Money on Gift Cards Like a Pro
DoNotPay can help you cash out your remaining funds on various gift cards. Check out the table below and get your money from:
Types of Williams-Sonoma Gift Cards
There are five types of Williams-Sonoma gift cards:
Ready-made gift cards
Personalized gift cards
Corporate gift cards
Virtual event cards
Group cards
Ready-Made Gift Cards
These Williams-Sonoma gift cards come with a pre-set price tag of $25, $50, $75, or $100, and they are usually delivered by email.
Personalized Gift Cards
Williams-Sonoma also allows its users to opt for personalized gift cards to bring in a unique experience.
Corporate Gift Cards
When it comes to encouraging employees, nothing beats the beauty of a corporate gift card. The company also provides additional discounts on orders above $5,000.
Virtual Event Cards
This particular gift card is only redeemable for special events. With these cards, class availability tends to be limited, with reservations required for redeemers.
Group Cards
You may also have received a group Williams-Sonoma gift card for not only you but your friends and family too.
Whichever gift card you may have on your hands, there's a fair chance you want to sell it if you don't plan on using it. Check out how and where to return your gift card for cash!
Save Some Coins With DoNotPay
Are various subscriptions and memberships burning a hole in your pocket? DoNotPay can help you cancel all of your memberships in a matter of minutes without having to contact customer service reps.
Next time you want to register for a free trial, prevent unexpected costs with our virtual credit card. Once the trial is over, you'll be unsubscribed right away because our virtual credit card doesn't contain any money. We will also generate a random email address you can use if you want to protect your privacy and avoid spam marketing emails.
Do you need help claiming warranties and insurance policies? DoNotPay can help with that too.
Should you need assistance returning an item or requesting refunds for purchased products, canceled flights, or late deliveries, we've got your back!
Avoid wasting money on lawyers—DoNotPay is here to help you sue anyone in small claims court and create numerous legal documents in the blink of an eye!
DoNotPay Can Help You Earn Money Too
DoNotPay users can save hundreds of dollars thanks to our app, but did you know that we can help you earn a few bucks as well? Our app enables you to claim missing money under your name or file your application for paid clinical trials in less than five minutes.
You can even get compensation for reporting robocalls or apply for a crime victims compensation program in your state by signing up for our app and following a few simple steps.