Where To Get Passport Photos in Sacramento—Tips and Tricks
Are you renewing your passport in Sacramento? Knowing a reliable location to have your passport photo taken is already half of the work done.
In this article, DoNotPay will give you the info on where to get passport photos in Sacramento. We will also explain how you can take a perfectly appropriate passport photo at home with minimal effort!
What Should You Know About Passport Photos?
A passport photo differs from other types of photographs. The U.S.Department of State imposes specific rules you have to follow, or your photo may get rejected. That can cause a delay in your application process, which is inconvenient if you're in a hurry to travel.
The strict government passport photo requirements state that:
Photo must be recent (not older than six months)
The size of the photo needs to be 2 x 2 inches (51 x 51 mm)
Head size should be 1–1 ⅜ (25–35 mm) from the bottom of the chin to the top of the head
The photo must display a full-face view (no side angles)
You should wear your regular clothes and remove any accessories that can influence your face recognition, such as:

Jewelry
Piercings
Hats and head attire

The background should be plain and white
You should keep a straight face or have a natural smile
Photo must be in high resolution, without any holes, stains, or creases, and printed on quality paper
Where To Get Passport Photos in Sacramento
Various locations in Sacramento offer passport photo services for more or less affordable prices. Take a look at the table below for more details:
| | |
| --- | --- |
| The Most Popular Places to Get Passport Photos in Sacramento | Details |
| Retail stores | You may be able to get passport photo service at your local Target or Walmart. While retail stores are some of the most affordable locations to have your passport photo taken, not all of them provide that service |
| Pharmacies | Some CVS and Walgreens locations offer passport photo services. While they will process the photo fairly quickly, their prices are a bit high |
| USPS offices | USPS is convenient because you can apply for your passport issuance and have your passport photo taken at the same location. Be prepared to pay a hefty sum for the privilege of completing the whole application process in one place |
| Shipping centers | FedEx offers to take your photo directly at their offices, and UPS requires making an appointment. Both facilities will charge you above $10 for taking your passport photo |
| AAA | If you're a member, you'll pay significantly less for having your passport photo taken at the AAA |
Is There a Cheaper Way To Get Passport Photos in Sacramento?
You can save time and money by taking a digital passport photo at home. Since you'll have to make sure all passport photo standards are fulfilled, the following suggestions may help the process go smoothly:
Ask someone to take your headshot—selfies are forbidden
Use a device with a high-quality camera—it can be a phone, iPad, or digital camera
Stand in front of a white wall or place a white poster behind your back
Stand next to a window if it's a sunny day to avoid shadows
Follow other requirements regarding your attire, accessories, posture, and facial expression
Check the photograph to see if you're satisfied
Adjust the positioning and crop the photo before saving it
While having your passport photo taken at home is a more pocket-friendly option, you might get frustrated with trying to meet the strict regulations by yourself. Passport issuance offices are unforgiving and won't hesitate to reject your passport application due to the slightest mistake.
You can avoid the hassle by . Our app combines quality and practicality to deliver a top-notch passport photograph!
DoNotPay Provides High-Quality Passport Photos With Minimum Effort
DoNotPay knows all about the government requirements and assists by:
Processing the photo in record time
Adjusting the photo in your stead so it meets the standards
Informing you if you need to take a better photo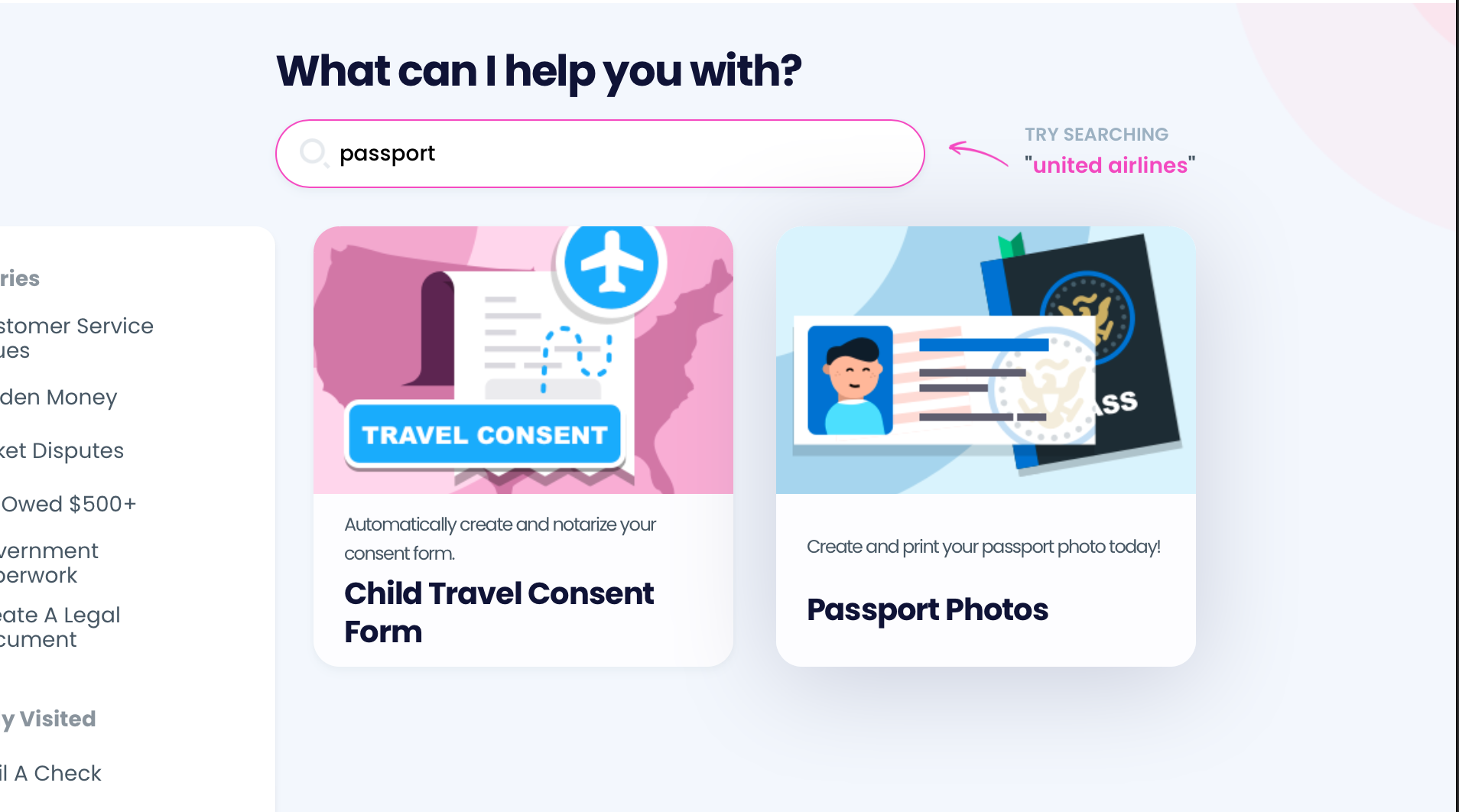 Here's what you need to do first:
Find our Passport Photos feature
Take a photo or upload an existing one
Select whether you'd like to get:

Printed copies via mail
Digital photos via email
DoNotPay processes the provided photos and sends you two printed copies in ten days max or a digital version in minutes.
Find your place of residence in the table below to see where you can have your passport photo taken:
DoNotPay Knows All About Passport Photos
No matter which passport photo-related information you need—DoNotPay will provide it! Check out our learning center and get answers to the following questions:
Outsmart Big Corporations by Using DoNotPay
Our platform is always on the side of regular people, and the number one item on our agenda is fighting for your rights.
If you need help requesting refunds for faulty products, late parcels, or canceled flights, you can turn to DoNotPay for help. Protect your privacy and stay one step ahead with our spam email collector, burner phone numbers, and virtual credit cards.
We will provide you with everything else you need in your fight—online fax, mailing service, and products for drafting legal documents and having them notarized online.
Improve Your Leisure Time Too!
You can win some serious battles with the help of DoNotPay—after all, our app can even get you ready for small claims court—but we offer numerous useful features that will improve the quality of your entertainment.
Signing up for free trials doesn't come with the risk of losing money anymore, and if you get bored with that new streaming service, you can easily cancel it using our app.
If entering raffles is your idea of fun, you'll be glad to know we can help you participate in all kinds of these games of chance. You can also review your knowledge using our government tests prep quizzes or retrieve any unclaimed money under your name and spend it on something fun!