Learn How To Print a 2×2 Passport Photo in Minutes
Getting the perfect passport photo doesn't have to be a burden! Although there is a set of requirements that have to be met, we can simplify the process and show you how to print a 2 x 2 passport photo with ease.
, and let our app assist you in creating a valid passport photo effortlessly!
What Are the Passport Photo Requirements?
Before you decide on the printing method, you have to get acquainted with the necessary requirements. Your passport photo must be:
No older than six months
Between 1″ to 1 3/8″ (2.5 cm to 3.5 cm)
Measured 2 × 2″ (or 5 cm x 5 cm)
You also have to:
Face the camera directly
Not cover your face or ears with hair, accessories, or glasses
Wear the appropriate clothes
Making sure that your passport photo clearly identifies you is the main goal.
What To Wear for Your Passport Photo
Wearing an appropriate outfit for your passport photo is important. You don't have to think too much about it, but make sure to avoid the following forbidden clothing items and accessories:
Glasses—Since glasses cover your face and your passport photo has to identify you clearly, it would be best to take them off while taking the picture. In case you must wear prescription glasses at all times due to a medical condition, you can avoid taking them off, but you must provide a signed doctor's statement first
Uniforms—Military, flight crew, and other professional uniforms are not allowed in passport photos, so make sure to avoid wearing them
Hats—Headgear is only allowed if you wear it because of your religious belief, but you have to make certain it doesn't cover your face
You should also avoid wearing white clothing since the background is also in the color white. It's not a strict requirement, but it's possible for your outfit to blend with the background and result in an invalid photo.
Can I Print My Own Passport Pictures, and How Much Money Will I Need?
You can print your own passport photos at home using your own printer, but most people will go for one of these options:
There is a third option that will allow you to take and print professional passport photos super easily—DoNotPay!
How To Print a 2 x 2 Photo for a Passport—Requirements
Taking and printing your passport photos either by yourself or in a store is tricky since you have to make sure your photo meets all the necessary requirements. The table below contains the specifics:
How To Print a Passport Photo By
What To Do
Going to Walmart
To print your passport photos at your nearby Walmart, follow these steps:

Prepare and print a 4 x 6 size photo template
Visit your local Walmart store
Print your 4 x 6 template as a postcard print
Cut out the photos and use them

You can avoid printing the template and have your passport photo taken at Walmart, but keep in mind that option is more expensive

Visiting online registries
If you want to print your photos online, search the internet and find websites that offer the service.

Note that those websites aren't always the most reliable, so the best course of action would be to opt for DoNotPay

Signing up for DoNotPay
DoNotPay offers you the easiest and most affordable way of printing your photo. You can take your passport photo from the comfort of your house
How To Print a 2 x 2 Passport Photo With DoNotPay in a Snap
If you want to avoid visiting Walmart and you're looking for a quick and affordable way to print your photo, DoNotPay is the perfect solution! Our app will take some burden off your back by performing all the necessary adjustments to make certain your photo fits the requirements. Once you complete the following instructions, DoNotPay will adjust the background and get your passport photo ready quickly:
Choose the Passport Photos feature
Take a photo or upload one you already have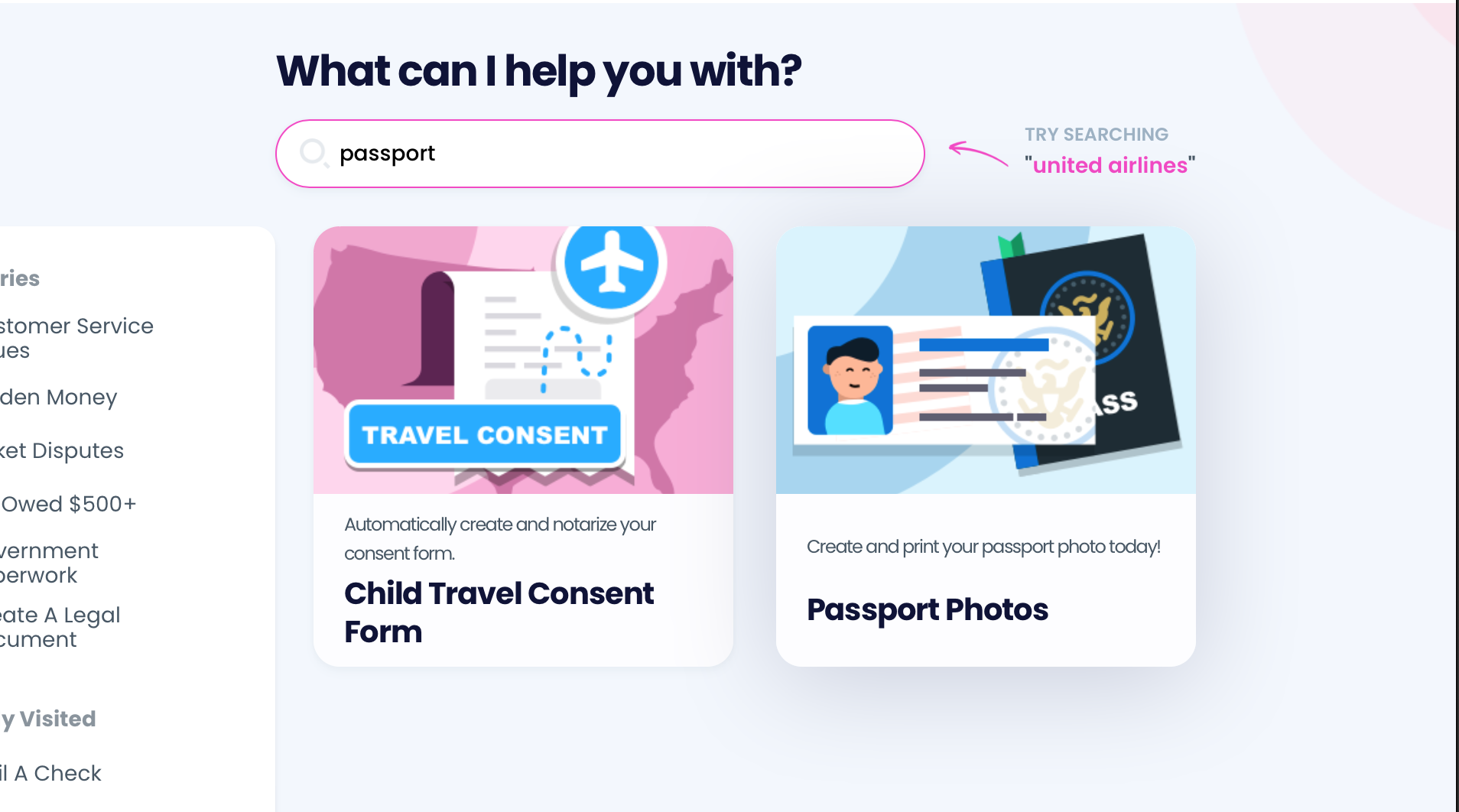 DoNotPay Can Explain More Than How To Print 2 x 2 Passport Photos!
Helping you print your passport photos is only one of the tasks DoNotPay can assist you with! If you have additional questions, we are happy to provide you with answers! The list below shows you some of the common questions we can answer for you:
Find your place of residence in the table below to see where you can have your passport photo taken:
Communication Troubles? Say No More!
Yes, communication is the key, and DoNotPay vows to provide you with the best, most convenient methods to relay or protect your message—whether it's correspondence with your business partner or a loved one who's serving time.
Check out what you get by using our platform:
Use DoNotPay for a Better Shopping Experience
If you have a tendency to shop till you drop, some issues with purchases are bound to happen. Customer rights and satisfaction is what DoNotPay is passionate about.
With your subscription, you will be able to: