Find Out Where To Take Passport Photos in San Jose Without Breaking a Sweat!
Are you wondering which places offer professional passport photo services in San Jose? Look no further because we've got you covered! Read this guide to find out where to take passport photos in San Jose without any trouble.
If you're looking for a more convenient option, and let us ensure that your passport photo meets all the criteria.
The Essential Requirements for a Passport Photo
Passport photo requirements are the same throughout the U.S. Check out the general standards in the table below:
| | |
| --- | --- |
| Requirement | Description |
| Size | Your photo should measure 2 x 2 inches or approximately 5 cm x 5 cm. Your head in the picture should measure between 1 to 1 ⅜ inches (25 mm to 35 mm) |
| Paper | The photo should be printed on high-quality matte or glossy photo paper |
| Resolution (for digital photos) | You need to submit a high-resolution passport picture, ranging between 600 x 600 and 1200 x 1200 pixels |
| Background | The background of the photo can be either white or off-white. Cream or beige shades are not allowed |
| Pose | You should stand or sit with a straight back and face the camera directly. Both your eyes should be open |
| Facial expressions | Avoid frowning, grimacing, or smiling widely. Keep a natural expression with a slight smile |
Acceptable and Unacceptable Attire for Your Passport Photo
You can choose anything to wear for your passport photo, but there are certain items and accessories that you should avoid:
Uniform—Uniform or camouflage attire is prohibited, so avoid wearing it when getting your passport photo taken
Glasses—If you're wearing sunglasses or tinted glasses, you need to take them off. You can only wear anti-glare prescription glasses if you have a doctor's statement proving you can't take them off due to medical reasons
Headgear—Avoid wearing hats, scarves, or head coverings when taking a passport picture unless you wear them due to medical reasons or religious beliefs
Hair accessories—Hair scrunchies or chunky hair accessories are prohibited
Where To Take Your Passport Photos in San Jose
Once you've understood the requirements, the next step is to find a passport photo service in your vicinity. You can use sites like Yelp or ask a friend or family member to recommend a place.
There are many places in San Jose where you can have your passport photo taken. Some of the common ones to visit are:
Type of Place
Details
Retail stores
Some retail stores that offer passport photography and printing services include:
Pharmacies
You can visit pharmacies, such as CVS, Rite Aid, and Walgreens, to get your passport picture taken
Shipping companies
The most common shipping companies that offer to take your passport photo are:

UPS
USPS
FedEx
Postal Annex
AIM Mail Center

Photography studios
Photography studios have expert photographers available to take your passport picture, but they can also be quite expensive. Some well-known photography studios in San Jose are:

Foto Express
J Photo Center
K & H Photography
My Photo Studio

Passport and other government offices
Offices for passport application submission also provide passport photo service. You can visit:

Passport Office San Jose
Santa Clara Clerk-Recorder's Office
Travel Visa Pro San Jose
Peninsula Visa & Passport Service
How Much Does a Passport Photo in San Jose Cost?
You should bear in mind that professional passport photo services aren't cheap. You can contact the company to have all the required info beforehand to make an informed decision.
If you are on a budget, avoid going to photography studios because they can charge fees as high as $35.
For an affordable photo service, choose a photo booth or other places mentioned in the table below:
DoNotPay Helps You Get the Best Passport Picture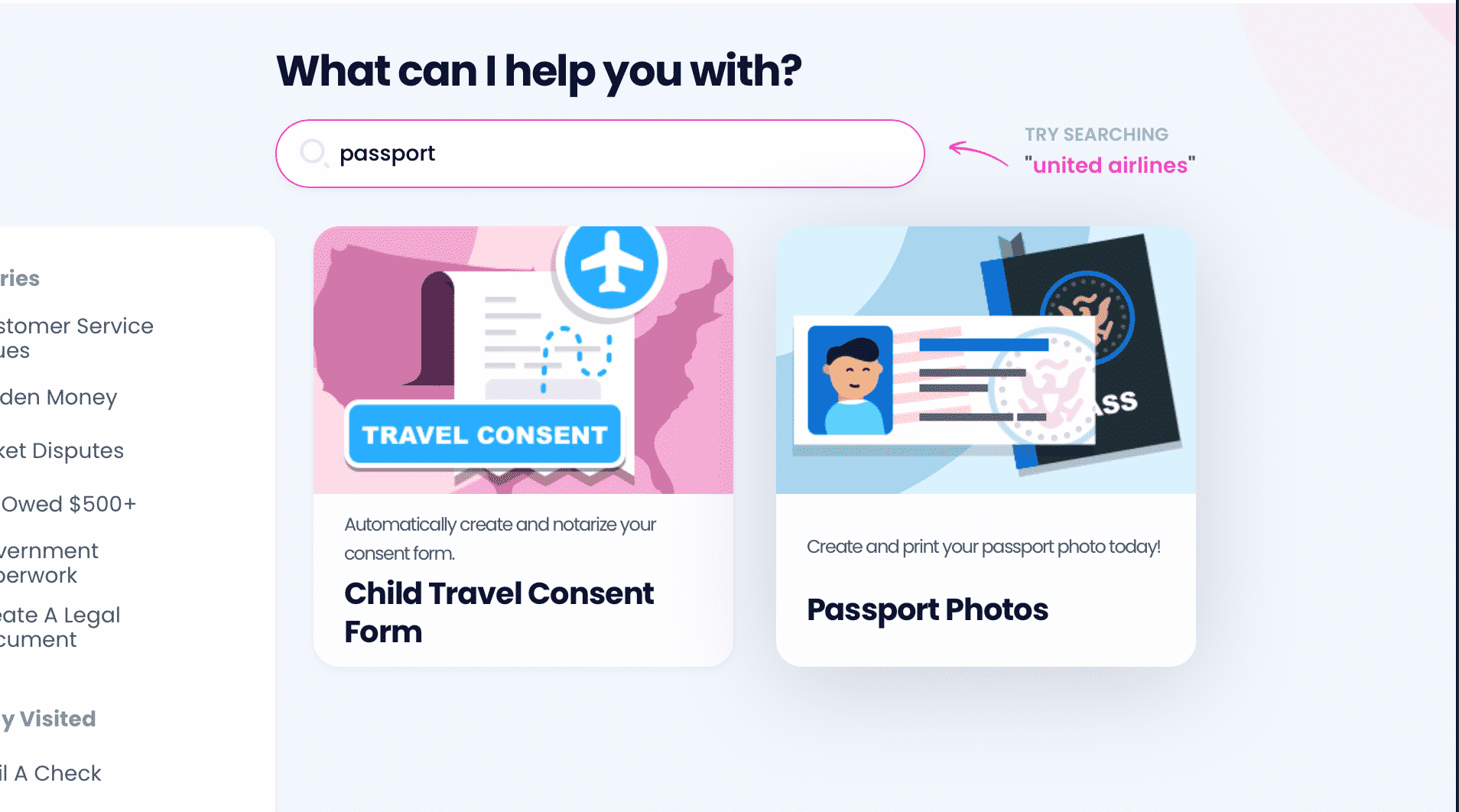 Getting your passport photos taken professionally can be a waste of your time and money. Use DoNotPay's Passport Photos tool to get your passport photo online without leaving the comfort of your home!
Here's what you need to do once you from your web browser:
Select the Passport Photos option
Upload a photo from your phone's gallery
Enter your email address
Input your home address and shipping choice if you also want to receive physical copies
Our AI-powered app will check the photo for any irregularities and edit it to meet the expected standards. If there are any issues with the picture, we will promptly notify you so that you can upload another one.
Once the process is complete, we'll email the picture to you. If you want physical copies too, you can choose from the following shipping methods:
Rush shipping—takes three business days
Expedited shipping—takes four business days
Economy shipping—takes five to ten business days
Have More Questions About Passport Photos? DoNotPay Can Answer Quickly!
Want to check out other city-specific guides? DoNotPay can provide tips for finding a great location to get your passport photos taken in:
DoNotPay Makes All Issues Go Away in Several Clicks
Using DoNotPay comes with plenty of advantages, the main one being that you can resolve just about anything in a matter of clicks. It doesn't get any easier than that!
Do you need to fax a document, draw up an agreement, submit a FOIA request, get a contract notarized, file a warranty or insurance claim, get a burner number, schedule a DMV appointment, or appeal a parking ticket as soon as possible? Sign up now and clear out your schedule because we'll handle it all!
Are you looking for your missing money? Do you need help with your utility bills or property taxes? We're here to help!
Get Rid of Paperwork With Your AI-Driven Assistant
Even though paperwork belongs in the past, we have to keep dealing with it almost daily. To avoid this annoyance, you can just use DoNotPay!
If you need to compose a demand letter to a rude neighbor, submit a claim for a late or missing package, request compensation from an airline, or sue any company in small claims court, we have your back!
All you need to do is sign up, tell us what you need, and resolve any issue in a matter of minutes!