Find Out Where To Get Your Passport Photo Taken in Columbus, Ohio, Easily!
If you're planning on leaving Ohio for a trip and you need to get your passport photo taken, we can help you get it done! Are you wondering where to get your passport taken in Columbus, Ohio? Not sure how much money to set aside for the shoot? DoNotPay is here to answer those questions! Sign up for DoNotPay, and let us help you snap a perfect passport photo!
What Are the Passport Photo Requirements in Columbus, Ohio?
Getting familiar with the requirements that your passport photo has to meet is a vital step before taking your photo. Check out the list below:
The photo can't be older than six months (if you are using an old photo)
You have to take the photo in front of a white background
Your head in the photo has to be between 1″ and 1 3/8″ (2.5 and 3.5 cm), and the photo has to measure 2 x 2″ (or 51 mm x 51 mm)
You should face the camera directly
You can smile, but keep it natural
What Should You Wear for Your Passport Photo?
The outfit you wear for your passport photo can be anything you feel comfortable in except for uniforms. Make sure to choose clothes in neutral colors. Consult the table below to see what accessories you should avoid when taking your photo:
Accessories
Explanation
Glasses
You should avoid wearing glasses for your passport photo, including:

Sunglasses
Prescription glasses
Tinted glasses

If you have to wear your prescription glasses all the time due to medical reasons, you must provide a signed doctor's statement that confirms that

Hats and other headpieces
Your face on a passport photo should be identifiable easily—wearing a headpiece makes that more difficult.

If you're wearing a headdress for any reason other than your religious beliefs, it's best to take it off before the camera snaps

Hair accessories
Large hair accessories can also cover your face and result in a passport photo that's not valid. You should make sure your hair isn't covering your face by tying it back with a thin hair tie
Where To Get Your Passport Photo Taken in Columbus, Ohio
You can get your passport photo taken at multiple locations in Columbus, Ohio, including:
Retail outlets—You can check Walmart, Walgreens, or other retail outlets that offer to take your passport photo
Shipping companies—USPS, UPS, and FedEx offer to take your passport photos as well
AAA stores—You can find digital passport photo service at most AAA stores throughout the U.S.
Other stores—If you want to take your photo elsewhere, you can search the internet and see what other stores provide the service
How Much Money Do You Need To Set Aside for Your Passport Photo?
The amount you'll have to pay for your passport photo depends on where you decide to have it taken. Check out the list below for more details:
If you choose another store that you find on your own, you will have to contact them and ask how much they charge for taking passport photos.
Take Your Passport Photo With DoNotPay in a Snap
You don't have to bother going to your local retail outlet or AAA store to get the perfect passport photo! If you want to avoid the hassle, you can take the photo at home by yourself, and DoNotPay will make all the necessary adjustments!
You won't have to worry if your photo meets the required criteria or not—our app will ensure it does! All you need to do is:
Choose the Passport Photos feature
Take a photo or upload one you already have
Say if you want us to mail you two physical copies (you'll get digital ones by default)
Once you complete these steps, our app will work its magic, and you'll have your photo ready in no time!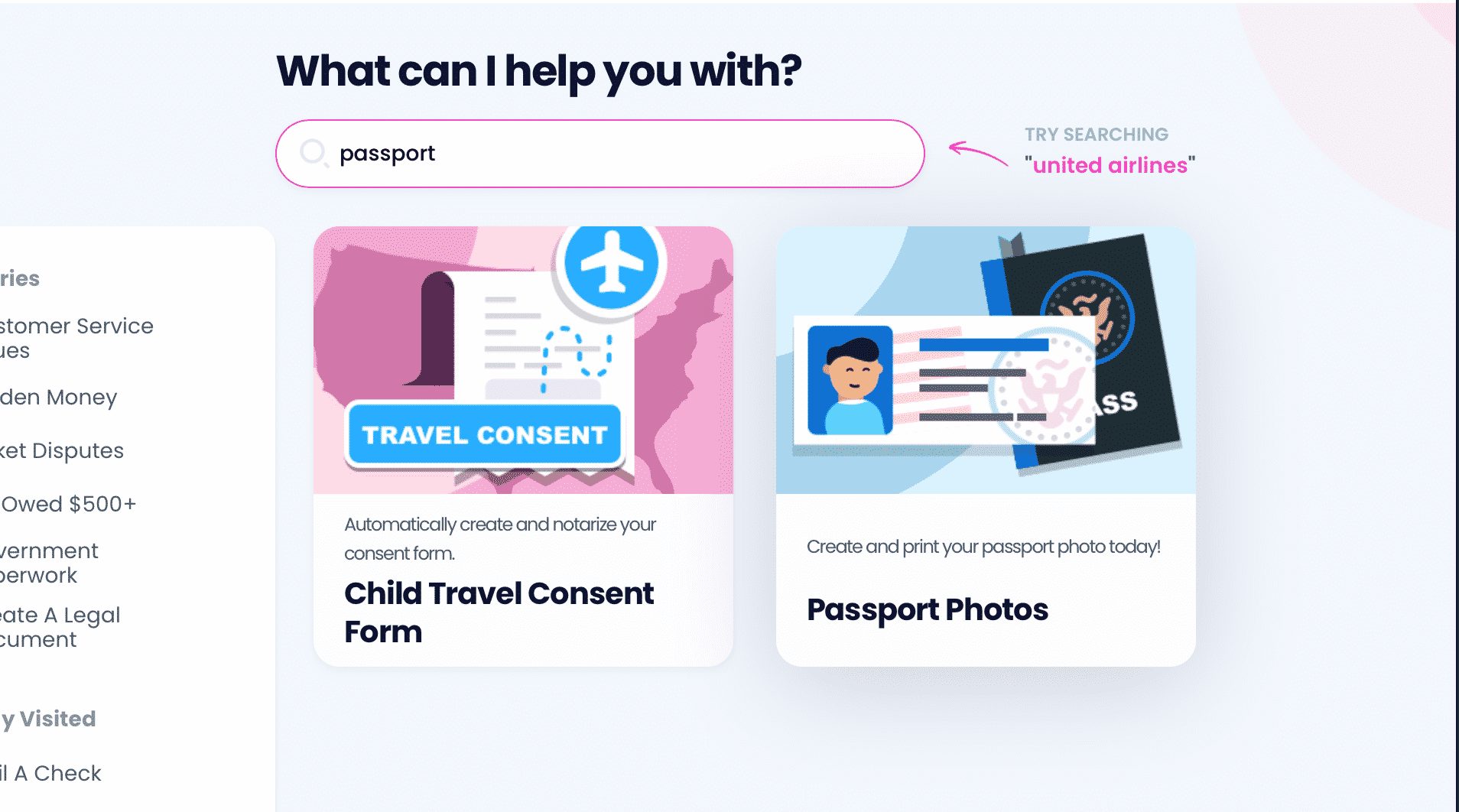 DoNotPay Swoops In With Additional Assistance!
Do you have other passport photo-related concerns? Don't worry! DoNotPay is here to provide answers to various questions, including:
Find your place of residence in the table below to see where you can have your passport photo taken:
Paying for Lawyers? We Don't Think So!
For an average Joe, any mention of legal terminology and complicated administrative processes is likely to cause a headache, and understandably so! Still, you don't have to jump the gun and hire expensive lawyers for the smallest matters.
It's the 21st century, and everything is automated. Why would it be different with bureaucracy? DoNotPay can help you draft efficient neighbor complaint letters, prepare you for a small claims court appearance, or create standardized legal documents and have them notarized online.
Our app is a great resource for fighting workplace discrimination, stopping stalking and harassment, protecting copyrights, securing compensation for victims of crime, and even reducing property taxes—all at a fraction of the price of traditional legal help.
Need To Do Some Penny-Pinching?
Whether you're saving for rainy days or a new gadget, DoNotPay can provide numerous options to save and earn more cash.
Do you need help with utility bills? Are you wondering how to get those few dollars left on your gift cards? Are you unsure about how to find your unclaimed money? If the answer is yes, our app can help.
With our assistance, you'll be able to enter raffles, start free trials with no risks, participate in lucrative clinical trials, or claim refunds for late deliveries!