Is a Passport Photo Background Shadow a Huge Problem—Mystery Solved
Your new passport photo will be accepted by the agency only if it complies with the general requirements provided by the U.S. Department of State and its Bureau of Consular Affairs. One of the deciding factors is the technical standards that each passport picture must meet.
Is a passport photo background shadow acceptable? How should you set the background when having a picture taken? What shouldn't be in the photo? Find all the necessary answers in our article and discover the secret to a perfect passport photo created at home with DoNotPay.
Are Shadows Allowed in Your Passport Picture?
No, they aren't. The reason is simple—shadows may obscure parts of your face and make it undetectable to the biometric software. They can appear due to:
Bad lighting
Glasses or tinted glasses
Huge accessories that may hide some parts of your face or cast a shadow on them, such as scarves, hats, or head coverings
Having shadows is one of the reasons a picture gets rejected, and your passport application can be placed on hold because of this.
Are There Any Exceptions?
The only exception is the shadows made by ears, as they are too small to cover significant portions of your face. Passport offices are allowed to accept pictures containing these as long as the facial features are clearly visible.
How To Avoid Shadows in a Passport Picture
Here are a few ways to avoid shadows in your photo background or face:
Set the appropriate lighting—Try placing the source of light on both sides. This way, shadows won't appear on any part of the face or background
Take a few trial photos—This is the best way to see where the shadows come from and neutralize the lighting
Turn to professional photographers—Professionals usually have special equipment, such as lighting rings and panels, that helps them eliminate the shadows and take a perfect photo
What Else Isn't Acceptable When Having a Passport Photo Taken?
Besides shadows, some other features can also make your passport photo unacceptable. Here's a table covering all of them:
Unacceptable Technical Features
Other Prohibited Features and Items

Photos older than six months
Size of the image smaller or bigger than 2 x 2 inches (5 cm x 5 cm)
Head size below 1 inch or above 1 ⅜ inch from the top to the bottom of the face
Background in any other color except for plain white or off-white
Resolution lower than 600 x 600 pixels
Selfies—let a friend or relative take a photo in your stead
Filters and other alterations
Once your photo meets all the requirements, it should be printed on a fine 4 x 6 inches piece of paper.
What Happens if Your Passport Photo Is Rejected?
If you fail to meet the prescribed standards, the agency will send you a letter rejecting your picture and providing instructions for resubmission. In this case, you must:
Read through the letter carefully
Follow the guidelines for getting an appropriate photo for your document
Include the necessary supporting documentation if required by the institution
Mail everything to the agency or submit it in person, depending on the requirements that were sent to you
Are you having trouble getting a proper photo? Maybe it's time to give up on doing it yourself and sign up for DoNotPay to get the necessary help!
Avoid Shadows and Other Irregularities—Let DoNotPay Create Your Passport Image
Taking a passport photo yourself isn't easy. It can turn into an absolute nightmare if you don't set proper lighting and edit the picture like they do in a professional studio. Luckily, DoNotPay is here to help you turn creating a suitable image for your document into a five-minute task!
Our AI-based tool runs checks on a photo you have already taken and detects all flaws that could cause rejection by the agency. Once it's done, we fix all of them, be it just cropping, a bad background, wrong contrast, or lighting settings!
Your perfect passport photo is only a few clicks away, and you don't even have to:
Resize and edit the image yourself online
Waste time searching for the places that offer photo services
Spend extra fuel to travel to a suitable store
Spend unreasonable amounts on a simple picture in a photo studio
We will also let you try again and upload another picture if the first one makes it difficult to detect your facial features!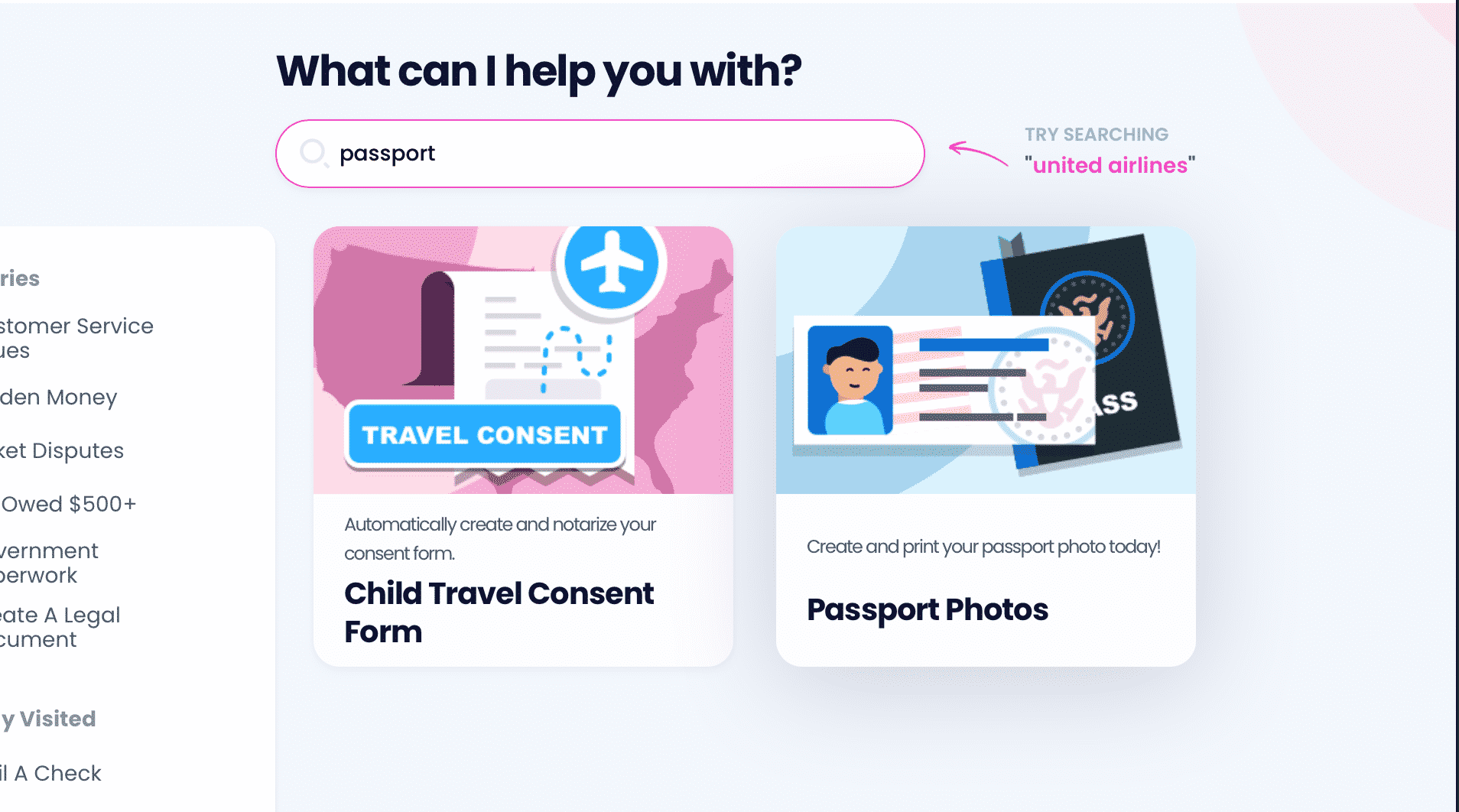 How To Use DoNotPay To Get Your Passport Photo
Here's how we can help you polish your passport picture:
Create an account with DoNotPay and sign in
Navigate to the Passport Photos option
Provide us with the photo that needs editing
Leave your email address in the required field
If you Input your shipping details, we can also send you physical copies of the photo
A digital version of your picture will be automatically sent to the email address provided as soon as you submit the required details. Should you decide to order physical photos, you can choose one of three available shipping methods and receive them in three to ten working days.
Find your place of residence in the table below to see where you can have your passport photo taken:
Discover DoNotPay's Product Range
DoNotPay has a vast range of products that help you earn and save money and fight bureaucracy. Check out how to get insurance or warranty, file a FOIA request, send anything through online fax, draw up a tailor-made legal document, get documents notarized, get a college fee waiver, sign up for any clinical trial, and so much more!
Your personal AI-powered assistant can also lend its helping hand if you need to fight email or text spam, get robocall compensation, request refunds from airlines, draw up a child travel consent form, prepare for government tests, and combat workplace discrimination successfully.
Save and Earn Money
The best part of using DoNotPay is that you can both save and earn money. As soon as you sign up, make sure you check out how you can find missing money, get free raffle tickets, get compensation for victims of crime, report a late or missing delivery and get a refund for it, and request gift card cash back.
If you want to sign up for a free trial risk-free, cancel any subscription-based service, request a refund from a company, sue anyone in small claims court, or jump the phone queue when getting in touch with customer service reps, you can always count on us.