Where To Get Passport Photos in Atlanta—A Definitive Guide
Finding a place in Atlanta with a passport photo service is not difficult with some inside information. It's crucial to know all reliable locations to ensure the photos meet strict government standards.
In this article, DoNotPay will show you where to get passport photos in Atlanta. Do you want to know an even more practical option? This article will help you find out how to take a suitable passport photo at home, and you'll be able to submit it online in minutes!
The Rundown of Basic Passport Photo Requirements
You can't be too sure that the passport photo location you visited has done a decent job. It doesn't hurt to get familiar with government requirements so you can send the photos back if needed.
Rules set by the U.S. Department of State dictate that the photo must:
Measure 2 x 2 inches (51 x 51 mm), with the head size of 1–1 ⅜ inches (25–35 mm)
Be recent (not older than six months)
Display a full-face view
Be in high resolution, clear, and without shadows
Show you:

Wearing regular clothes and without any accessories covering your face
Standing in front of a white or off-white background
Facing the camera directly
Having a neutral facial expression or a natural smile

Be printed on high-quality photo paper
What Can Cause My Passport Photo To Be Rejected?
Passport issuance facilities won't hesitate to dismiss your passport application if you fail to meet passport photo requirements. Take a look at the table below to find out which behavior can cause your passport photo to be rejected:
Actions
Details
Assuming inappropriate posture

Tilting your head
Turning sideways
Looking down or to the side

Wearing extravagant clothing
Taking a photo in:

Camouflage clothes
Costume
Uniform

Keeping chunky accessories on
Leaving on:

Eyepatches
Hats and other headgear
Headphones
Bulky jewelry

If you must wear any of these items for medical or religious reasons, you should:

Submit a doctor's statement with your passport application
Make sure your face is visible

Digitally altering the image

Using Instagram filters
Removing spots and eye redness

Submitting a low-quality photo
Filing a photo that's:

Blurry
Grainy
Full of creases, holes, or smudges
Where Can I Get a Passport Photo Taken in Atlanta?
A crucial factor in having your passport photo taken at one of the appropriate locations in Atlanta is making sure that the selected place:
Has an on-site photo studio (call them ahead to confirm)
Is not too expensive
Can guarantee their employees are well-experienced and familiar with the passport photo guidelines
Is not too far away
For a fast and quality passport photo service in Atlanta, you can check out the following places:
Drugstores—CVS, Rite Aid, and Walgreens offer passport photo services at almost all of their locations. They are convenient but also pricey since they may charge you up to $15 for taking your passport photo
Retail stores—Some Target and Walmart stores have a photo studio and will charge you around $7 and $13, respectively
Passport acceptance facilities—Any government facility that accepts passport applications may be able to snap your photo. You can track them down using an official Passport Acceptance Facility Search Page and call their office to confirm
Membership-based companies—AAA offers passport photo services to their members at significantly lower prices (around $10)
Shipping companies—FedEx and UPS stores in your vicinity may be able to snap your passport photo for around $12 to $15. Use the store locators on their websites and make an appointment
Photography studios—If you don't mind paying a little extra for a passport photo, a photography studio may be the right option for you. Make sure that the photographer's artistic expression doesn't get in the way of fulfilling the passport photo requirements
Cheap Passport Photos in Atlanta? Yes, if You Take Them at Home
You can avoid unnecessary expenses and save some time by taking a digital passport photo at home. The process may require a bit of effort on your side. Here's what you need to do:
Ask someone to take your headshot from the distance of about 13 feet
Use a quality camera (phone, tablet, or digital camera)
Stand next to a window and use a flash
Make sure the background is plain and white
Pay attention to all other requirements we listed
Adjust the photo accordingly to ensure it meets the criteria
If the process sounds too complicated, is the solution you need. We will do all the heavy lifting and ensure the image fits the standards—you only need to click a few times!
Use DoNotPay for a Complete Passport Photo Service
Do you want a quick, reliable, and practical passport photo service? and get your passport photos:
Processed
Adjusted to meet the government requirements
Sent to you via email or mail, depending on your preference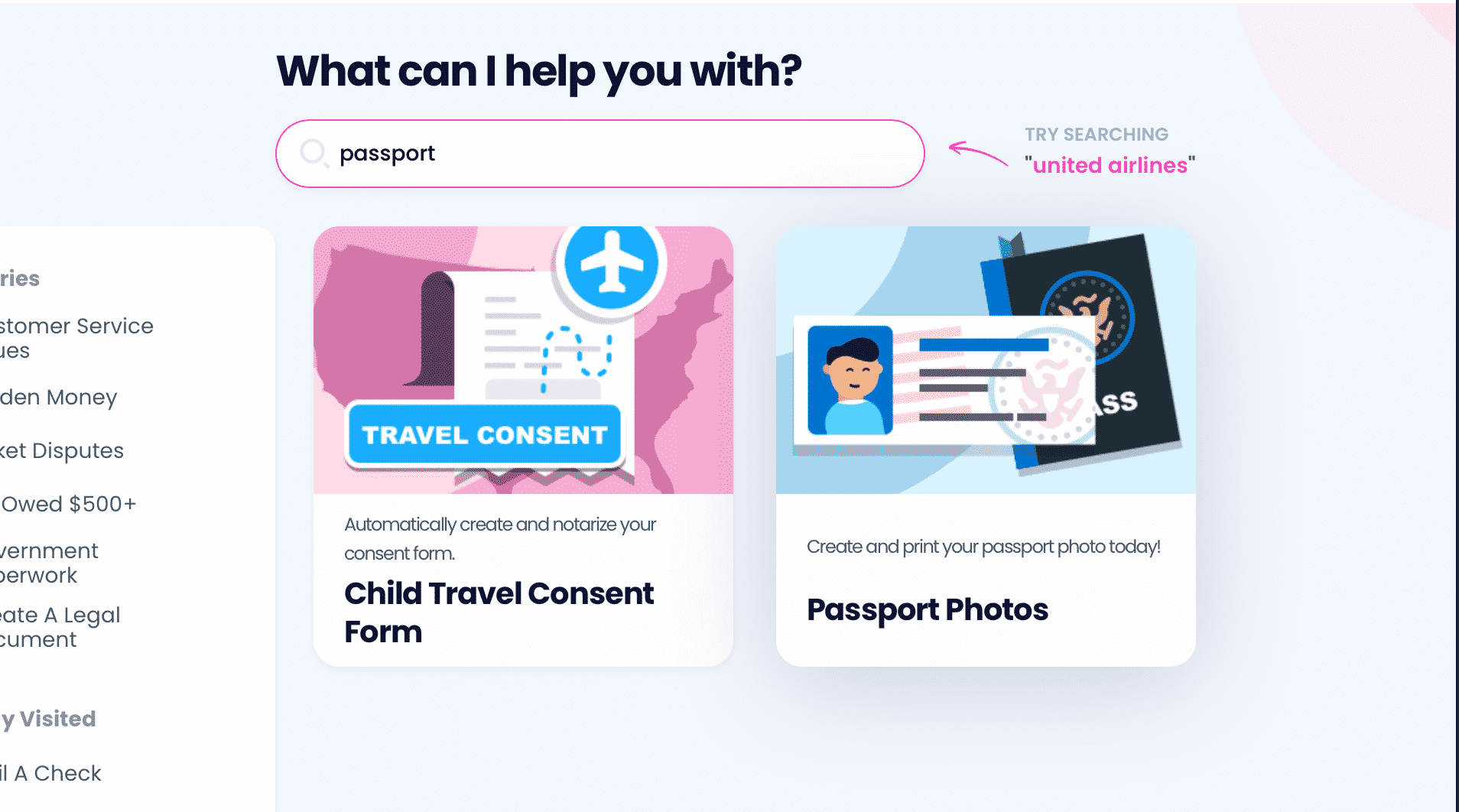 Here's what to do after accessing DoNotPay from a web browser:
Go to our Passport Photos tool
Snap or upload an existing photo
Indicate whether or not you want to get physical photos by mail (you'll get the digital version in minutes)
We will inform you if you need to retake the photo for better results. If there's no need for that, our program will fix the:
Once we do our part, you can bet that any passport application facility will approve the photo!
Find your place of residence in the table below to see where you can have your passport photo taken:
DoNotPay Covers All the Bases
From getting you ready for various government tests to helping you reduce your property taxes, DoNotPay offers valuable assistance with the tasks that make most people at least roll their eyes. Dealing with bureaucracy isn't fun, but it also doesn't have to be as difficult as it is.
Every product in DoNotPay's portfolio is designed to efficiently deal with a specific issue within a few minutes and without sacrificing your comfort. Take a look at the tasks our app can make much more simple:
A Little More Money Never Hurt Anybody
Hardly anyone would turn down a chance to earn some more cash. That's why DoNotPay not only protects your rights and interests but also offers great opportunities to improve your financial situation.
With our help, you can find paid clinical trials, locate your missing money in any state, get your cash back from used gift cards, or enter various raffles and win great prizes.